There's a new interior design trend in town – introducing 'Japandi': a hybrid of traditional Japanese minimalism and Scandinavian decor. Also known as 'japanordic', this fresh style has been deemed the biggest new design movement for 2018. Combining the modern-rustic appeal of Scandi style with the traditional sophistication that's associated with Japanese design, it's no wonder that it's a growing favourite amongst designers.
–
What is 'Japandi'?
Japandi is a portmanteau of Japanese and Scandi. The stylistic term blends elements from both of these aesthetics to create a style that is all its own.
At its heart, Japandi centres on simplicity, which is a core element of both Japanese and Scandinavian styles. It draws on the Japanese notion of 'wabi-sabi', translating to finding beauty in the imperfect. It also takes aspects of "hygge", the Scandinavian style trend which focuses on creating an atmosphere of warmth and comfort.
In the Japandi aesthetic, the neutral pale tones of Scandi style are balanced by the richness of Japanese palettes, while the polish of Japanese design is softened by Scandi's eclectic, rustic nature. The result is clean lines, raw functionality, flawless craftsmanship and lots of contrast.
This exciting new look brings together the best of both worlds. Though from different parts of the world, Japanese and Scandinavian design share comparable principles. Both styles revolve around a minimalist approach, echoing clean and uncluttered interiors. They emphasise living a less is more lifestyle.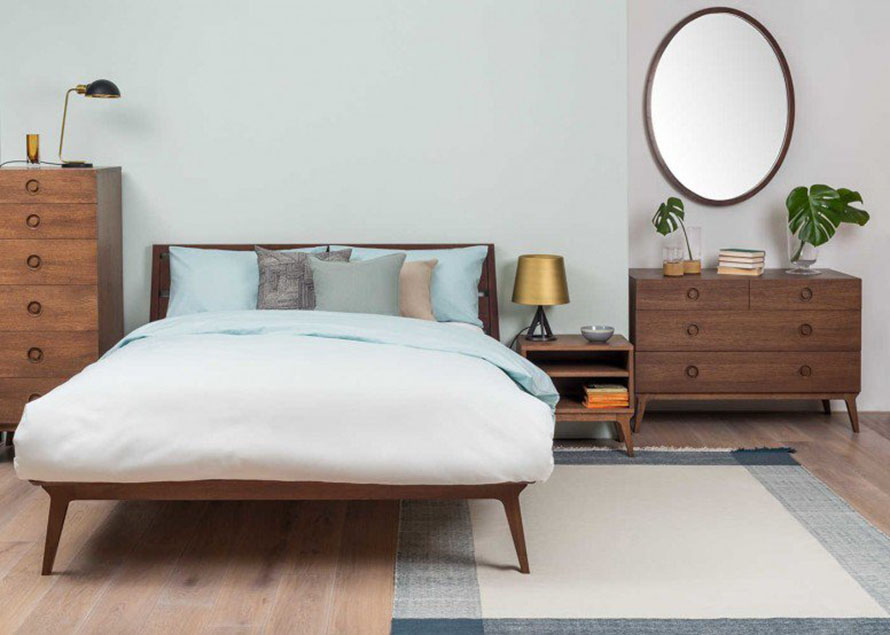 Space is created with functionality in mind, with a few statement pieces rather than an abundance of décor. The fusion of Japanese and Scandinavian simplicity makes Japandi the ultimate take on minimalism. With so much in common, it's easy to see how these two styles team well together.
How to bring Japandi style into your home
Welcome this hybrid style into your home with elements of nature, natural wood, furniture from both design styles and functional accessories.
Elements of nature
Luckily for us, both interior styles pay homage to natural beauty. The best way to maintain a strong connection with nature is to bring it indoors. Instead of colourful flower arrangements, opt for the simple deep greenery of a houseplant in an elegant vase.
In addition to plants, Japandi homes bring serene, natural views inside through expansive windows. If you have a garden or patio area, add sturdy garden furniture with clean lines and natural wood. Explore our luxury Tanso outdoor collection, inspired by the simplicity of Japanese furniture and crafted from Grade A weather-resistant teak.
Elements of wood
A hallmark of Japandi style is mixing the light wood tones of Scandinavian style with the dark wood of traditional Japanese design. This tonal contrast adds depth to any room. Create it in your home with a sleek dark wood dining table and chairs, set against light wooden walls.
You can even mix light and dark wooden furniture. Nothing says Japandi quite like our Fiber Chairs with wood bases in black, placed around a light wood dining table.
Combine both furniture styles
Japandi is a hybrid aesthetic, so it requires mixing elements of Japanese and Scandinavian furniture. To achieve true Japandi style, clean lines are essential to all furniture pieces, colour palettes are kept calm and subdued, and plenty of open space is left around furniture items.
In the living room, try our Noguchi Coffee Table in black ash wood. Designer Isamu Noguchi was inspired by his Japanese heritage, which is evident in the table's elegant curved shapes and dark stained wood. Pair it with the timeless sturdiness of our Scandinavian-inspired Rest Sofa in muted grey, available in two and three seater designs.
When considering the bedroom, use practical fabrics, textiles and wood. Add a plush sheepskin rug, natural throw or blankets to give it that homey, comfy Scandi feeling. For bedroom ideas, explore our exclusive Morten bedroom collection, offering simple yet sophisticated white wash oak furnishings.
Again, mix light and dark woods for contrast – for example placing two dark wood bedside tables alongside a light wood bed.
Choose functional accessories
Japandi celebrates the careful consideration of every item in the home. Beauty must be combined with practicality, so when considering home accessories, look for items with a functional purpose, like bowls or trays. For easy decorative ideas, draw from Scandi style and consider a patterned rug or cosy throw for textural contrast.
For more furnishing inspiration in softer tones such as blue, pink and mint, explore our full collection from Muuto. Muuto is an exciting Danish brand bringing new perspective to Scandinavian design.
Although Japandi is regarded as a new design trend, it has the potential to become a timeless staple. Combining the best of two popular aesthetics, it delivers the ultimate minimalist look. And, beyond that, it brings an inspiring philosophy to your home – embrace imperfection, honour authenticity, celebrate craftsmanship and live simply.