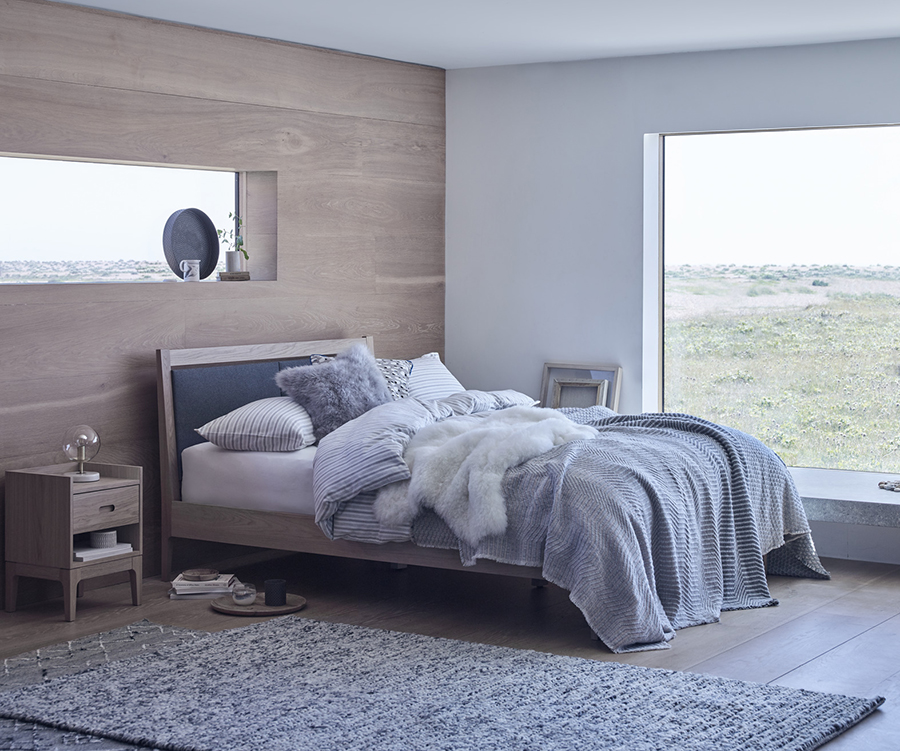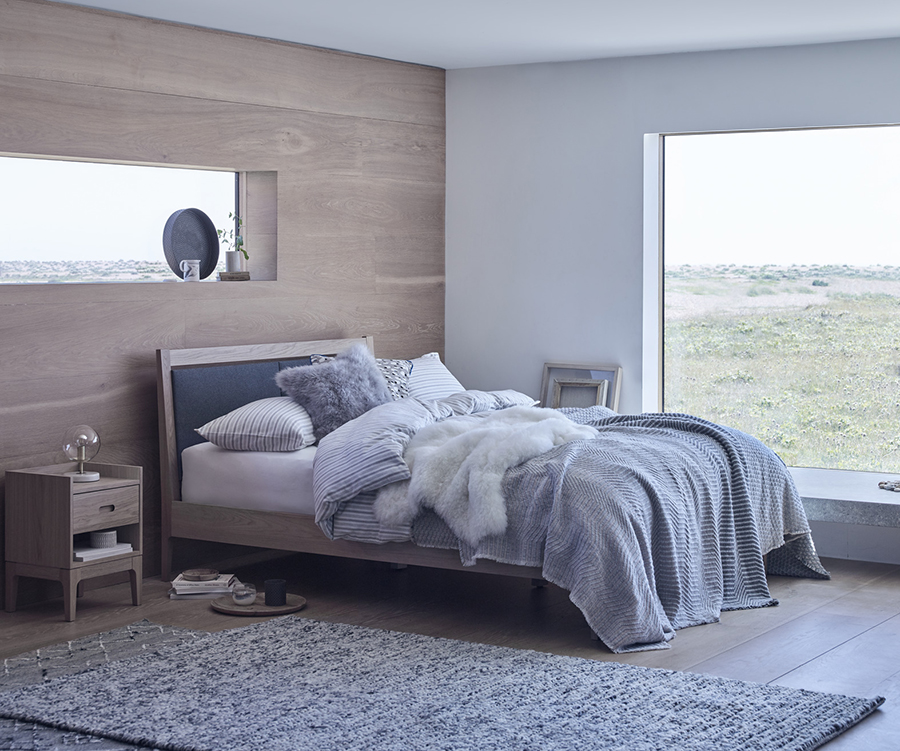 Scandi style is characterised by simplicity, clean lines, functionality and natural light. It looks to white and timber for inspiration and uses texture and textiles to create warmth and cosiness. As a culture, Scandinavians embrace the notion of 'hygge', which can be loosely translated into English as the sensation of being comfortable and feeling cosy in one's surroundings. Using organic, raw materials, including ceramic clay, wood, linen, wool, felt and fur, allows Scandi spaces to stay warm and comfortable over the long winter months.
This Nordic design aesthetic can be applied to many different rooms in a home. Here's how you can create Scandinavian style in each room of your house.
The Scandinavian living room
A Scandinavian living room boasts pale neutral tones, which are usually complemented by a fun pop of colour for effect. Colours such as yellow, purple and green are often used to accent against white, blacks, greys and natural wood.
For sofa inspiration, use a contemporary soft leather sofa, such as the Matera, to give your space a real Scandi feel. This sofa (with armchair available) features all the hallmarks of Scandi style – clean lines, comfortable cushions and classic aesthetic.
Matera comes in an array of soft neutral colours that are sure to bring warmth and comfort to a modern city-based living space. Complete the look by decorating your sofa with vibrant yellow cushions.
In a Scandinavian style home, wood is a must and should be incorporated into every room possible. To create a nature-inspired interior, consider having a wooden coffee table centrepiece or a practical modern, wooden AV unit in your living room.
To enhance the interior of your Scandi living room, it's a great idea to have a mix of natural materials and textures in the same space. For example, use a large, cosy wool rug with a brushed brass floor lamp to complement.
The Scandi Style Bedroom
As Northern Europeans experience nine months of winter during a year, it's imperative that homes – especially bedrooms – are kept warm, intimate and lit by natural light. You can achieve an organic feel with white walls and linen, featured in an open plan floor space. For a minimalist Scandinavian bedroom, be sure to keep things uncluttered and simple, using a few key accessories.

To bring warmth to a Scandi bedroom, use comfortable textiles, fabrics and wood. Use luxurious sheepskin rugs, and natural throws and blankets to give it a natural-cosy feel. For Scandinavian wooden bedroom furniture ideas, consider timber side tables, beds, chest of drawers or a blanket box.
Don't be afraid to hang perfectly framed wall art, pictures or graphics on the walls of your Scandi style bedroom. But remember to use everything in moderation.

The Scandi Style kitchen
When looking for Scandinavian kitchen ideas, using white correctly can make your space appear brighter, bigger and more sophisticated. To create a true Scandinavian style kitchen, opt for all-white units and décor. This will give your kitchen a modern feel, more storage space and the illusion of a larger area.
The right lighting will cast an elegant ambience over your kitchen work surface or table. Choose low pendant lights to add character and charm to your Nordic kitchen design.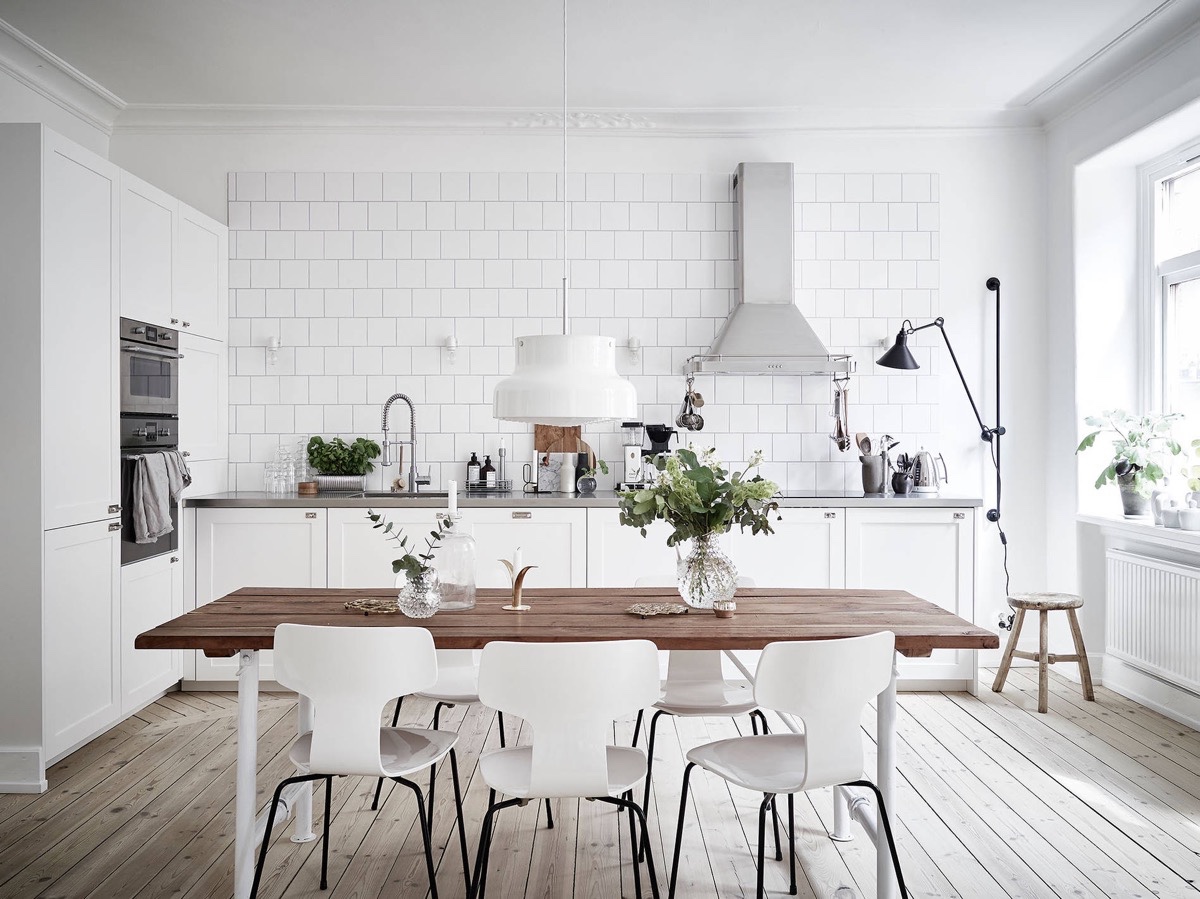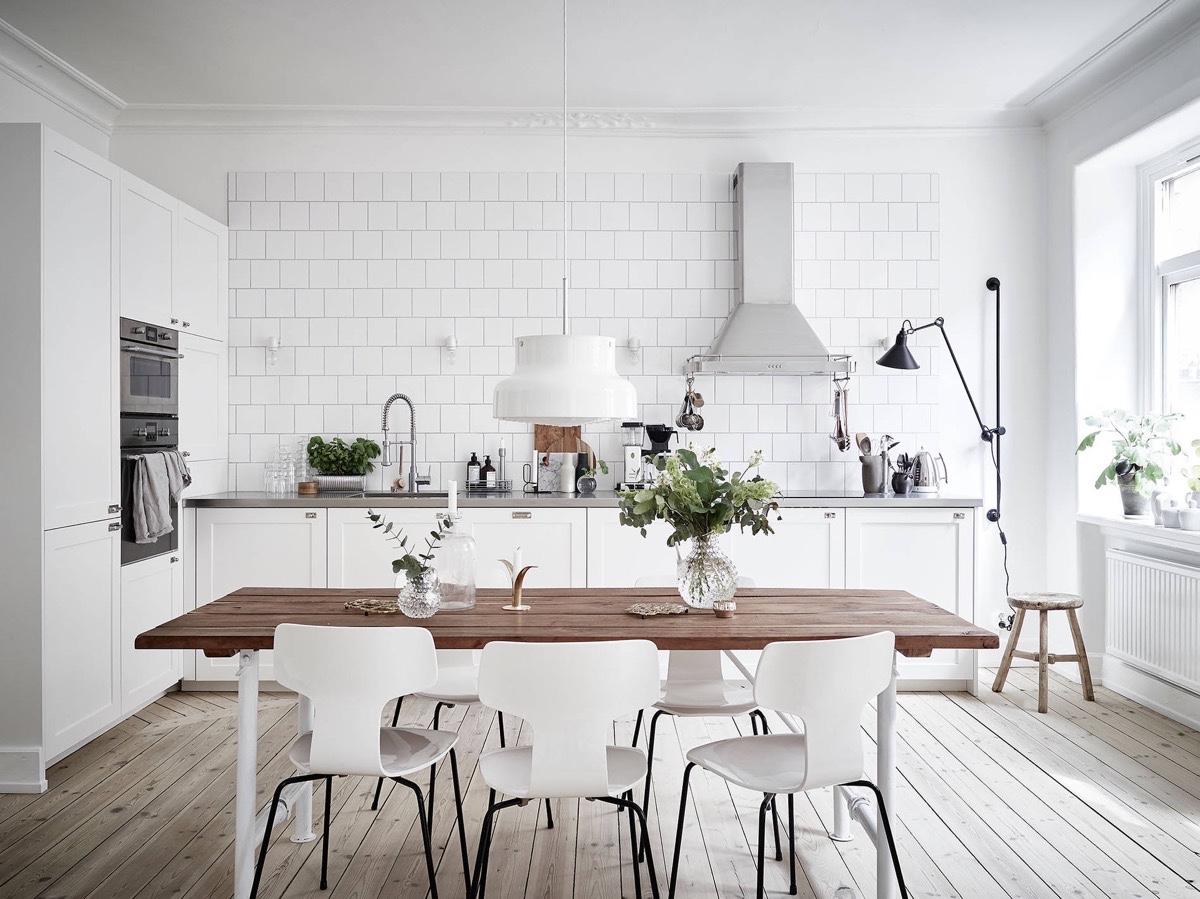 If you have a truly Scandinavian all-white themed kitchen, it's a good idea to incorporate a splash of colour with the use of contemporary kitchen accessories. Decorate the space with a large colourful fruit bowl, jug or even houseplants.
The Scandi Style Dining Room
In Nordic countries, the dining room is considered the heart of a home. It's where family and friends gather to socialise over a delicious meal. From authentic country charm to streamlined modern minimalism, rustic tables and chairs are suited to all Scandi inspired designs. It's practical, easy to maintain and creates a calming atmosphere.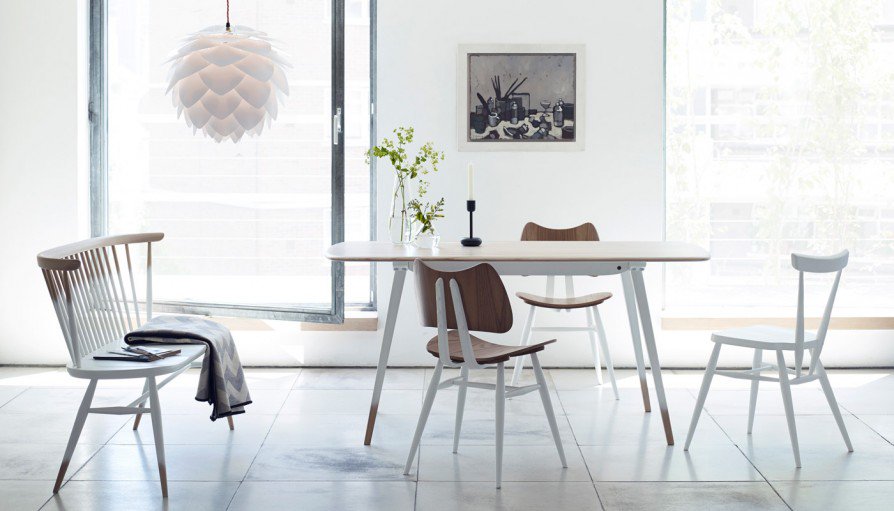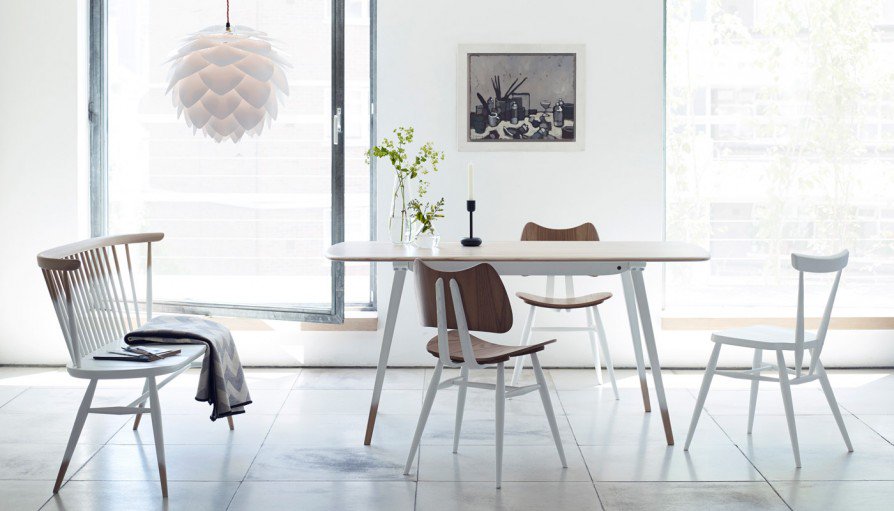 As with the rest of the rooms, a Scandinavian dining room is usually white. For dinnerware and accessories, make use of eclectic dining sets, while sticking to a neutral, earthy colour palette.
To complete an inviting Scandi look in your living room, suspend statement pendant lighting over the dining table. It instantly draws the entire space in, while adding an edge of modernity to your interior. Tom Dixon's copper pendants lights are guaranteed show-stoppers, combining iconic design with the finest quality materials. Place three in a row to create a contemporary-chic touch to your Scandi inspired home.
The Scandi Style Bathroom
A Scandinavian bathroom features the same elements that apply to every room in a Nordic home: clean lines, calm neutral tones, natural lighting and beautiful hardwood floors.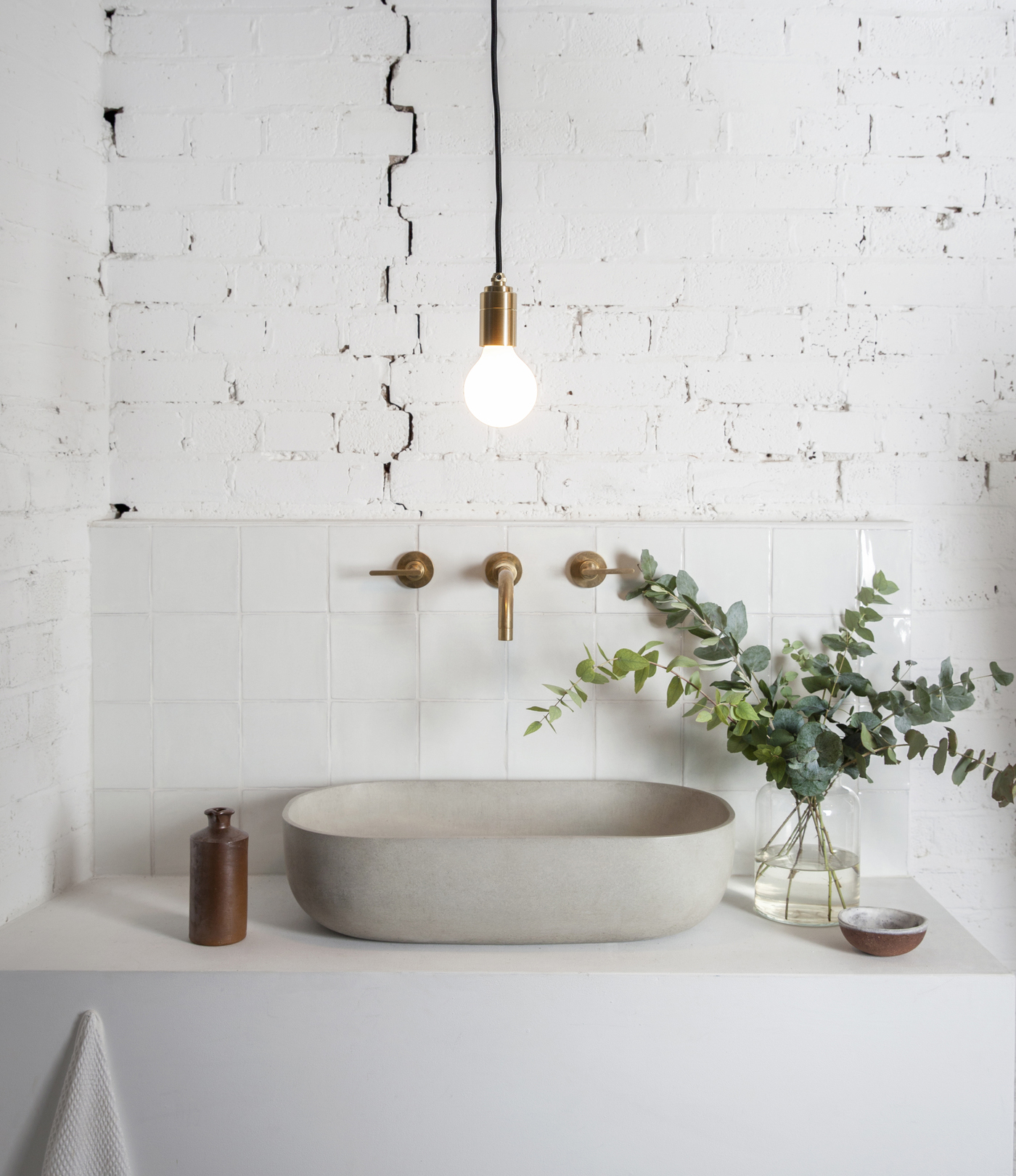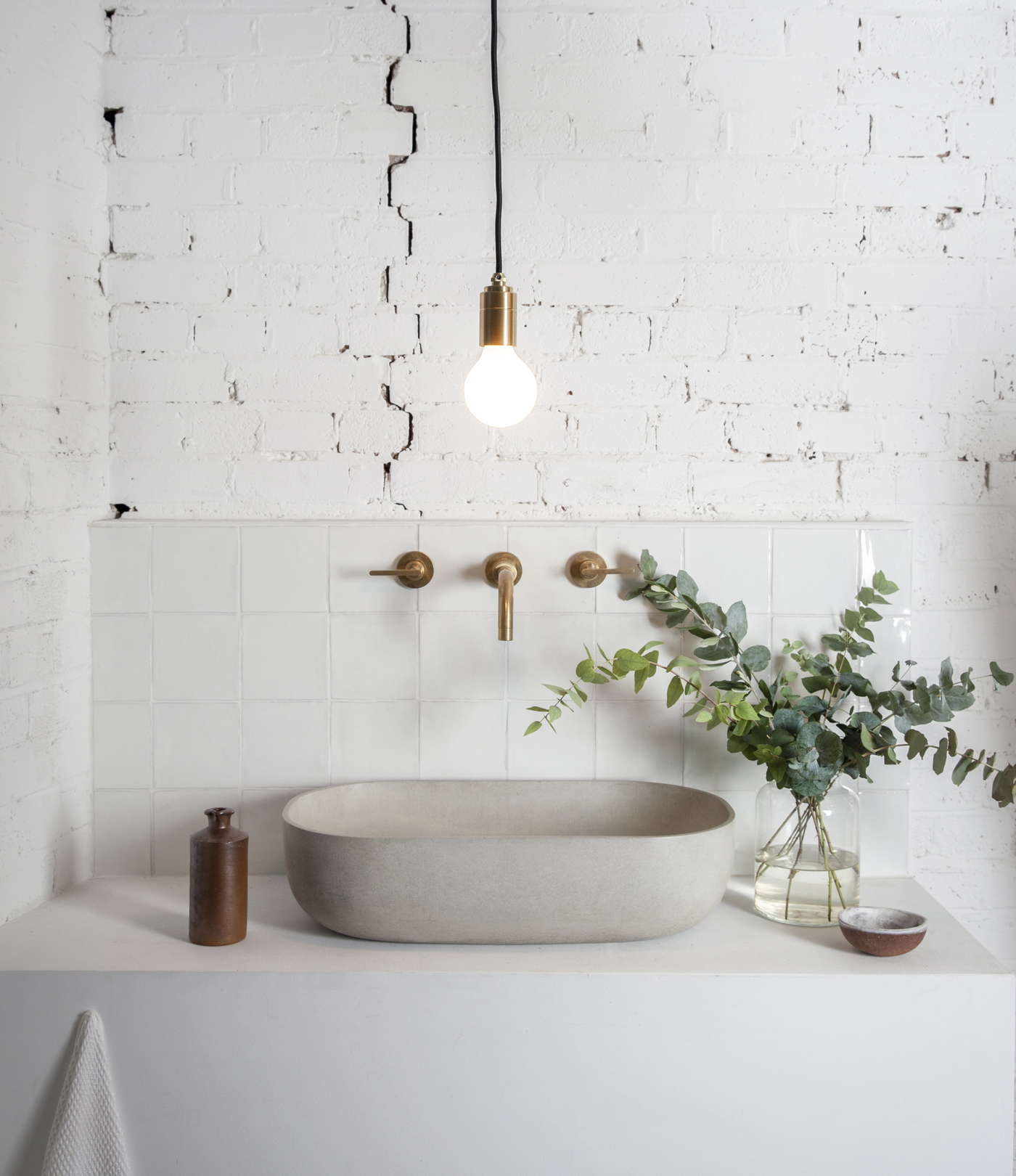 A simple way to achieve a minimalist look is to boast a white bathroom suite, which includes a toilet, basin and bath. For wooden bathroom accessories, explore functional mirrored cabinets, wall-hung towel rails and sustainable bamboo caddies that are suitable for any Scandinavian bathroom design.