From sunning yourself to hosting friends, your outdoor space sets the scene for all kinds of activities throughout the summer, but what to do if you don't have a large garden? With a few clever tips and tricks, you can turn even the smallest space into the biggest opportunity, making it feel bigger and work harder. Here, we round-up the best small garden ideas for the season ahead, whether you've got a garden, patio, terrace or balcony. It's time to have some fun in the sun.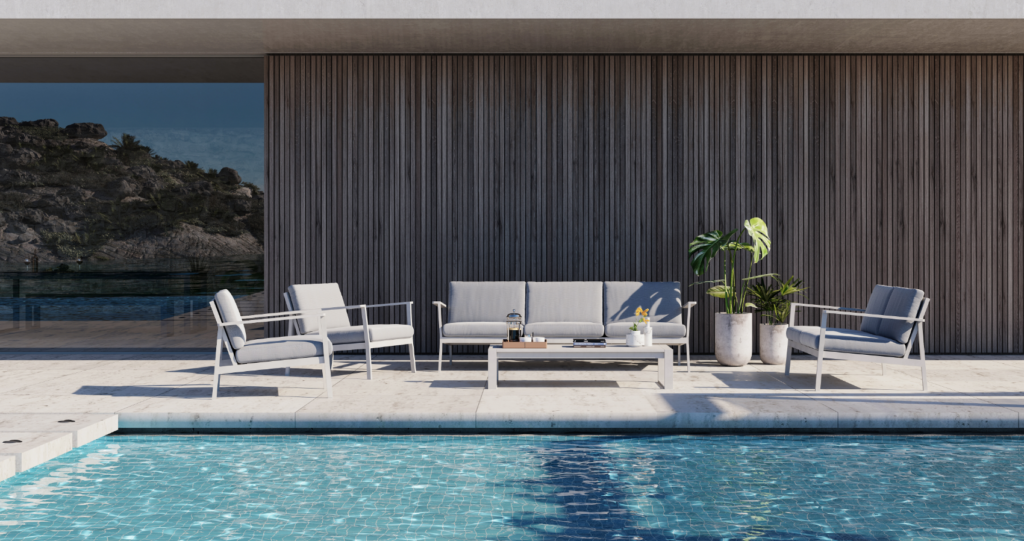 1. Zone the space
Despite what you may think, dividing up your outdoor space can actually make it feel bigger rather than smaller, while adding visual interest, more depth and increased functionality. Much like inside, zoning can be done in a number of ways, from painting to screening and planting, not to mention using different textures, materials or garden furniture to designate separate areas. Think about how you want to use your outdoor space to plan your zones: somewhere to entertain, curl up with a good book, enjoy a cocktail or three, cordon off the kids or grow your own vegetables, perhaps? The garden really is your oyster. Small garden designs benefit from creating 'rooms' with multifunctional uses across a single scheme. Have fun and get imaginative.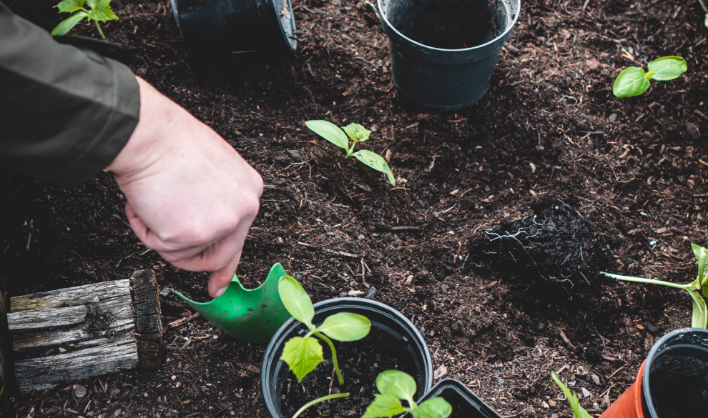 2. Add flexible furniture
Small garden style requires compact or flexible furniture that doesn't take up too much space when in use or can be stored conveniently away when not in use. Look for extendable tables (like the Pelagus dining table which can be made longer when entertaining with the extension panel), stackable chairs (such as the Eos outdoor side chair), modular sofas (our pick is the Kodo modular sofa that can be configured according to your space), compact footprints (the Tanso round dining table doesn't take up a lot of room) and lightweight designs (see the visually light Eos outdoor side table). The key is to create a sense of openness that enables freedom of movement and clean lines of sight.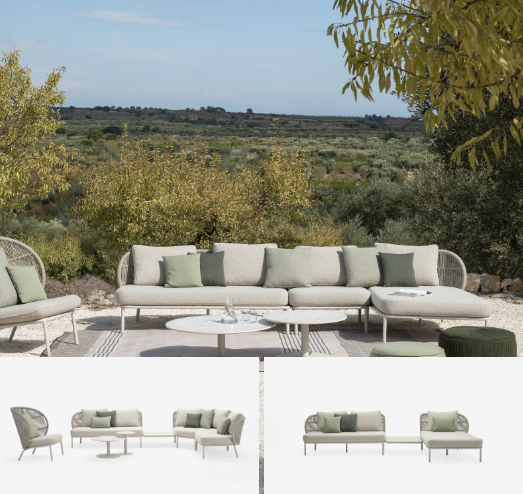 3. Take the indoors out
The garden is sometimes referred to as 'the fifth room', which alludes to its potential of becoming just as functional and as beautiful as the inside of your home. By considering small garden ideas as much as you would your interior, you can make it feel like a continuation of your indoor space, effectively turning it into an extension of the house. Think about soft furnishings, including an outdoor rug, such as the Diamond Kilim outdoor rug, and a scattering of cushions (we love the Cabana stripe cushion and Heal's + LF Markey cushions), as well plenty of decorative touches (vases, objects and even artwork). Remember, you can always take everything back inside if the weather takes a turn for the worse.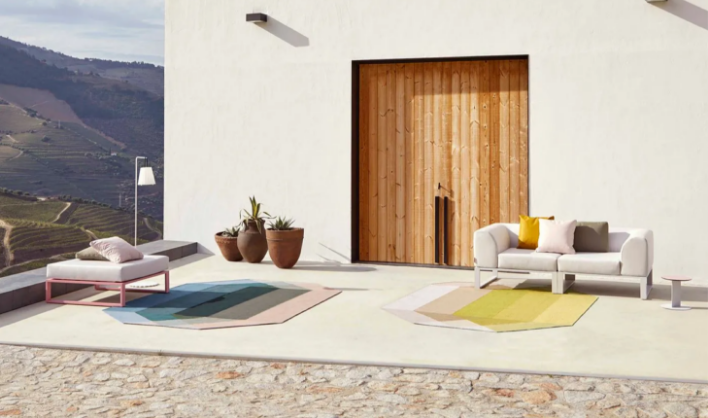 4. Level up (or down)
Modern small garden ideas can also come in the form of creating different levels. Not only do they add visual interest, but a sense of space, too, whether a raised dining area or a sunken seating zone. Think about ascending steps, raised beds or even an elevated lawn. These will also help inform how you use each space while giving you varying platforms for different outdoor furniture.
5. Take cover
Let's face it: the British weather can be unpredictable. Which is why adding a cover for your outdoor dining table is not only clever, but necessary. To save on space, consider an awning that attaches to the wall and extends over your table; or simply an outdoor umbrella with a slim stand and compact base to shelter you and your guests from the elements without encroaching on valuable square-footage. The Eos Picnic House, by Case, combines a table and a shelter in one within a contemporary and compact design. When you're able to dine al fresco come rain or shine, your outdoor space will work even harder, and feel that much bigger. Genius small garden style.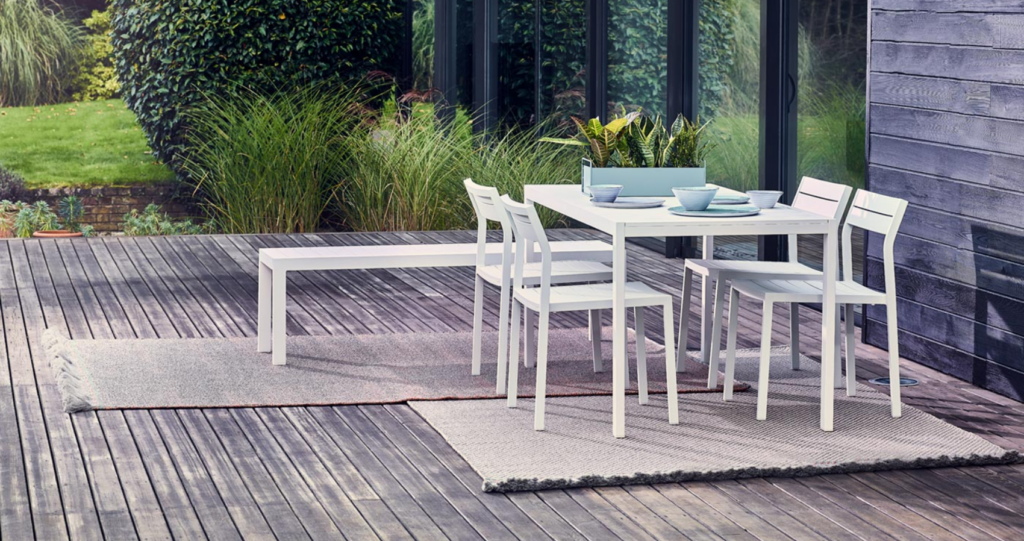 More garden inspiration
A garden mirror is a great way of making a small garden feel bigger by bouncing light around the space. The Lucka outdoor mirror doesn't just look gorgeous, featuring sleek aesthetics and an aluminium frame in satin black, but is designed to withstand the elements, too – rain, sun and wind included. Hang or lean on a garden wall or fence to create a 'window' that works magic on your outdoor space. 
Save on precious floor space by making the most of vertical surfaces, from walls to fences. With a little imagination, these can be used to display lush plants, pretty flowers and decorative pieces, or indeed act a backdrop to al fresco lighting. We're fans of festoon lighting, such as the Lucas solar outdoor string lights, to add a little ambience. 
Only got a corner to play with outdoors? From carving it out for dining to creating a relaxing oasis, we've got a host of inspiration for even the tightest nook.  
Finally, why not tap into this summer's hottest trend – the garden bar – by creating your own for serving up sundowners? It doesn't have to be complicated: simply group together bottles of spirits and mixers, bowls of ice and garnishes and smart glassware on a side table – the Loop outdoor side table has just three legs with a small footprint – and tell guests to help themselves. Even a tiny balcony can become the hottest spot in town. 
Searching for more small garden ideas? Peruse and choose from our full garden collection.