Summer is here and with it long, languid evenings spent outside. Whatever your outdoor space, from country garden to city balcony, lighting can make all the difference, not just in how it looks, but how it feels. Think atmospheric festoon lighting wrapped around trees, draped over fences or winding through pergolas. Statement pendants casting a flattering glow over stylish dining tables. Or discreet uplighters leading the way down a darkened garden path. Now, more than ever, your outdoor space is an extension of your home – some even call it 'the fifth room' – so lighting should be as carefully considered and curated as your interiors. Here, we round-up the brightest garden light ideas to help you create the most beautiful of schemes, and all just outside your back door.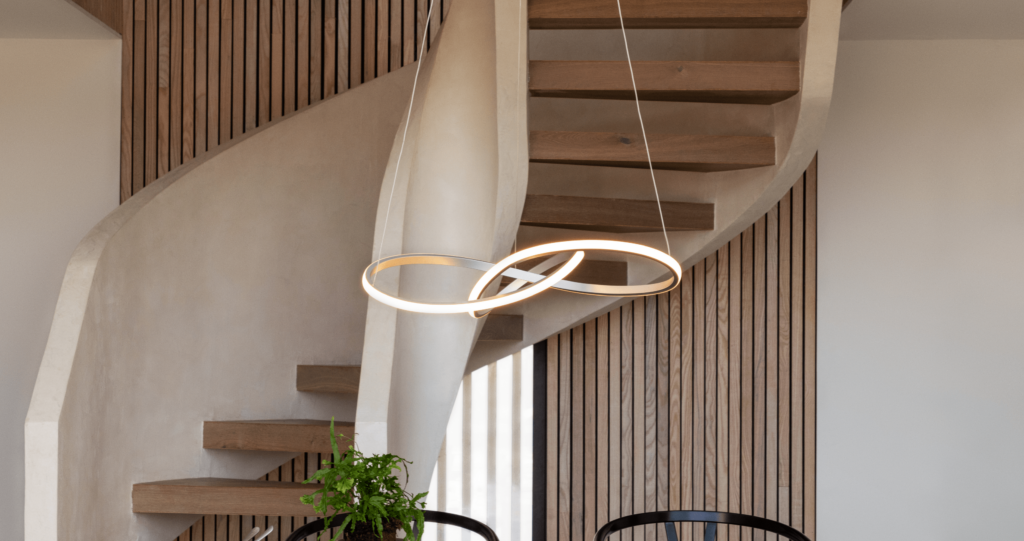 1. The wall light
It all begins with clever garden wall lighting ideas. Not only do classic wall lights highlight the architectural features of your home – from windows to doors and walls – but they provide added security, too. Even the simplest of features, such as plain red brickwork, can be given much-needed drama with a wash of warm, upward light. Uniformity is key to keeping things smart and sophisticated, so pick a style and replicate it across the outside of your home, allowing you to get creative and mix-and-match elsewhere. Think of the style of your house – period property or new-build? – and find something sympathetic or completely contrasting (a clash is good, as long as it looks like you've done it on purpose). We've got all kinds of designs to peruse and choose from: consider the IC W1 outdoor wall light with its sleek and contemporary brass finish; the industrial-style Bellhop LED wall light for an edgy look; or the MOON LED wall light with its traditional base.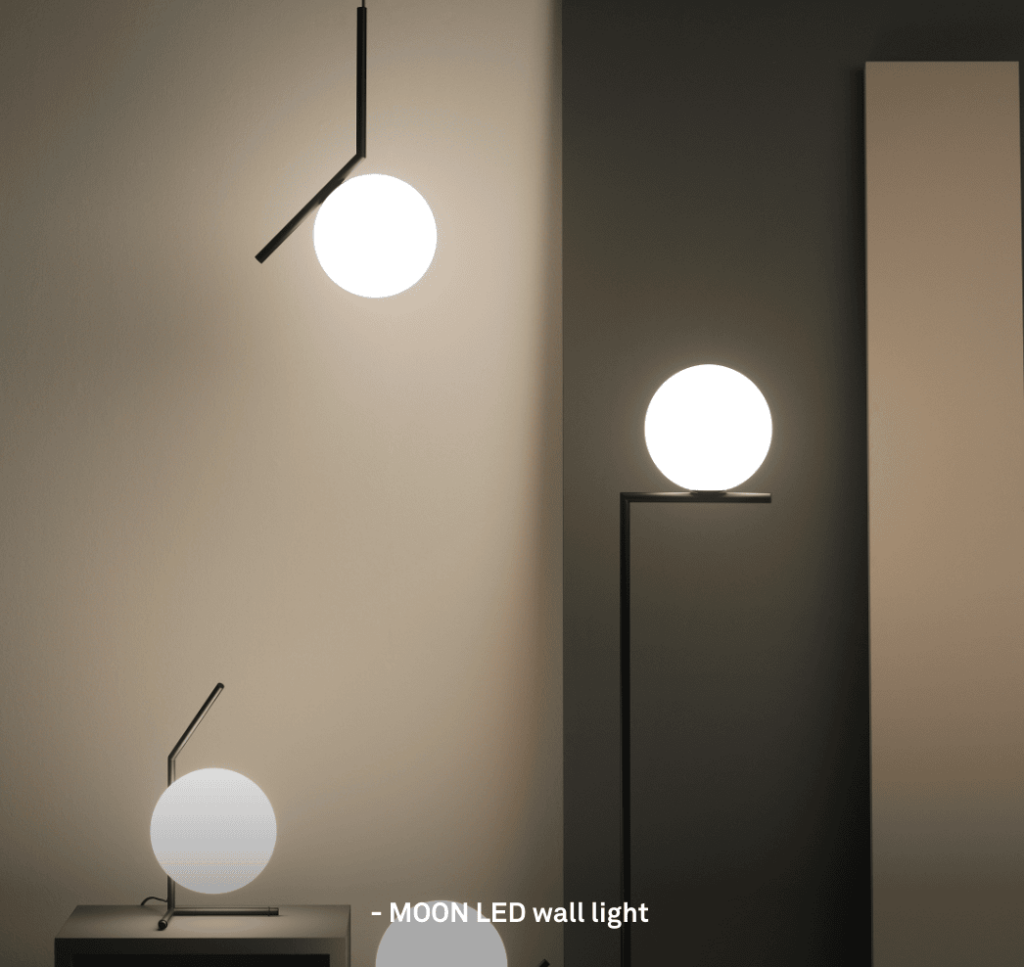 2. The pendant light
Entertaining outside is one of the single biggest joys of the summer, whether a barbecue with family or aperitivo with friends, but how can you ensure the fun extends beyond after dark? A pendant light hung above the table is the easy answer, providing enough light so you can see your food (and each other!) without being too harsh or unflattering. Choose a contemporary style in the Tempo Vivace pendant, crafted from two layers of stainless-steel pleated mesh, or select a model that's more rustic in the Dou Rattan lampshade, made from this season's 'it' material and evoking serious Mediterranean vibes. You'll think you're in Greece.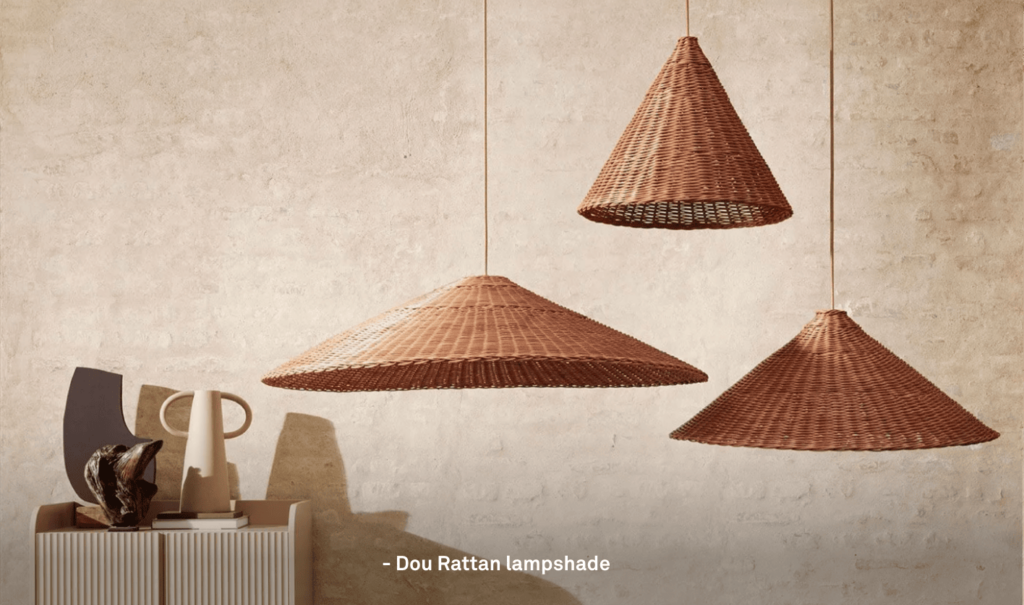 3. The portable light
The single biggest trend in lighting for summer 2023? Portable lighting. No longer just functional, portable lights have evolved in recent years to combine both form and function to spectacular effect, from the Stone LED portable outdoor table lamp by Tom Dixon to the Balad LED outdoor table lamp from Fermob. Cordless in design, you're able to charge them up and place them where you choose, whether in the middle of a table, a corner of your patio or even in the furthest part of the garden. In short: they offer flex without a flex. When it comes to outdoor entertaining, a series of portable lights in a line down the centre of the table creates a focal point, and all without the fuss or mess of candles. Elsewhere, they enable you to illuminate parts of the garden you didn't even know you had, making your space feel bigger. Plus, by placing portable lights at different levels, you're adding depth and interest at the same time. Garden light ideas don't get much brighter.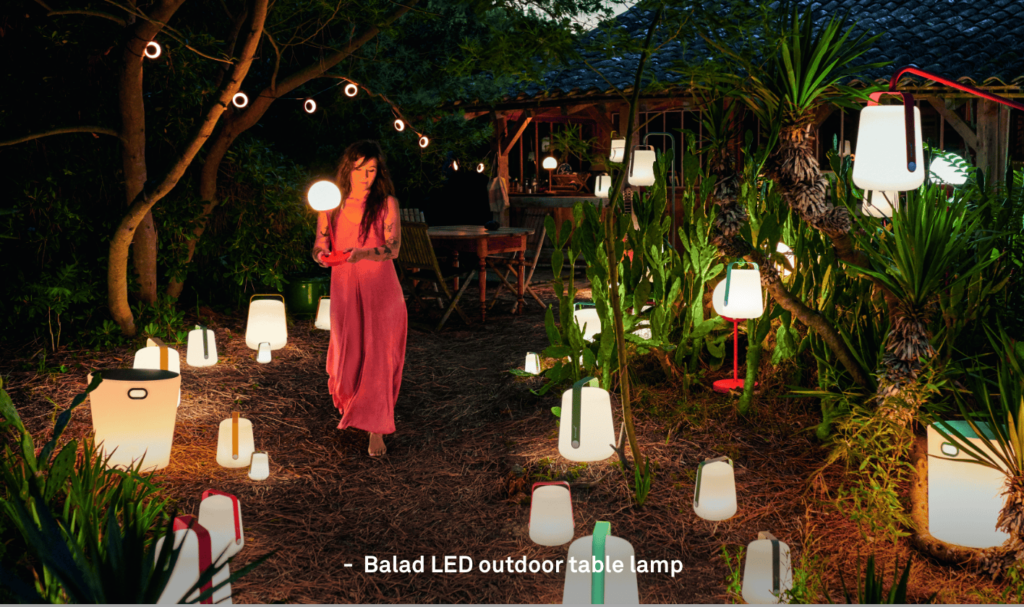 4. The festoon light
Think fairy lights are just for Christmas? Think again. A supersized take on the seasonal favourite, festoon lighting adds a little magic to your al fresco, featuring glass bulbs attached to a garland that can be wound, draped or hung. As well as adding ambience with a soft, diffused glow, they also enable you to make accents of features, whether highlighting the height of a tree, illuminating the length of a fence, or drawing attention to the underneath of a parasol. Better still, because they're easy to add or remove, you can change how you style them whenever you want (a clever garden fence lighting idea is to drape them between panels on either side of the garden to create a star-studded 'sky'). Try the sophisticated Tobias LED outdoor string lights in clear glass to get you started, then add the supplement set to create an even longer festoon, or go colourful with the Luke LED outdoor string lights for a more whimsical aesthetic. Garden fairy light ideas with a grown-up spin.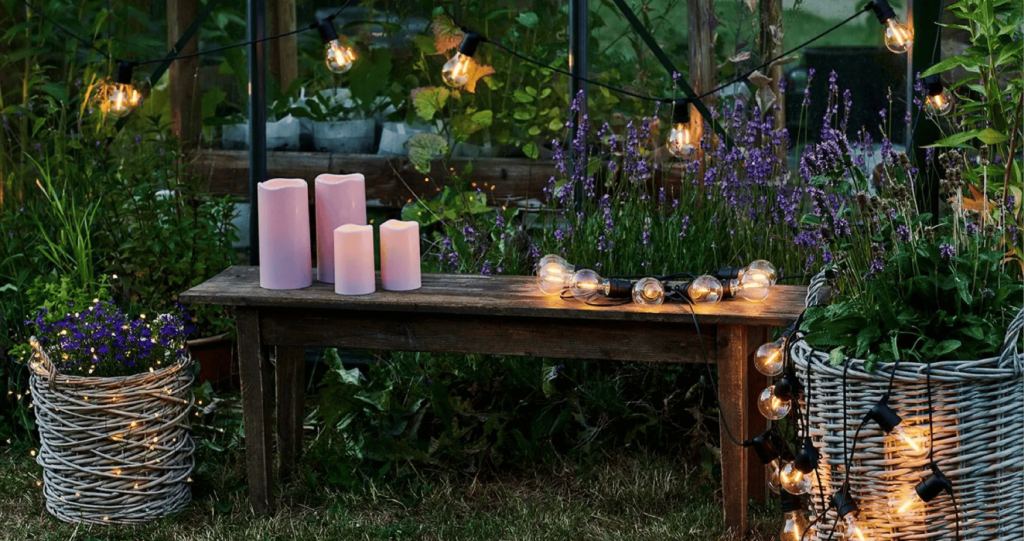 Three more tips
1 Wind festoon lighting – such as the Lasse – around outdoor mirrors to make a feature of them and bounce light off their surface.
2 Hang a portable light, like the Balad with its handle, on the branch of a tree for added illumination and interest.
3 Finally, consider adding ground-level lights on the patio and in the lawn to create another layer: a collection of Aston jar lights should do the trick.
Looking for more garden light ideas? Browse and buy from our full collection of modern outdoor lighting.