Duvet & Pillows Buying Guide
After your bed, a sofa is probably the piece of furniture that sees the most use in your home. We entertain, relax, snooze and even eat on these living room essentials, so the design you choose has to reflect your needs and lifestyle. Let us help you break down the details to find a sofa that's made for you.
Types of Fillings
Each type of filling has its own characteristics to suit certain types of sleepers, with all Heal's duvets finished with a sewn in pocketed casing to hold the filling evenly in place.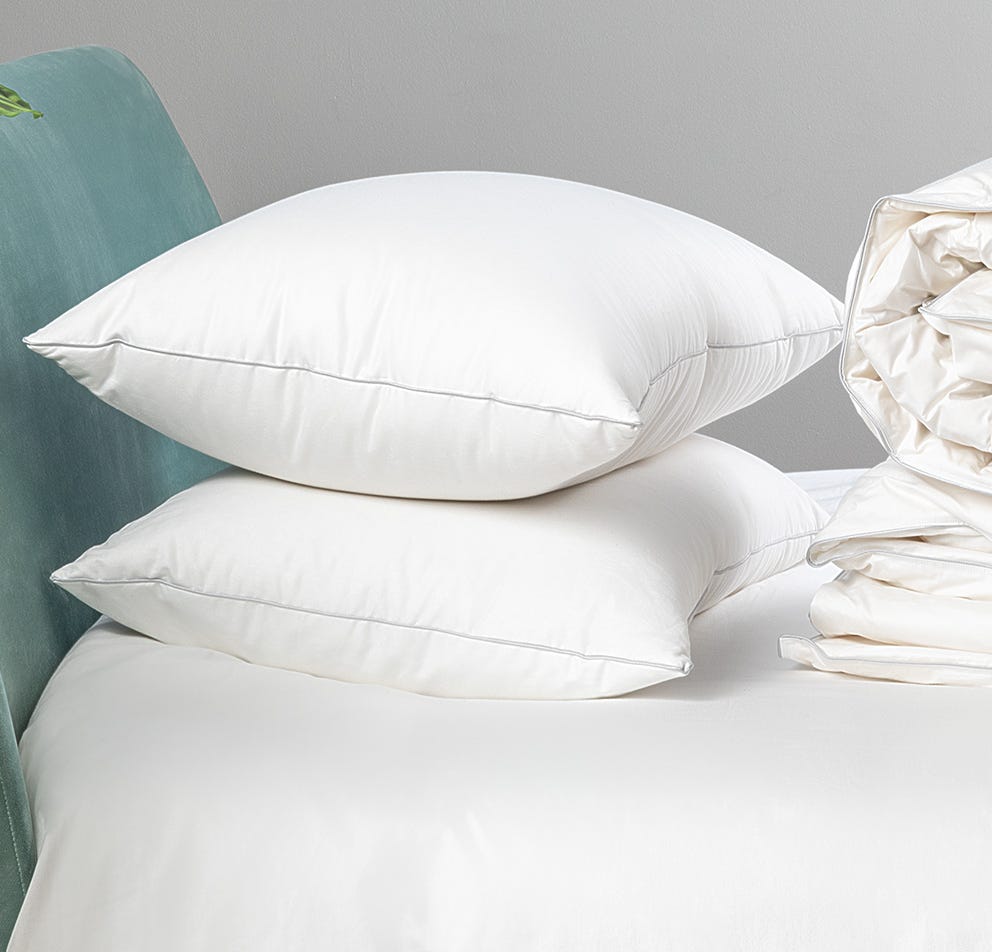 European Feather Down
Goose and duck down from cold European countries like Hungary make the fluffiest, warmest duvets. Thanks to the cold climate these birds have developed large and well-insulated down that traps air very efficiently. This means less filling is needed so the duvets are extremely light and cosy.
Feather blend duvets weigh slightly more than down quilts as feather is less thermally efficient. More of them are needed to achieve the same warmth.
Cared for properly, goose down duvets can last up to 40 years; duck down can last 30-35 years and feather and down duvets have a life expectancy of around 15-20 years.
Wool & Silk
A wool or silk filled duvet is a good choice if you're allergic to feathers, as both materials are naturally hypoallergenic. These duvets are plump and comfortable and are renowned for their breathable and heat regulating qualities. They'll naturally warm you up and cool you down as your body temperature changes during the night.​​ ​
Wool duvets are proven to give you a 25% deeper, more refreshing sleep.
They're the perfect choice if you're after an environmentally friendly duvet – they're 100% natural and biodegradable.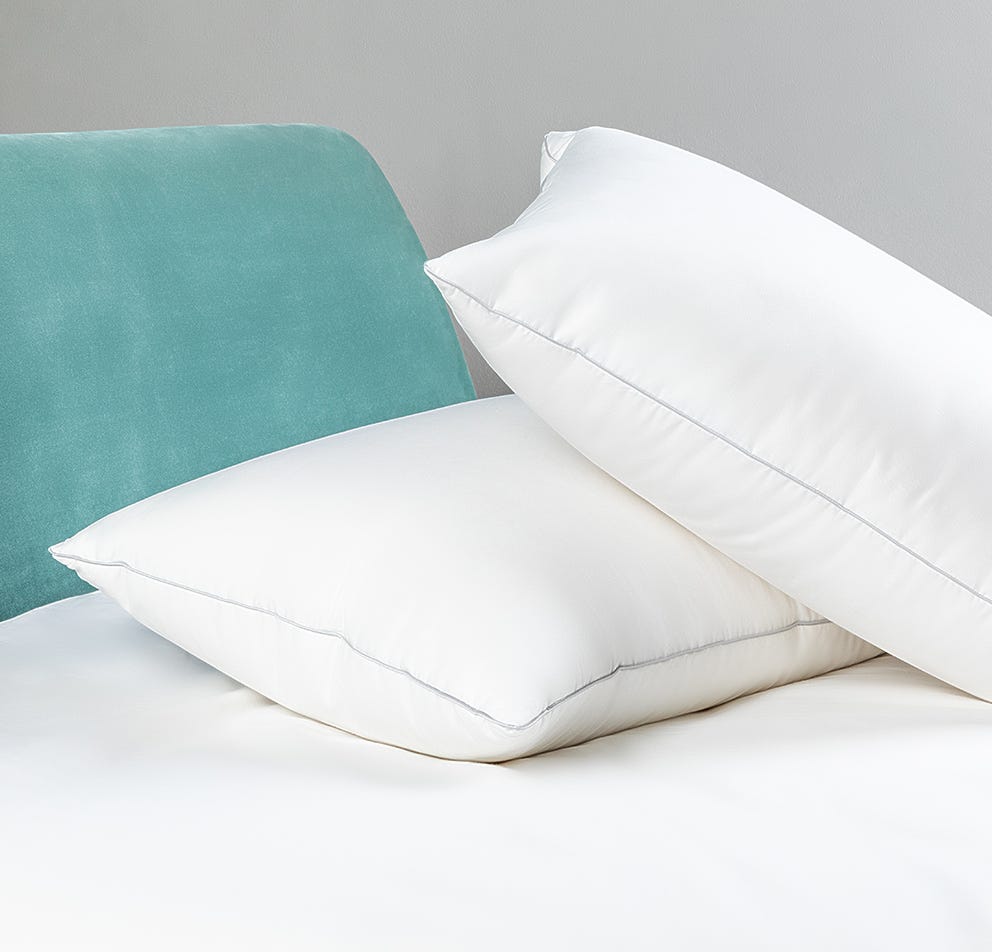 Hollow Fibre
A hollow fibre duvet is filled with man-made fibres and is a good option if you suffer from allergies and need to wash your duvet frequently. ​
If your washing machine is large enough, most hollow fibre duvets can be washed at 60 degrees, which is also hot enough to kill any dust mites.
All Heal's hollow fibre duvets are lightweight, plump and offer excellent drape around your body. Synthetic duvets are not quite as durable as natural filled duvets, but with the proper care, they can last up to 10 years.
Sofa beds
Sofa beds are a hybrid of sofa and bed, usually featuring a mechanism that folds the bed into the design of the sofa. Sofa beds are great for homes short on space, allowing you to transform your living room or study into stylish guest bedroom in an instant. You can choose between fold-out designs or click-clack options, depending on what you would prefer. A fold-out design is assembled by folding out the sofa's cushions or seat to form a bed, while a click-clack design usually involves folding down the backrest to create a sleeping platform.
Things to Consider
---
Pillow talk
When it comes to resting your head, having a freshly fluffed pillow isn't the only issue. As with mattresses, the firmness or softness of the filling will have an impact on your posture, which is why it is important to find a pillow that is not only comfortable but supports your personal sleep position throughout the night. ​
Back: a medium-firm pillow supports the neck without affecting the alignment of the spine.
Side: a firm pillow keeps spine aligned while preventing hunching of the shoulders or a painful neck.
Front: a soft-medium pillow provides the amount of cushioning required for a comfortable rest.
TOP TIP
A red flag for needing to update your pillow is if you're having to scrunch it up or fold it every night just to get comfortable. Do your neck a favour and invest in new pillows.
Size matters
Heal's duvets come in a variety of sizes that are designed to coordinate with our own range of bedding and mattresses.
Despite these guidelines, the size of your duvet will also depend upon your own personal style and requirements. Choose a larger size if you or your partner is prone to hogging the covers, that way you'll both have ample coverage during the night.
Another key point to consider is how you want your duvet to look. A larger quilt will hang neatly over the edges of your mattress for a more luxurious appearance.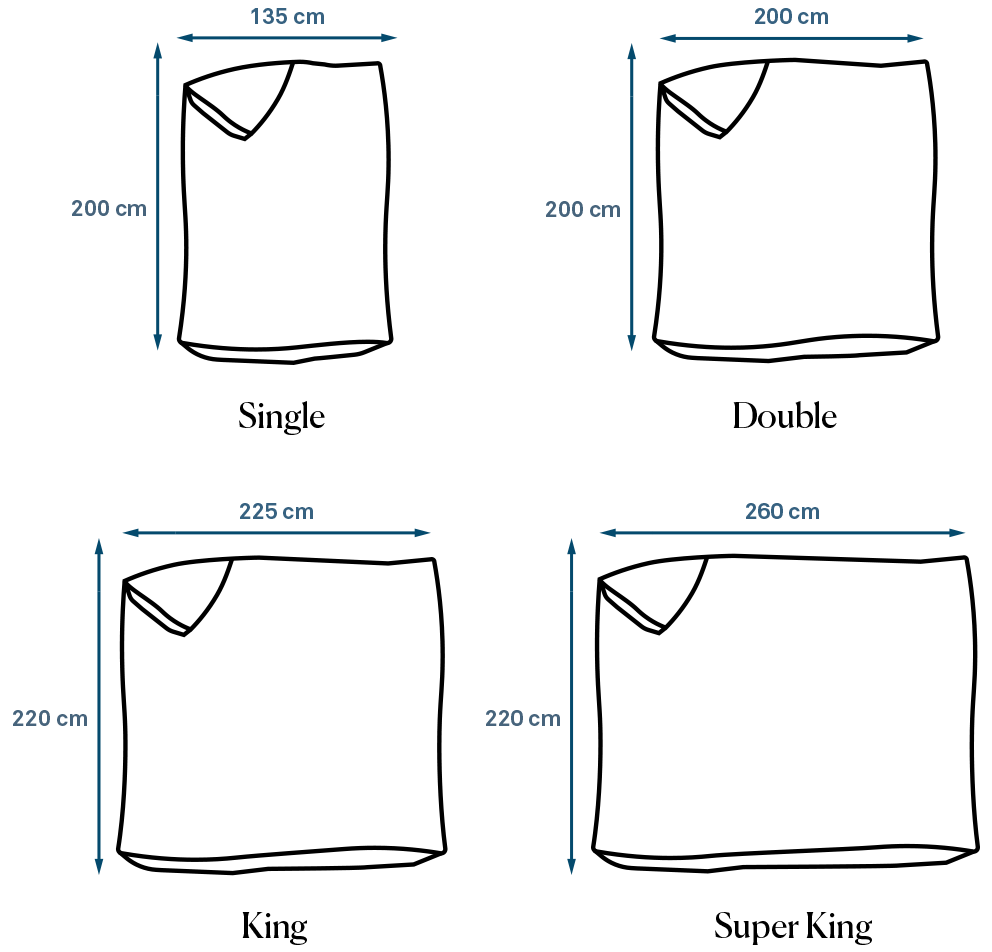 What's a Tog?
To provide a consistent measure of a duvets warmth, each is given its own Tog rating - the higher the tog rating, the warmer the duvet will feel. ​
Lightweight 4.5 Tog: this lightweight duvet will feel cool so it's a great option for summer or if you're prone to overheating during the night.
Medium-warm 9/10.5 Tog: perfect for spring and autumn, this duvet offers slightly more warmth without overheating.
Combination 4.5 Tog + 9 Tog: pairing two duvets with different Tog ratings makes your duvets suitable for all seasons. You can use the duvets individually (4.5 Tog + 9 Tog) or fasten together (13.5 Tog) in the colder months.
TOP TIP
Opt for a lighter-weight duvet if buying for a children as, because they're smaller, the duvet traps more air, making it warmer. Remember that duvets aren't suited to children under 12 months.
Things to Consider
Will it fit?
It's important to measure your designated area accurately to ensure your sofa makes the most of your space. Look up the dimensions of your chosen sofa and compare them to the measurements of your space. Be sure to take into account any side tables or floor lamps that will impact the space available. It's also important to make sure your sofa can get into its new home. To be absolutely certain that it'll fit into the space, we recommend making a thorough access check. Find step-by-step instructions here.
TOP TIP
Use masking tape or newspaper to lay out the size of your sofa. This will give you a good indication as to whether you are happy with how much space it takes up.
---
Be Inspired by our bestsellers