Maximalism is back. For several years, we've embraced the popular minimalist design trend. From Mid-Century modern to Scandi to Japandi,  we've seen muted colours, clean lines and pared-back style in homes worldwide. It was only a matter of time before the tables turned.
Minimalism isn't going anywhere, but we're excited to see the rise of the next big design trend – the return of maximalism.
–
What is Maximalism?
Maximalism is characterized by mixing diverse aesthetics, shapes, colours, textures and finishes. If minimalism is about restraint, maximalism is about excess. 'Less is more' becomes 'more is more.'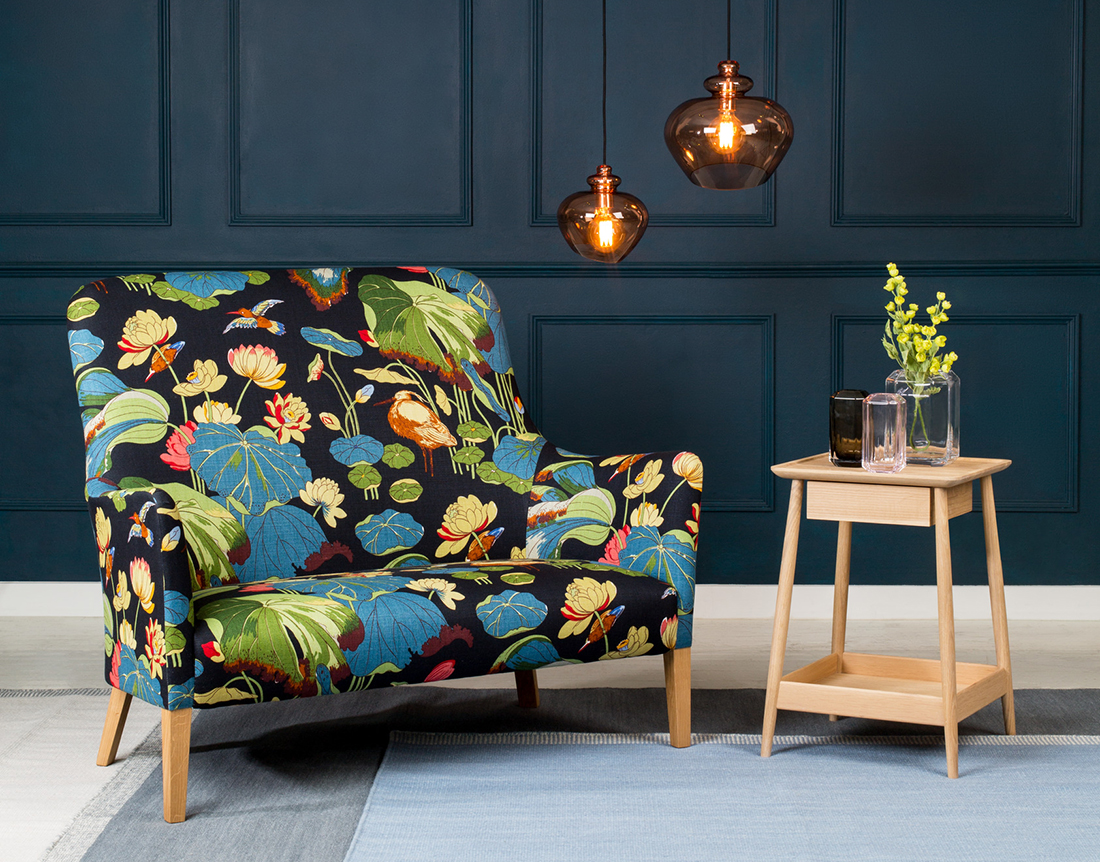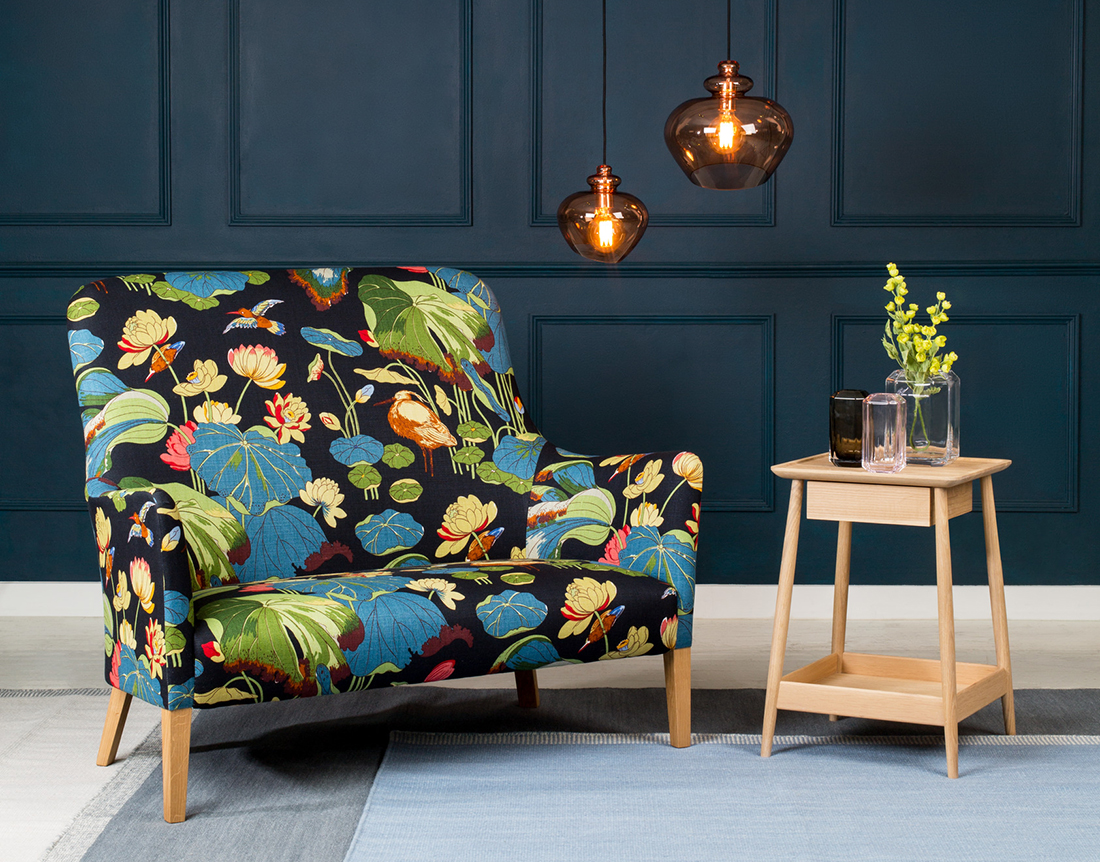 Maximalism has its roots in late 1970s visual culture, when Neo-expressionism emerged in response to the sleek minimalism of 1960s art and design. As an aesthetic, it's seen in art, film, literature, fashion and more.
Maximalist interior design is playful and daring, pushing the boundaries of traditional décor. Stripes and fur coexist with metallics and natural wood. Orderly gives way to ornate. Clean lines get twisted and turned. It's a mish-mash of prints, a clash of styles and a riot of colours all in one room – somehow balanced and beautiful rather than overwhelming. When done right, maximalism offers a lush, layered and cosy retreat from the outside world, and a space that is truly one's own.
Creating Maximalist Interiors
Whether you're a strict minimalist who wants to mix things up or a hardcore maximalist looking to expand, here are six elements to incorporate maximalism into your home:
Intention Is Everything 
It can be tempting to think of maximalism as 'everything but the kitchen sink' decorating. That's not the case. Simply putting every colour, pattern and style you've ever liked into one room won't deliver a stylish look.
Intention is what separates maximalism from madness. Careful curation, a discerning eye and the tiniest bit of restraint will allow maximalism's mismatched beauty to shine. Employ key design elements like symmetry and motifs to stop the room from descending into chaos. Symmetry brings a sense of balance and cohesion, while motifs help to connect the dots in a busy space and draw your eyes naturally from one area to the next.
Bold Colours
In maximalist décor, a plain white wall is a missed opportunity. Nothing draws attention more than bright hues and vibrant tones. Don't be afraid of introducing bold colours into your home – it's one of the easiest ways to decorate in maximalist style.
The right colour scheme is hugely important in a maximalist space. Choose complementary or analogous colours or stick to a monochromatic palette to avoid a cartoonish look. For example, several shades of purple – plum, lavender, violet, mauve – can pull a room together, while a mix of blues, greens and yellows will bring harmony to a space.
They may seem simple, but black and white can also be a bold colour choice for a maximalist space. Contrasting and graphic, they can anchor a room, opening it up to whatever wild design choices you want.
Paint is the most obvious way to embrace colour – a well-placed accent wall or a whole room saturated in a brilliant shade. Sofas and chairs are another great option for adding smaller bursts of colour that act as focal points. Choose whatever colours suit your fancy, from earthy terracottas and royal blues to luminous yellows and vivid magentas.
Magnificent Patterns
Pattern is a great way to amp up the visual exuberance of a maximalist interior. Floral damasks, polka dots, stripes, brushstrokes, check, abstract shapes – there are endless options. Layer similar patterns in different scales or mix contrasting ones in complementary colours for maximum drama.
Wallpaper is an easy area for adding wild prints, as is fabric. A sofa covered in a striking fabric, like our Pendel 2 Seater  in the Nympheus Linen print, makes a strong addition to a living room or bedroom. 
Decorating with patterned rugs is another great way to incorporate print. Choose a rug with bright geometric shapes or whimsical abstract patterns for a vibrant statement piece. Gandia Blasco makes beautiful maximalist rugs inspired by various visual references, including Middle-eastern Kilim weaving, stained glass windows and Valencian ceramic tiles.
You can also add flourishes of pattern in more subtle ways. A patterned lampshade enlivens any lamp, while Mia Sarosi's ceramic tableware brings an unexpected jolt of shape and colour to the table.
Extravagant Textures
Texture takes maximalism to the next level by mixing visual and tactile diversity. Play around with different textures, contrasting soft and fuzzy with smooth and firm to add even more textural interest.
Mix and match soft furnishings with distinctive qualities, like the cosiness of fur cushions and throws with the subtle sheen of a viscose rug. Set them against a sleek marble or glass coffee table for maximum contrast.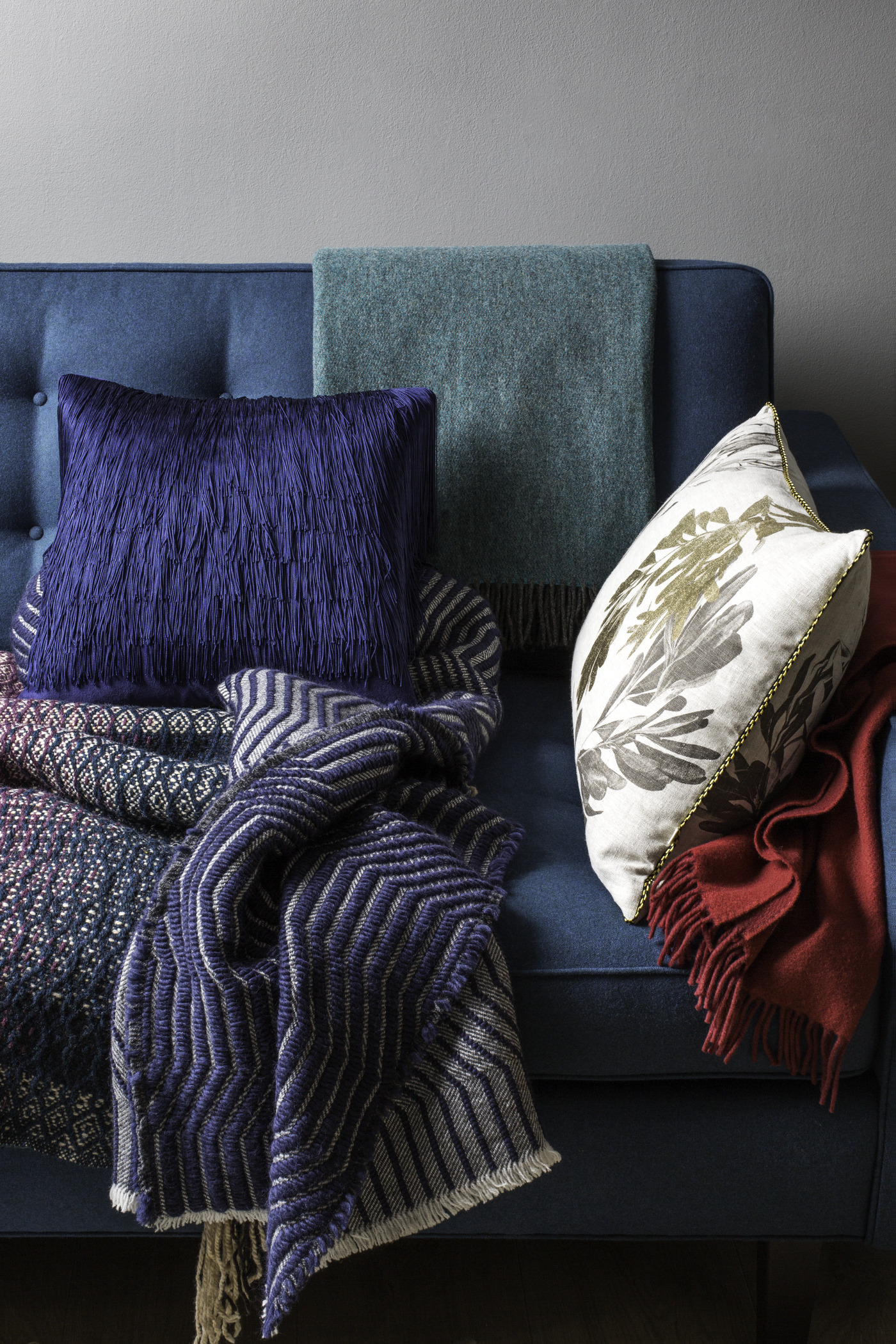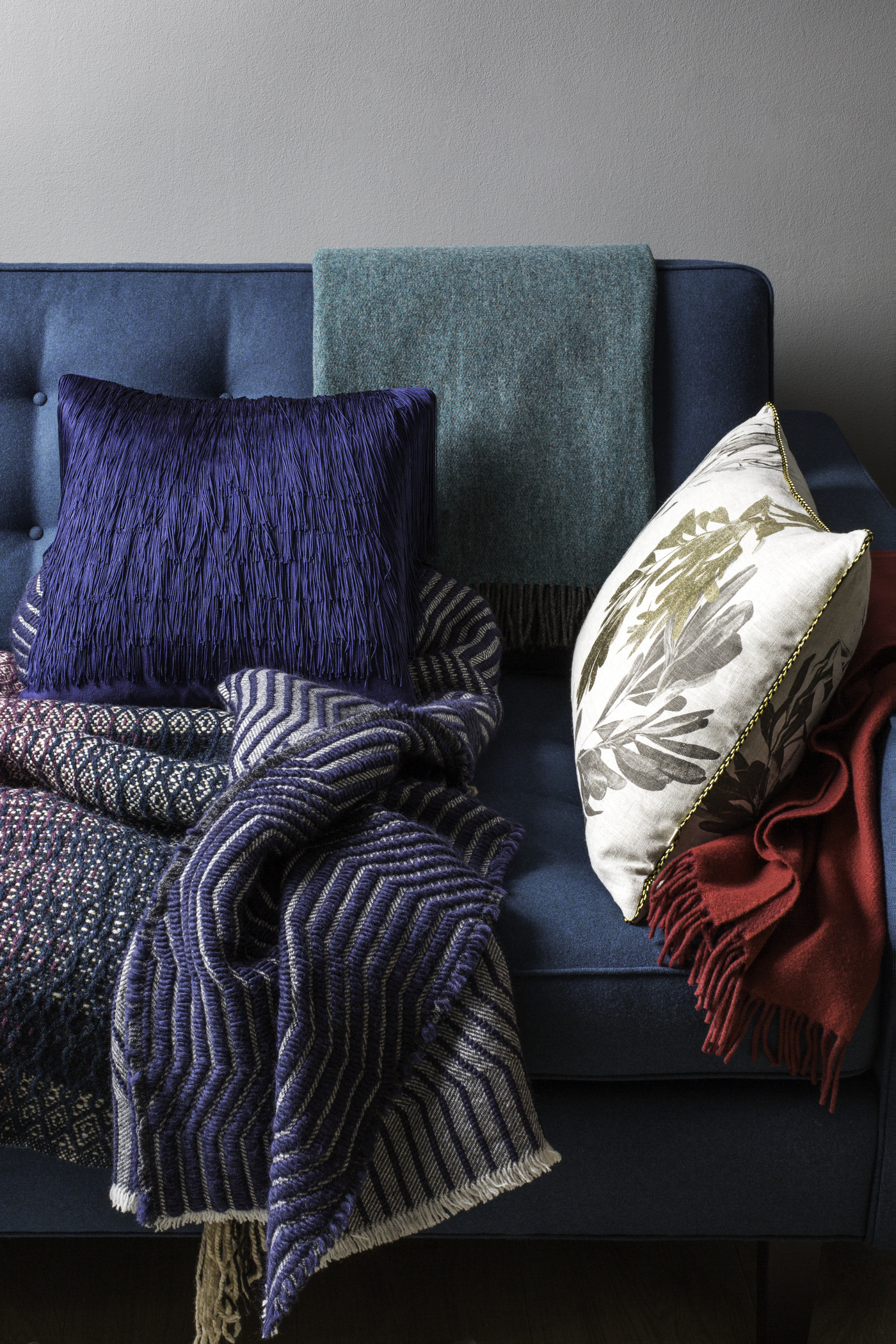 Seating is another area where you can play with texture. Ligne Roset's Togo, Ottoman and Ploum sofas all add a dose of subtle texture to a living room. Leather sofas, with their buttery soft feel, are another option.
Nothing says 'maximalist' quite like velvet. Mixing glamour and practicality, its lustrous finish fits perfectly in a show-stopping space. Choose a velvet sofa in a two, three or four seater style, like one from our Wallis, Balmoral or Richmond collections. For the bedroom, the Wallis bed or the Balmoral bed add a big punch of velvet to the space.
Curated Collections
Another hallmark of maximalism, collections are the perfect way to turn hoarding into an asset. You can collect anything – books, magazines, sculptures, tiles, boxes, photos, knick-knacks, coins or whatever else you like. Choose something you're passionate about and something that has a strong visual appeal.
Then, display your collection in the right way. Whether in the hallway or in the living room, a collections works best when it can be seen, but doesn't get in the way. Use smart shelving options to organise your wares, or have items like records or t-shirts framed for a gallery wall. Once you display all the items together, they work as a family of objects and add pizazz to any room.
Standout Homewares
For a truly maximalist space, you need a few stunning homeware pieces – pieces that everyone comments on when they enter the space, pieces that have the 'wow' factor, pieces that elevate the everyday object into a work of art. For this, look to designers with unusual and arresting aesthetics.
Tom Dixon's lighting delivers major impact. One of Britain's most acclaimed industrial designers, his pendant lights and chandeliers are the definition of eye-catching. With pioneering techniques in etching, glassblowing and more, it's no wonder his work has been acquired by museums around the world.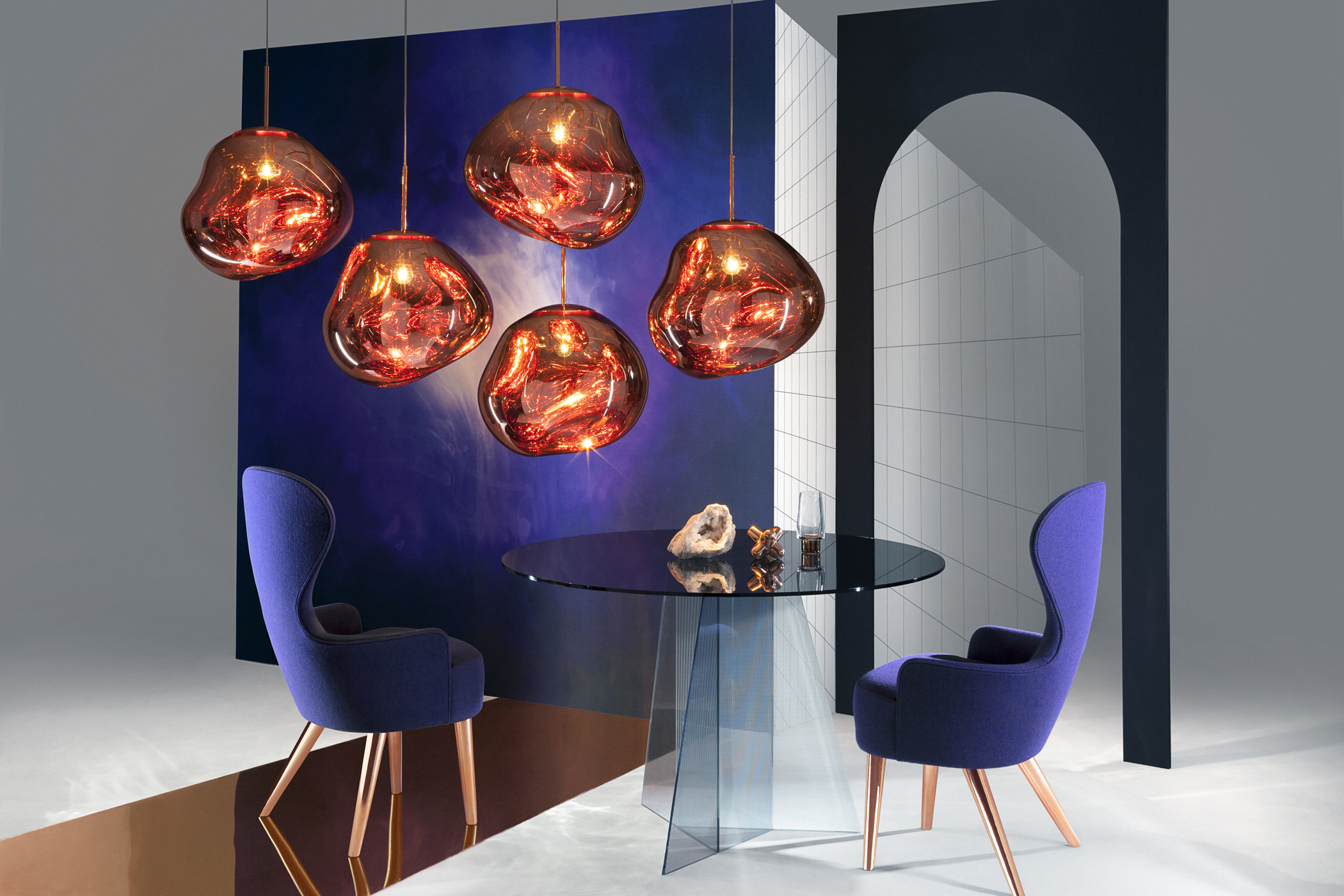 Another Tom in the world of lighting design, Tom Raffield crafts one-of-a-kind pieces by steam-bending wood. His pendant and floor lights are as beautiful in form as they are practical in function. Every piece is made in his Cornish workshop with sustainably-sourced wood.
A clock by Vitra is another standout home accessory. George Nelson's iconic 1950s designs for the brand have stood the test of time, capturing the joie de vivre of that era with a quirky twist. Choose clocks in the shape of sunbursts, sunflowers, stars, asterisks, eyes, owls and more.
Timothy Oulton is another exceptional British designer whose work is singular in its point of view. Inspired by his father's antiques business, he reimagines timeless pieces to be relevant today. His work ranges from classic dining chairs upholstered in wild velvet prints to side tables made from raw driftwood suspended in acrylic.