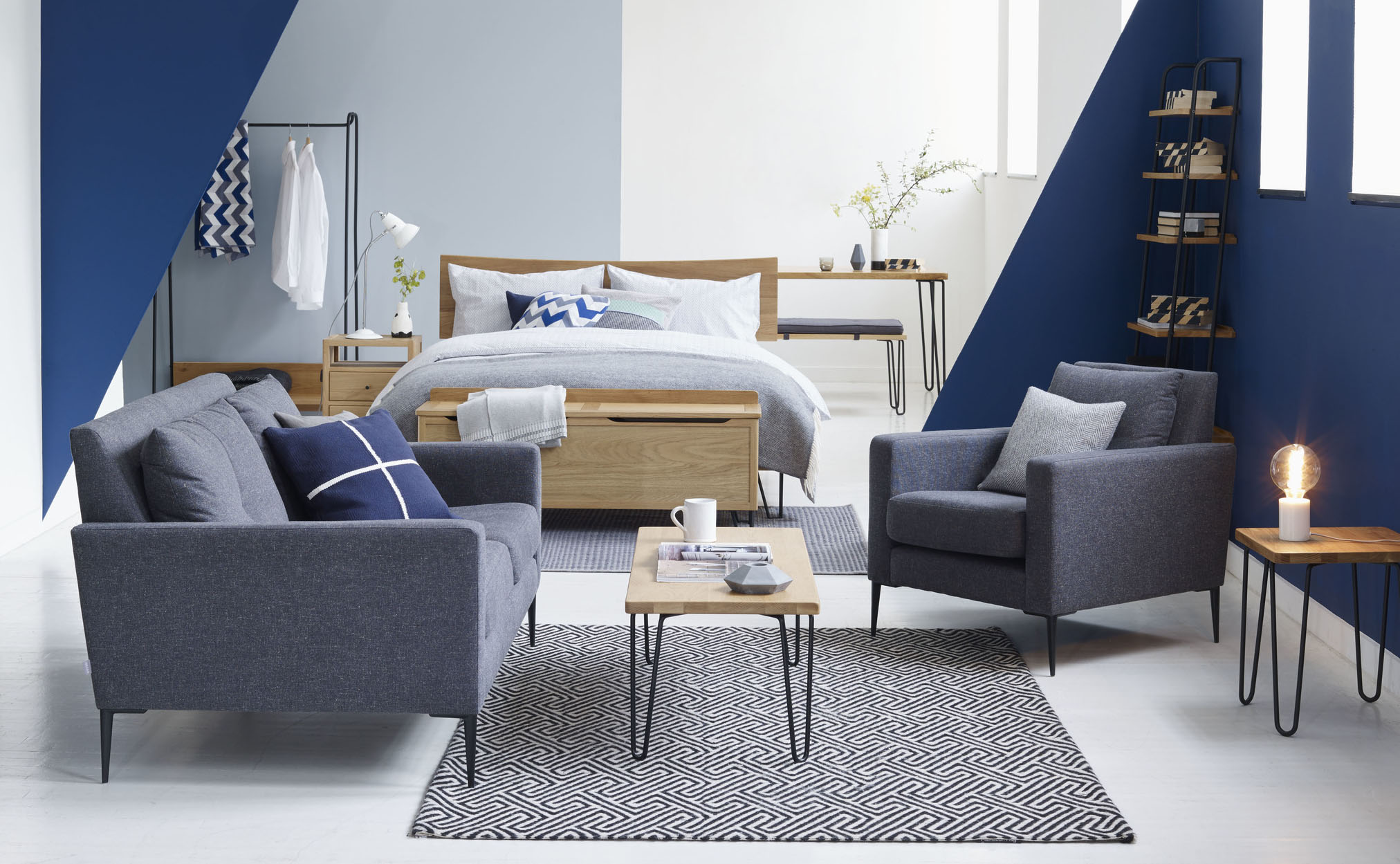 Furnishing your home can be a balancing act between design and cost, with the best quality pieces coming with the highest price tag. But what if you could have great design at a great price? Whilst it's easy to fork out a fortune on big name brands, we've made sure our range offers good design at any budget. Read on for our guide on which Heal's designs to invest in if you're furnishing your home on a budget.
–
Living Room
With many larger items of furniture found in the living room, the costs of furnishing it can quickly add up. Often the budget is blown on seating alone before things like coffee tables or rugs have even been considered. With that being said, here are a few key pieces that won't leave you feeling out of pocket.
The Brunel sofa, from £999
The Brunel sofa has remained one of our bestsellers for 5 years, largely in thanks to its versatile design and comfortable sit. Starting from £999, the Brunel sofa is a carefully considered blend of mid-century and industrial influences. Its tapered feet are reminiscent of 1950s and 60s design yet they are made from aluminium which give a much more industrial feel. The mixed material aesthetic is also bang on trend for 2018.
The Morten sofa, from £999
From just £999 the Morten sofa is one of our most affordable. Undisputedly Scandinavian in style, it boasts a clean silhouette with rounded arms and seat cushions that can be easily be dressed up with chunky throws and tailored cushions. Despite being economically priced, it is still made from the finest white washed oak and upholstered in a luxuriously soft grey wool.
The Joule Lighting Collection, from £89
A piece of statement lighting is an easy way to give your room an entirely different feel. It immediately draws the eye and adds personality. While eye-catching chandeliers can be on the more expensive side, floor lamps and table lights are a more affordable way to add layers of light to your space.
Metallic touches are as popular as ever and our Joule Collection has proved to be a favourite amongst design lovers since its launch. If you're looking for something long lasting it's important not to compromise on materials – the Joule Floor Lamp has a solid marble base and slender painted satin brass frame creating an elegant design of the finest quality. At just £249 it's on the more accessible side of designer, contemporary floor lamps.
Linie Reversible Rugs, from £179
For rugs, why not consider a range of reversible rugs from Linie which offer two designs in one. The Menda range comes in a selection of neutral tones that complement any scheme while the runners are perfect for adding personality to entryways or hallways.
The Silje Rug, from £489
The Silje rug, also by Linie, is on the slightly more expensive side, but the impact it gives a room makes it really worth the extra few pounds. It's hand tufted using 100% wool and the bold design and colours are surprisingly easy to use in a living room giving it a real focal point.
Bedroom
The Blythe King Size Bed, £999
A well-designed bed made from the finest materials doesn't have to cost the earth. We wanted to introduce a bed that reflected our background in Arts & Crafts movement of the 19th century in a modern way, and our Blythe bed does just that. Designed in-house, every element of this bed has been considered with the arched lines, beautiful joinery and tall spindle headrest evoking the craftsmanship at the heart of this range. At just £999, the king size bed is the perfect balance of quality and cost.
The Pocket Mattress, from £499
From lamb's wool to latex, mattresses come in all levels of luxury with some reaching thousands of pounds in price. But sometimes it's better to just keep things simple.
Our Pocket mattress starts at just £499 and is durable enough to provide a sound night's sleep night after night. Individually encased in hard wearing fabric pockets, hundreds of springs are hand-nested and move independently from one another to respond to your natural contours and movements during the night.
The Junction Table Light, £129
With its thin, understated profile, the Junction Table Lamp makes a versatile and stylish feature light for sleek modern schemes, especially a bedside table. Placing the bulb at the core of the design, complete the look by pairing with an oversized, bare filament bulb like these decorative bulbs from tala.
The Morten Bedside Table, £269
The Morten collection extends to a number of affordable bedroom furniture designs, including this charming bedside table. We commissioned John Jenkins to design the Morten range exclusively for Heal's. The "no frills" design cleverly uses elliptical handles to keep costs down and the solid oak is given a subtle whitewash instead of using a more expensive pale beech.
Cate St Hill used our Morten bedside table to furnish her guest room, providing that extra bit of storage that adds form and function to her Scandi aesthetic.
Dining
The Brunel Dining Table, £649
The Brunel Dining Table was designed exclusively for Heal's by Rob Scarlett alongside the rest of the range. Designed with the modern home in mind where space is often in short supply, the dining table has a small footprint and its slender design creates the illusion of space. Solid oak and steel legs give the Brunel range a premium, industrial feel as well as an inherent durability meaning that each design will stand the test of time.
The Masters Chair, £159
A thought-provoking design, the Masters Chair by Philippe Starck is a hybrid of three iconic chairs by legendary 20th-century designers Arne Jacobsen, Eero Saarinen and Charles Eames. Reminiscent of classic Thonet bentwood chairs commonly found in the cafes of Paris, branch-like loops exhibit all the innovative construction and quirky features one expects from a Starck design. A prime example that beautiful, inspired design doesn't have to cost a fortune.