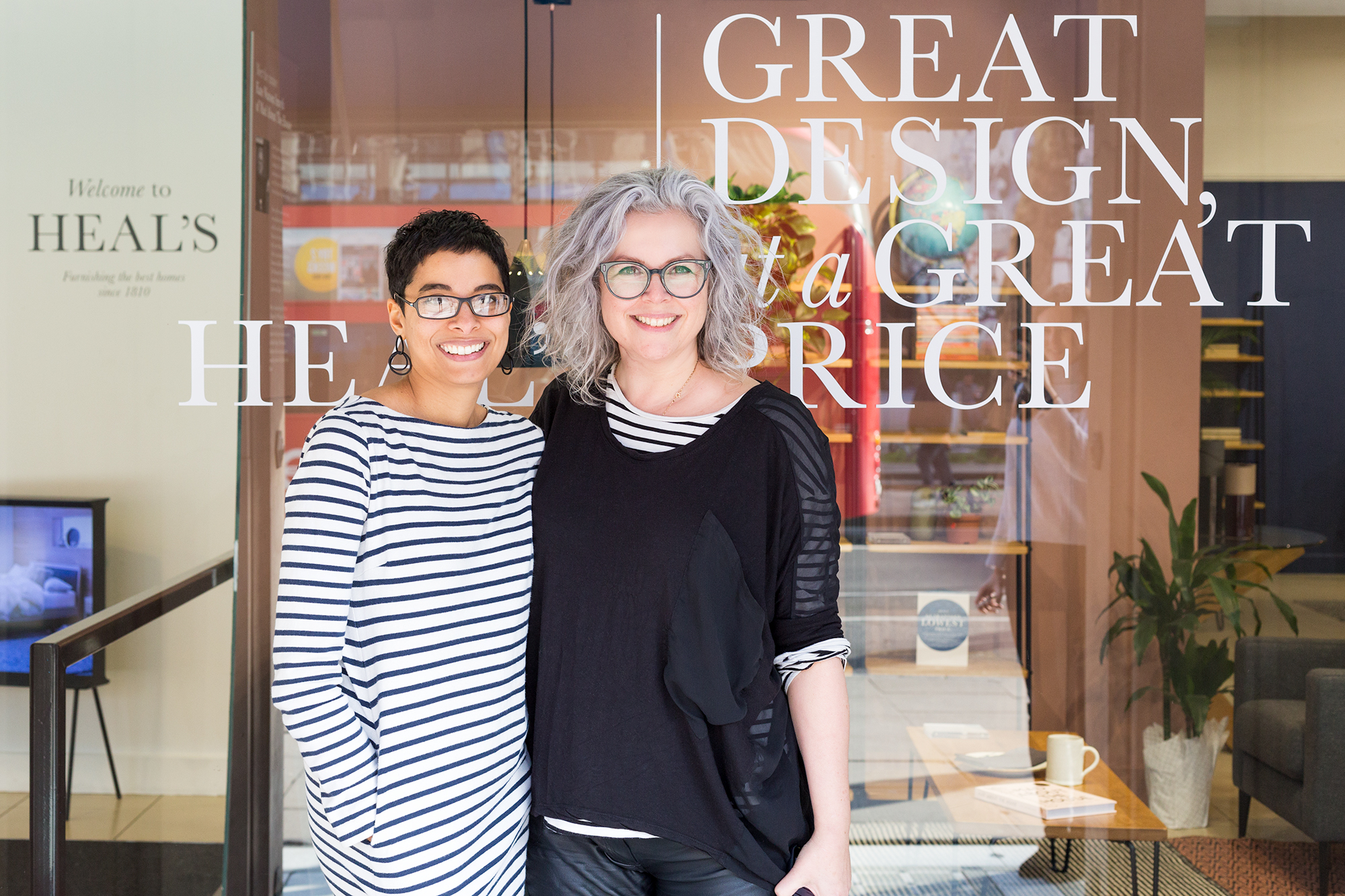 It can be a challenge to find well designed, high-quality furniture without the huge price tag. To make things easier we're turning our attention to the Heal's designs that balance quality and cost, proving you don't have to spend a fortune to own a piece of designer furniture.
Our Morten and Brunel ranges offer exceptional value and while they are different in style, they are equal in quality. Both are the creations of two talented furniture designers; Brunel was the brainchild of the award-winning Rob Scarlett while Morten was designed by John Jenkins, a celebrated furniture designer who worked at Heal's as a buyer for many years.
To showcase these two beautiful ranges we invited two pros in the art of styling – Kate Watson-Smyth and Tiffany Grant-Riley – to reimagine the front windows of our Tottenham Court Road store using pieces from either collection. What resulted were two very different rooms sets that were true to their interior styles.
–
Tiff's Morten space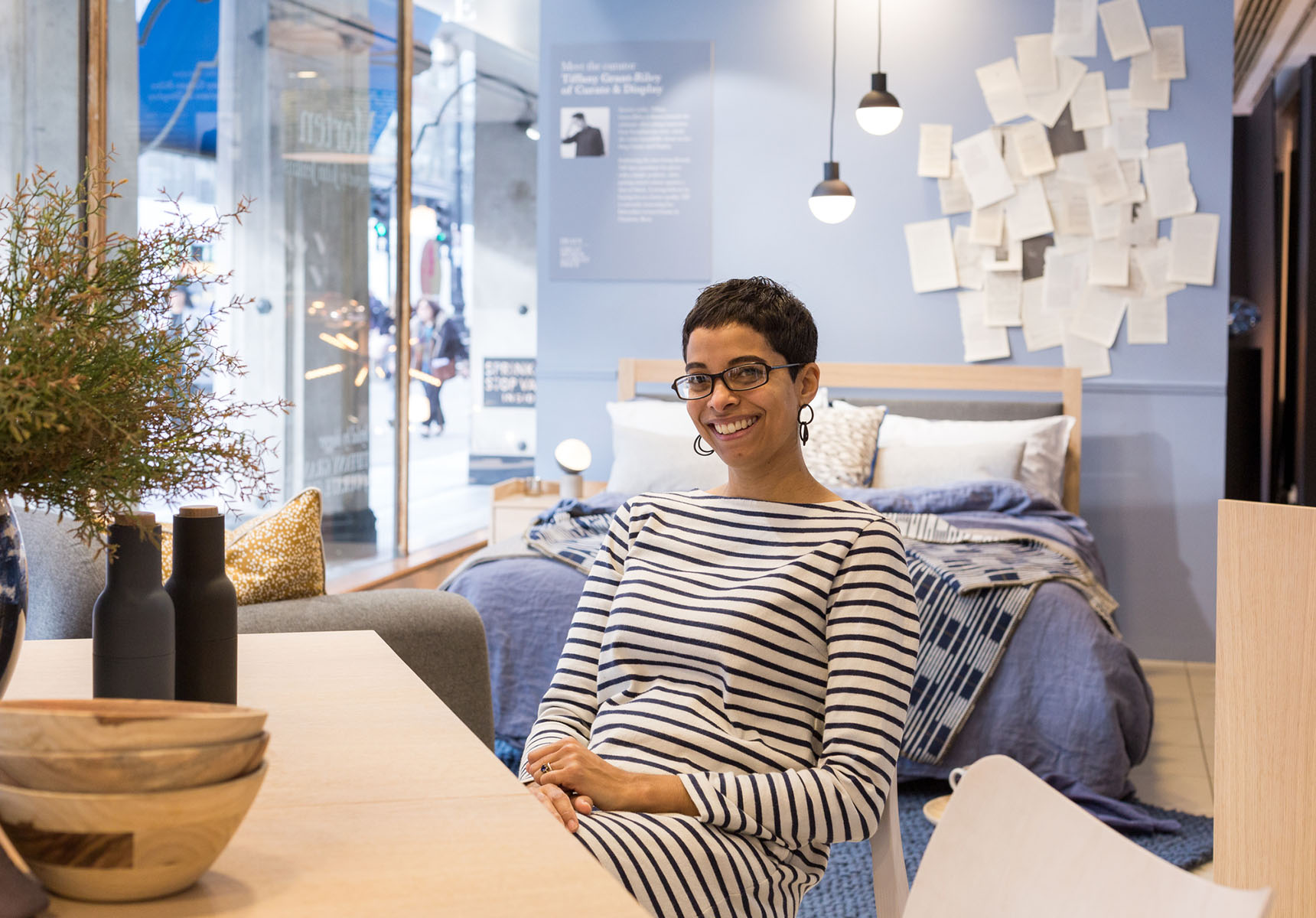 Tiff is drawn towards the minimal, often taking inspiration from Scandinavian homes. She embraces the slow living lifestyle which writes about on her blog, Curate and Display, and is drawn towards a simple aesthetic often pairing muted colours against a shot of black. The Morten range was a natural fit as its light oak and clean lines are unmistakably Nordic in style.
Tiff started by painting her backdrop with a light blue shade which she has on the skirting boards of her children's rooms in her own home. The pale blue immediately created a light, airy feel which complemented the whitewashed oak of the Morten collection. Layered with textures and throws, she created a cosy and inviting bedroom space completed by two Fabian pendant lights that draw the eye upwards towards a feature wall of layered pages she ripped out from books.
The Morten chest of drawers displayed some carefully considered touches like luxury hand wash by Tom Dixon and the Jewel vase by Louise Roe while a wooden platter by Nkuku was chosen to mirror the materials of the collection. Her space seamlessly transitions into a stylish dining area that incorporates the new Morten dining table and bench. Styled with pieces from Nkuku and Menu, the table is given its finish touch with the Olson Glass Dome Pendant that hangs elegantly above. 
Watch her space come to life here:
Kate's Brunel Apartment
Kate Watson-Smyth is an interiors journalist that has been contributing to the national newspapers for the last twenty years. Her blog, Mad About The House, has won numerous awards thanks to its inspiring and insightful content, acting as a sourcebook for modern living. A firm believer in the idea that a home should tell a story, Kate describes her style as Urban Glamour with natural wood and touches of metal never far from her styling. Kate opted for the industrial-style Brunel collection which combines solid oak and powder coated steel legs in each design.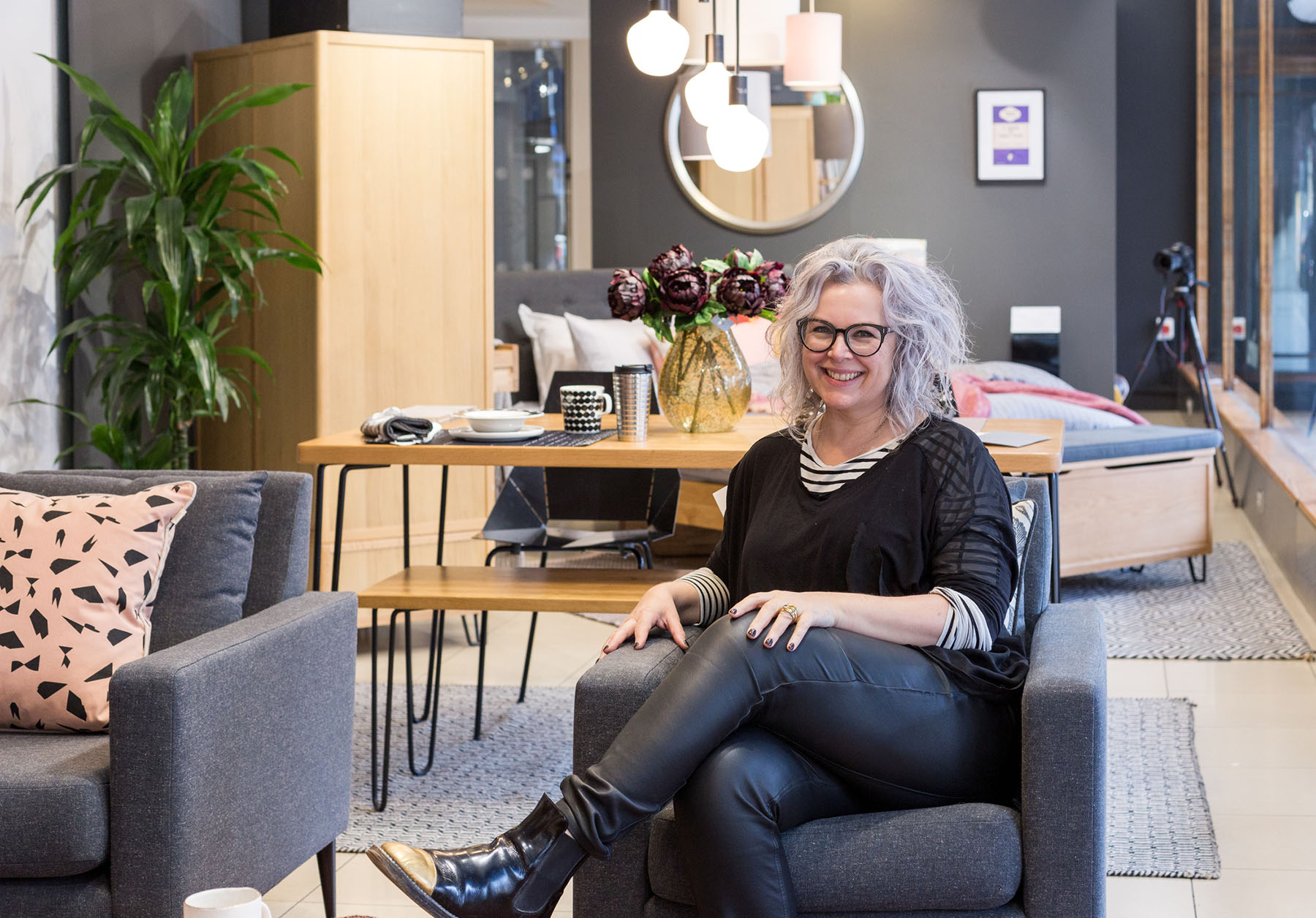 Kate used Brunel to create a chic and comfortable apartment space with the dining table dividing sleeping from sitting. She decided to add various shades of pink to unite the scheme across each room and used a mix of rugs, cushions and accessories to bring the space to life. Her dining area reflected today's need for small spaces to be multifunctional – a typewriter sits next to a selection of tableware giving the impression that someone may have just popped away to make a cup of tea before they sit back down to work.
She used two of the Brunel Lean To Shelves in her living room space to display an array of homeware, making sure to keep things minimal to highlight the beauty of the design. The Brunel Lean To Shelves is great for renters in particular as they don't need to be screwed into the walls and can easily be taken apart and moved.
In the bedroom, she offset her grey bedding with colourful scatter cushions, a wool throw and a patterned lampshade by Scion which echoes a similar scheme in her living room.
Wach the space take shape below:
The room sets will be in place until the 20th of February in our Tottenham Court Road store.