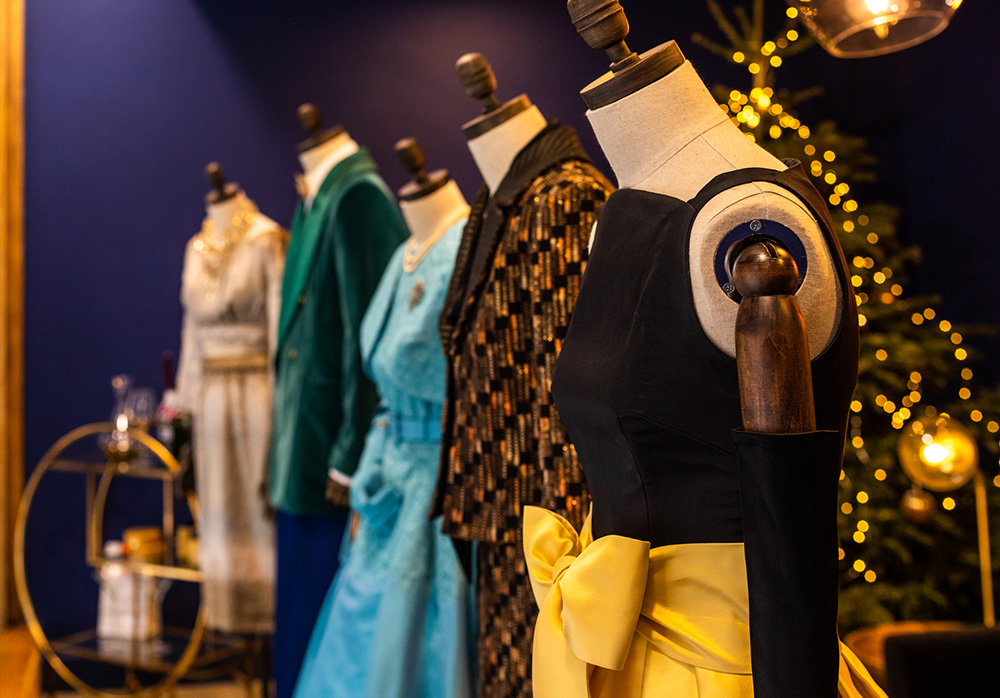 For the first time in the UK, costumes from the second season of the acclaimed series, The Crown, will be on display exclusively at Heal's Tottenham Court Road. Featuring five different designs from Season 2, visitors will be able to take a closer look at the pieces worn by Claire Foy, Vanessa Kirby, Lia Williams, Jodi Balfour and Alex Jennings in some of their most memorable scenes.
Join us on the evening of Thursday 13th December for an exclusive discussion between The Crown Season 2's Costume Designer, Jane Petrie, and The Telegraph's Claire Cohen. Tickets are £5 and include a glass of prosecco on arrival at our Tottenham Court Road store. Book here >
–
Ever since The Crown first hit television screens back in 2016, audiences around the world have been hooked to the royal drama with ever-increasing enthusiasm. Season 2 delivered a masterpiece in historical storytelling, blending the private and public events of the Royals through its dramatic instalments.
Beginning with soldiers in Her Majesty's Armed Forces fighting an illegal war in Egypt and ending with the downfall of her third Prime Minister, Harold Macmillan, after a devastating scandal, the second season bears witness to the end of the age of deference, and ushers in the revolutionary era of the 1960s.
Costume design played a vital part in the storytelling of Season 2 and it gave Emmy® award-winning Costume Designer, Jane Petrie, the opportunity to explore and reflect a transitional time in Queen Elizabeth's life and marriage. The series plays out throughout the early 60s, a time when fashion and social attitudes were widely changing and the 'out-of-touch' monarchy had to adapt.
Jane was kind enough to take time out of her busy schedule to talk to us about her experience of working on The Crown. Having worked on a number of feature films (The Constant Gardner, Suffragette) and TV series (Black Mirror, Top Boy), she joined The Crown for its second season.  
Research was key to her preparation for tackling Season 2, not just in terms of the royals but also the social backdrop of the time. "I had about 20 weeks of preparation before filming started to study the script and get prepared. I didn't start by researching the Royal Family but instead read as much as I could about the state of the nation to get an idea of what was happening in the country at the time. Andrew Marr's 'The Making of Modern Britain' was particularly useful. Once I had a good grounding I moved on to the characters and the storyline. I considered the characters within the script, worked on the tone and colours with the directors and worked out what was needed for each episode."
Season 2 brings some iconic fashion moments into focus with some of the era's most stylish women taking centre stage – Wallis Simpson (Lia Williams) makes a return, and we get the first visit from Jacqueline Kennedy (Jodi Balfour) as well as inside look into Princess Margaret's (Vanessa Kirby) royal wedding.
Jane and her team managed to seamlessly weave costume design into the narrative by using both historically accurate representations of the clothing as well as their own interpretations. "The Crown is unique because the original outfits are so famous. You wouldn't even entertain the idea of changing some of them – for example, Princess Margaret's Butterfly dress or her wedding dress. With others, you can take creative liberties and instead channel the essence of the character. We wanted to use black in a few of Princess Margaret's clothes, for example, which they wouldn't really have done at the time as it's not a traditional colour. But we trusted our instincts and believed it reflected her personality and desire to break out and explore the jazz clubs of Soho."
Similarly, Jackie Kennedy's yellow and black evening gown, currently on display at Heal's, is very similar to the one she wore at a 1961 White House state dinner. In reality, she wore white gloves, but Jane decided to give her black ones as it added more drama and looked better for the story they were trying to tell.
A key element of Season 2 is the difficult relationship between Elizabeth and Margaret. Jane was able to reinforce this storyline throughout her costumes. When asked about Queen Elizabeth's aesthetic, Jane recalls, "She seemed to really find her style around this. We didn't have to do much within the costume design to highlight the differences between her and Margaret. Elizabeth was pregnant at the time, very conservative and focused on her family. She was dressing for a very different stage of her life compared to Margaret."
With such a big cast and an ever-changing script, there are many challenges to be faced on a set like The Crown. "Life on the set is so fast and so busy. My team and I came out feeling that if we could do that we could do anything. It was absolutely thrilling as we had to respond to changes in the script every day and much of our work was in flux. But I loved having the opportunity to improve and change things, and it's so satisfying to see the finished designs on screen."
---
You can take a closer look at Jane Petrie's work at our Costume Exhibition at Tottenham Court Road featuring five of the series' costumes worn by Claire Foy, Vanessa Kirby, Lia Williams, Jodi Balfour and Alex Jennings. The pieces will be on display until 21st December.
The Crown is also offering you the chance to win a 2-night stay fit for a queen with Classic British Hotels. For your chance to win, enter here.
The Crown: Season 2 is out now on DVD and Blu-ray. The Crown is produced by Left Bank Pictures, in association with Sony Pictures Television, for Netflix.