As part of British Designers at Heal's we welcome Stephen Smith, our artist-in-residence, whose work is available to view and purchase at our Tottenham Court Road store.
Working under the studio name of Neasden Control Centre, Stephen's work is known for its multi-disciplined hand drawn approach often combining lettering, drawing and collage within graphic compositions.
We sat down with Stephen to find out a bit more about him, his work, and what inspires him as an artist.
–
What motivated you to work as an artist? Is it what you wanted to get into growing up?
I have worked as a both an artist & illustrator since I graduated from the University of Brighton in 1998. Although there are obviously differences between my commercial studio work as Neasden Control Centre and my art practice essentially I'm motivated by environment, society & culture – both historic and contemporary. This influences my work in both capacities.
I was lucky enough to be taken by my family to museums and art exhibitions as a young child which had a big impact in my learning and development and overall interest in the arts. I have always enjoyed all aspects of what I do. It's become my whole life and something I live for.
How would you describe a typical working day?
I don't tend to have typical days. I try and keep things flexible between my studios. I have a studio for commercial work which is more desk orientated and a separate studio for painting which is larger and enables me to explore different processes in a playful way – some of these works are large in scale and so require a different space to work in.
Due to the diverse nature of the projects I tend to take on sometimes a day can consist of; planning and research for future work, site visits, sewing large sections of canvas, painting, drawing for illustration or commercial projects, digital editing or working on design led projects with collaborators I work with.
I also try and keep things flexible as this suits my process and practice to expect the unexpected.
Give us some background on your collection. What was the inspiration behind it?
The starting point for this series spawned from a journey I took to Baikonur Cosmodrome (Russian Space Station). During this trip I witnessed the flat plains of Kazakhstan on a 24 hour train journey, vast architectural interventions and colour from the region at first hand. These have subsequently became embedded in a visual language as a metaphor for this time / place within the surface.
I am exploring this through a process of formal abstraction. This process embodies the deconstruction and subsequent reconstruction of both material and motifs. I see these as integral to the form of the painting and paradoxical in approach. Within this I am exploring the interaction between both the physical material and painted motifs, where the motifs act as a method of communication like say a maritime signal flag.
This visual language is documented by my support work in collage and drawings in mixed media on paper. As a painter, I am particularly interested in the process of breaking down and re-contextualising. Integral to this has been exploring the boundaries between paintings on stretchers and un-stretched canvas. I am interested in engaging with how the folds, sewn edges and layers within the canvas can act as a form of mark making.
How long does it take to create your artwork?
 The paintings exhibited at Heal's currently are part of series of works I have been making over the past year or so exploring both the physical process of painting and construction / deconstruction within it.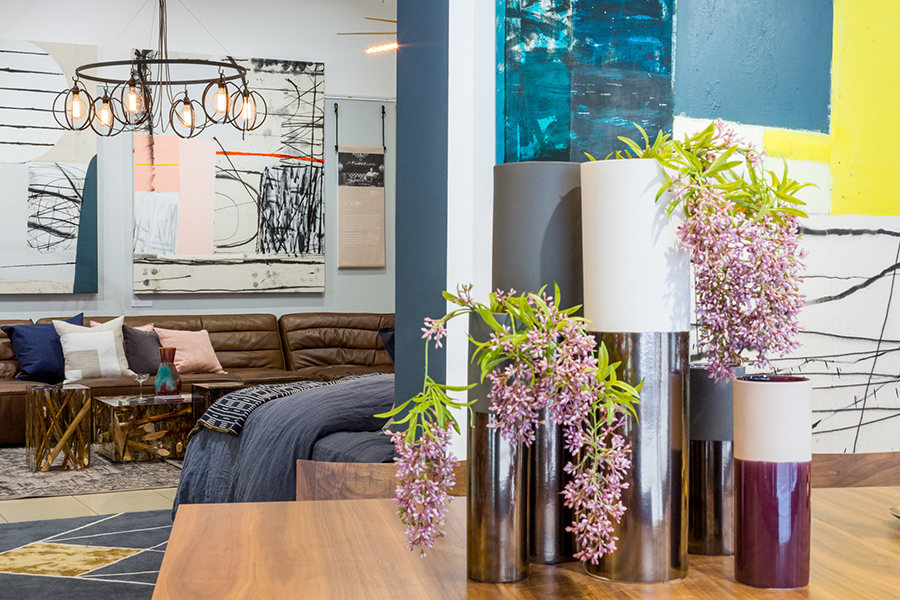 Stephen Smith's artwork on display in our Tottenham Court Road store
The paintings are often reworked and therefore can take up to a year to complete. In this series I have deconstructed the form of both the paint and painting structure by cutting and machine stitching the canvas so that it encompasses a collaged process. This process has enabled me to explore drawing, painting, scale and colour within my work.
How would you describe the feel of the materials used in your design and the choice of colours?
One of the things that my process has enabled within deconstructing and reconstructing the canvas through collage and stitching has been the ability to cut directly through the middle of paintings and, by doing so, creating areas of both raw and painted canvas within this action.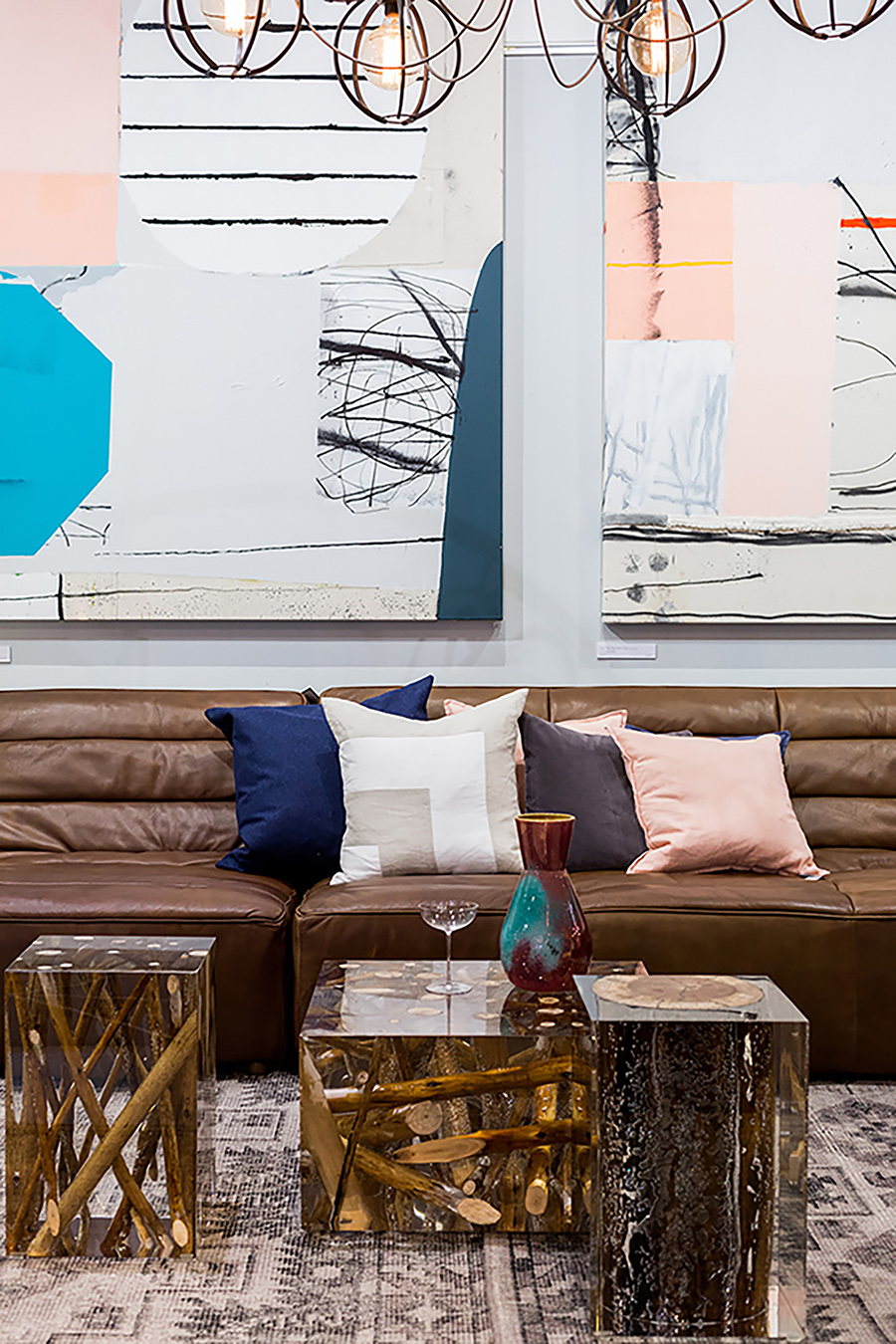 Stephen Smith's artwork on display in our Tottenham Court Road store
This has enabled different colours and elements to interact with each other in combination with textural qualities and marks across the surface. The tension of the paint and collaged colour is held in a form of chaos directly within this physical process. I'm trying to achieve a balance between the line, form, surface, colour and overall compositions at all times.
Therefore the paintings very much have evolved from Modernism. I am particularly drawn to mid-century form within Modernism and the often brutal nature of the architecture celebrated again in recent times from this period of stark concrete and painted murals.
---
To see Stephen's artwork in its full glory, head to our Tottenham Court Road store where they will be on display until 27th August 2017.