A key part of Heal's heritage has been partnering with independent designers to bring customers well-made and good quality design – be they well-established or newly discovered names.
Heal's Discovers does just that. Now in its 13th year, the initiative aims to provide a platform for emerging design talent to showcase their skills and creativity.
For Heal's Discovers 2017, we decided to focus on innovation in making and technology. Drawing upon Ambrose Heal's quote, "if in doubt, innovate" we have selected some of the strongest emerging designers who are using brand new processes in production and materiality to produce beautiful pieces for the home.
Launching as part of London Design Festival in September, these pieces will be available to buy in store and online. Meet the designers behind the Heal's Discovers 2017 collection below.
–
Alice Howard Graham
First up is Alice Howard Graham who has created a selection of innovative printed leather designs that can be used as rugs or wall hangings. We first met Alice at her Masters show in 2016 where her passion for creativity was instantly apparent.
Growing up on the South Downs in East Sussex, she was encouraged by her mother, the late painter and photographer Anne Howard, to express herself creatively through many different mediums.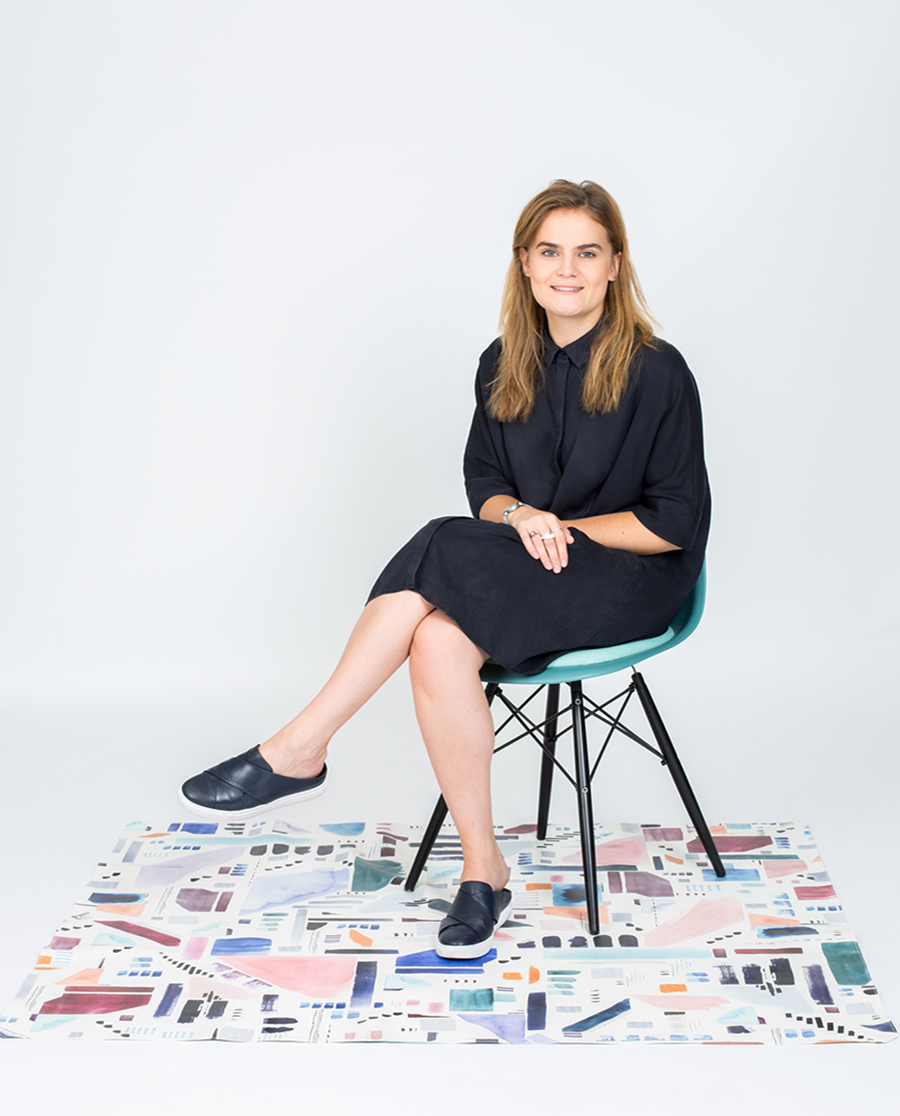 She found herself drawn to textiles and, having studied for a degree at UCA Farnham and then a Masters at RCA in the subject, she began to perfect her method of screen-printing onto leather.
She cites the initial stages of gathering inspiration as vital to her design process and often looks to photography for ideas.
"Photography has always been very important to me, as it's often the starting point for my designs. These photographs then inspire me to experiment with surface, placement and colour in quite an abstract style."
Alice used a series of aerial photographs she took over Petworth, East Sussex from a hot air balloon for her Painted Shapes panel.
A selection of Alice's aerial photography
"Viewing the varying textures and colours of the autumnal Sussex countryside from a flat, aerial perspective was fascinating. I loved the abstract depiction of the elemental, textural environments these photographs were portraying. Shadows created from trees and hedgerows leaked into the edges of ploughed fields whilst deep indigo reservoirs and lakes cut into the landscape."
What has resulted is a beautifully soft yet durable leather panel with a striking printed design that we instantly fell in love with.
---
 Solidwool
Justin and Hannah Floyd are the creative minds behind Solidwool, a composite material made from wool that gained the two entrepreneurial designers a place on our shortlist.
Driven by the decline of woollen manufacturing in their home town of Buckfastleigh, the couple set out to find a new way of working with the material.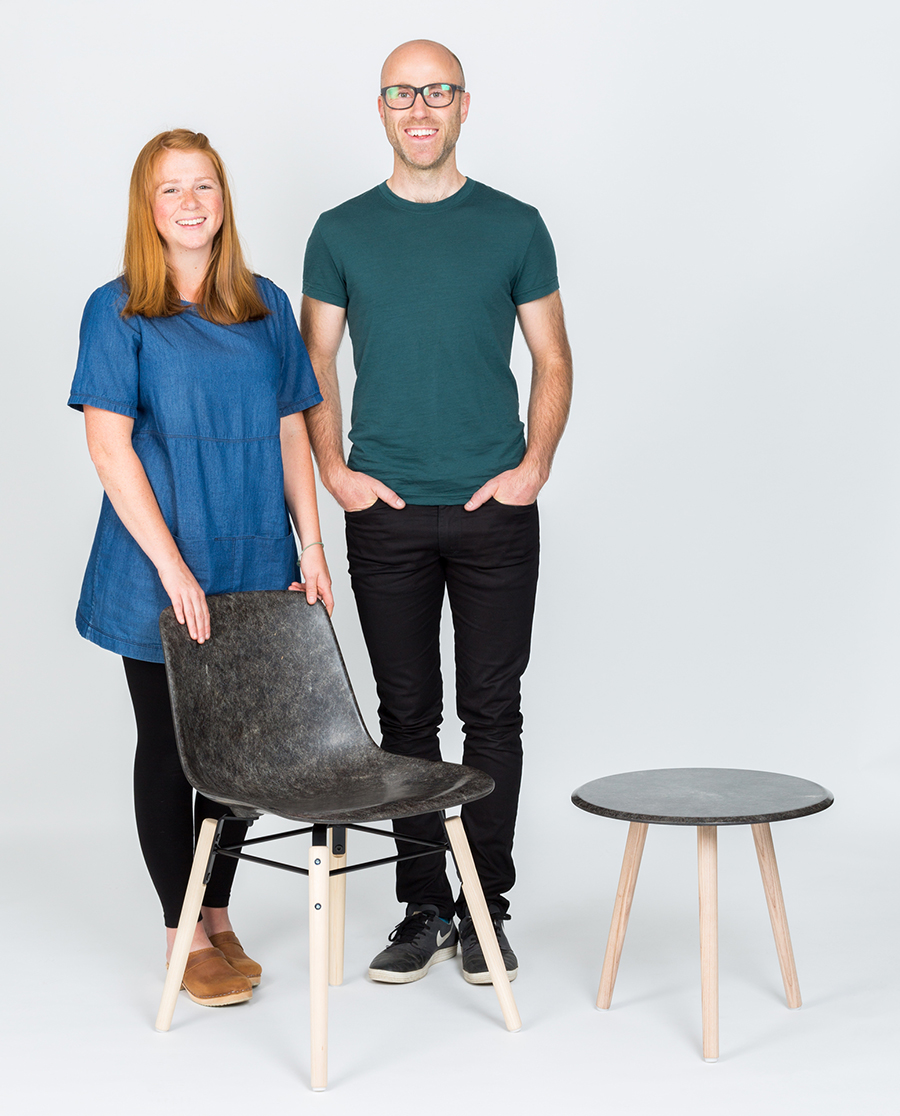 "Buckfastleigh was once a thriving part of the woollen industry but had grown quiet since the key manufacturing had left. We had an idea – if we could find a new way of working with wool then perhaps we could bring some of this industry back. We wanted to find a way of reinventing this wool to give it value once again. To take the unwanted and make it beautiful."
Using the coarse wool from hill-farmed, upland sheep they found an entirely new way to work with a material that had lost nearly all of its value. Once a major part of a shepherd's income, the wool now sells for about 30-40p per kg, costing more to shear the sheep than a shepherd gets back in wool sales.
"We started to play, to turn the way we have always worked with wool on its head. The end result is what has become Solidwool. A strong, beautiful and unique composite material. Think of it like fibreglass, but with wool."
Justin and Hannah wanted to showcase the beauty of the material and a shell chair seemed to be the obvious choice. Using a classic, simple shape allowed the material to be the star.
"We like the fact there is reference back to the Eames' first production fibreglass chairs – as an alternative to fibreglass, it seems apt."
Matt Davis
Next we introduce Matt Davis who we first met at the New Designers Graduate show and whose ceramic vessels won him a place on our Heal's Discovers 2017 shortlist.
Having originally trained in graphic design at Camberwell School of Art, he returned to studying his initial passion for ceramics at the University of Brighton. It was a decision that awarded him a 1st Class Honours degree, a Richard Seager Bursary Award and the Emmanuel Cooper Prize in 2017. He also has pieces on display in the permanent collection at the Potteries Museum in Stoke-on-Trent.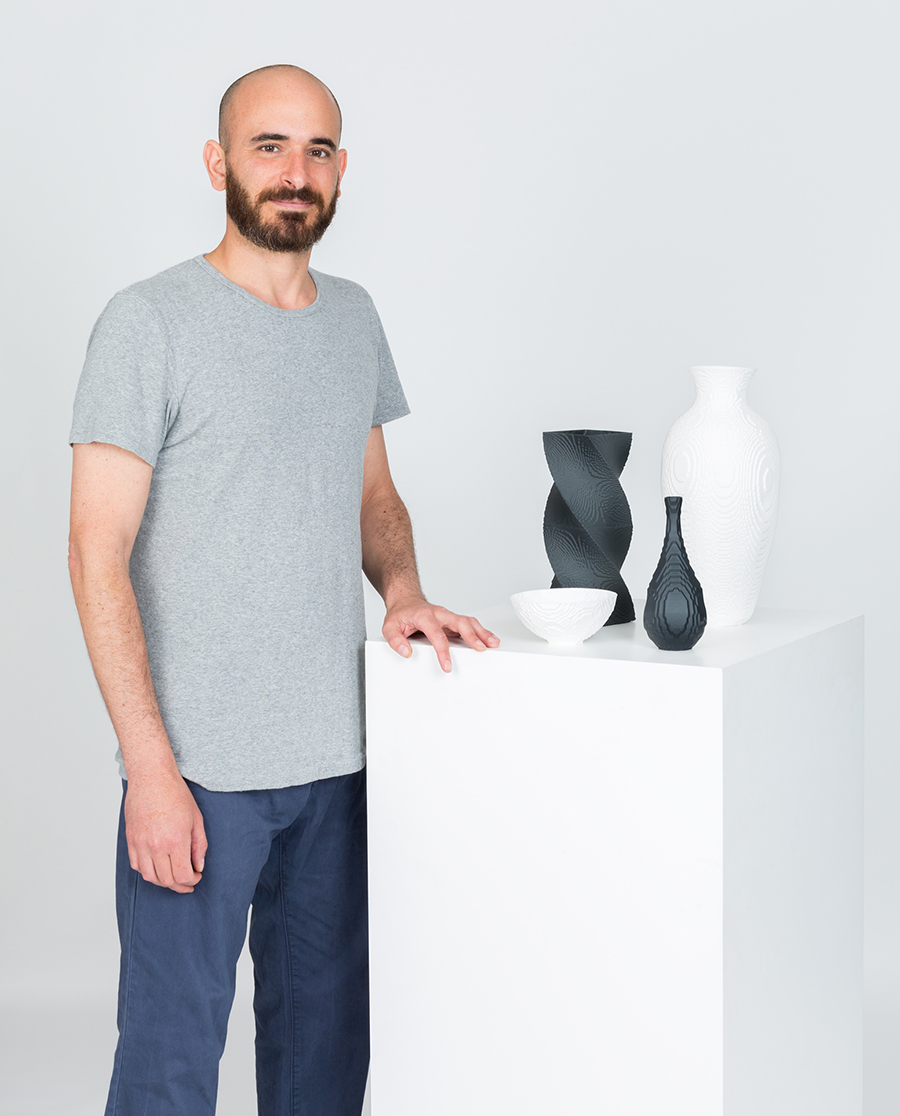 Describing his design style as Digital futurism, Matt's work references classical vessel forms which are essentially digitised for the modern era.
"I had the idea of making 'binary objects' and wanted to create iconic artefacts that had an almost dualistic existence both aesthetically and conceptually. These designs appear like digital objects in the physical world and their geometry almost looks impossible to cast but it can be done." 
It took almost a month for Matt to work out how to translate his designs from computer code to physical designs. His ceramic vessels are initially 3D printed before being moulded and slip cast in liquid clay, creating a truly 21st century ceramic collection that challenges the preconceptions of technology and traditional craft.
"I chose bone china because it's the whitest of the ceramic materials and can make porcelain look almost grey in comparison. The black complements this perfectly and alludes to ideas of duality and the theme of making objects that exist virtually as code into permanent physical artefacts." 
Smile Plastics
With a passion for making beautiful materials that inspire, Adam Fairweather and Rosalie McMillan are two pioneers of design within a circular economy.
The duo established Smile Plastics in 2015 with the aim of creating sustainable plastic panels with a striking aesthetic and strong narrative. For Heal's Discovers the panels have been used to create a collection of side tables, encouraging us to challenge the perceptions of value and the potential of waste products in furniture design.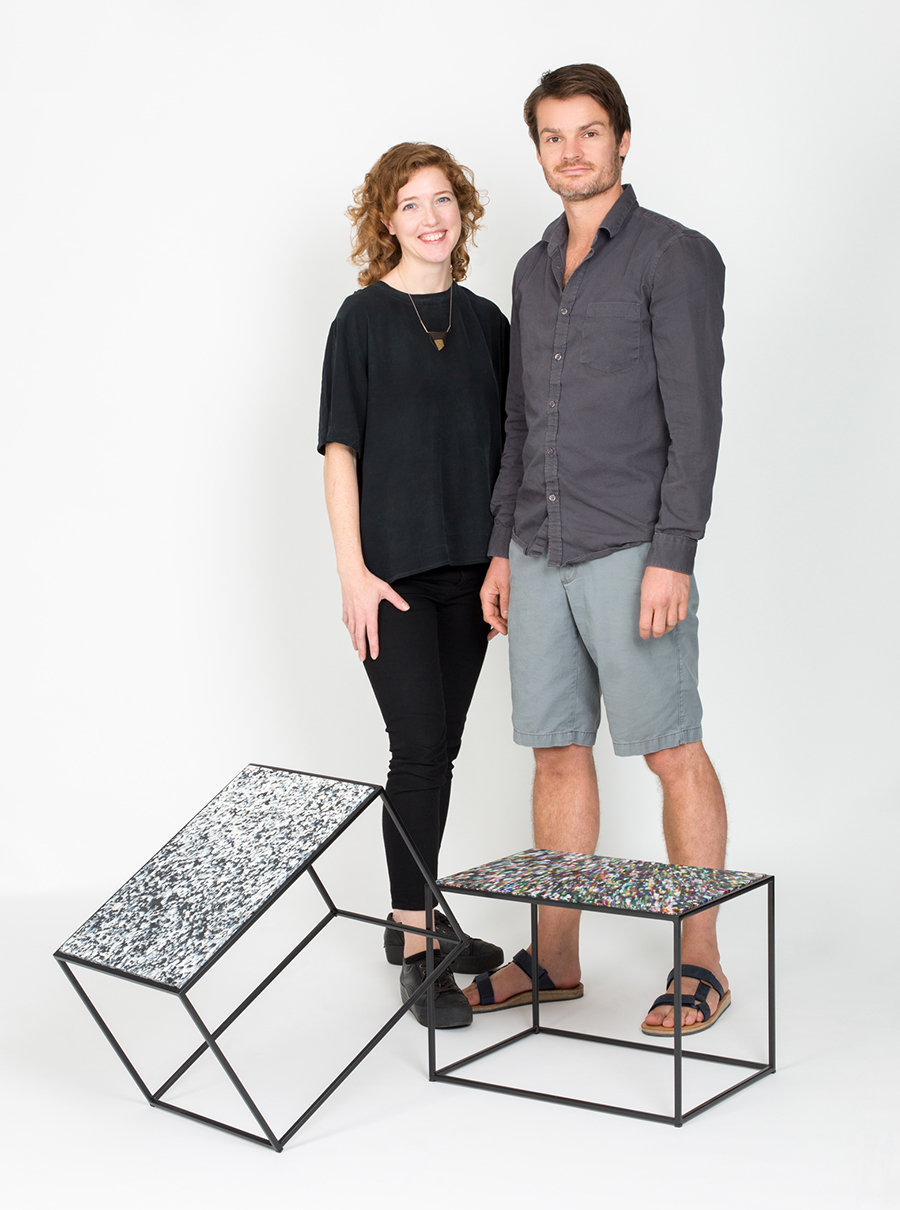 "For us the starting point is discovering the waste material itself, working to uncover its potential in terms of aesthetics and function. Often you see evidence of the history of the materials within our panels. You may spot the odd barcode or foil from the lid of a yoghurt pot immersed in the panel."
Handmade in the UK, the materials are 100% recycled and recyclable. Though the concept may seem simple, the production process is complex and time-consuming.
"We start by exploring waste materials on a small pilot scale – looking at different waste streams, colours and patterns before trialling our production on a larger scale. It can take several months to develop a material and can take much longer than this – the recycled coffee material is a product that Adam has been developing for many years."