As one of the biggest trends year in, year out, velvet is a must-have addition to your décor. The luxurious fabric is suited to minimalist, mid-century abodes and contemporary apartments alike.
The cotton-based fabric is incredibly versatile but boasts an upmarket edge. By selecting the right silhouette, statement piece or accent, a touch of velvet can overhaul your space.
STATEMENT VELVET SOFA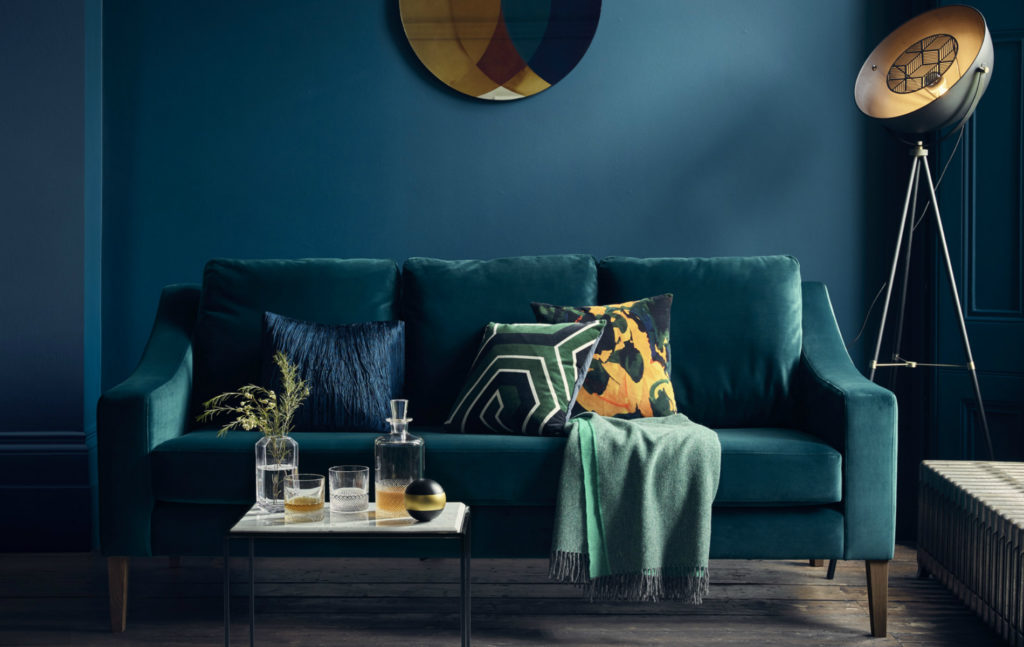 A sofa is a staple of your living space, and a textured velvet sofa will provide a striking centrepiece for years to come.
As with the Richmond Velvet Sofa shown, opting for jewel-like colours will add a touch of opulence to your space. If you're looking to enliven a muted colour palette, a vibrant yellow or green sofa will add a splash of colour. In contrast, if a neutral, pared-back colour scheme suits you, then select from natural shades of grey, cream or tan.

With various sizes, shapes and colours available, you will find the perfect velvet sofa in the Heal's collection. Pair with a coordinating velvet footstool or ottoman for a finishing flourish.
TEXTURAL ACCESSORIES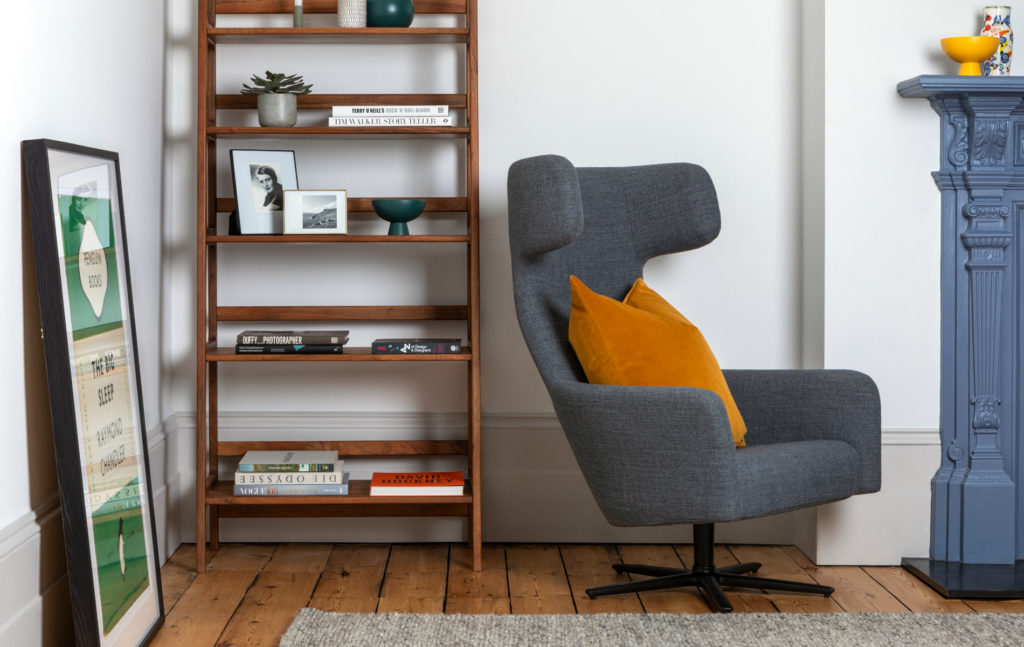 Looking to invest in something a little smaller than a sofa? A colourful cushion will keep you up to date with the latest trend without overhauling your entire décor. Furthermore, it creates a clever contrast with other fabrics and materials in your home.
This simple and effective technique will provide an instant update to your space.

We recommend using velvet to create pops of colour, like this ochre cushion paired with a grey easy chair. However, you could also use softer, neutral hues to blend perfectly with the rest of your décor.
A VELVET TWIST ON A CLASSIC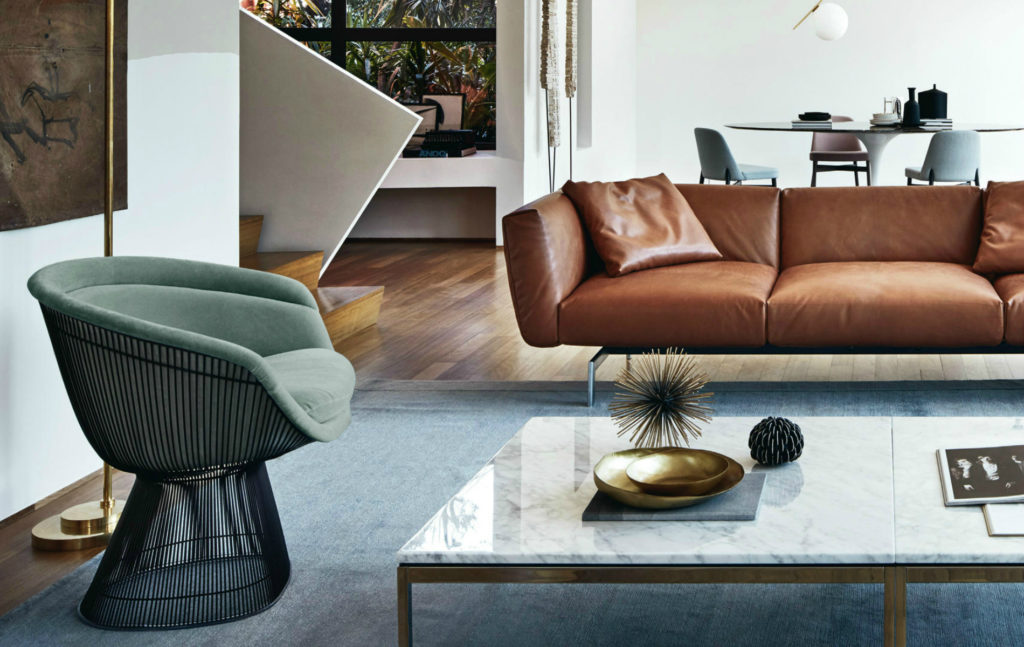 Whether it's the living room, dining space or office, a velvet chair is versatile enough to be used throughout the home.
For example, a velvet accent chair by the fire will create a comfortable centrepiece for a room. Similarly, upholstered dining chairs in a formal eating area provide a comfortable seat for dinner guests.

Choose from upholstered classics, like this mint Platner Lounge Chair from Knoll, or create a personalised Designed By You armchair.
VELVET HEADBOARD
The addition of a statement velvet headboard will create a truly inviting bedroom.
You can even create your own bed thanks to the Heal's Designed By You collection. Here you'll be able to choose from a series of headboards, divan bases and feet to create the ultimate bed.

Complete your bed with a memory-foam mattress, cushion cluster and crisp bed linen and you'll be ready to catch forty winks.
BOLD BEDROOM ACCENTS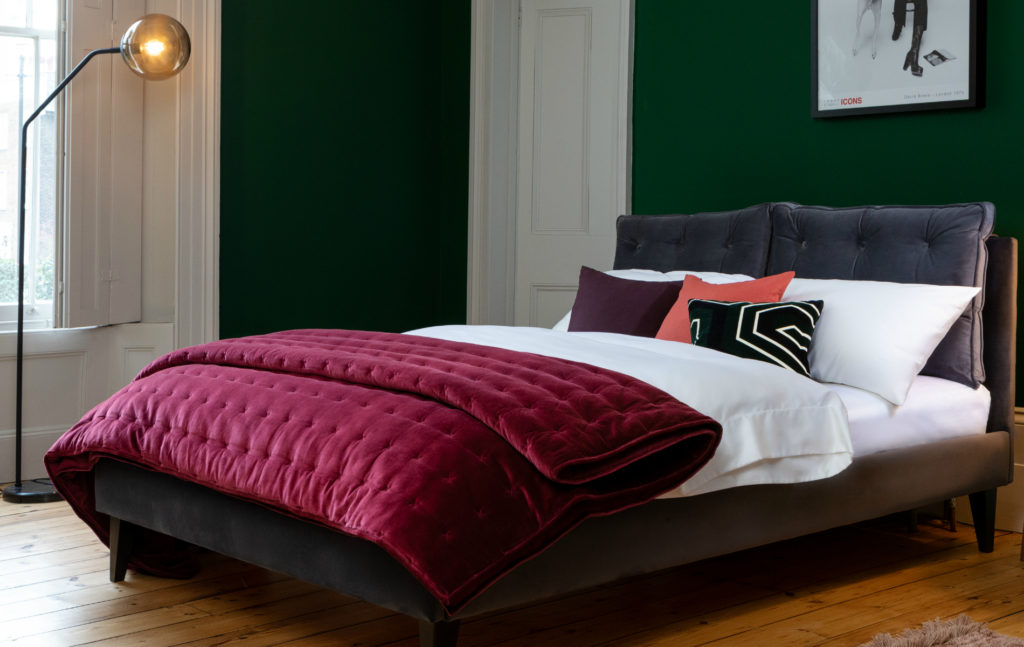 There's nothing more luxurious than a velvet quilt to create a warming a cosy ambience in your bedroom. The key is selecting the right colour for your space.
To create a calming ambience, choose lighter, more natural hues. For a more vibrant interior décor, select from jewel tones such as plum, midnight blue or ochre.
Complete the scene with Egyptian-cotton bed linen, a mattress fit for a king and deluxe down pillows.
HOW DO YOU CLEAN VELVET?
Despite being plagued with the misconception that it's high maintenance, velvet is actually a remarkably robust fabric.
To get the most out of your velvet furniture or accessories, we recommend gently vacuuming it weekly to remove dust.
If you spill anything, the most important thing to remember is to not clean it with water or rub it. Instead, simply blot the spillage with a highly absorbent cloth without putting too much pressure on the fabric.
Read more about maintaining your velvet in our specialised care guide.