Velvet Care Guide
Beautifully soft and sumptuous, it's easy to see why velvet is a popular choice for interiors and upholstery. Read our guide to choosing and caring for this luxurious material.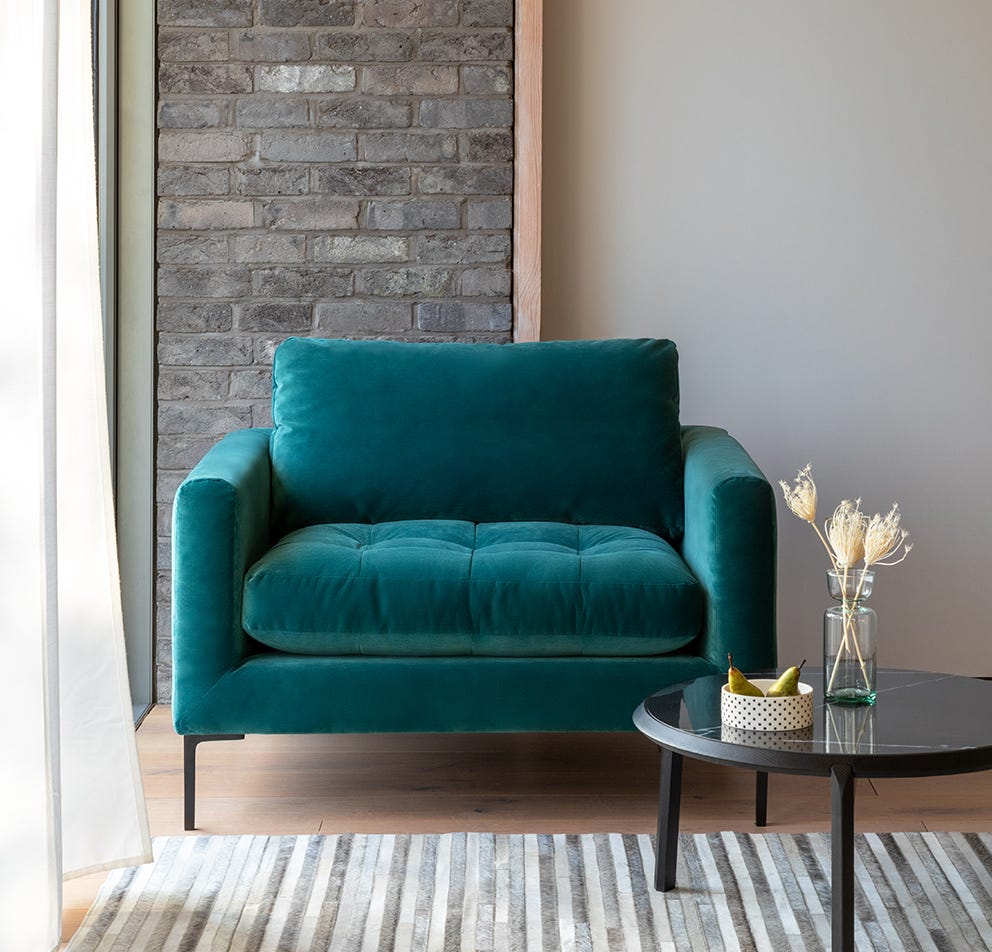 Our guide to choosing and caring for velvet
Despite its beauty, velvet is often plagued by the misconception of being high maintenance. While it's not be the most hard-wearing of fabrics, velvet isn't all that delicate and can last for decades if properly cared for.

What's more, different types of velvets have different properties meaning some are a better choice for upholstery whilst others are more suited to decorative accents such as cushions or throws.
---
Which velvet should you choose?
For Decorative Accents
There are many different types of velvet that each have their own qualities and levels of durability. The most common velvets used in the home are cotton velvets. These are beautifully soft to the touch and produce wonderfully rich colours. They are more hardwearing than traditional silk velvets and are often used for decorative accents such as cushions or throws.
For occasional use
Cotton is also commonly blended with other fibres such as polyester to make an even more durable velvet. These kinds of velvets are perfect for upholstery on larger items of furniture such as accent chairs, headboards or sofas.
For family use
If you're looking for a velvet that will experience a lot of use, we recommend choosing a velvet made from 100% polyester. These are durable and easy to clean – some can even go in the washing machine – yet they retain the characteristically soft feel of velvet. Because their piles tend to be shorter, you are less likely to see the 'crushing' or 'bruising' of velvet over time.
---
Is velvet a good fabric for a sofa?
Velvet is a great choice for sofa upholstery – its richness of colour and soft texture make it undeniably stylish. It's important, however, to choose a velvet that will suit your needs.

If your sofa only sees occasional use, you can opt for cotton or cotton blend velvets that are durable but have a lustrous pile as well.

If you are considering investing in a family corner unit that will see a lot of use, for example, we recommend choosing a 100% polyester velvet. These still retain the soft feel of velvet but tend to be more resistant to stains and spills. The delicate fibres are also less likely to become crushed or displaced over time.
---
Which velvet should I choose for my sofa?
Varese Velvet
Smart Velvet
Nobilis Velvet
Heal's Velvet
---
How to care for velvet
General Care
To get the most out of your velvet sofa or accessories, we recommend incorporating it into your cleaning routine. We suggest gently vacuuming with a special upholstery attachment or using a soft hand brush once a week. This will remove any dust or fuzz that has formed on the surface of the fabric and prevent displacement of the pile over time. If you don't have an attachment, place a pair of tights over the nozzle – this will work just as well. When vacuuming or brushing, make sure you are doing so in the direction of the pile.
Spillages
If you spill something on your velvet sofa or cushion, DO NOT attempt to clean it with water or rub it with a cloth. Liquids can stain velvet easily and rubbing may force the spill deeper into the fibres. Simply blot the surface with a dry, highly absorbent cloth, taking care to avoid rubbing or putting pressure on the fabric.
Once you've blotted the surface, simply air dry the fabric or use a hairdryer without heat at a safe distance to lightly dry the area.
If your spill is more severe, we recommend taking the fabric to a dry cleaner. Research a dry cleaner with expert knowledge of velvet to ensure it is returned in its best condition.
Maintaining Sheen
Over time, a velvet's pile is likely to move and experience wear due to its delicate weave. If possible, you can try using a steamer on the reverse side to fluff up the fibres. Then gently brush in the direction of the pile.
---