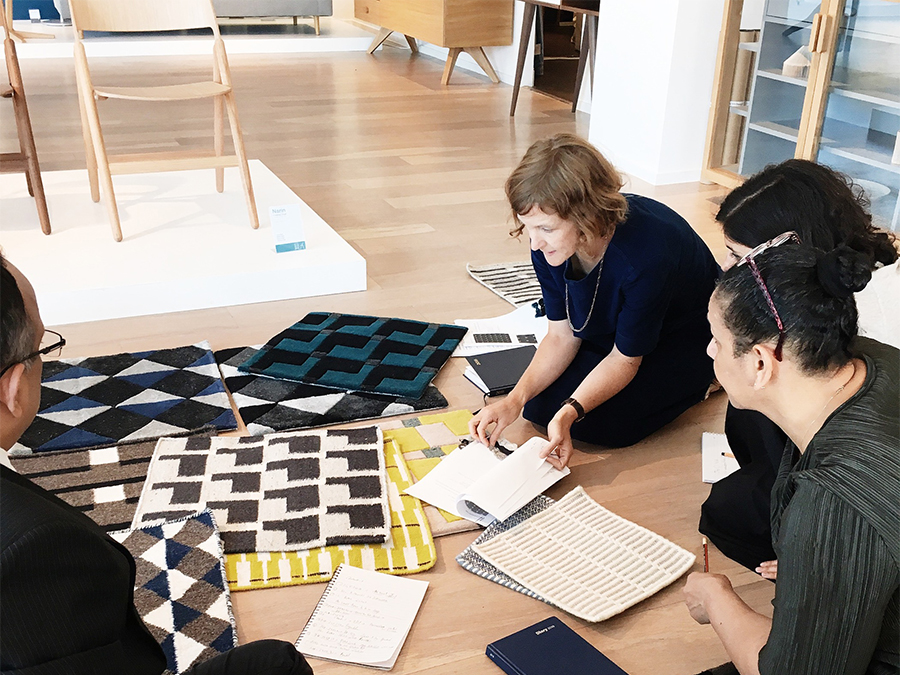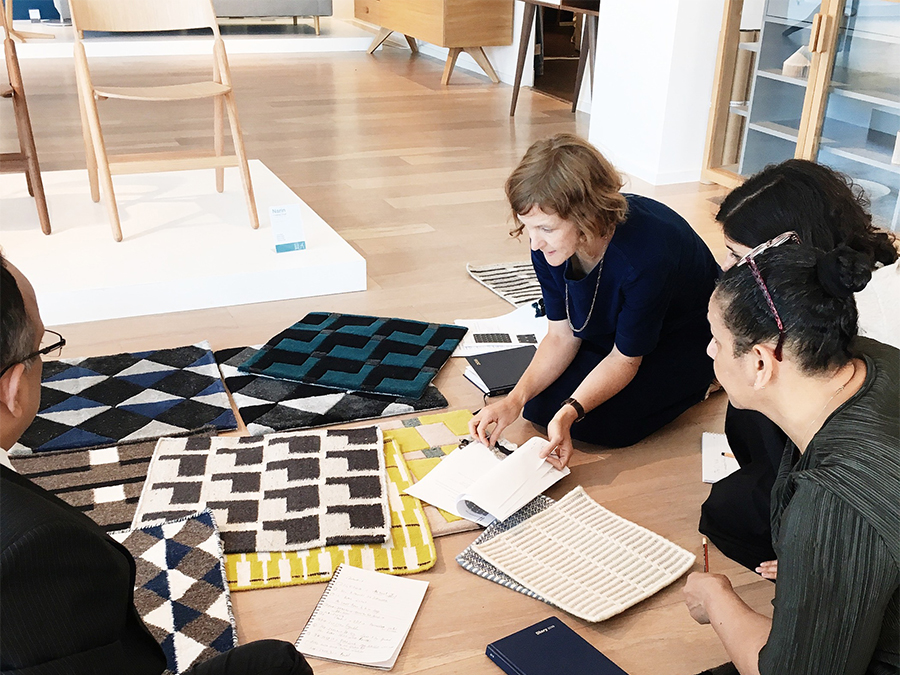 This year marks the centenary of women's suffrage, and ahead of International Women's Day on Thursday 8th March, we're celebrating our talented female designers.
–
Anna Jacobs
British artist, Anna Jacobs, launched her first collection in 2015 expressing signature painterly style through carefully selected materials and a bold colour palette.
Collections such as Afternoon Dreaming take inspiration from the surroundings of her London upbringing, reflecting great British design in her work that fits comfortably into any syle-led interior.
Anna's wall coverings, lampshades, bases and cushions are now available in her pop up shop at the Heal's cabin on Tottenham Court Road.
Alongside designing, Anna teaches courses on Colour Theory and Upcycling Furniture at Chelsea College of Arts, working to inspire others and shape future designers.
Mia Sarosi
Having worked with ceramics for over 15 years, Mia Sarosi is an established collaborator with Heal's Crafted exclusively in porcelain, Mia carefully hand throws and paints each individual piece for a unique finish.
Her meticulous approach and eye for detail has won Mia international acclaim, and Heal's is proud to be an exclusive retailer of her beautiful work.
Beatrice Larkin
A young contributor to the world of textiles is contemporary designer Beatrice Larkin. Determined to make a creative impact, she established her label in 2013 upon graduating from the Royal College of Art, with a passion to create design-led textiles for the home.
Using inspiration from geometry, Bea pairs linear pattern with soft fabrics to offer an organic, contemporary approach to clean modernist design.
Carmen Lyngard
Carmen Lyngard is the brains behind her small, family-run ceramics business in Stoke-on-Trent. After learning about ceramics from an early age, Carmen noticed a gap in the market for stylish yet timeless ceramic design, and so, the 'Lyngard' brand was born.
Carmen blends traditional techniques with a contemporary aesthetic to create beautiful ceramic pieces, such as her striking collection of handmade marbled pendants.
Isle Crawford
Ilse Crawford is a designer, academic and creative director of Studioilse. As the launch editor for Elle Decoration, Isle has a wealth of experience in interior design and a strong eye for the latest trends.
By channelling Scandinavian design through elegant, fluid lines, she has been the go-to designer for collaborations with the likes of Georg Jenson, available at Heal's.
Katy Welsh
Bristol-based illustrator, Katy Welsh has a bright, joyous aesthetic, which channels British history and architecture through experimentation of texture, pattern and shape.
Katy is a designer to watch, as she plays with screen prints and mixed media techniques to express her bold aesthetic using large-scale patterns filled with colour and personality.
Most recently, she has designed an artistic collection of cushions, exclusively for Heal's, using prints inspired by hidden architectural features within the Tottenham Court Road store.
Gone Rural
The Gone Rural collection is a social enterprise which creates an income for women in Swaziland. The scheme was founded in 1995 and now has over 770 women across 52 communities, who hand weave beautifully unique Swazi Lutindzi grass baskets.
Aiming to empower and educate the women of Swaziland, Gone Rural's success has funded initiatives such as the Kutimela Project in which 70% of women now have their own microenterprise, and 62% are the sole income earners in their families.
Heal's is proud to support a cause which makes such a difference, and customers can find their eco-friendly placemats, coasters and baskets in-store and online.
Eleanor Pritchard
Embracing the characteristics of mid-century design in her work, Eleanor Pritchard has an innovative flair which develops iconic styles for a contemporary audience. Her love of experimenting with colour, pattern and texture, delivers a modern twist to traditional fabric making, as she dares to mix neutral hues with playful pops of colour.
Working alongside well-respected weavers in West Wales, Eleanor strives to create beautiful, high-quality fabrics that enhance the ambience of a room within the home.