At Heal's, we believe that our behaviour is heavily influenced by our environment. Surroundings are therefore extremely important for those who create, often becoming a significant part of the process.
To mark this year's London Design Festival, we've teamed up with some of London's most pioneering women to celebrate the spaces in which they work. Our five Heal's SPACES collaborators have recreated the spaces which inspire them on a daily basis in the windows of our Tottenham Court Road. Each woman was free to select items from their craft, from Heal's and even from their own home.
From Jessie Burton's writing shed to Melissa Hemsley's kitchen, you can take a closer look at these creative spaces at the Heal's flagship store until 23rd September. We sat down with the five women to find out a bit more about them and their creative space.
–
Melissa Hemsley
Author and wellness guru Melissa Hemsley is one of the nation's most popular home cooks. Promoting a healthy attitude to food and eating, Melissa's approach is all about finding the joy in cooking. Her new book, Eat Happy, features recipes that are not only simple to make (most recipes take less than 30 minutes with only one pan) but filling and healthy as well.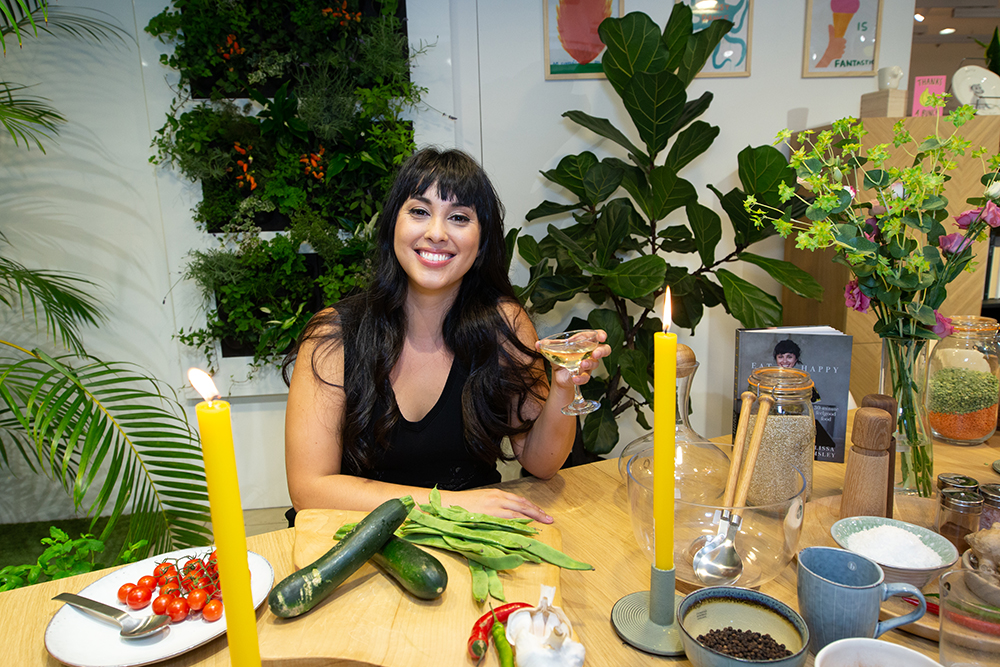 "My favourite place to create is at my kitchen table. After years of dreaming and building our kitchen, I finally have a creative space I love. From my kitchen table I can see through to the living room where my boyfriend Henry is often working. Nelly my dog will be laying somewhere in between us, sunbathing. I can see our vegetable garden to my left (current favourites are basil, courgette and cherry tomatoes) to my right is a long shelf with all of my favourite cookbooks."
Melissa's approach to designing her space is much the same as designing her recipes – she focuses on what makes her happy and incorporates that into her space. Her suggestion?
"Brainstorm 10 moments when you felt at your happiest. If you write down fresh air, nature, a beautiful view, or an incredible meal – use these elements to build your creative space. I'm happiest when I'm comfortable. Some of the happiest memories of mine are on the sofa. If you like nice textures, invest in them."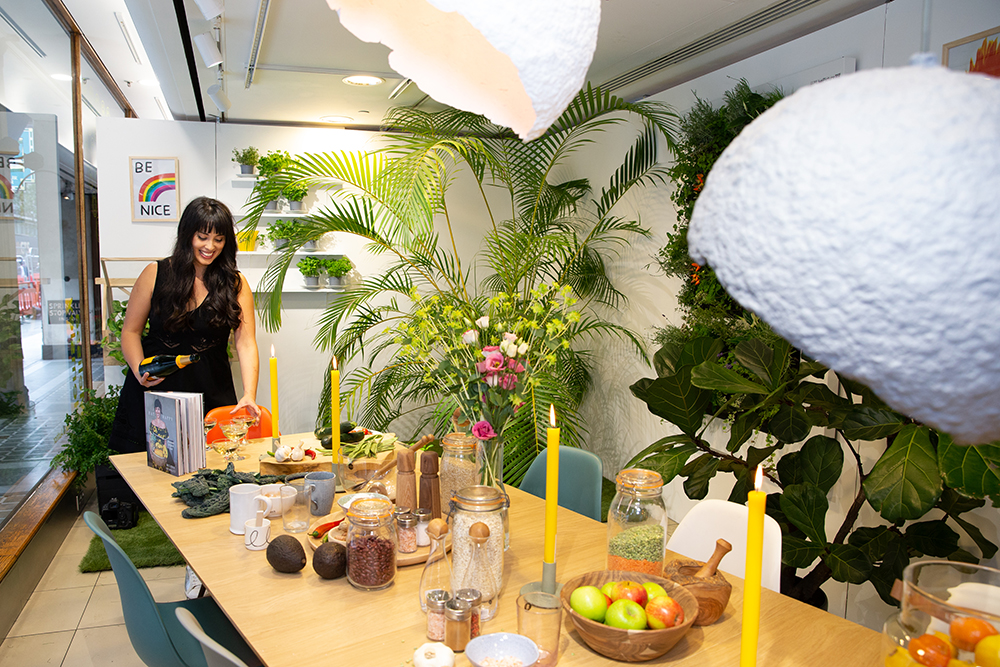 It's no surprise then that Melissa has decided to recreate her kitchen space in the windows of our Tottenham Court Road store. Featuring our Cross table, which Melissa herself in fact owns, she has also included a herbs & spices wall and plenty of greenery to breathe life into her surroundings.
"I like something alive. Flowers or my plants. It's lovely when a friend's bought them. Emma Gannon gave me a money plant. Helena Lee gave me a peace plant. I'll always put something on the table in front of me as a focal point. So I'll grab a herb pot and make it the focus."
Marina Diamandis
Since hitting the music scene in 2010, Marina Diamandis of Marina And The Diamonds has established herself as a truly unique artist. With three albums under her belt, she's set to release her fourth later this year. For our SPACES exhibition, Marina is reimagining her dressing room in our Tottenham Court Road window, giving passers-by a look into a space often unseen by the public.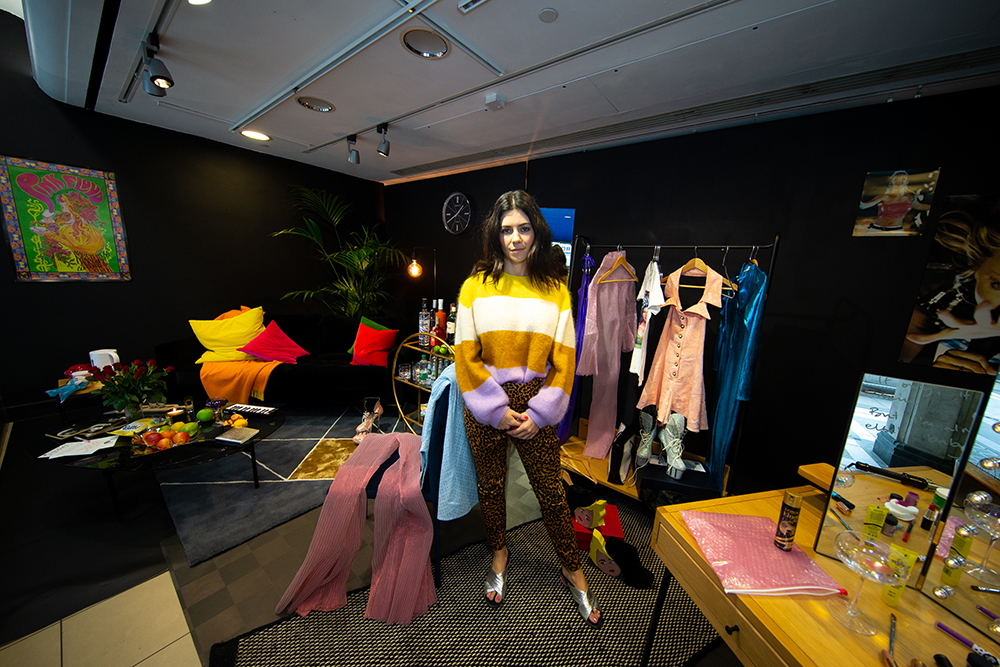 "With a creative space, I make the priority comfort and practicality and add anything that creates a feeling of excitement or joy. For me, that's colour. I love giant pops of green, pink, yellow in furniture or little items. Also, I don't clutter it too much – I don't want it to be too homely in the items I bring. I want to feel removed from my home so I can think in a different way and remind myself it's a place to get stuff done."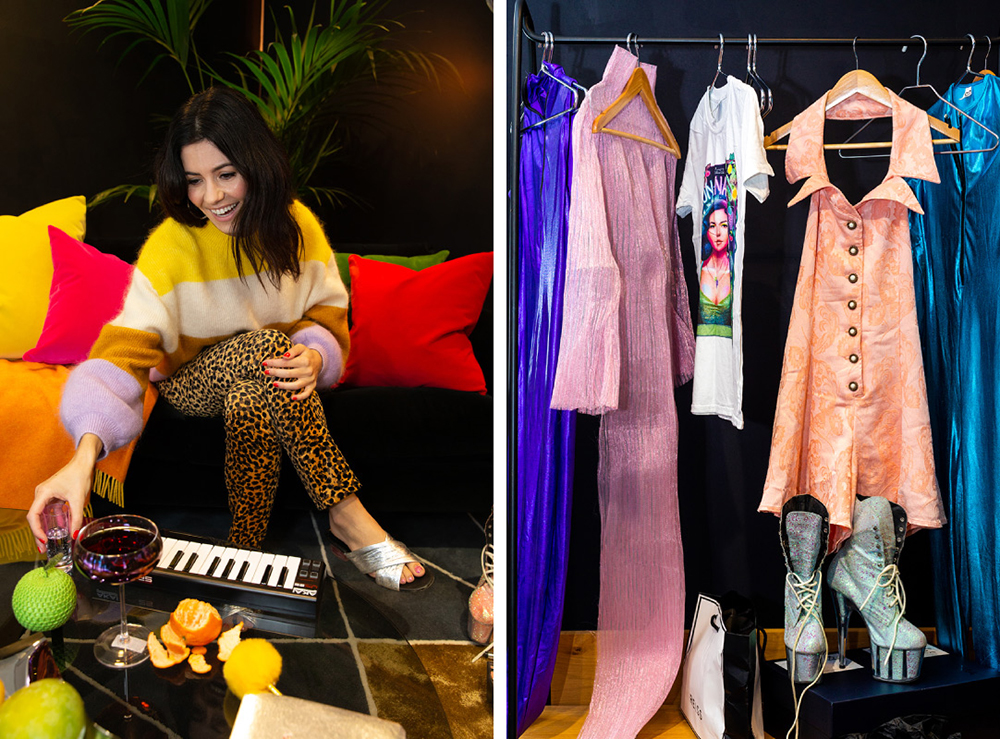 When asked what she can't live without when creating – "A great sofa! Every songwriter will appreciate that in a studio session. A nice soft throw and cushions too." Marina has chosen our new Eton sofa for her dressing room. With comfort at its core, our new Eton range combines a sleek minimal aesthetic with generously filled cushions – perfect for those long writing sessions.
Jessie Burton
Novelist and author of The Miniaturist and The Muse, Jessie Burton, chooses to retreat to her writing studio at the bottom of her garden to bring her ideas to life.
"I drew it on a piece of paper and a shed company in Nottingham made it for me. It's 10' by 8'. Light blue with lots of glass so the light comes in. Inside I have a desk, a chair and a comfortable armchair."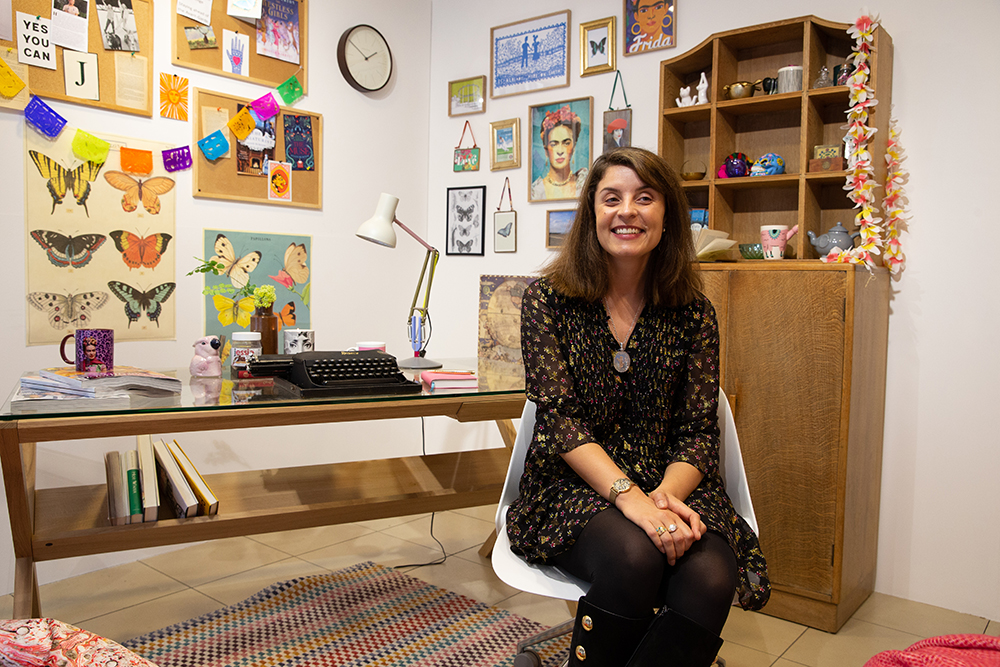 As part of our forthcoming SPACES exhibition, Jesse will be creating her writing shed in the windows of our Tottenham Court Road store. Based in London, Jessie's shed is a place of peace and quiet that is dedicated to reading and writing. It's full of items she has collected over the years from her family home, charity shops, and other investment pieces.
Her approach to décor comes from a belief that your creative space should reflect who you are. "It's your personal space so you should never feel compelled to follow trends. It's got to be things that give you pleasure and that are comfortable for you. It's about how it makes you feel. And it takes time. You can't immediately create a space that will work wonders for you."
Jessie's latest book, The Restless Girls, is a dazzling, feminist work of short fiction, reinterpreting a classic fairy tale, beautifully illustrated by Angela Barrett. The work – as all her others – was written in her shed but her experience was very different.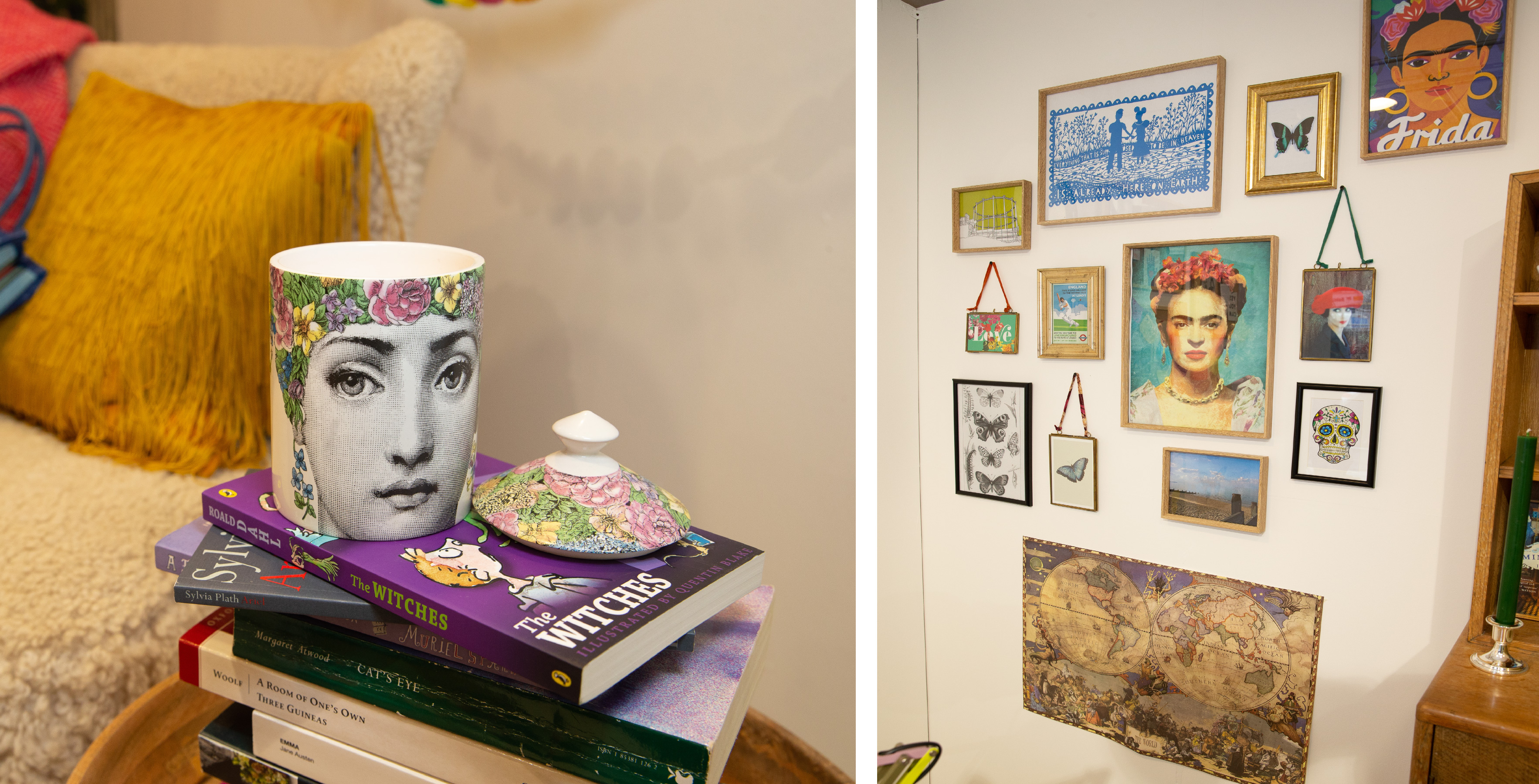 "I've written 5 books now and they've all been very different in terms of creative process. Something that's common with across them all is a patchwork approach; I have an idea for a character or a situation and it's about finding the threads, being patient and being prepared to take false steps. It doesn't come fully formed so there's a lot of explaining and taking an open-minded approach. I've learned to trust that my subconscious will produce the next day's work."
Annie Sloan
Colour expert and artist, Annie Sloan, is widely recognised as one of the world's most respected authorities in paint. Her range of Chalk Paint transformed the world of furniture, encouraging people to pick up a brush and unlock their creative potential.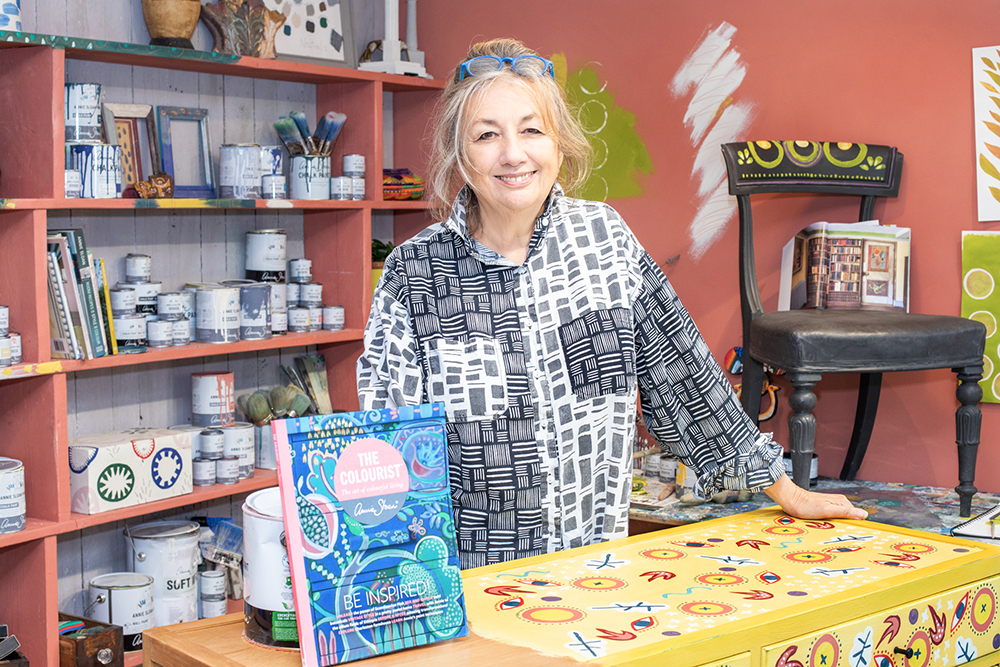 When it comes to creating, Annie doesn't need much. "Paint, paint and paint. Paper or a sketchbook, brushes, a black pen and some water." Her Oxford home acts as her base and she often finds herself working from her dining room as it has a nice amount of light. But she also draws inspiration from the outdoors – "Oxford has some beautiful outside spaces, from canals and rivers to incredible parks. I like to get up early and go for a walk. It clears the head and prepares for me for my day."
Annie is recreating her art studio in the windows of our Tottenham Court Road store, complete with the paint for which she has become so well known. Her studio reflects her real life studio, a place that she describes as – "somewhere with good light, free from too many distractions, where you don't have to tidy away afterwards; if you have to tidy up you lose the thread." We couldn't agree more.

Jacqueline Rabun
Our final collaborator is Jacqueline Rabun, a contemporary jewellery designer who has been collaborating with Georg Jensen since 1999. Her jewellery is easily recognisable from its fluid, conceptual forms that seek to reflect the human experience. Her designs use the finest materials, creating wearable works of art that tell a story.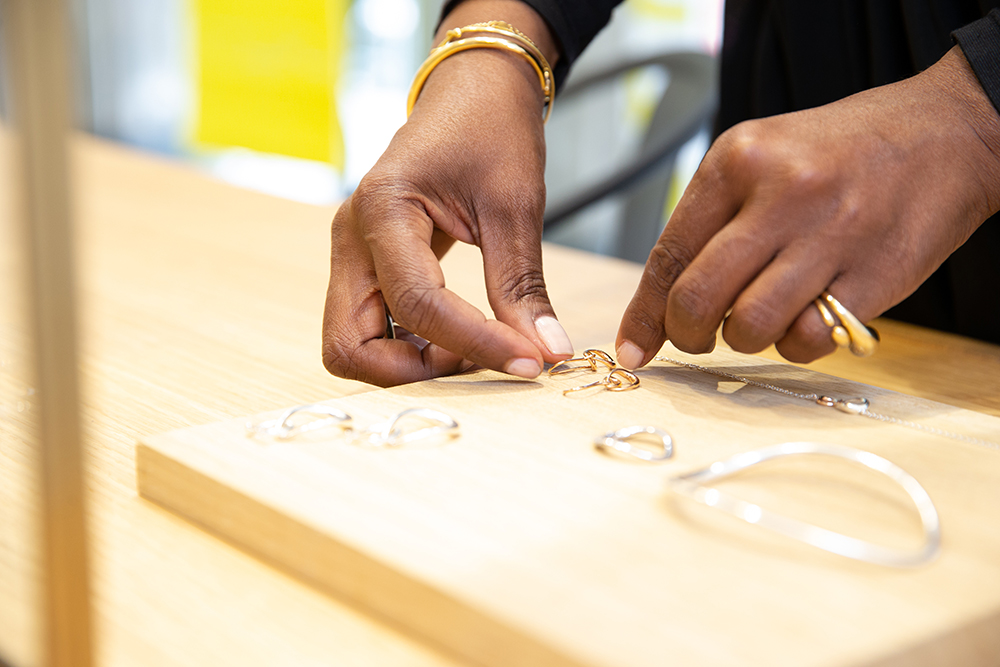 Jacqueline works from her beautiful home in Clerkenwell which overlooks St James' Church and her neighbourhood park. "I need a calm and nurturing environment that allows me to focus when I create. I always burn scented candles to bring harmony to my space."
Like her jewellery designs, her process for designing is very fluid and organic. "My process is not always the same, typically when I have an idea it usually comes when I am not focused on designing. I love to explore shapes and forms from nature which I discover through long walks in London or near the sea."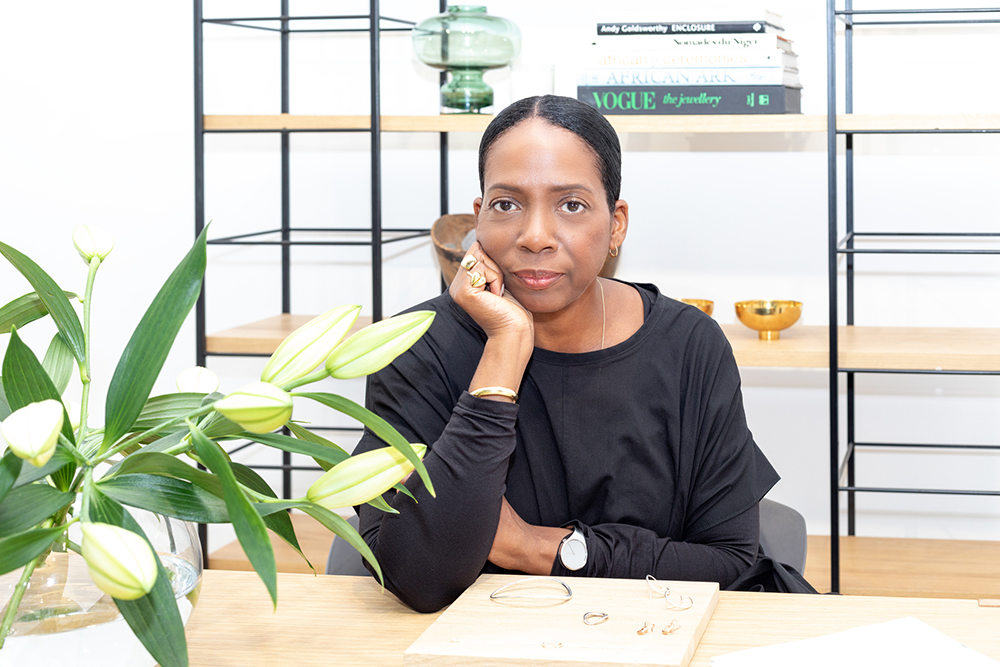 Jacqueline has recreated her workspace, complete with scented candle, at our Tottenham Court Road store – stop by to take a look.
---
Our Heal's SPACES exhibition will be on display until 23rd September. Find out what else we have planned during London Design Festival 2018 here.