Part of Eero Saarinen's Pedestal Collection, the Tulip Table is one of the most recognisable furniture designs. Also known as the Saarinen Table as well as the Pedestal Table, this iconic design is beloved across the globe.
Read on to find out everything what you need to know about the iconic Tulip Table and the brains behind it, Eero Saarinen.
BEHIND THE DESIGN
It took Eero Saarinen five years to design a table that reached his meticulous standards of perfection. His self-imposed brief was to challenge the norm by creating tables and chairs with simple bases. In this way he hoped to eliminate what he saw as "the slum of legs" often found under tables.
The result was a gently sweeping central base that served as the table's only leg. When paired with coordinating Tulip Chairs, the table provides the perfect antithesis to the typical clutter found under chairs and tables. It is this simple silhouette that makes it one of the most forward-thinking mid-century designs around.
Upon release the collection, including the table, was an instant success. Knoll has exclusively crafted the table since its unveiling in 1959. Whilst it has been subject to many fakes and copies, Knoll's authentic edition remains the most well-crafted and coveted.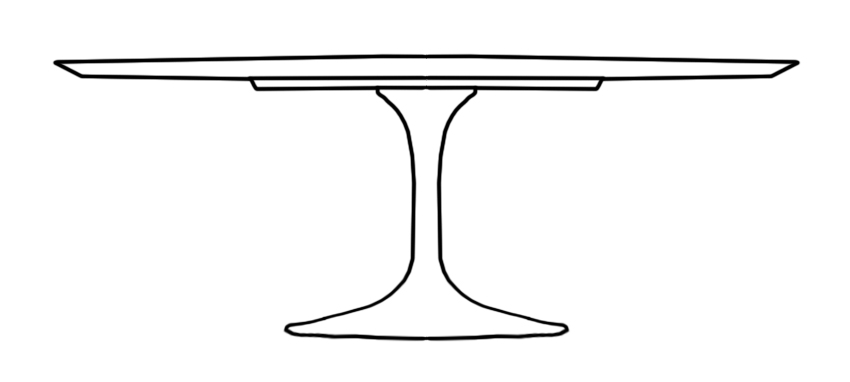 HOW IT'S MADE
The 1950s was a time of great technical advancement and paved the way for designs like the Tulip Table. Its gently sweeping base is crafted using aluminium with a minimalist black or white finish. Knoll's logo and Eero Saarinen's signature are the base's only ornamentation as marks of authenticity and quality.
Throughout the years Saarinen's Tulip Table has featured many exclusive finishes and limited-edition designs. The design most famously boasts a white marble table top with a bevelled edge. However, it is also often found in different marble, wood and laminate finishes.
ABOUT THE DESIGNER
The son of esteemed Finnish architect, Eliel Saarinen, and Loja Saarinen, an accomplished artist, Eero Saarinen grew up exploring his creativity. He spent his youth at his father's architecture studio in Finland until the family immigrated to the United States.
His design career began studying at the Cranbrook Academy of Art, the school his father designed the campus for and would later become head of. It was here that Saarinen became friends with future design icons Charles Eames, Ray Kaiser, and Florence Knoll (née Schust).
Saarinen went on to study in Paris' Académie de la Grande Chaumière and the Yale School of Architecture before returning to Cranbrook to teach. It was in 1940 that his furniture design career took off, when he and Charles Eames entered a MoMA competition. Together the duo designed the now-famous Organic Chair and skyrocketed Saarinen into the public eye.
Over the next 15 years Saarinen designed countless pieces of furniture, many of which are now considered design classics. He took a sculptural approach to design and was meticulous about finding the right curve and silhouette for each piece. His experiments in materials and discovery of new aesthetics helped to pave the way for many design greats.
Today his work is displayed with pride across the globe. His work is featured in collections at the MoMA in New York, Milwaukee Art Center and Design and London's V&A Museum. Huge sums often await vintage Saarinen pieces that come up for sale as they are highly collectable.