Here comes the sun, at last, and with it a chance to throw open the doors to entertain friends and family this summer. From outdoor dining mid-week to Friday-night drinks, a host of social occasions await this season, but you'll need the right furniture and accessories to make your al fresco fit for purpose and fun. Here, we round-up the hottest pieces to browse and buy for outdoors right now, whether tables that set the stage or seating that sweeps you off your feet. This year, make it a great British summer to remember.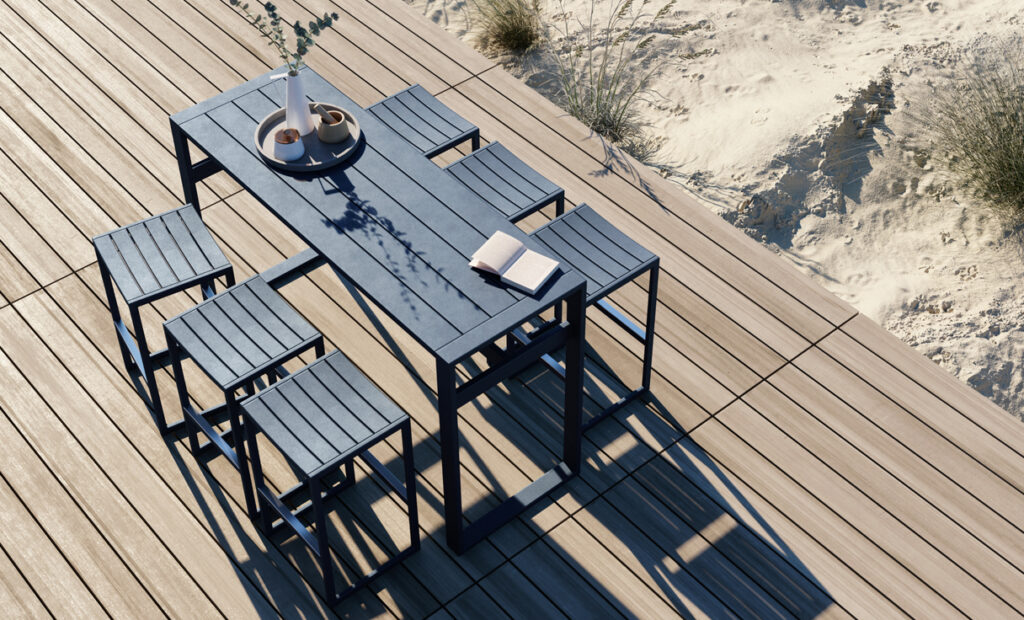 Eos rectangular outdoor dining by Case
The best table in the house
Sizzling steaks just served from the barbecue. Fresh salads presented in the centre of the table. And jugs of Pimm's for everyone to enjoy. Summer is all about al fresco dining with those you love. So, why not update your dining table for setting the scene this season? The EOS rectangular outdoor dining table has been designed by British talent Matthew Hilton to provide a visually and physically lightweight piece for the garden with smart proportions and elegant aesthetics that complement the rest of the collection (also including chairs, tables, benches and loungers). It's crafted from powder-coated aluminium, which doesn't rust to stay looking good for longer, while everything can be dismantled for storing easily during the winter. No wonder it was awarded the Design Guild Mark by The Furniture Makers' Company.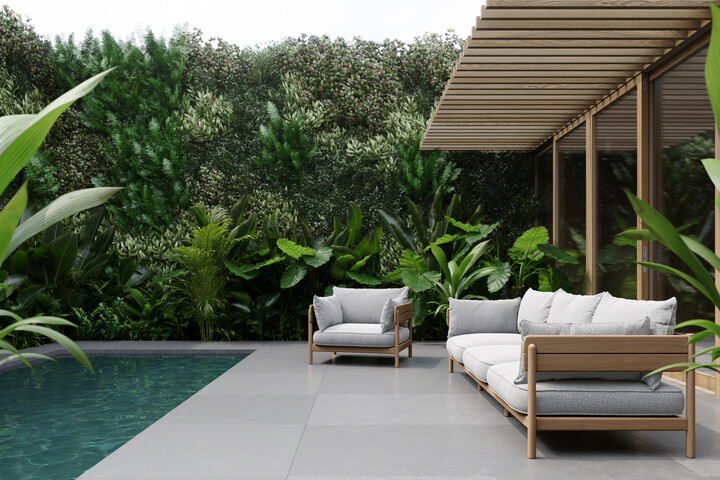 Tanso outdoor 3 seater sofa by Case
The exclusive seating area
Over time, outdoor seating has evolved to be more sophisticated than in the past, offering the same level of comfort and style as you'd expect of the living room. The Tanso is a case in point, inspired by the simplicity of Japanese furniture and crafted from high-quality teak selected for its weather-resistance. It's so refined, in fact, it would be just at home inside and it is outside. Plump for the three-seater plus armchair, both of which feature a beautiful curved profile, to accommodate guests more than comfortably – and team with an outdoor rug, such as Garden Layers by Valencia-based GAN, to zone your outdoor seating area and add more texture.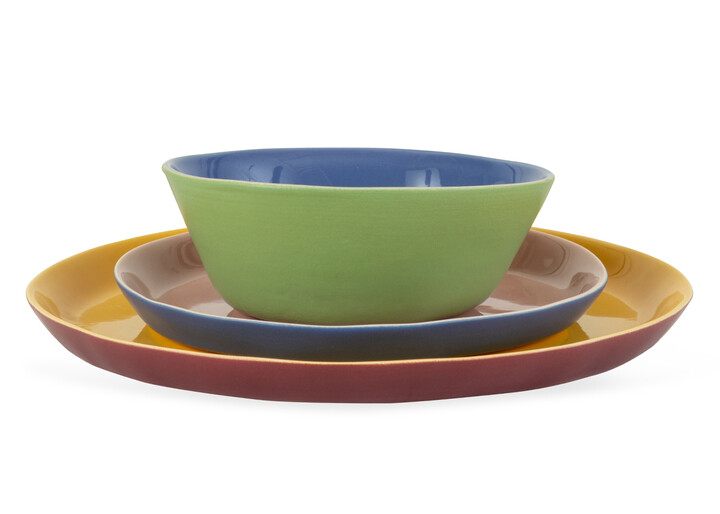 12 piece box set by Heal's + L.F.Markey
The 'it' tableware
Is it even summer if you haven't painstakingly curated an Instagrammable tablescape? Layer yours with the block colours, abstract patterns and organic silhouettes in the covetable tableware from our first exclusive collaboration with independent fashion label L.F.Markey. This 12-piece box set brings joy to the table with chargers, plates and bowls finished in a mix of glazes with a tactile matt finish that will get everyone talking. Better still, everything is dishwasher- and microwave-safe, making entertaining an absolute breeze.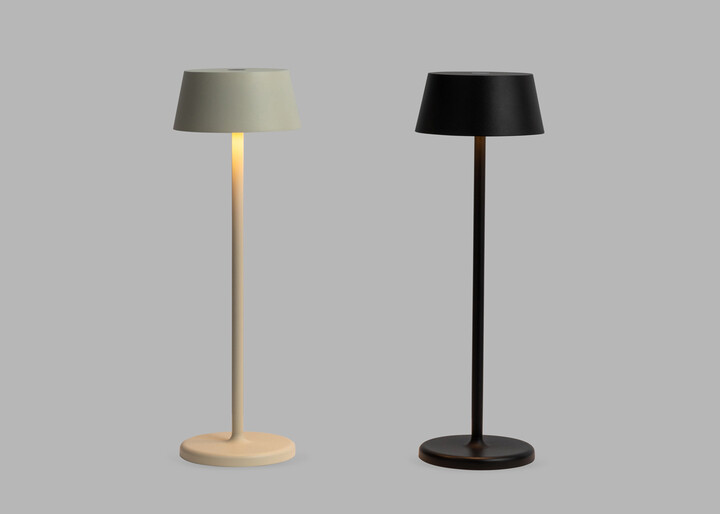 Orion portable LED outdoor table lamp by Heal's
The summer glow
While flickering candles provide a flattering glow for outdoor entertaining, sometimes you need something a little stronger or more focused, in which case a portable table lamp, this summer's hottest trend with an expanding range of styles now available, is just the thing. Our first own-brand portable table lamp, Orion, features a weighted base and a chargeable light. Perfect for taking outdoors, with up to eight hours of battery life chargeable via a USB cable, it comes in a finish of off-white or matt black to suit your scheme and is dimmable for dialling up or down the brightness according to the ambience required. The soft, downward glow is spot-on for intimate gatherings beneath a blanket of twinkling stars.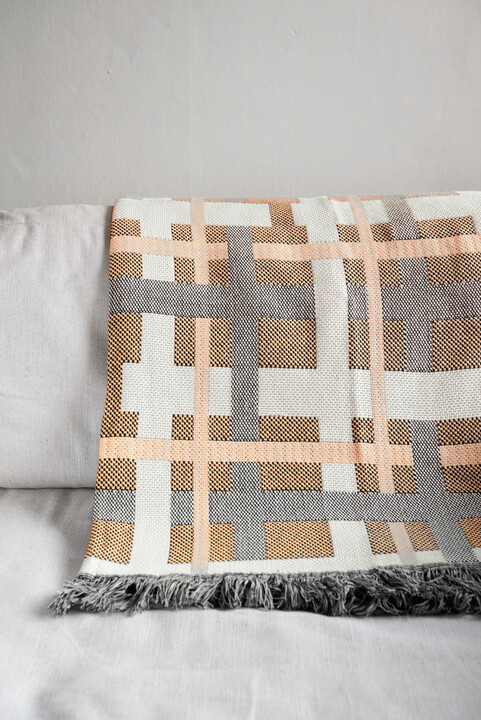 Tradition recycled cotton throw orange by Brita Sweden
The must-have blanket
While British summers are certainly getting warmer, it's safe to say that we're still not experiencing the humidity of Italy or the temperatures of Greece, so it's best to invest in a couple of soft, cosy throws for guests to wrap around their shoulders on chillier evenings or later nights. Our Tradition throw, made from 100% recycled cotton by family-run Scandi label Brita Sweden, is available in orange or green and provides a stylish way to keep warm during the summer months. Roll and store in a basket, such as this from Ligne Roset, for guests to help themselves.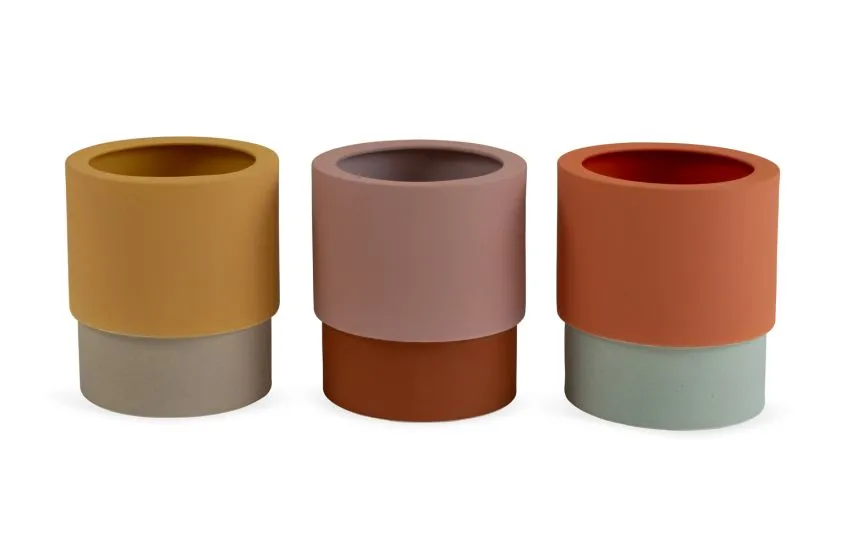 The finishing touches
A little greenery brings life and lushness to any garden gathering, but a stylish planter for housing said foliage and flowers can be just as impactful. With its distinctive two-tone colourway, the ceramic Tallo planter is our pick for your plants, featuring an engobe matt exterior and a waterproof gloss interior. Better still, it's handmade by skilled makers in Stoke-on-Trent, ensuring quality craftsmanship from even your earthenware. After all, it's the little details that get noticed.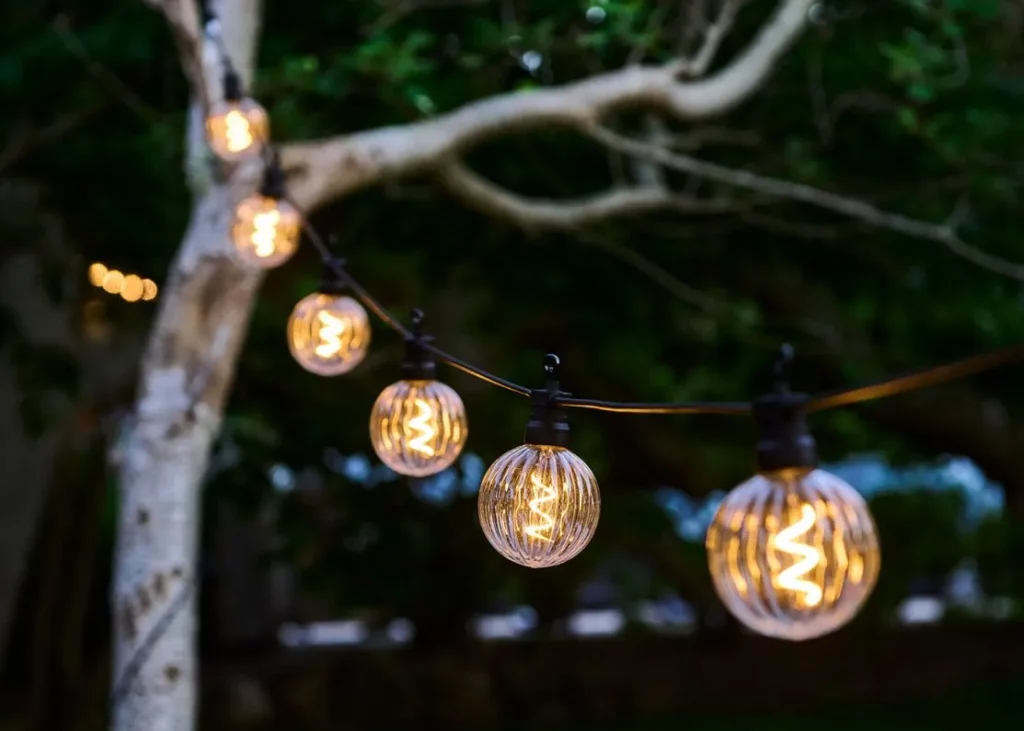 Luke LED outdoor string lights clear starter set by Sirius
The gifts to give hosts
Going to a soirée rather than hosting one this summer? Don't turn up empty-handed. Design aficionados will appreciate something beautiful for their space as much as a decent bottle of wine. You can never have too many placemats, so stock-up on four, six or eight of this linen style in dusky pink for your host, or take a bunch of freshly-picked flowers in our Round Bud vase in colours inspired by the Cyclades. Otherwise, a string of outdoor lights always goes down a storm, whether suspended above the table or festooned in a tree.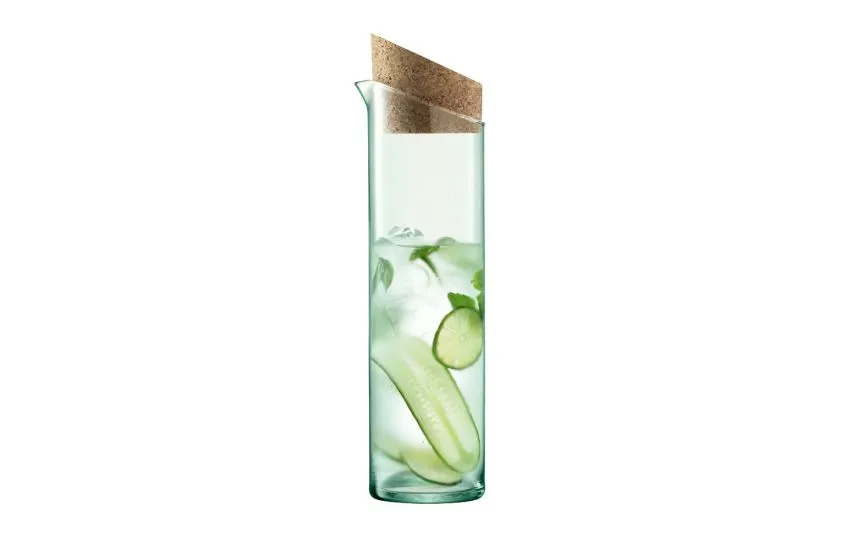 Canopy pitcher by LSA International
Shop more sustainably this summer
1 From glasses to vases, you can always entrust LSA International with your entertaining needs, and this Canopy pitcher in collaboration with The Eden Project – made from 100% recycled glass and featuring a cork stopper – is perfect for pouring water and keeping everyone hydrated during long, hot summer days.
2 Woven in Italy from recycled plastic bottles, the Greenwich cushion in blue, yellow or green can be used both outside and inside, while its cushion is tough enough to stand up to the elements without compromising on softness. Layer on benches with patterned styles for an eclectic look.
3 Not only does the rustic Romilly rug in warm terracotta add instant Mediterranean vibes to your terrace, but it's made from recycled plastic bottles, while being GoodWeave-certified – the best assurance that something is made without child labour.