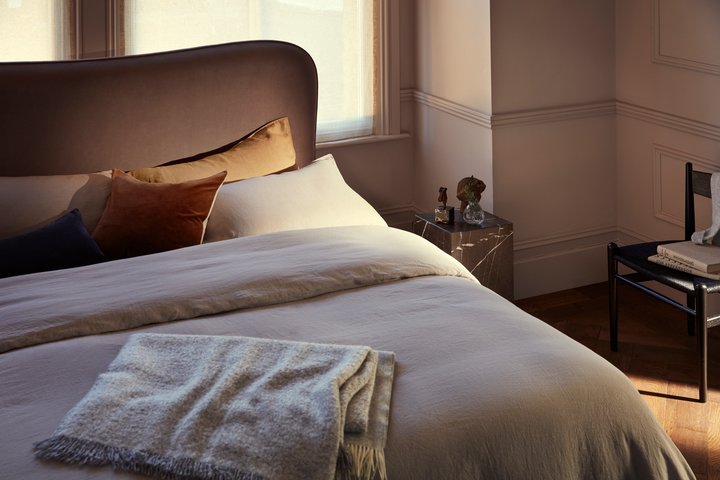 Did you know that this month is National Bed Month? Yes you read that correctly, a whole month dedicated to encouraging you to snooze more. The dream, right? Organised by the National Sleep Council, the purpose of National Bed Month is to raise awareness of the importance of a good night's sleep and how having the perfect bed can make the world of difference. Here at Heal's, we couldn't agree more and so today, we're sharing our top tips to help you to choose the perfect bed.
Why is buying the right bed important?
Everyone has individual sleep requirements and preferences, so your choice of bed must take these into account to ensure you can have a truly restful and comfortable night. Whether you share your bed with a partner, suffer with allergies or prefer a cool sleeping environment, the quality of your rest will be affected by a variety of features, including bed size, fabric choice and mattress type.
What are the key things people should consider when buying their ideal bed?
The first step when choosing is to assess your space, as the bed should be the focal point within the room. A small, simple design can feel lost within a spacious master bedroom, whilst a king size bed can make compact rooms feel cramped – your choice of bed should balance well with your remaining floorspace. A simple way to visualise each option and see how it works within the layout of the room, is to mark out the bed's dimensions with a few strips of masking tape on the floors and walls.
For optimum comfort, the perfect mattress will be responsive to your individual sleeping position – we move 40 – 60 times through the night, and the wrong type of mattress can be disruptive to your sleep. If you prefer to lay on your side, opt for a soft tension, which will relieve spinal pressure and mould to your body's natural contours. A medium to firm mattress offers more support for the lower back throughout the night.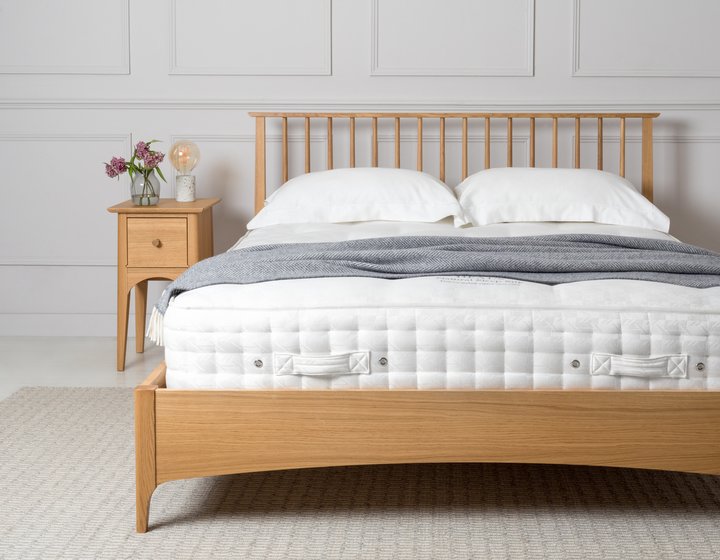 You can check how a mattress supports your spine by lying face up and placing your hands between the small of your back. Too tight or loose a fit means the mattress is too firm or soft. If you sleep with a partner, pocket spring mattresses offers individually nested pocket springs that move independently in response to changing body positions throughout the night, so you can move freely without the worry of being a disturbance.
Heal's Natural Wool Mattress has 2,200 individually nested springs within hard-wearing fabric pockets, for a soft but supportive feel. The wool layer improves sleep quality all year round by keeping you warm in winter while wicking away moisture to keep you cool during the warmer summer months.
For those who suffer from back pain, opting for an orthopaedic mattress could be a quick way to find relief. Offering firm support to keep the spine in alignment throughout the night, the Pocket Orthopaedic Mattress by Heal's is filled with a cooling cotton blend, Superflex foam and a hypo-allergenic layer, protecting your mattress from dust mites to promote a healthy sleeping environment.
What should people expect when buying a new bed from a practical perspective? Think in terms of ordering and delivery.
As showrooms remain closed, Heal's has introduced new ways to shop online, so customers can discuss their needs with experts and take a closer look at our designs. Our virtual consultations allow you to have the in-store experience without leaving the comfort of your home, with a member of our design team taking you around the store to zoom in on closer details while offering their recommendations based on your individual sleep needs.
Upon delivery, our team will assemble the bed in your room of choice, taking careful steps to ensure the process is Covid-safe. If you are self-isolating or feeling the effects of Covid-19, special arrangements can be made for your delivery.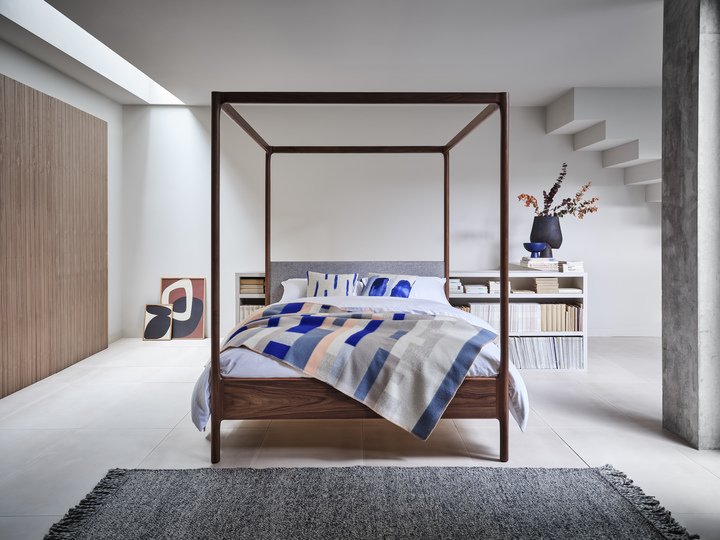 What are your top tips for creating the perfect sleep space?
Opting for a statement design such as a four-poster bed will offer an impact that will remain timeless for years to come. Although its original purpose was to provide privacy and warmth in draughty sleeping chambers, the four-poster design continues to reign as a design classic, bringing a luxurious, cocooning feel to the room without imposing on space. The Marlow bed by Tim Rundle for Heal's is a slim line, contemporary nod to the classic design, offering an elegant and refined look.
Fabric headboards in neutral shades are a classic way to soften the appearance of structured lines, whilst adding an element of comfort to the sleeping experience. A simple headboard with clean lines, such as the Lars bed or Matera bed designs by Heal's, is perfectly suited for contemporary schemes and provides a soft backrest for winding down in bed with a good book.
It's important to find the right bedding to ensure you can have the best night's sleep. A higher thread count indicates a higher-quality finish, meaning it will offer a lasting softness and wear well over time. Pure linen sheets are breathable and absorbent, regulating temperature all year round to keep you warm in the cooler months whilst wicking away moisture through the summer. Linen also softens after each wash, and has a natural elasticity to maintain its casual, relaxed look – perfect for building the ultimate sleep sanctuary.