For many of us, working from home has become a reality over the last few weeks. With this comes unlimited cups of tea, later rises and the ability to work in your pyjamas, but it also brings a whole host of new questions. Where can I work if I don't have a home office? How can I be productive when working from home? And simply how do I work from home?
We believe that getting your workspace in order is one of the best ways to begin working from home. If you don't have a home office, there are many ways to create a dedicated workspace without sacrificing your comfort. Here we are highlighting our favourite ways to upgrade your workspace and provide some much-needed home office inspiration.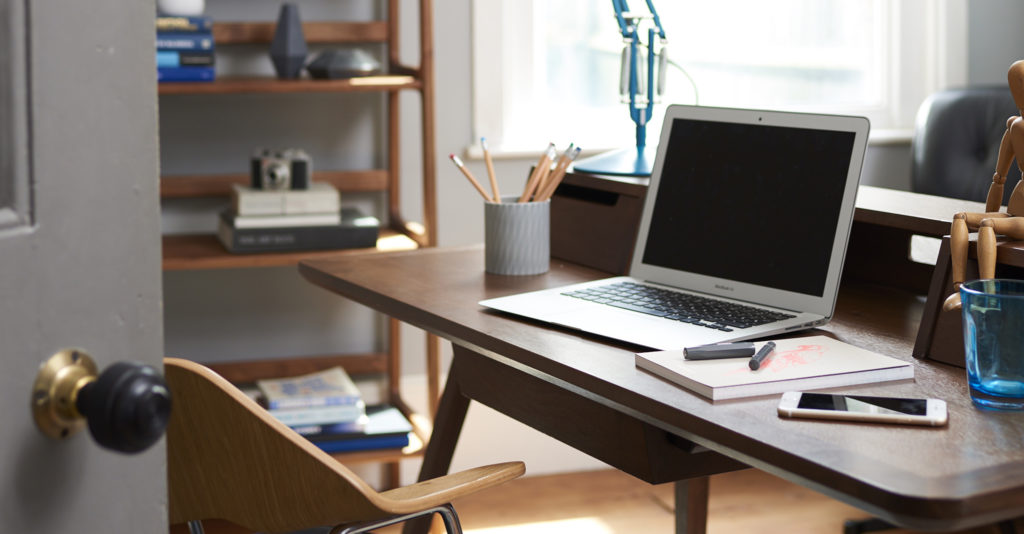 If there's one thing we know about then it's furniture. We spend every day discovering the latest designs, trends and technology. We reckon this qualifies us to help you create the ultimate home office.
Choose the right chair
If you're sitting at a desk for long hours then a comfortable chair is essential. There are many modern office chairs available, from Heal's and elsewhere. If you aren't in a hurry, shop around to find the right one for you. Things to consider include if you want arm rests, a low or high back, swivel or not and if you need wheels. If you do go for wheels, make sure they'll work on your floor as carpet isn't always your friend when it comes to wheel chairs.
If you are short on space or don't want a typical office chair, then how about choosing a design classic. Icons like the Eames DSW Chair or Philippe Starck's Masters Chair will look great in a home office and are incredibly comfortable. However, it is worth adding that these chairs weren't designed for office use and long seated periods. So, if you suffer from back or posture problems, then an ergonomically designed office chair is probably best for you.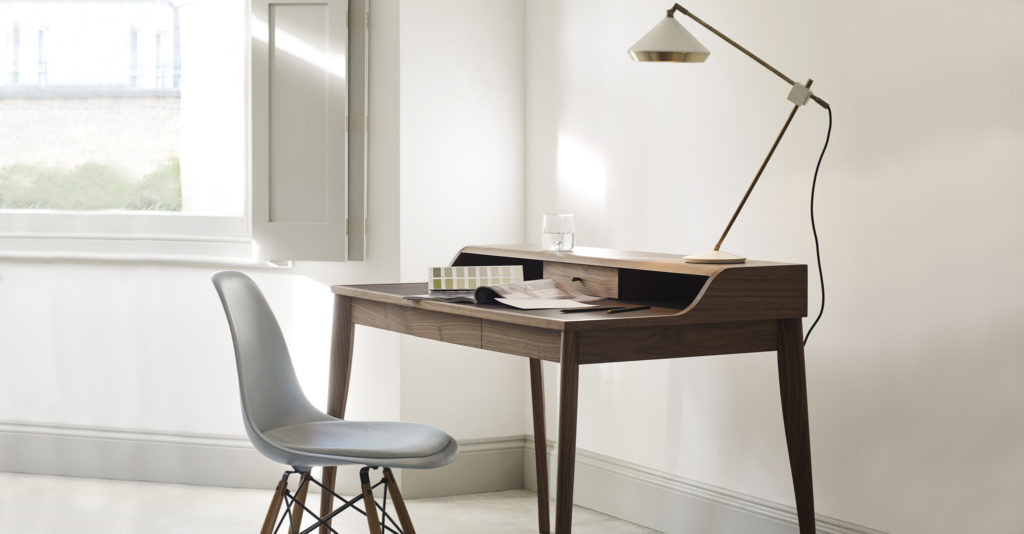 Stay inspired
Fill the walls with your favourite artwork and the shelves with your books of choice. By hanging art you love there'll be something in your office to make you smile, no matter how stressful the day. Looking to create a gallery wall? Find our top tips here.
Plants work in a similar way, filtering the air and making your home study feel fresher. Plus, they'll make working from home feel less cooped up and more in tune with nature.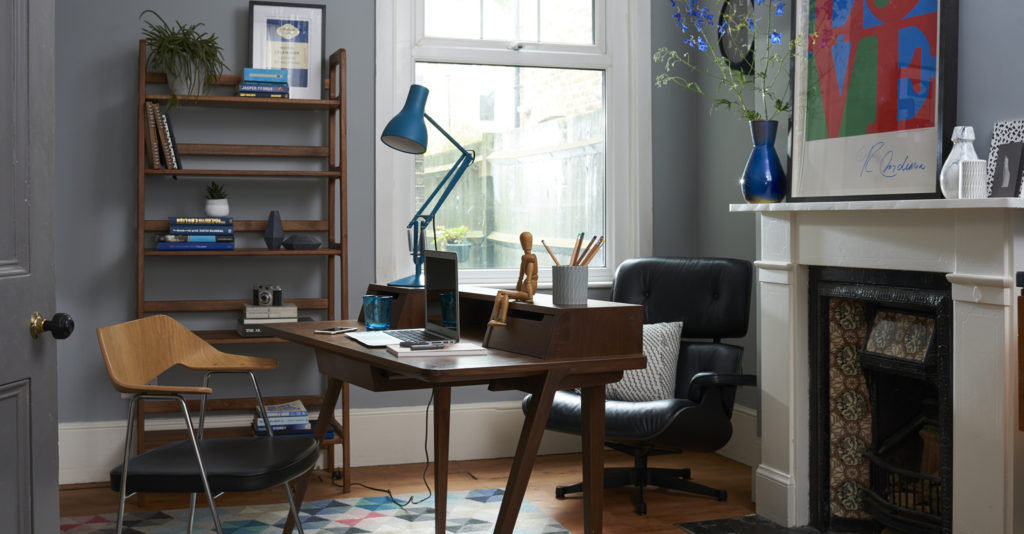 Working on display
Is your home office in full view in a living space? Not to worry. Desks are no longer sprawling designs that take up half the room and look terrible in the process. Nowadays desk design focuses on aesthetics as much as it does functionality. There are many designer desks, lamps and chairs available to make sure your office space looks as good as the rest of your home.
For smaller spaces where you might be trying to make a home office out of a small nook, then there are plenty of compact desks around. They often have integrated storage and cable management to keep your workspace looking neat.
Don't be afraid to think outside the box. If your space is particularly small then a wider console table could do the trick. Just double check it isn't too low for you when seated.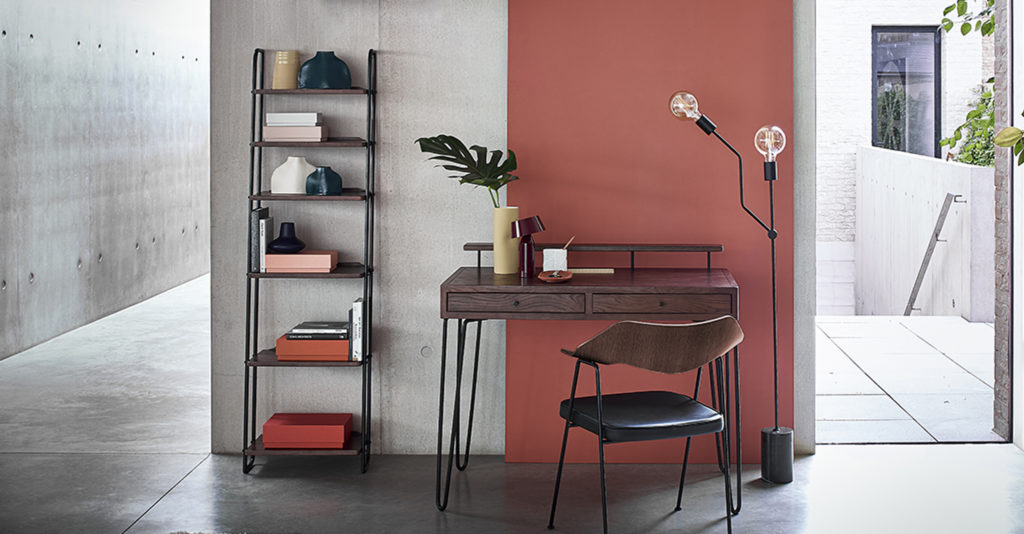 Natural light
One of the benefits of working from home is leaving harshly lit office space behind. Now the world is your oyster in terms of lighting.
If possible, position your desk or makeshift workspace near a window. This will allow natural light to stream through and mean you don't feel too cooped up inside. The only big downside is that in bright sunlight glare may reflect off the screen. In this case, make sure you have a good pair of blinds so you don't strain your eyes.
If natural light isn't an option then there are many alternatives. Opt for light bulbs that mimic natural light and have between 3500 and 5500 Kelvin. In other words, a bright white light that isn't to warm or too blue. Plus, positioning desk lights around your workspace will direct your attention and avoid distractions.