It's finally time to throw open the doors to entertain friends and family again. Whether they're visiting from near or far, nothing welcomes loved ones in from the cold quite like a house filled with festive cheer, from a tree twinkling with fairylights to a mantlepiece festooned with lush foliage and a table bedecked with sparkling treasure. When it comes to hosting at Christmas, it's all about creating comfort and joy, while making guests feel right at home. Here, we round-up the small refreshes and little touches that can make a big difference, from fluffy towels to five-star bedlinen and fold-out sofa-beds. But be warned: nearest and dearest may never want to leave…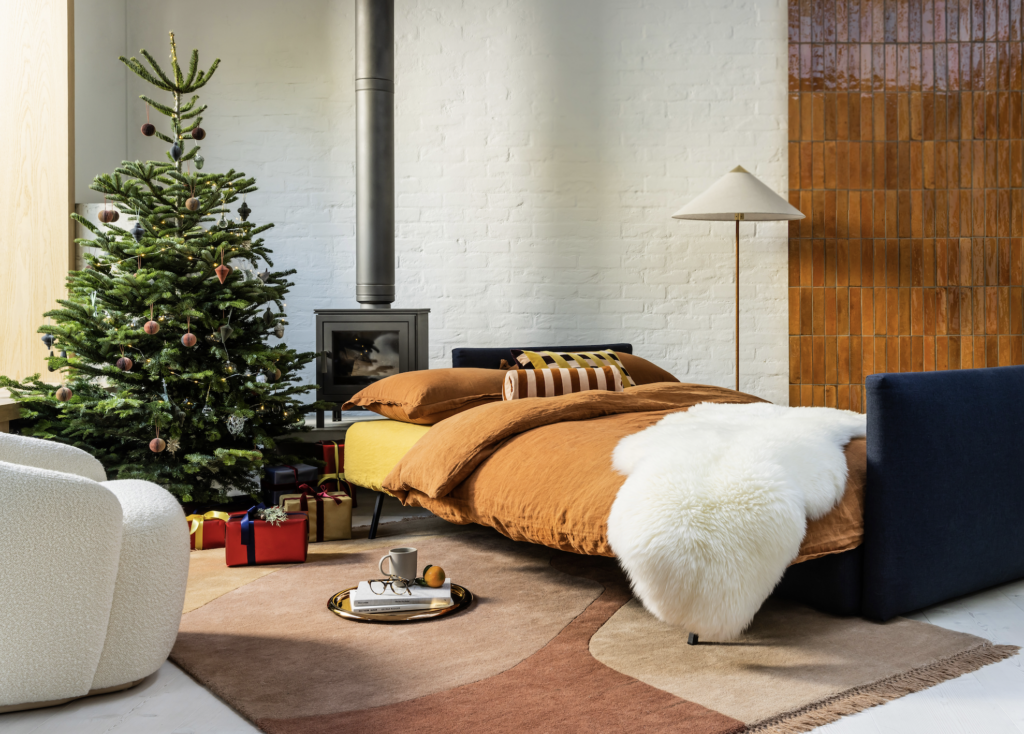 Offer a turn-down service
Good times can only be enjoyed after good sleep. Which is why it's crucial to create a restful space where guests can recharge and reclaim a little shut-eye between festivities. For those who don't have a spare-room, a sofa-bed can be a smart way to maximise space and accommodate guests, styled-up with cushions by day and folded-out with bedding by night. The smart Oswald, pictured, quickly and easily converts into a king-size bed while featuring hidden storage for stashing away luggage and keeping multi-functional spaces free of clutter. For extra style (and added comfort), swap out old sheets with crisp new bedding in seasonal colours and patterns, and layer with cosy throws in soft and textured materials.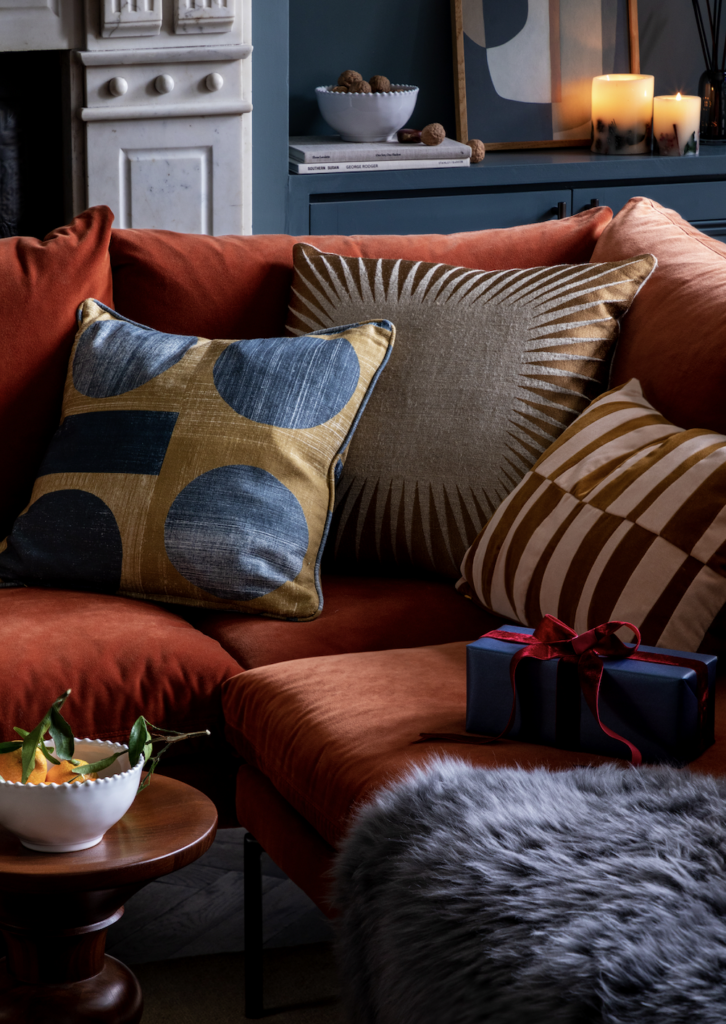 Spruce-up the sofa
A scattering of new cushions can really freshen up your sofa for visiting friends, adding colour, interest and depth. But think about a wintery palette of warm and toasty tones rather than clichéd shades and motifs for the coolest way to change things up. Here, we've layered the Matera sofa with luxurious cushions featuring rich reds, earthy yellows and icy blues that complement the ochre tones of the furniture. With interesting patterns from innovative designers, they provide a conversation-starter over Christmas, too.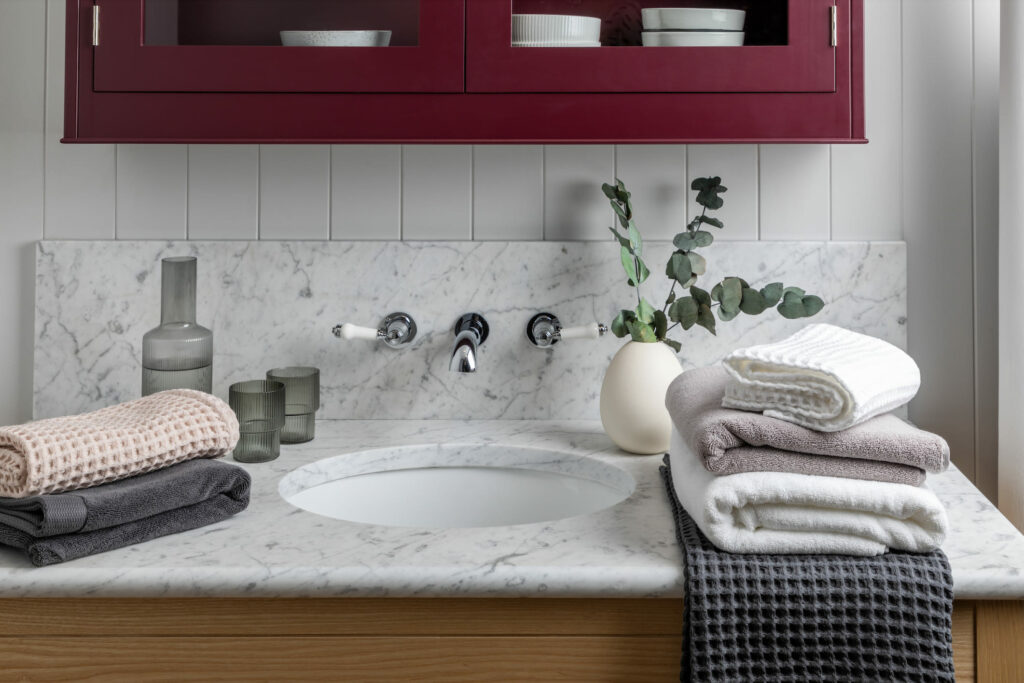 Round Bud Vase by Heal's, Waffle Towel Charcoal by Heal's, Spa Towel White by Heal's, Ripple Clear Carafe by ferm LIVING, Ripple Smoked Grey Tumbler Glass Set of 4 by ferm LIVING

Create a 'spa-throom'
A few easy updates can transform your bathroom into a spa-like oasis your guests can retreat to away from the hustle and bustle of the house. Stock-up on quality towels in soothing shades and luxurious textures – our pick are these for all the luxury of a five-star stay – together with high-end soaps for a spot of pampering and a designer diffuser to make the whole room smell wonderful. Everyone will be fighting for the bathroom.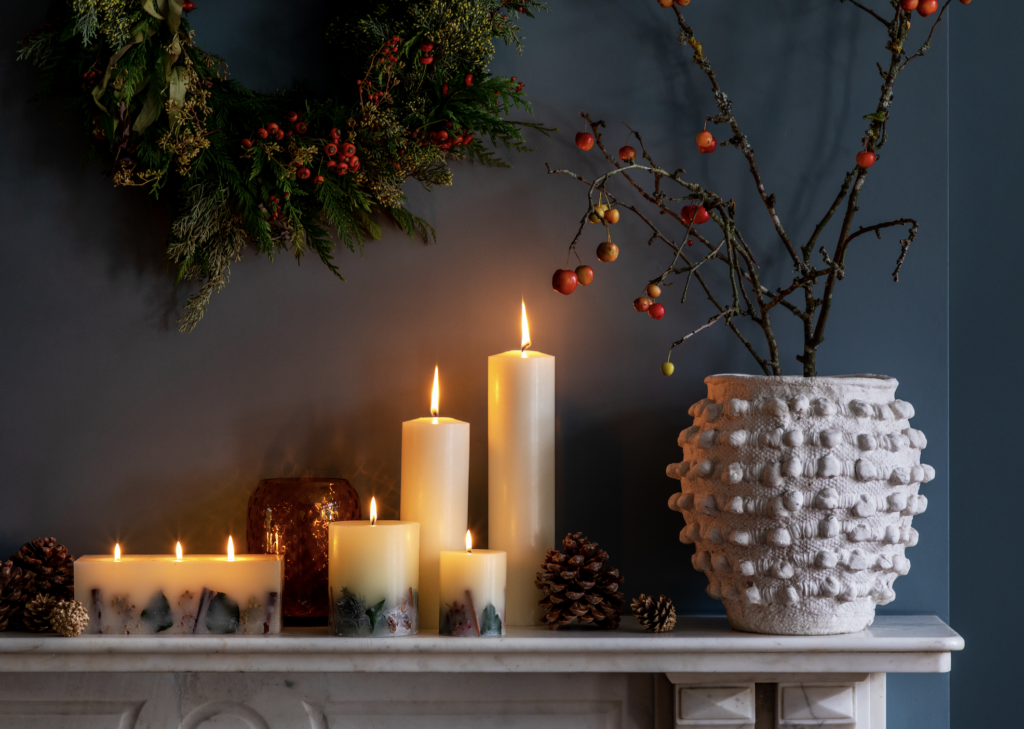 Massimo Bobble Vase by Abigail Ahern, Botanicals Winter Spice Brick Candle by Heal's, Winter Spice Tall Pillar Candle with Botanicals by Heal's, Pillar Candle by Heal's,
'Christmasify' a corner
Even if you're not going all-out with a tree and all the trimmings, you can still help guests to feel cosy and festive, even in the most compact of spaces. Style up a single corner instead to add a touch of sparkle to a space: a sideboard or a mantlepiece can provide a platform for decorative touches while creating a focal point in any room. Simply add a collection of candles – varying heights create interest – and a statement vase filled with natural foliage foraged from the garden, plus a few tree decorations here and there. A tangle of fairylights is a nice touch, too, while a smattering of tealights finishes things off. The more corners you can create, the merrier.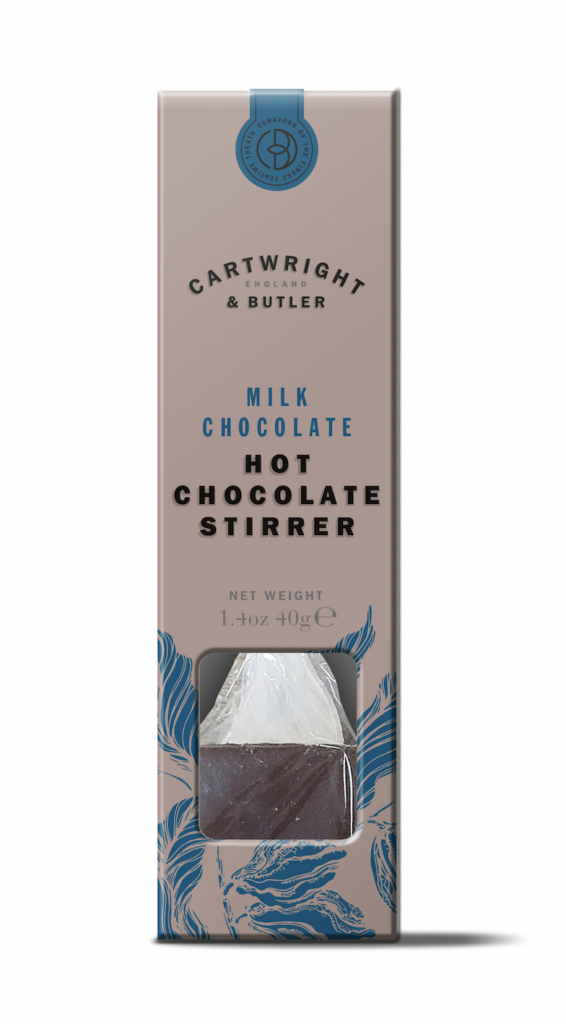 Gift your guests
Create boutique hotel vibes from the comfort of home with a gift or two for guests left at the end of their bed: consider the Bitter Orange & Cassis Dusk Candle for creating a festive scent; the Milk Chocolate Stirrer for making a late-night cup of cocoa; and the Lambswool Hot Water Bottle for popping between the sheets. It's the details that make a stay, whether at a hotel or in the home of a good friend, so pick something you know they'll love to make them feel truly special.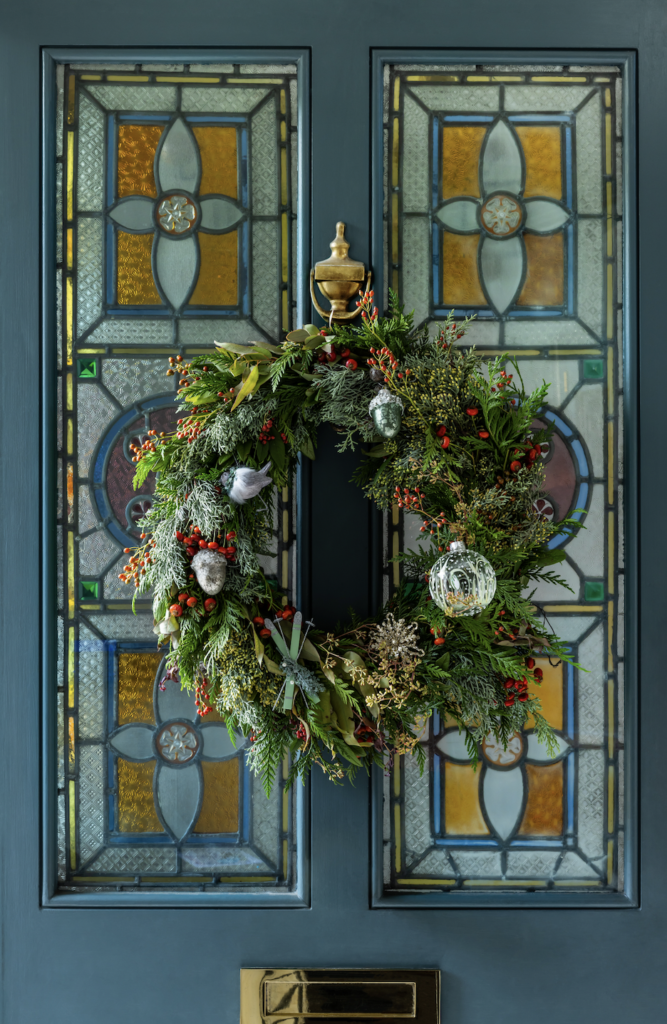 Three more tips
1 Invest in a coat rack and shoe tidy ahead of the holidays to keep your hallway sleek and streamlined. First impressions count, so ensure your reception makes an entrance, even when you've got a full house.
2 Stock-up on games for rainy days during family stays. The collection from Printworks, including Backgammon and Yatzy, is so smart you won't want to stash it away.
3 Hang a wreath on the front door and festoon it with our decorations. It sounds simple, but it's the first thing guest will see as they arrive, so give them a sign of things to come with a festive flourish that says: 'home for Christmas.'