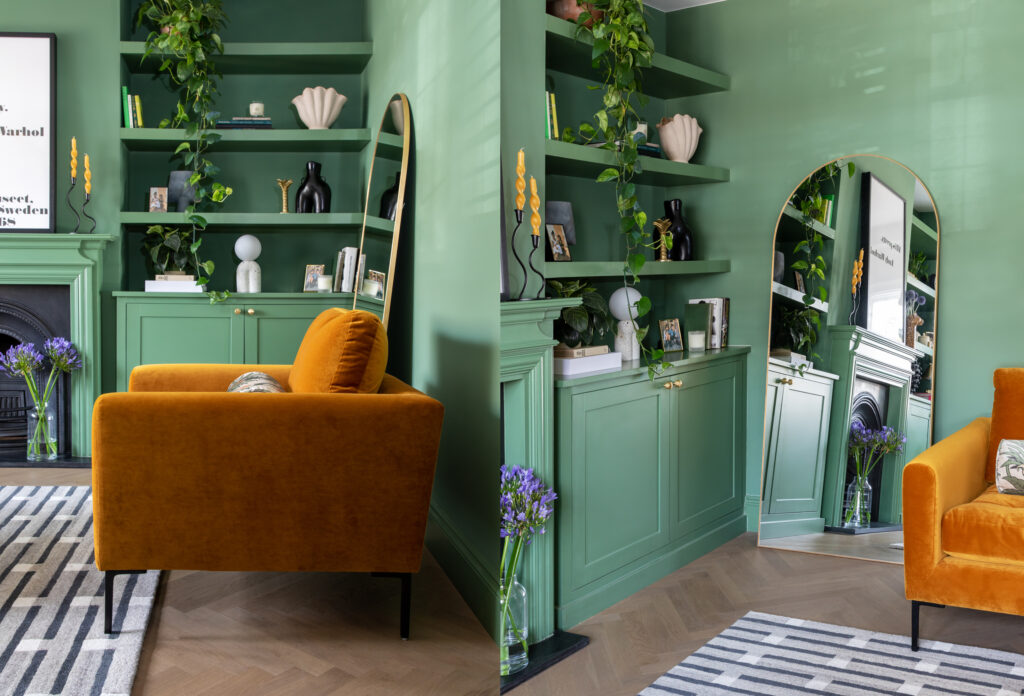 Confident in their creative use of colour and pattern, homeowner India Hares, along with her husband Tom and children, Honey and Rocco, have completely transformed their 1930s home in Balham, South London, beginning renovations during the height of lockdown. India set up her Instagram account, @OurHouseEdit, to share their journey and inspire others in theirs.
While the couple wasted no time in tackling the kitchen – characterised by chic terracotta tiles and pink painted cabinets – the living room was left as a bit of a dumping ground while other spaces took priority amid the ongoing pandemic. Not so anymore, thanks to a little help from Nicola from our Interior Planning Service, who collaborated with the couple to devise a scheme and select pieces of furniture to fit their space and style.
The result? A chic but comfortable living room that embraces colour and pattern to spectacular effect. It's now a room for rest and relaxation; a place for gathering friends and family; and somewhere the couple can spend time together. Here, we catch-up up with India and Nicola to find out about the project, the process and how you can recreate the look in your own home.
Nicola, how do you start a project and a begin the process?
N: It always starts with a consultation with the couple: getting to know them and their requirements, understanding their taste, budget and timeline, and looking around their home. Getting a feel for the house is crucial, not just for taking measurements, but also understanding how people live in and use the space. Once we've brainstormed together – a mixture of looking at moodboards or pouring over Pinterest – we browse the pieces in-store to spark ideas and fire imaginations. The rest of the room can then be built around these key items. For India and her husband, this was the Eton sofa in black and the Mega Junction chandelier, both providing striking focal points.
India, tell us about your renovation story. When did it start and how have you transformed the space?
I: After months of searching for a property in our preferred area, one Saturday we saw our house online – very run-down, but in the perfect location and oozing with potential. We immediately fell in love. It felt like 'the one'.
I was unable to make the viewing, so after my husband saw it and confirmed it ticked all the boxes, we decided to make an offer before I had even seen it, which felt crazy at the time, but we knew it had so much potential to become our dream home. I could also blame him if it all went wrong!
The house is a 1930s semi-detached and was complete with retro polystyrene ceilings and lino floor throughout! It needed complete renovation (we later found out we were only the second family to own it since it was built in 1936) but we were so excited by the challenge.
With lots of false starts due to the pandemic, we eventually moved in and spent the next six months planning, measuring, sketching and Pinterest'ing our hearts out. We found it so useful living in the property at the time to get a real feel for the space and how it would work best for our family.
It took five months to complete the work in total. We extended out at the back to create a large family kitchen living space, remodelled the separate toilet and bathroom upstairs to make one family bathroom, and gutted every room in the house to relieve it of its dated 70s interiors and features.
How would you describe your style? Do you and your partner have the same taste? If not, how have you found the balance between your styles? Were there moments where you didn't agree on the style or aesthetic during the design process?
I: I've always loved the use of vibrant colours and textures in my home combined with natural earthy materials. My husband has a preference for a more industrial, minimalist style so our tastes complemented each other well, although he was happy to let me lead the way and thankfully had faith in my vision for how it would all come together… although he did take a bit more convincing on the pink kitchen!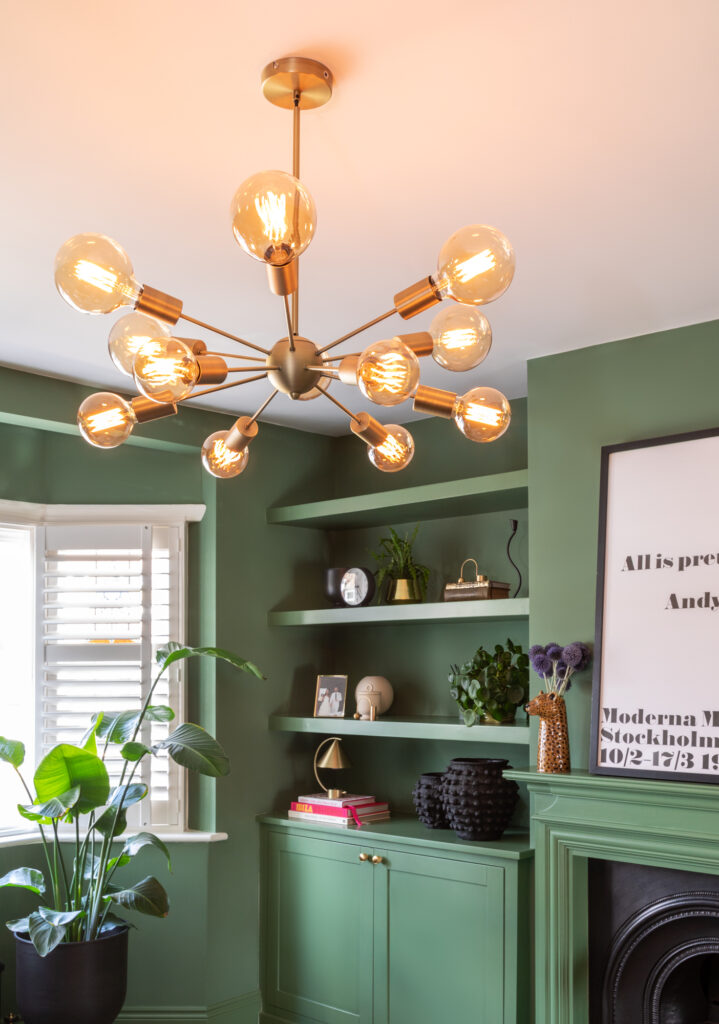 India and her husband have different tastes: Nicola, how did you manage to combine both in a happy compromise.
N: It was quite easy, actually, Not many couples have exactly the same styles – in fact, some can be the exact opposite! – so we're experienced in planning schemes that bring together differing tastes. Luckily, India's love of colour, pattern and texture complements her husband's passion for an industrial, minimalist aesthetic, so everything works naturally together. Her fun, whimsical style is given a clean, masculine edge that creates a beautifully balanced room.
Nicola, are there any key pieces from Heal's you knew would work well in the space?
N: The Eton sofa in elegant black was a no-brainer for me as a way of giving the green living room a strong focal point – an 'anchor', if you will – around which everything else could revolve.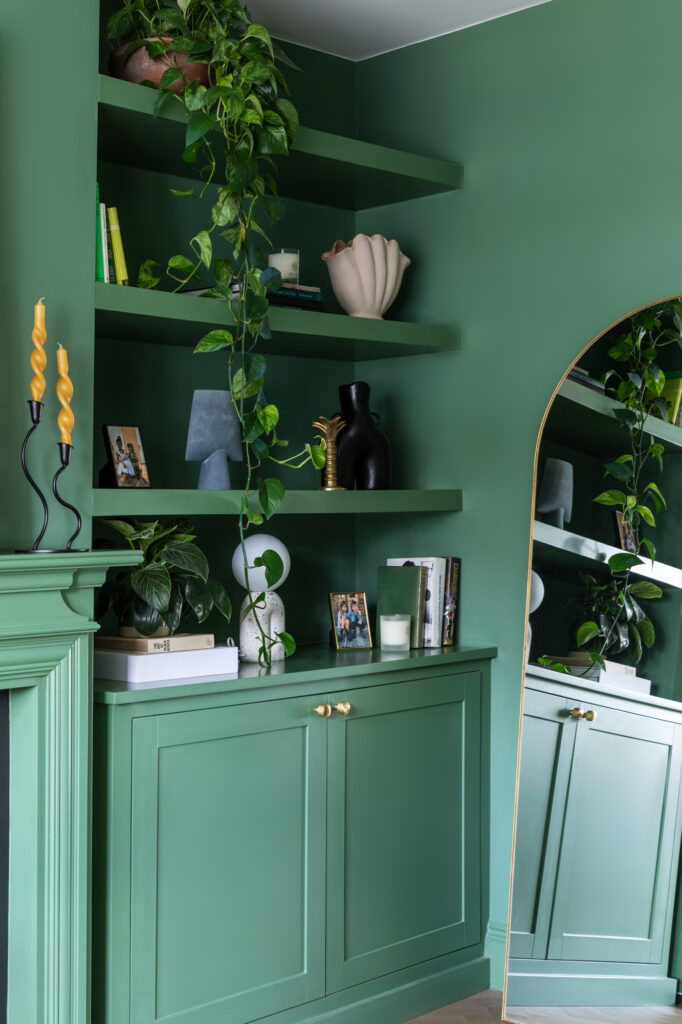 India, how did you find working with our IPS team? Is there anything in particular that you found helpful when designing your space? Were there pieces in the scheme that weren't something you thought you'd have chosen but ended up loving?
I: Nicola from the IPS team was so friendly, talented and full of suggestions that we would never have thought of. Having someone take all the fragments of our ideas and add their own professional expertise and advice to bring it all together to create one look was invaluable.
After our initial consultation, it was so useful to walk around the store and see how all the pieces looked, which was a completely unique experience. We then had a back and forth over email to refine the ideas, which was so effortless and fun. It really felt like having a true partner who was as passionate about creating our perfect living room as we were.
We may never have opted for the Eton sofa in black, but it works so perfectly with the green of the room and the feel of the rest of the house. The lighting was another great example of where Nicola pushed us out of our design comfort zone, and we're so glad she did, the Mega Junction chandelier is such a beautiful focal point of the living room – it feels like part light, part art installation. We absolutely love it!
Sum up how you feel about the finished space. How would you describe it and how does it feel when you walk in?
I: We're so overjoyed with result! We wanted a living space that was a contrast to our light bright kitchen but was still in line with the feel of the house.
What Nicola and the team have created is the absolute perfect balance of a comfortable and cosy family living room, and a stylish 'adult' space – with its different fabrics, patterns, textures and lighting moods depending on the time of day. We couldn't be happier!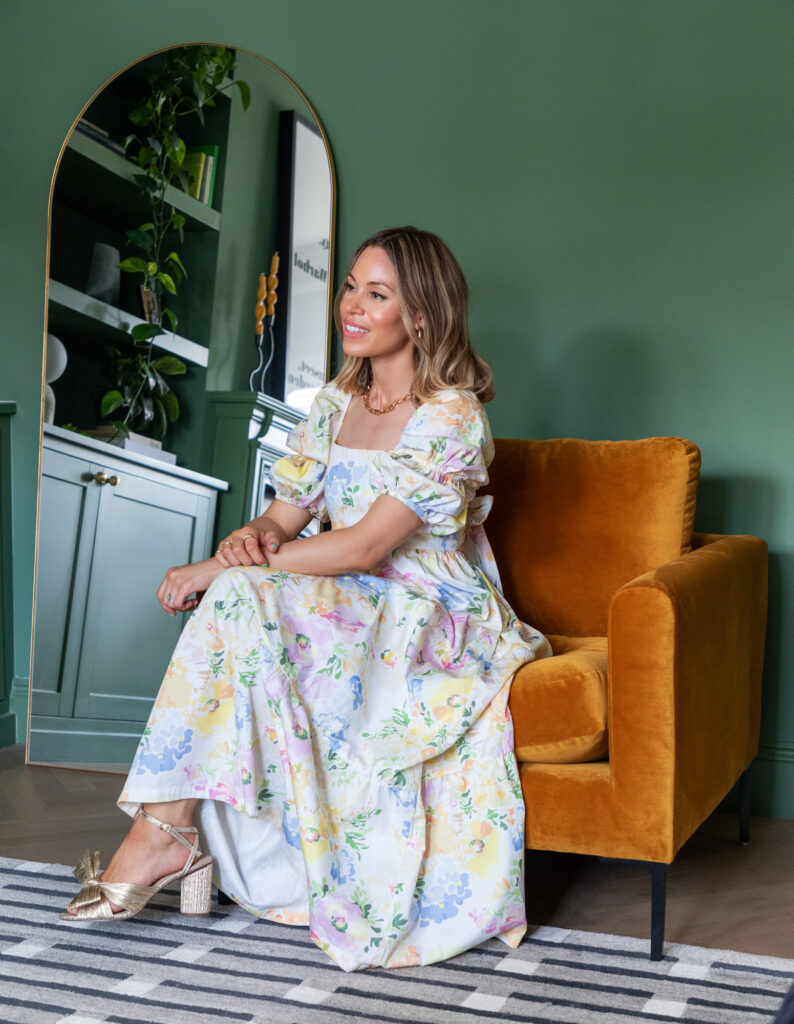 Nicola: what advice would you give to people wanting to recreate the look?
N: India's living room works so well because she has committed to the green colour by washing it on the walls and woodwork – it's called colour-saturation. Then, we worked together to layer complementary colour and texture over the top of the green base, adding more depth and interest. A few key pieces in gleaming metallics complete the look and add further richness and glamour.
India, what was your favourite part of the process and what would you say is your favourite piece?
I: Having Nicola visit our home to discuss and finalise our plans and ideas over a cup of coffee. This allowed us to imagine everything in the room and make sure pieces would work in the reality of the space. Where to begin on favourites pieces? We have so many! But If I had to choose, it's a close call between the Cezanne Square coffee table – with its beautiful marble top bringing such elegance to the space – the Eton armchair in a fabulous mustard – the perfect pop of colour – and the luxurious velvet Divine Savages cushions which finish the room off to perfection!
Need a helping hand with designing your space? Our IPS team is here to help!
Click here to follow along with India's renovation journey.