As we continue our series focusing on careers in design, we chatted with trend forecaster Fiona Coleman.
Now a freelance fashion and textiles consultant, Fiona began her career as a designer for the likes of Paul Smith, Uniqlo, M&S, Next and Benetton. She then went on to spend ten years working for leading trends platform WGSN. Her work has taken her across the globe and seen her speak regularly at events and as a lecturer at British universities. She is also a member of the British Textile Colour Group. This involves playing a key role in creating biannual colour palettes for Intercolour.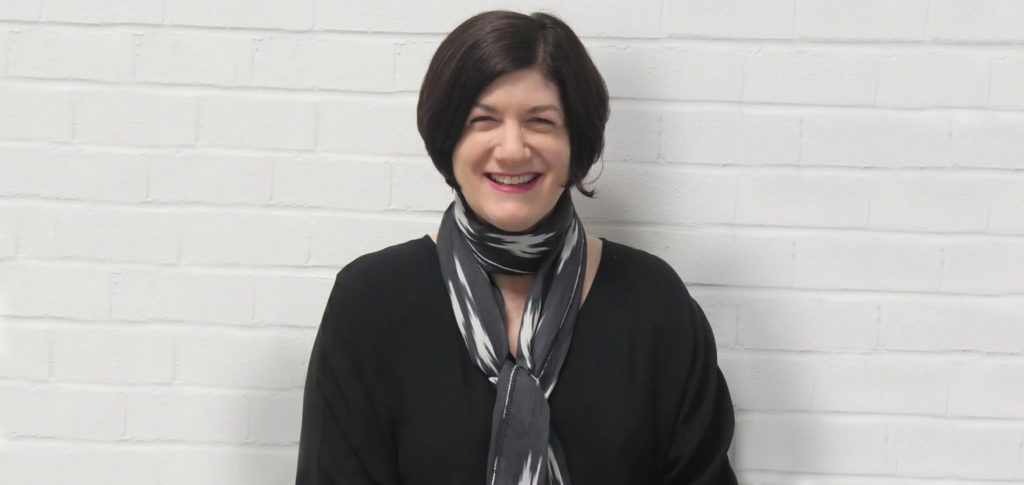 Most recently, she has been working as a specialist consultant for ITC SheTrades. As part of this role, Fiona works on projects advising women entrepreneurs on how to develop their businesses for international trade.
Read on to discover more about Fiona's path to becoming a trend forecaster and her key advice to help you.
What is trend forecasting?
Most trend forecasters, especially for the fashion and interiors sectors, use a combination of intuition and analysis of consumer insights to spot new micro and macro trends. Social, political and cultural information all impact on what trends emerge, how they evolve and how long they will last.
Trend forecasters work in every industry. Depending on product lead times and type of industry either long-term (2-5 years) or short-term (6 months – 2 years) forecasting is used.
Long-term forecasting has to do with macro trends—major shifts in fashion that will be relevant for over two years. These are the big-picture trends that define the fashion business. For example, changes in demographics, lifestyle and the way clothes are made and sold.
Short-term forecasting for the fashion, footwear, interiors and textiles industry involves predicting upcoming trends. This includes colour, materials, textiles and print that will spark consumer demand.
How did you get your first job as a trend forecaster?
I was lucky that my first role as a designer was with a supplier to M&S. Working for a large company I was offered training and responsibility.
My first job was great. However, it also made me realise that I wanted to do something more creative and lead rather than follow trends. So, my second job was actually my first as a trend forecaster.
This was in a multi-client design and trend agency in London. It worked on bespoke information for clients who ranged from big retail groups to international brands. This was pre-internet, so all the work was presented on boards and we worked face to face with clients. Nowadays, most presentations are delivered digitally, sometimes in person and sometimes remotely.
How has trend forecasting changed throughout your career?
WGSN was a game changer when it came to forecasting. They were one of the first, if not the first, online forecasters who offered a subscription model. Before that, companies bought seasonal trend forecasting books, many by companies like Promostyl, Carlin and Peclers. Many of them were French and set up in the 1960's. Whilst these seasonal books still exist, those companies also have online offerings.
What is one major lesson you learnt from your first job?
How to be adaptable and how to work for multiple clients at the same time, on different products. I also travelled a lot to wherever our clients were. The job opened my eyes to the world of multiple clients and tight deadlines.
Do you need to have fashion experience to work as a trend forecaster?
Everyone has different routes into trend forecasting and it depends what area you end up specialising in. If it's more on the consumer behaviour side, then sociology and journalism as backgrounds can be useful. If you want to work on the colour, materials and macro trends side, then many people have backgrounds in textiles. Part of forecasters' role is to challenge brands and retailers to think differently.
How did you find the transition from in house to freelance?
I've always interspersed working full-time for companies with periods of freelancing. I realised early on that I thrive on variety so I'm lucky to have worked in different environments and countries. You do have to be good at time management and have a good network though.
Tip to making a splash in your first job?
Be enthusiastic and a team member. Your older colleagues have all been in your position and have had to work hard. Plus, they probably know things that you don't even know you don't know yet.
First of all, make sure it's something you really love doing. Although many people think first jobs are just stepping stones, they really can shape the direction of your career.
Do respect and learn from those more experienced and learn the dynamics of your workplace. We only absorb so much while at university, it's when you're in the working world that you really start learning. Find yourself a mentor.
Any key advice you'd give to someone looking to get into trend forecasting?
First of all, you must be someone who loves researching and is constantly curious. I never completely switch off-even when I'm on holiday; I'm looking around at different cultures and patterns of life. There are now courses specifically for trend forecasting. However, whilst these give you a great insight into the business, nothing replaces practical experience. I would recommend spending as much time as possible looking, researching, documenting, evaluating and compiling as possible. Plus, try and gain some experience presenting your work to others. It's all part of the job.
We hope Fiona's advice inspires and helps guide you on a future career as a trend forecaster. Good luck!