Grey is an incredibly versatile colour so it's no wonder many choose a grey sofa for their homes. There are plenty of options when it comes to grey sofa living room ideas, from gunmetal grey to paler hues. Each one is perfect for creating a layered, textural interior scheme. To help you choose, we've selected some of our favourite grey sofa living room ideas.
Play with hue and texture
We love how the Cane Sofa Bed is positioned in this shot alongside shades of grey and off-white. The addition of a concrete floor and fireplace lend texture and depth to the space.
Whilst concrete floors can look particularly industrial, the sofa's cane accents lend it a more natural touch. The same can be said for the modern wooden coffee table and nonchalantly draped throw. The way it is cleverly positioned alongside a coordinating rug makes this image one of our top grey sofa living room ideas.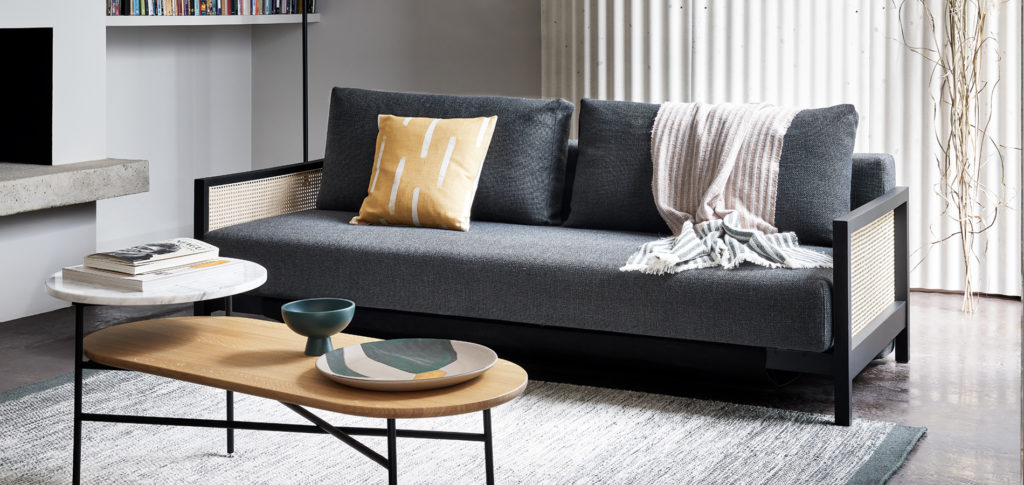 Versatile grey sofa
The beauty of a grey Richmond Sofa is that it's incredibly versatile. By simply replacing the cushions in winter or summer, you can create a seasonal scheme. We love how the geometric blue cushion in this grey sofa living room idea draws on the upholstery's blue-grey hue. Plus, the addition of a faux fur throw and cushion make it perfect for colder months, evoking imagery of snow.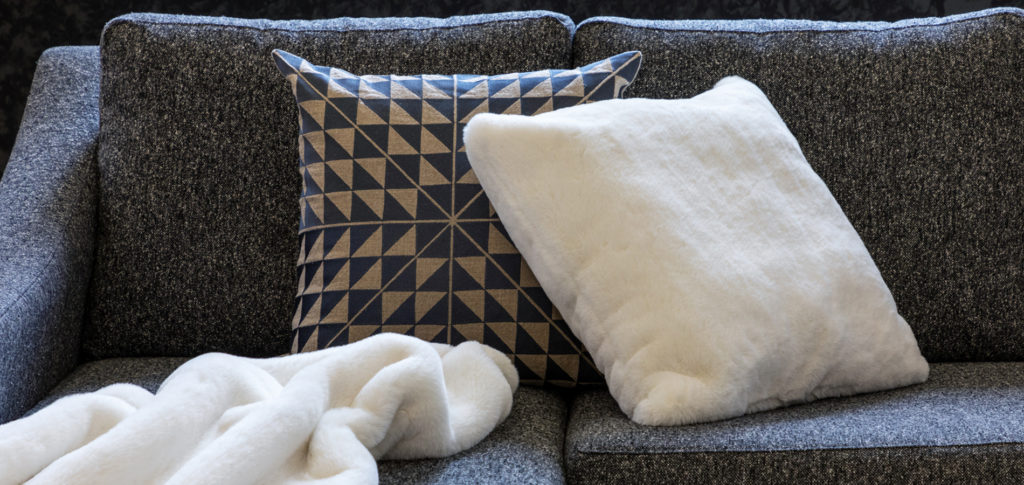 Grey and pinks
When you choose a grey sofa for your living room, that doesn't mean the whole room needs to be monochrome. In fact, a grey sofa provides the perfect base for a splash of colour. This grey sofa living room idea incorporates pastel pinks and off-white to create a welcoming space. Warm lighting and natural wood accents keep it feeling fresh, modern and cosy. Plus, since the Torino Sofa finds the perfect balance between tradition and modernity, it's ideal for all living spaces.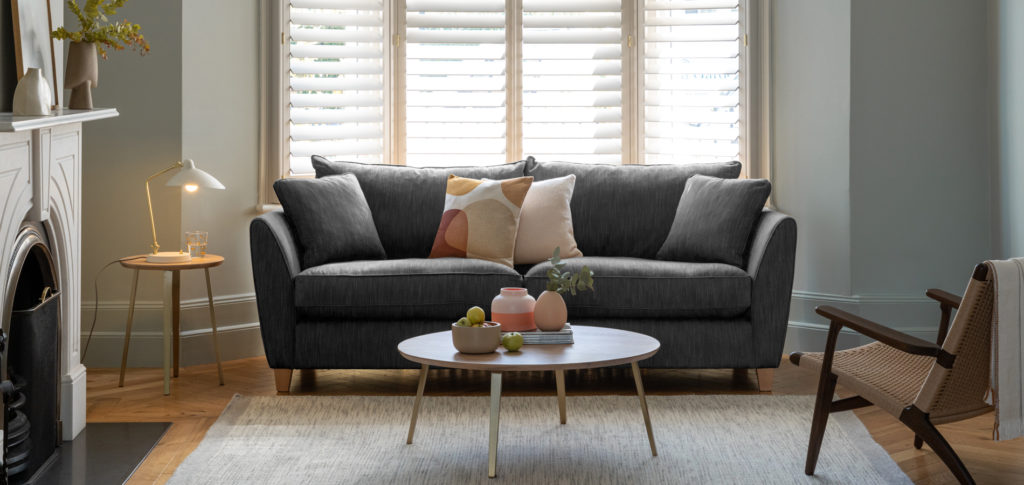 Grey leather sofa living room idea
Not only does a grey leather sofa look great, it's practical too. Easy to clean and incredibly durable, choosing grey leather upholstery is a great choice for those with kids or pets. Plus, grey leather is a rarity in peoples' homes, so it'll stand out as a considered design choice. Pair it with pared-back walls and modern accessories for a contemporary look.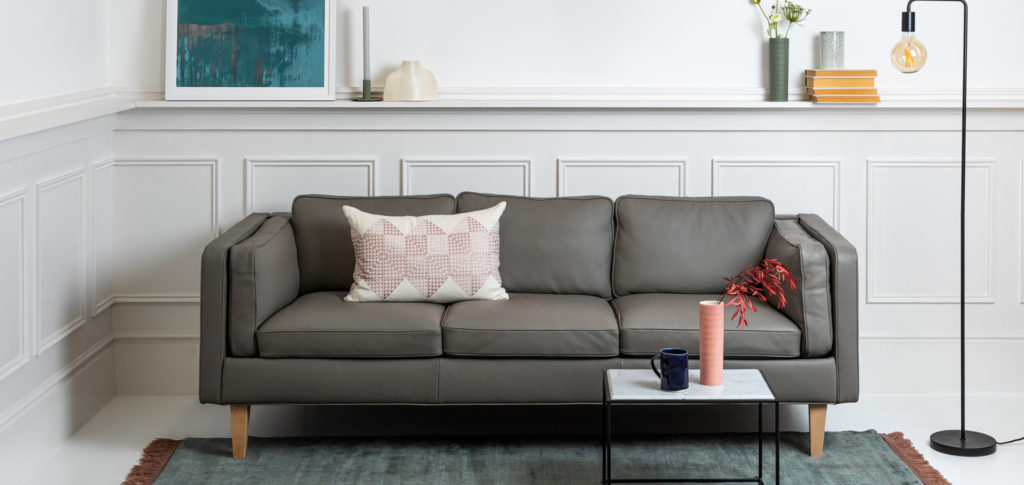 Corner sofa seating
When it comes to grey sofa living room ideas, nothing gets better than a spacious corner sofa with space for all the family. The grey upholstery on the Eton Corner Sofa in this shot is as luxurious and premium as it looks. Pairing it with chrome legs and positioning it alongside dark woods like walnut really adds to the overall aesthetic. Plus, the pared-back colour scheme really allows the floor-to-ceiling windows to take centre stage.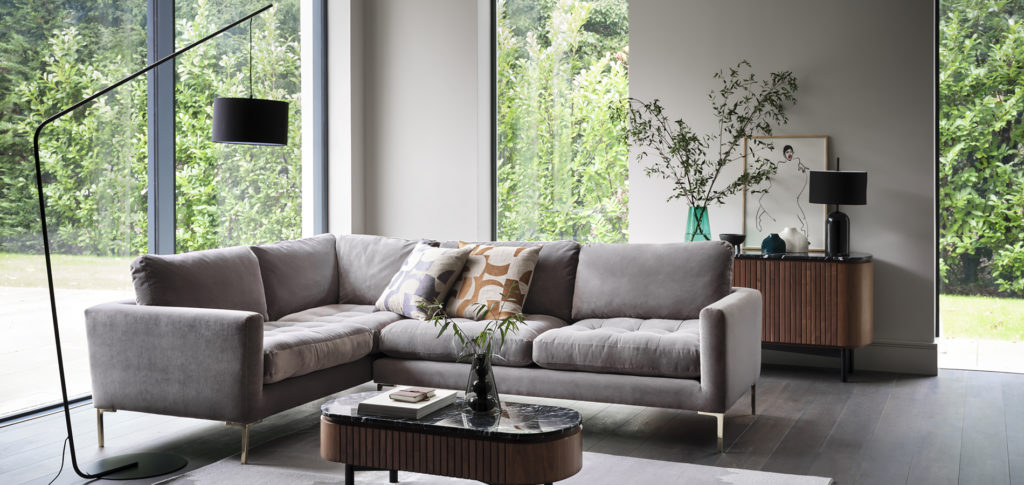 Coastal Scandi
The Mistral Sofa in this shot boasts recycled fabric upholstery made from fashion industry off-cuts. Pairing it with light wood legs and surrounding it with plants and large windows means it feels aligned with nature. Again, the addition of soft pinks really makes the room feel on-trend and welcoming. Plus, the grey upholstery is versatile enough that it would also work well in plenty of other spaces.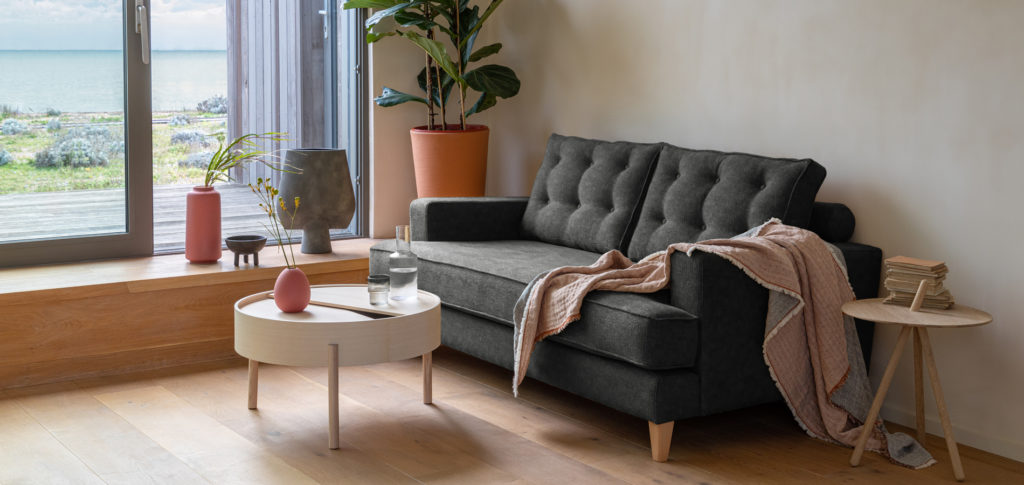 Like what you see? Shop grey sofas at Heal's.