If you'd like to bring a little more colour to your home without getting out the paintbrushes, then consider a blue sofa. Blue is a timeless colour that never goes out of style, making it the perfect choice if you'd like to invest in a colourful piece of furniture. Read on to discover our top blue sofas in our collection. Plus, you'll pick up some great design tips along the way.
Blue modular sofa
The timeless Togo Sofa is a fan favourite thanks to its iconic design and stand-out upholstery. We reckon it looks particularly great upholstered in this blue Alcantara fabric. The deep blue colour lends a splash more fun to the pared-back living room and makes it the perfect centrepiece. Plus, the suede-like finish adds a little more texture to the scheme. The great thing about the Togo Sofa is that it's modular. That means you can customise it to suit your space perfectly. By choosing the right sections, you could have a blue corner sofa, or a cosy two-seater.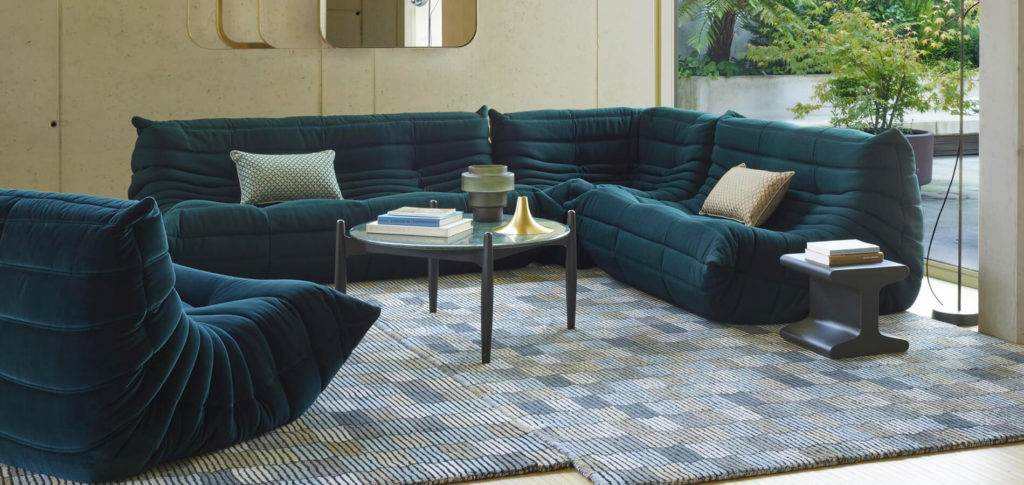 Blue Chesterfield sofa
Take a classic design and give it a modern twist with a blue chesterfield sofa and velvet upholstery. It brings all the charm of the traditional leather sofa, but with vibrant upholstery perfect for contemporary spaces. We love how this blue sofa idea stays true to the room's period features, whilst introducing a modern edge. Accessorising with neutral throws and cushions ties the blue sofa into the room and means the colour isn't overwhelming. We suggest tying the look together even more with some blue accessories or walls in another shade of blue.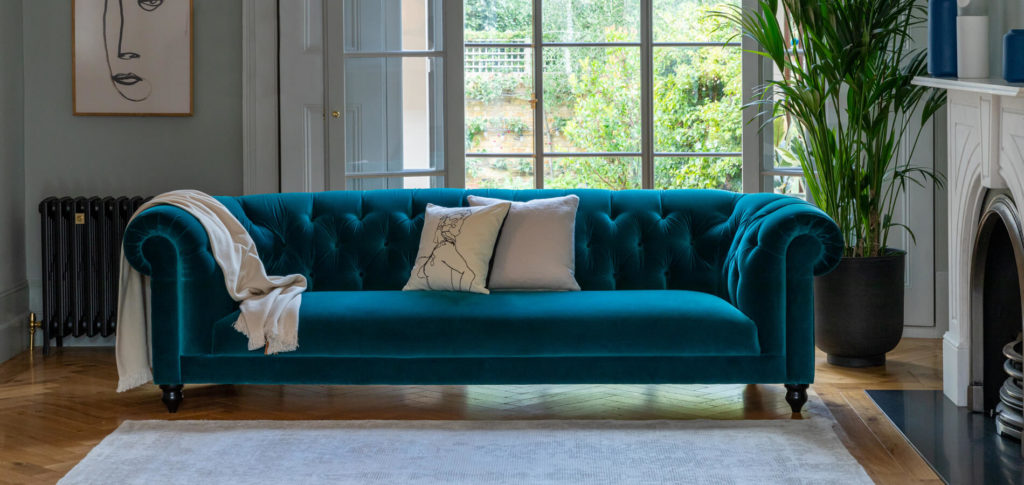 Blue sofa
With gently curved armrests, inviting cushioned seats and elegant blue upholstery, the Snooze Sofa is made for the modern home. Plus, it's so comfy, you'll find it hard to stay awake, perfect for afternoon naps. This elegant blue upholstery has a subtle texture that lend it more depth and character. It also ties it together with other elements of the room, like the wooden side table and concrete floors.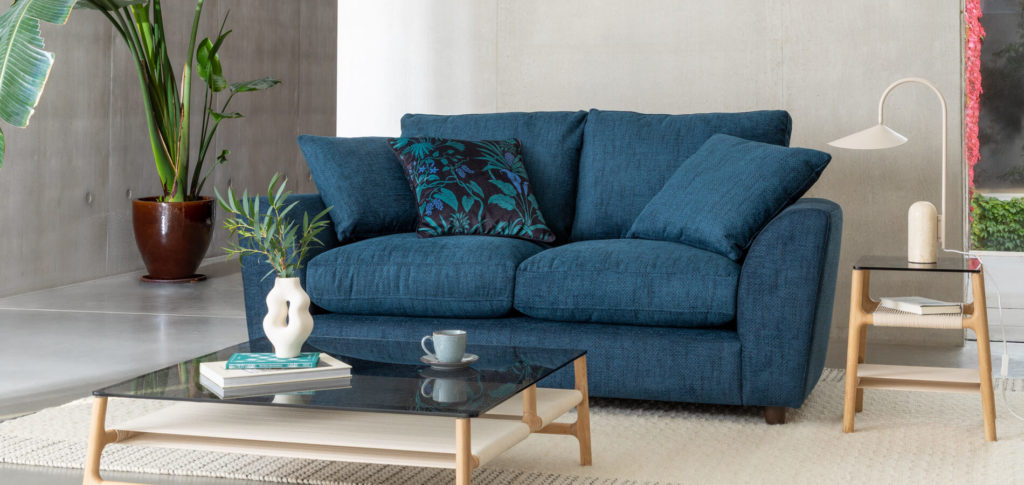 Modern blue sofa
If you're looking for a sofa with traditional charm and modern design touches, look no further than Vitra's Mariposa Blue Sofa. A spacious and inviting design, the sofa has beautifully cushioned seats that invite you to sit down and relax. Plus, its arms are adjustable. That means you can adjust them to the perfect angle for reading, napping or sitting with a cuppa. Created by celebrated designers Edward Barber and Jay Osgerby, this elegant modern sofa will bring comfort to your home for years to come.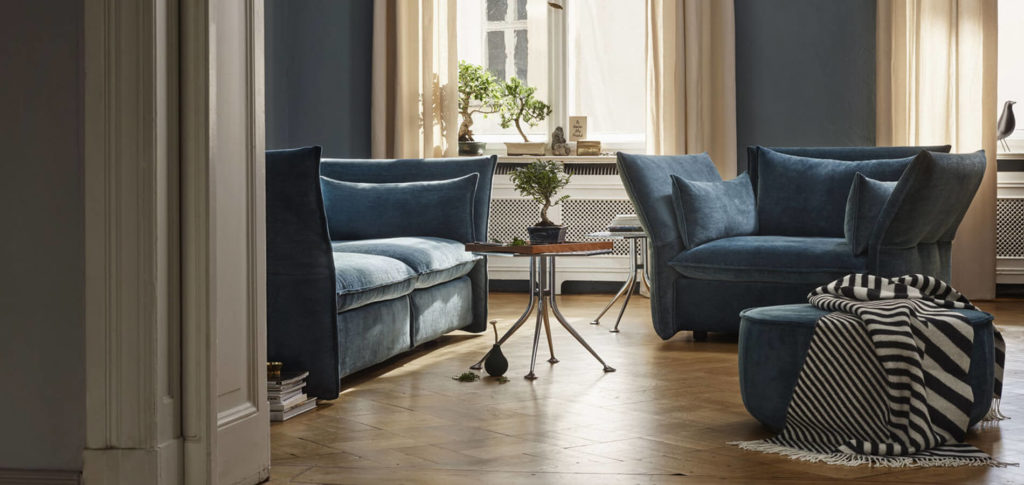 Blue sofa bed
Welcome your guests to a comfortable and stylish night's sleep with a blue sofa bed. Often sofa beds mean compromising on comfort or style. But not with the Pillow blue sofa bed. It's the perfect place to catch 40 winks and an equally cosy spot to unwind in front of the television. Plus, it looks great. This voluptuous blue sofa bed has plenty of cushioning, curved arm detailing and modern wooden feet. It perfectly complements the neutral colours in the rest of the living room. Accessorise with some splashes of blue to complete the look.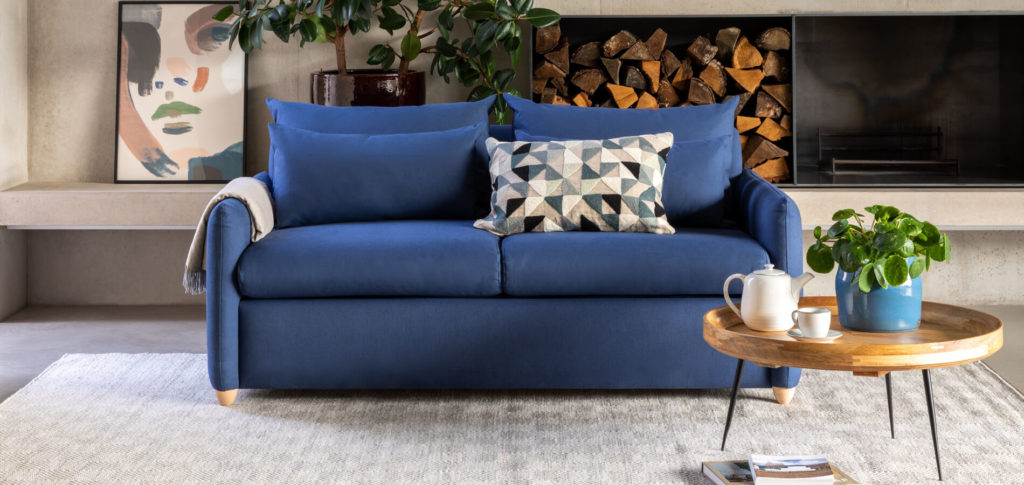 Bright blue sofas
Make a bold statement with this bright blue sofa from our collection. The Richmond Sofa with cobalt blue brushed cotton upholstery really stands out and makes a big impact in the living room. Its swooping arms and tapered wooden feet are a nod to classic design. Whilst the blue upholstery and modern dimensions transform it into a design perfect for contemporary spaces. We love how it's paired with neutral interiors for a bold yet pared-back aesthetic. Splashes of yellow and burgundy give it an almost Mediterranean feel.