The dining table is central to every home. It's the place you host family dinners, where you entertain friends and sit to enjoy an afternoon cuppa. Whether it's a special occasion or a quiet evening in, your dining table caters to a whole assortment of occasions. So, it's important to choose your dining table colour carefully to make sure it's central to your design scheme as well as your home. We've created this handy article to show how to choose a dining table colour that suits your home. Read on to discover more.
1. Decide on a style
Sure, the dining table is central to your home, but it isn't always the place to start designing. On your first step to choosing a dining table colour, decide on a style that your table should match, not the other way around. For example, if you decide on a more retro style for your dining room, perhaps a white Eero Saarinen dining table will be the perfect match. Or maybe your chosen style is a little more rustic. In that case, a light wood dining table may suit your room best. If you'd like to create an opulent and luxurious vibe, perhaps consider black marble. Deciding on a style first will help you to create a well-thought out and cohesive dining space.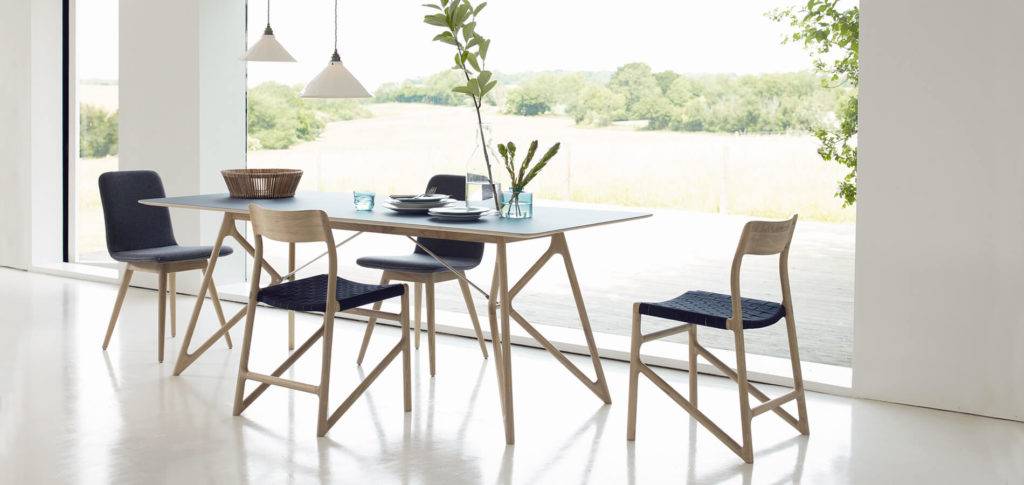 2. Consider materials
When asking yourself how to choose a dining table colour, materials should always be an early consideration. Your dining table's material can have a huge influence on your choice, in a similar way to your room's style. That's because materials can make a huge difference to your decision making. Since narrowing down materials tends to cut out some colour options, it can also be a great way to move one step closer to a decision. For example, choosing a wooden dining table means your colour selection is often limited to natural browns, white and black. A marble dining table offers a little more choice in terms of colour. The luxurious material comes in reds, greens, whites and blacks, so it's perfect for injecting colour into your space. In contrast, man-made materials like linoleum mean you can choose any colour under the sun for your dining table.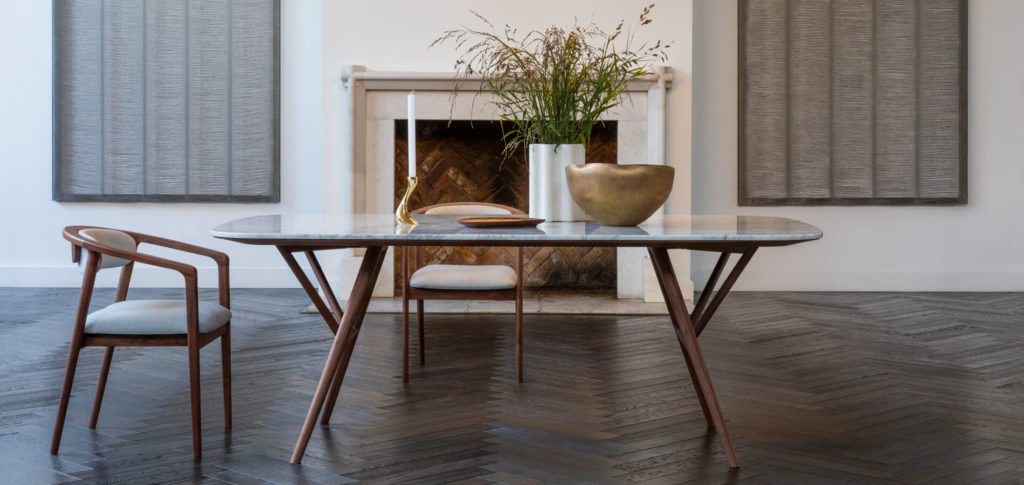 3. How will you use the room?
When you're thinking about how to choose a dining table colour, it's important to consider how you'll use the room. Will you mainly be enjoying low key family dinners in it or hosting opulent dinner parties? Answering this question will help you choose a colour. Wood is a great choice if you're using the room for plenty of family meals and evenings in. That's because it's a warm and welcoming material. Colourful linoleum is another great choice as it brings character to the room and it's easy to clean marks left behind from messy family dinners. Or perhaps the room will be a little more formal? Opulent materials like marble, brass and walnut make for a sophisticated dining space. Big celebrations and special occasions will feel even more monumental sat round a white marble table.
4. How large is the room?
The colour of your dining table can really impact your room as a whole. The right choice and a small dining room can suddenly feel sprawling. The wrong choice and you may find it feeling dark and gloomy. If your room is on the smaller side, we suggest choosing a brighter dining table. Think shades of grey and white, or lighter woods like ash. However, that doesn't mean you can't add a splash of colour to a more compact dining room. Bring in colour with accessories like placemats, curtains and dining chairs. For larger dining rooms you have a little more freedom. Rich, dark tones like black, blue and purple take advantage of the space and are a little bolder. Light colours will also work, but make sure to add a rug underneath to pull the design together.
Like what you see? Discover our collection of modern dining tables.