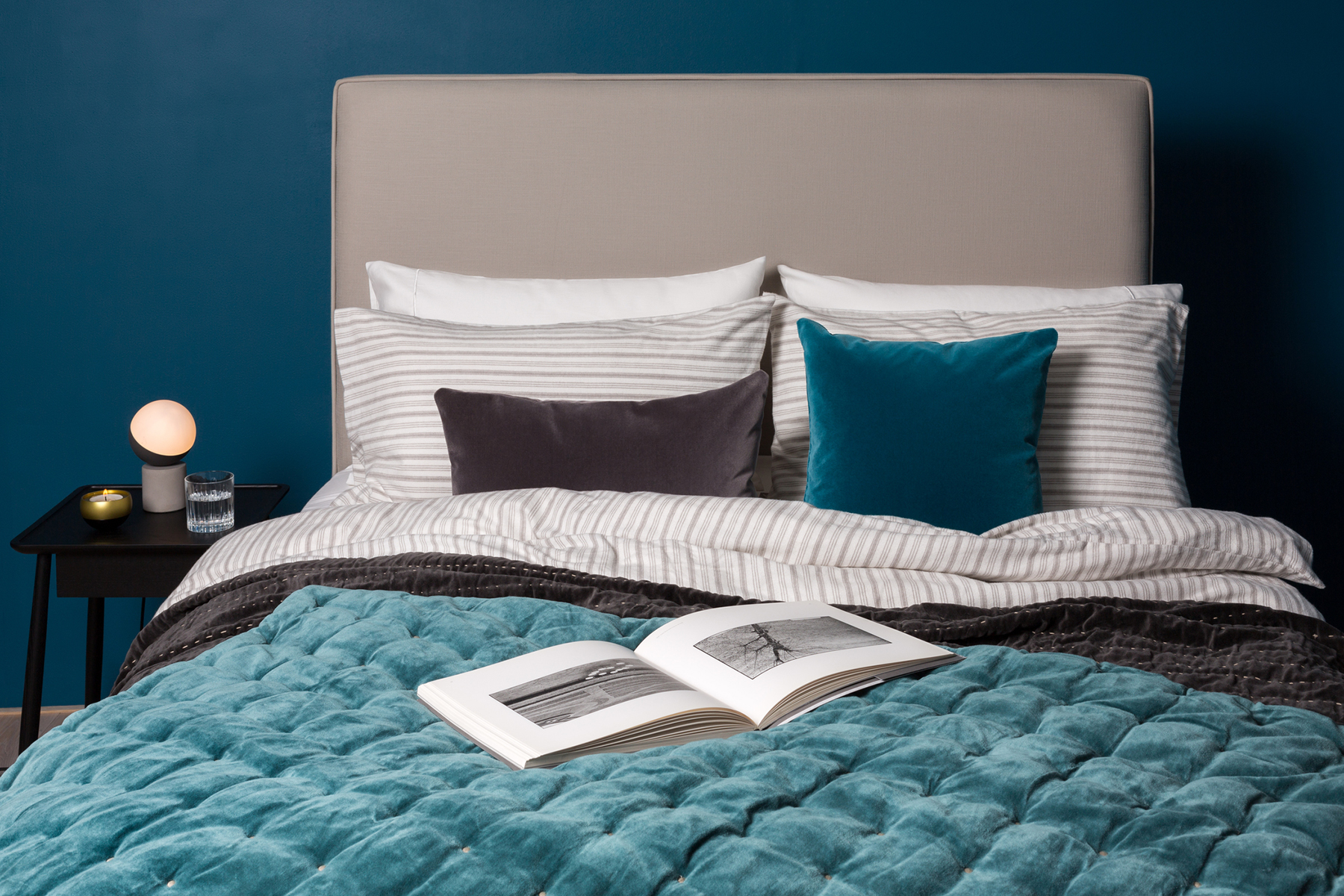 Some design trends are fleeting, others stand the test of time. When it comes to colour, Teal is a trend with staying power. Whether it's incorporated into table lamps or living room chairs, teal is a bold, inviting and elegant colour to work into your home for 2018.
If you're looking for teal décor ideas for your bedroom or living room, here are our favourite ways to bring this vibrant hue into your home.
–
Teal colour combinations
Teal is a statement colour which is often combined with neutral shades, but it also works well with many other palettes, from metallic tones to complementary blue hues. Consider the following to enhance the style and impact of teal in your space:
Teal + Grey – teal's warm blue-green contrasts perfectly with the calm neutrality of grey.
Teal + White – these two together evoke a bright, airy ocean setting.
Teal + Mustard Yellow – two bold, saturated colours make any area stand out. Mid century
Teal + Gold or Copper – a metallic finish pops against dark teal.
Teal + Black – perfect for creating a truly striking living space.
Teal living room furniture & accessories
 When it comes to furniture, it's easiest to inject colour via seating. A large sofa is a great way to incorporate teal into your living area, as it sits happily alongside smaller furniture pieces in more muted tones.
Enticing and bold, the magnificent blue-green Hepburn sofa makes a perfect statement piece for any living room. The vivacious shade adds personality and character at any time of the day, without becoming overwhelming. It's versatile and can be partnered with an array of colours, including shades of mid-blue.
To create a living area with texture, add a pop of teal alongside accessories made from natural materials. Here, a wooden coffee table and copper floor lamp add a sense of sophistication to a stand-out sofa.
Colour can also evoke moods and deep, cool colours project calmness and serenity. Since monochromatic schemes make maximum use of one colour, all blue or all green rooms are great for places to hunker down and relax.
For a truly striking colour pairing, combine teal seating with a dark wall. A Richmond sofa against a dark teal background can instantly transform your space. With its meld of forest green and soothing blue hues, this sumptuous velvet piece brings a sense of drama to your living area.
Teal sofas can also be decorated with patterned and burnt orange cushions to add a contrasting pop of colour and break up monochromatic schemes. An industrial-style black floor lamp is a perfect piece to enhance a modern setting.
Layering teal with similar blues, greens and purples build a painterly palette. Other jewel tones like midnight blue, scarlet red and aubergine purple can match teal's intensity, while different prints and textures such as organic sheepskin throws and faux-fur cushions are used to add even more depth.
When considering teal dining room ideas, experiment with different colours. Dining room chairs are a great way to include a combination of hues. When tamed by natural textures, three or four vibrant colours can work well together. Here, oceanic and chartreuse chairs bring colour and richness to the space, while the wooden dining room table ensures the contrasting shades don't become overpowering.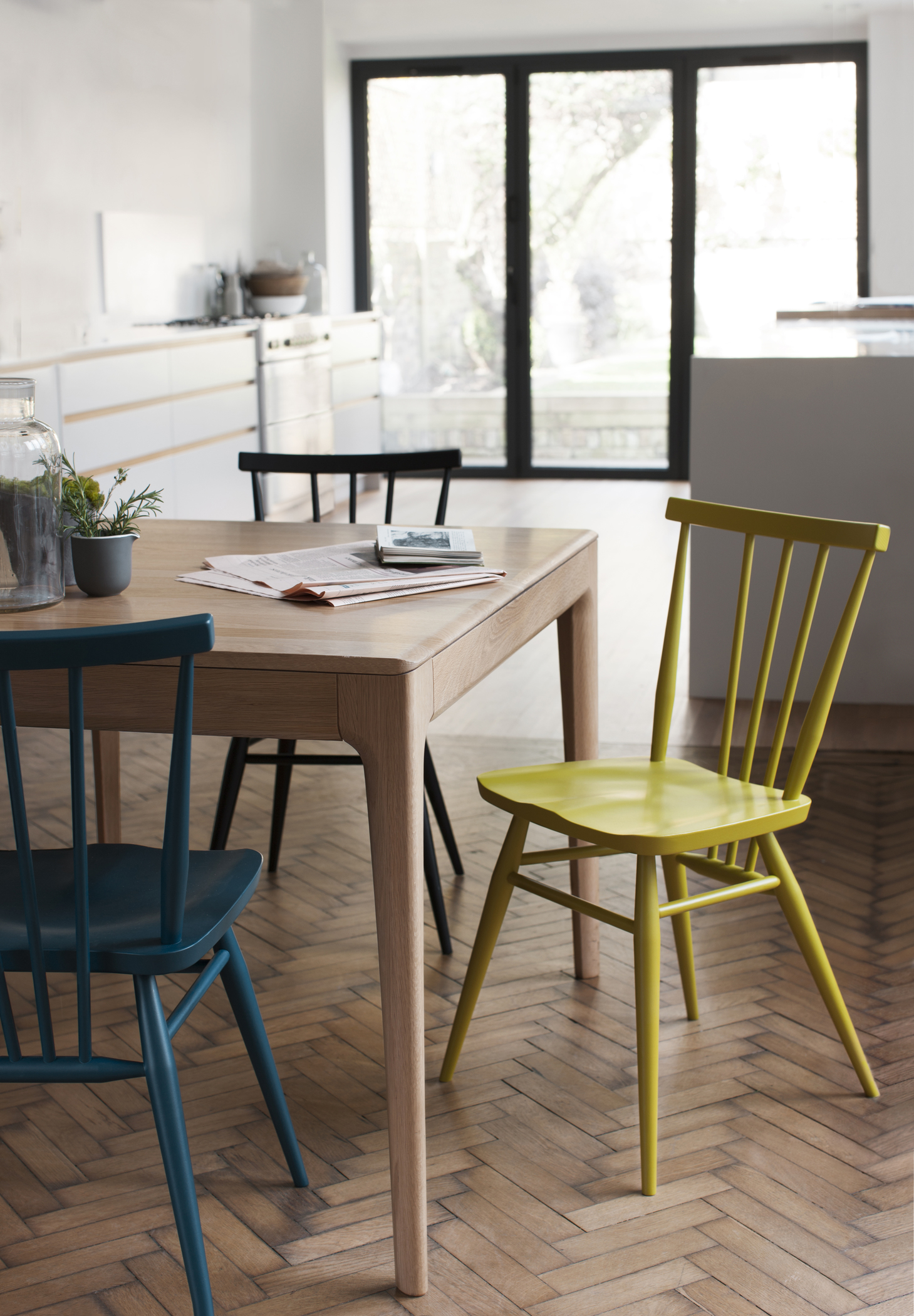 Teal bedroom & home accessories
This season's home accessories ooze opulence with metallic lustres and moody, jewel-like tones. Draw on deep midnight blues, strong ochre and rich scarlet to create a jewel-like colour palette.
Home accessories are a great way to add bursts of teal into a room. Splash a teal blanket or throw over your bed or sofa, especially in a room with a neutral palette. Choose luxurious materials like velvet and cashmere to match the luxury of your chosen hue. Or, for the perfect natural accessory, opt for a splendidly soft woven Alpaca wool throw from Peru. It's an easy way to incorporate a touch of teal into your interior while offering a cosy look and feel.
To take teal into the bedroom consider a velvet eiderdown. It's perfect for layering up and giving your bedroom a luxurious feel. Let the smooth rich tones relax you while enjoying the quality comfort of the eiderdown.
Lighting is a great way to effortlessly incorporate teal into your home. Mid-blue lighting creates an attractive ambience that stirs the senses for a luxurious yet tranquil look. The Cohen pendant light is a simple yet stylish light with its contemporary shape, palette and finish that suits both roomy and spacious interiors.
When sticking to a teal colour scheme, it's a good idea to mix textures for a variance. Why not consider a curvaceous blue ridged vase with a glossy finish to add a sleek contrast to your living room?
You can also brighten up your table setting with teal dinnerware. Choose a subtle light shade like this one from South African studio Mervyn Gers, with a unique natural glaze.
Teal is a classic that works with nearly every style. Its adaptable undertones allow the colour to be both hard-hitting and brash or muted and subdued, depending on what is required of it.
Whether you add the blueish-green hue as a statement feature or ease it into your interior with accessories it's sure to leave a lasting impression.