Lots of decision making goes into finding the perfect sofa. Once you've picked your silhouette, the next big decision is upholstery. Often the first choice is between leather or fabric upholstery and there's lots to consider. That's everything from your space and style to comfort and durability.
Really, there is no right or wrong choice between leather or fabric upholstery. It's a decision that's completely personal and depends lots on your style and how you plan to use the sofa. In this article we'll help you make the crucial choice between leather or fabric sofa upholstery. Read on to learn more…
Which is more comfortable, leather or fabric?
Plenty of things help to make a sofa comfortable, like springs, cushioning and lots of support. However, upholstery also plays a huge role in making sure your sofa is comfy to sit on. After all, you'll be touching it every time you sit, lie or lounge on it. Too itchy, sticky or delicate and you won't enjoy your downtime quite so much.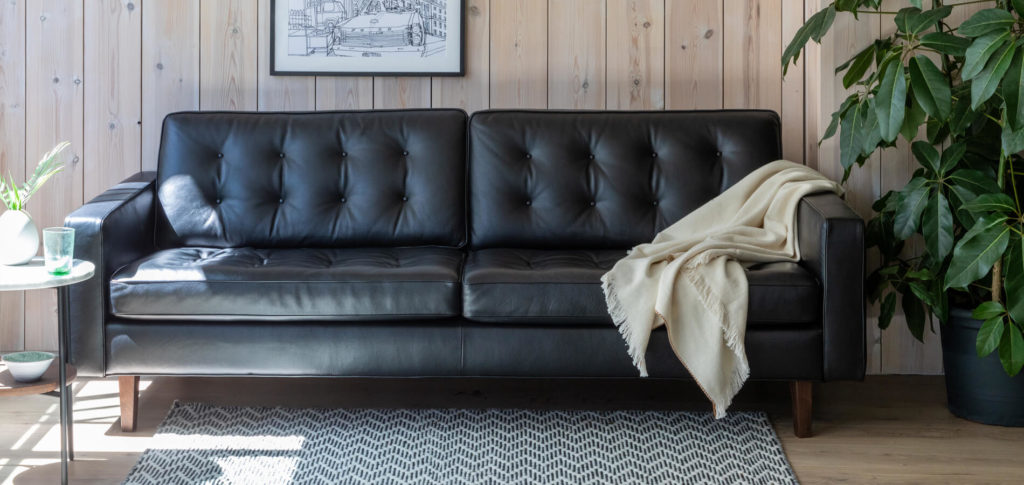 With loads of different options, you're sure to find fabric upholstery that's perfectly comfortable for you. Whether it's made from cotton, linen or synthetic fibres. On the other hand, leather upholstery can be a bit polarising. People often find it too cold in winter and sticky during summer. Whilst you can make it cosier with throws and cushions, leather often comes out bottom in the battle for comfort.
Of course, everyone's tastes are different, and leather is still a comfortable upholstery choice. So, take your time to try sitting on sofas upholstered in both materials before deciding.
Our winner: Fabric upholstery
Is leather or fabric upholstery more stylish?
Leather and fabric upholstery can both make a strong style statement in your home. The best thing to do is look at your existing furniture and decide whether fabric or leather is the right fit.
Fabric upholstery offers lots of choice when it comes to finding the right style. With the freedom to choose between different colours, textures, patterns and fabrics, you can really customise your sofa to suit your space.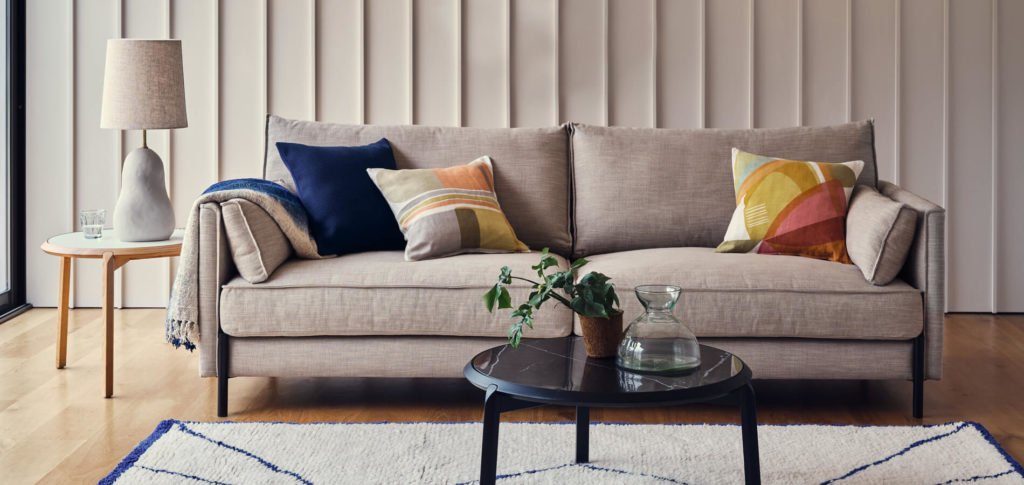 However, there's no denying that quality leather can't be beaten in terms of luxuriousness. It's a timeless addition to any home, whether it's upholstering a traditional Chesterfield or a sleek modern sofa. You might lack the same choice as fabric upholstery but choose the right quality leather and it'll look elegant in your home for years to come.
Our winner: Leather upholstery
Will leather or fabric upholstery last longer?
When it comes to choosing between leather or fabric upholstery, longevity is a big factor. After all, no one wants to invest in a sofa with upholstery that won't last long. Always check the Martindale rub count of a fabric, that's the test done to understand how durable it is. The higher the rub count, the more robust it should be.
Leather is famously durable, easy to clean and long lasting. With just a little maintenance, a new leather sofa will be a permanent fixture in your home for years to come. Over time it will develop a beautifully unique patina and bring even more character to your living room.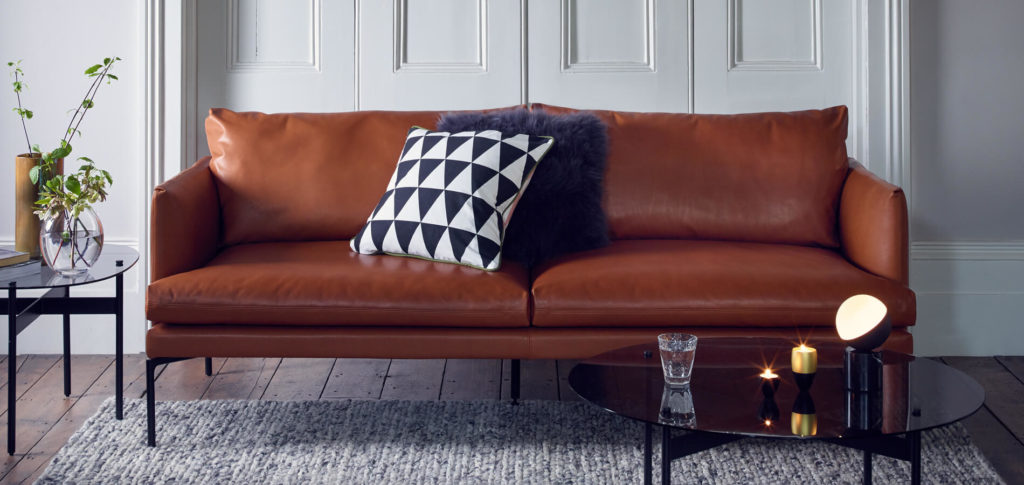 With fabric upholstery, it's much more dependent on the material. As a general rule of thumb, the better quality the fabric, the less wear and tear you'll notice. On the other hand, fabric is harder to scratch than leather. So, if you expect pets and children to clamber over your sofa, quality fabric upholstery hides the signs of wear and tear better in some ways. However, lots of wear can make fabric upholstery look tatty. A well-worn leather sofa normally just means it has more character.
Overall, there's no right or wrong answer when it comes to leather or fabric upholstery lasting longer. They both offer lots of longevity and it depends on how much you'll be using the sofa.
Our winner: That depends on your home…
Is leather easier to care for than fabric upholstery?
Leather furniture is super easy to clean. All it normally needs is a bit of a dust and a wipe down every now and then. Of course, any spillages should still be cleaned up straight away and conditioning it on a regular basis will stop it from splitting and cracking. Overall, even the smallest amount of maintenance will help your leather sofa last for years.
On the other hand, cleaning fabric upholstery depends a lot on what the material's made from. Fabrics like wool, cotton and linen call for different cleaning techniques to synthetic materials like polyester and acrylic. Luckily, fabric upholstery is normally finished with a stain-resistant treatment to make it easier to clean. That mean spillages, pet hair and mucky fingerprints on any fabric are fairly easy to clean. Specialist cleaning products and a steam cleaner will make your task even easier. To keep it nice and clean, vacuuming and washing removable covers will keep your fabric upholstery in tip top condition.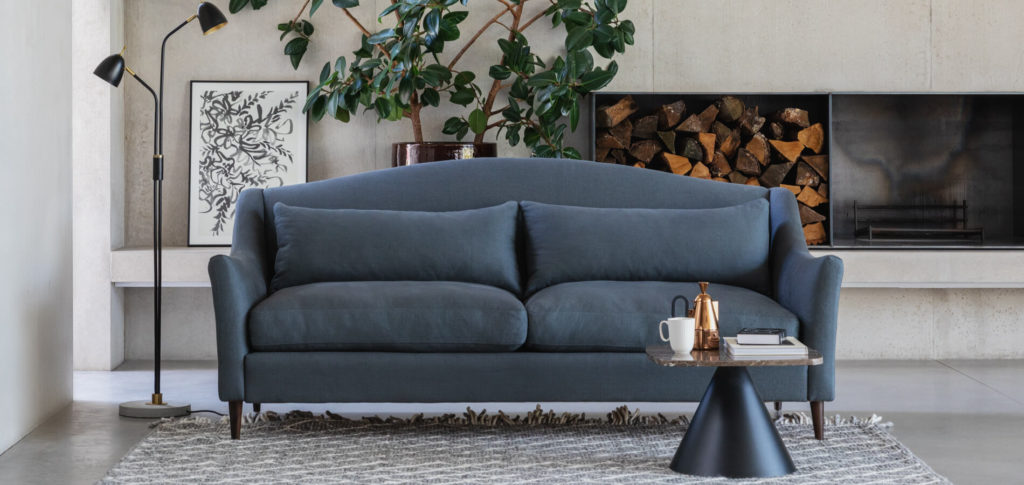 Of course, wiping down leather upholstery and giving it the occasional condition makes it much lower maintenance than fabric. So yes, leather is easier to clean than fabric upholstery. For those with allergies, a leather sofa also offers a reprise from dust mites and pet fur. Fabric upholstery tends to trap them both and only a regular vacuuming will help. However, leather is normally hypoallergenic.
Our winner: Leather upholstery
Which one's your winner? Explore our leather sofa and fabric sofa collections today.