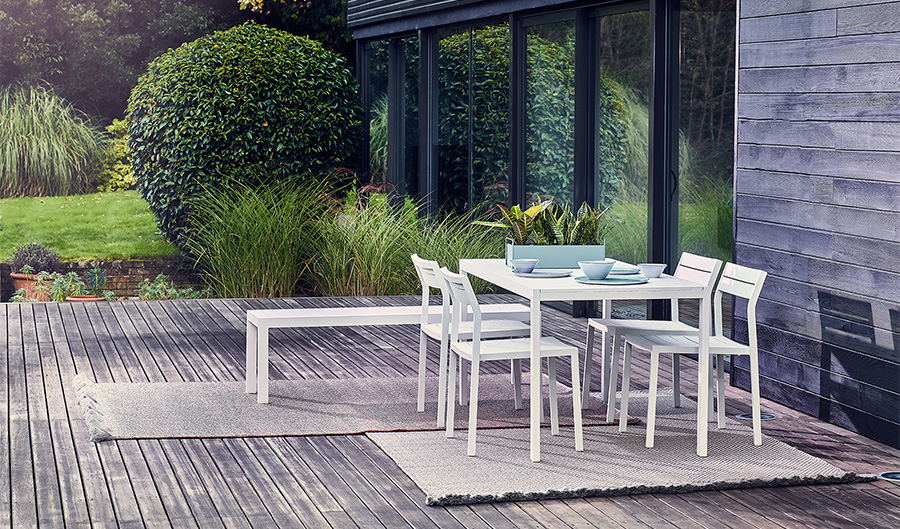 Although the British climate can be unpredictable, we like to spend a surprising amount of time eating, socialising and relaxing in the garden. Dining alfresco is about gathering family, entertaining friends and escaping from your typical daily routine. With the launch of our new garden furniture range, moving the party outside certainly doesn't mean that you should sacrifice stylish ideas and comfort.
Whether you have a patio, porch or pool, our range of luxury Garden Furniture will seamlessly transfer you and your guests outside. Read on to discover inspirational garden furniture ideas and take full advantage of the warm weather on the horizon.
–
Luxurious outdoor tables and chairs
For: Sturdy outdoor dining
Whether you're planning to eat breakfast, lunch or dinner alfresco, outdoor entertaining naturally lends itself to a table and chairs. Consider our heavy-duty Reform Garden Table, made from sturdy metal and untreated teak to withstand the outdoor environment. This beautifully subtle centrepiece is designed to bring groups together around a meal enjoyed outdoors.
Works well with: The Reform Garden Bench. Our Reform Garden Table boasts a simple design which makes it highly compatible with much of our outdoor furniture. However, it's best paired with the Reform Garden Bench also by Skagerak. The relaxed, informal seating makes the combination perfect for outdoor entertaining throughout the summer months.
Blending Scandinavian and Japanese influences (or Japandi for those in the know), the Tanso range truly elevates the quality of outdoor furniture. Its silhouette is a modern take on garden furniture and it is crafted from the finest quality teak; a highly robust material that can withstand all weather.
For: A larger party of guests
Our Ballare Extending Garden Table is ideal for larger families and extra guests for dinner parties and summer BBQs. Making it perfect for all party sizes, its design features a simple leaf system stored beneath the table. You can easily add an extra metre to the length of the table when put in place.
With a design that will last for generations, this Scandinavian style extendable table is sure to suit any outdoor area.
Works well with:The Ballare Garden Chairs. Create a picturesque summer seating arrangement by placing these matching chairs around an extendable table – perfect for entertaining guests or to simply sit back and relax with family.
For: When space is at a premium in your small garden
Look to our Eos Garden Rectangular Table for a modern, sleek and beautiful addition to your garden, patio or outdoor space. It's lightweight, stackable and compact, making it easy to store away when not in use – perfect for outside areas with limited space.
Works well with: The Eos Outdoor Collection. Our Eos Garden Bench is perfect for maximising seating space and offers easy storage while our Eos Outdoor Side Chairs are physically and visually light, smartly proportioned and very comfortable. With this type of arrangement in your garden, neither you nor your guests would prefer to bring dining indoors.
Luxury garden benches with fire bowl
Nothing feels more relaxing and enjoyable than spending time with your loved ones seated comfortably around a fire at the end of a busy day. Invite a "campfire" ambience into your garden with the Flame Garden Firebowl by Skagerak. A beautiful minimal design, it's perfect for setting the scene for a cosy evening in the garden. The Firebowl will naturally patinate from silver to beautiful copper tones after roughly a month of outdoor use.
Why not complement your fire pit with luxury outdoor furniture from our Virkelyst range by Skagerak? The modern Garden Sofa and Garden Chair are so beautiful it's easy to mistake them for indoor pieces. Designed with a simple wooden frame and contrasting soft cushions, it offers extreme seating comfort outdoors. Perfect for long conversations with family and friends, or to wind down and read your favourite book on a warm summer's day.
Luxury garden accessories
The best outdoor furniture ideas incorporate a range of garden accessories; from vibrant cushions to brighten up your outdoor sofa, to garden umbrellas for hot sunny days. Accent your garden with our contemporary pieces such as outdoor lighting and rugs to make your space comfortable and stylish.
The Catania Umbrella from Skagerak perfectly with a wide variety of outdoor furniture for some stylish shade.
For those of us lucky enough to have a bit of poolside space, the Eos Sun Lounger is a truly versatile addition. Made from powder-coated aluminium that stands up to sun and rain, the comfortable sling seat will also withstand mould and mildew. Two discreet wheels make it easy to follow the sun or the shade.
With such a great collection of luxury garden furniture and accessories, there's no reason why your garden can't be as beautiful as your home. Explore our range of the best outdoor furniture.