The British climate can be unpredictable. However, we still enjoy spending a surprising amount of time eating, socialising and relaxing in the garden. Dining alfresco is about gathering family, entertaining friends and escaping the typical daily routine. Luckily, moving the party outside doesn't mean you need to sacrifice stylish ideas and comfort.
Whether you have a patio, porch or pool, these luxury garden furniture ideas will seamlessly transfer you and your guests outside. Read on to discover inspirational garden furniture ideas and take full advantage of the warm weather on the horizon.
For outdoor dining in all weather
Whether you're eating breakfast, lunch or dinner alfresco, outdoor entertaining naturally lends itself to a table and chairs. Consider the modern Eos garden furniture from Case. Crafted using weather-resistant powder-coated aluminium, Eos furniture can stay outside all year round without rusting. The luxury garden furniture will look elegant for years to come and is perfect for entertaining friends and family al fresco.
Works well with: Eos Picnic House. Offering shade from the sun and shelter from the rain, the Eos Picnic House helps you enjoy your garden all year long. With the addition of some fairy lights, your outdoor dining area will be ready to host guests right away.
For entertaining lots of guests
Vincent Sheppard's Kodo garden furniture collection is ideal for larger families and hosting extra guests for dinner parties and summer BBQs. Choose anything from outdoor day beds and sofas to spacious tables and comfy dining chairs. With this type of arrangement in your garden, neither you nor your guests will prefer dining indoors.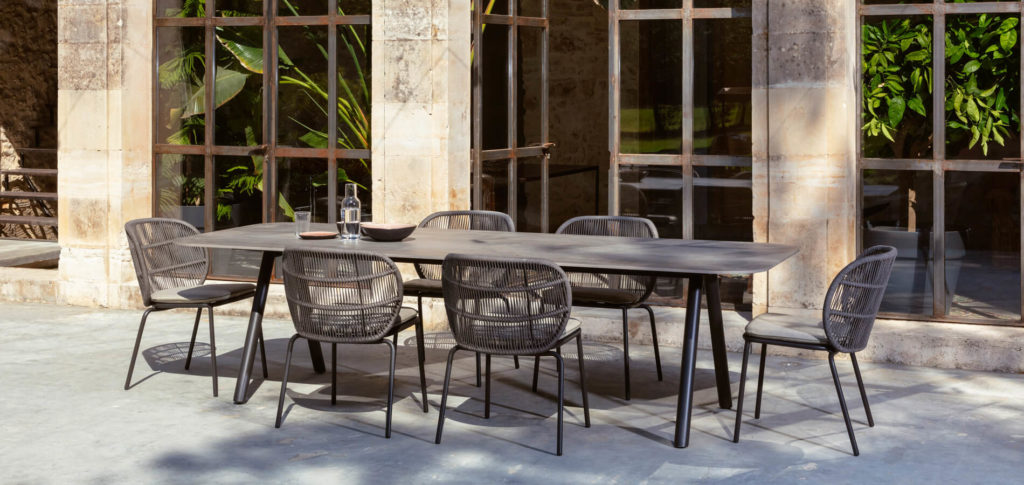 Works well with: The Kodo Outdoor Dining Table and chairs. Create a picturesque summer seating arrangement with chair and dining table combo. The spacious dining table is perfect for all party sizes and is spacious enough to seat all the family.
For small spaces
Look to Vincent Sheppard's Lento collection for a modern and sleek addition to your garden, patio or outdoor space. Compact whilst offering plenty of comfort, this collection of modern garden seating is perfect for smaller spaces. Each piece is crafted using natural teak wood and tactile polypropylene rope that lends the collection a modern aesthetic.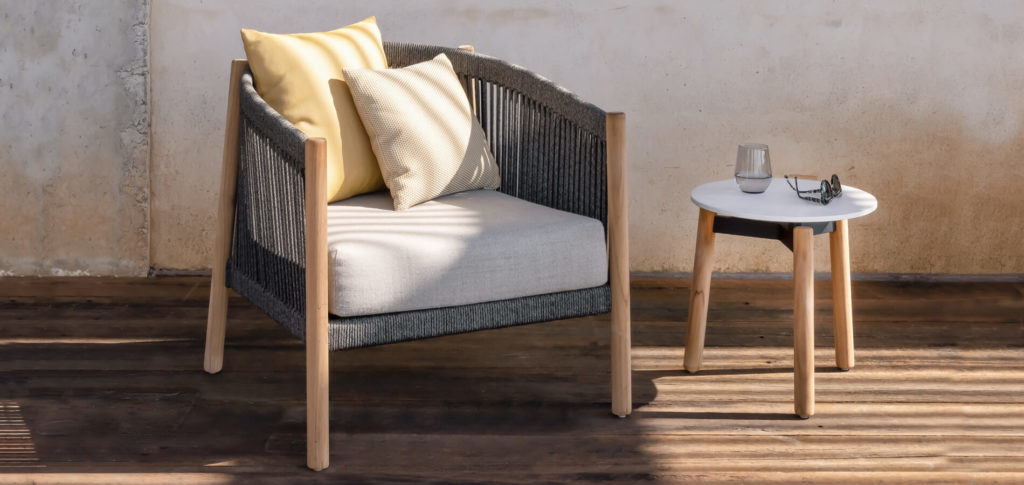 Works well with: Gan outdoor rugs. Outdoor rugs are perfect for smaller spaces as they help to define different areas. Position one under your Lento outdoor sofa to make your compact seating area feel even more comfortable. If your space is particularly small and you don't have space for seating, an outdoor rug and cushions could help create some cosy outdoor floor seating.
For luxury garden furniture with a fire pit
Nothing feels more relaxing and enjoyable than spending time with your loved ones seated comfortably around a fire at the end of a busy day. Invite a campfire ambience into your garden with a modern fire pit. These beautiful, minimal designs are perfect for setting the scene for a cosy evening in the garden.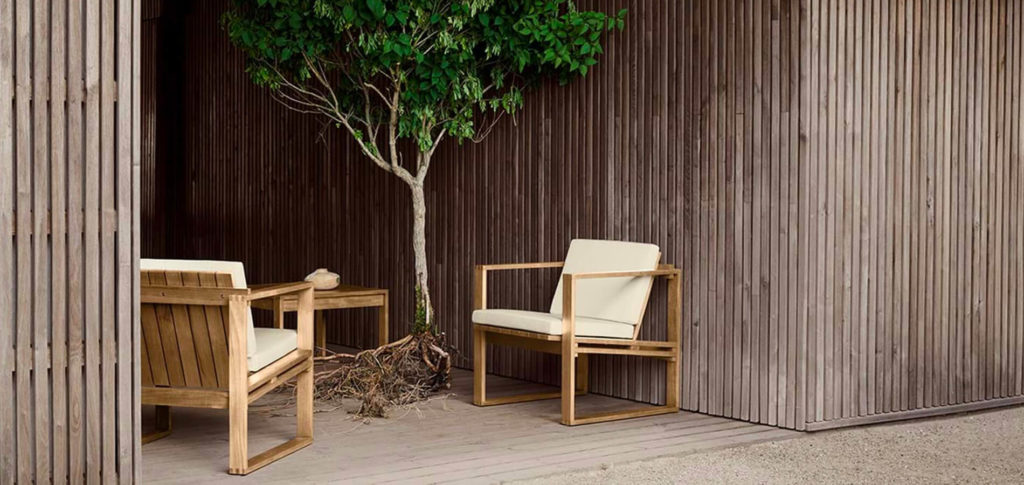 Works well with: Why not complement your fire pit with luxury outdoor furniture from our BK collection from Carl Hansen & Søn? The modern teak garden sofa, chair and table are so beautiful it's easy to mistake them for indoor pieces. Designed with a simple wooden frame and contrasting soft cushions, the chairs offer comfortable seating even outdoors. Perfect for long conversations with family and friends, or to wind down and read your favourite book on a warm summer's day.
For accessorising your garden
The best luxury garden furniture ideas incorporate a range of outdoor accessories. From colourful cushions to brighten up your outdoor sofa, to garden umbrellas for hot sunny days. Accent your garden with our contemporary like outdoor lighting and rugs to make your space comfortable and stylish. With such a great collection of luxury garden furniture and accessories, there's no reason your garden can't be as beautiful as your home.
Explore our range of the best outdoor furniture here.