Bed Buying Guide
Having started life as a bedding specialist over two centuries ago, Heal's knows a thing or two about getting a good night's sleep. Each of our bed frames prioritises style, functionality and comfort. Each piece is designed and crafted to help you wake up on the right side of bed.
Types of Beds
The possibilities are endless when it comes to choosing a bed. The choice between divans, bedframes and different types of headboard can often be baffling. Here's our guide to different bed types and which might be best for you: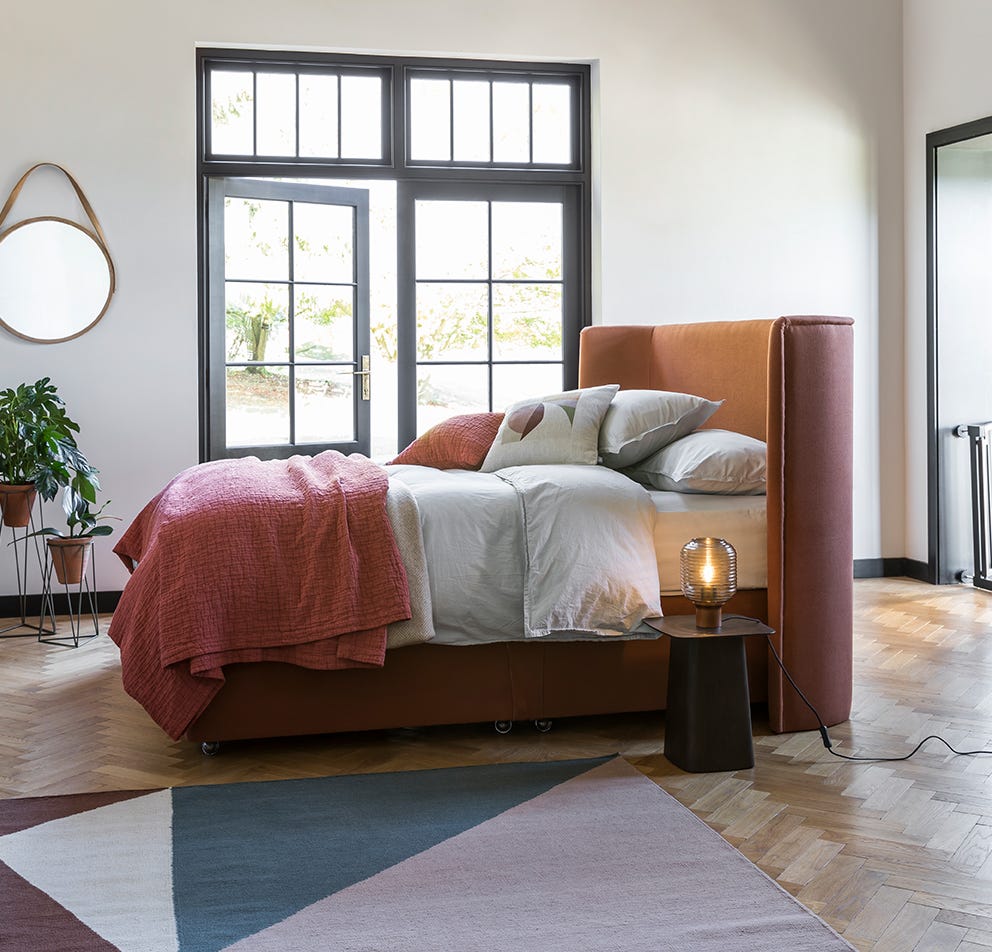 Divans
Divans are the most popular type of bed in the UK. ​
Sprung-edge divans are considered the most comfortable and luxurious. This type of bed features an open-coil or pocket-spring unit on the frame which acts like a giant shock absorber. The mattress sits on top of this, making it more durable as there is more give.
Solid or platform-top divans are also a popular choice. As the name suggests, they have a rigid base, often made from hardboard. They tend to feel firmer and are more affordable than divans with sprung bases.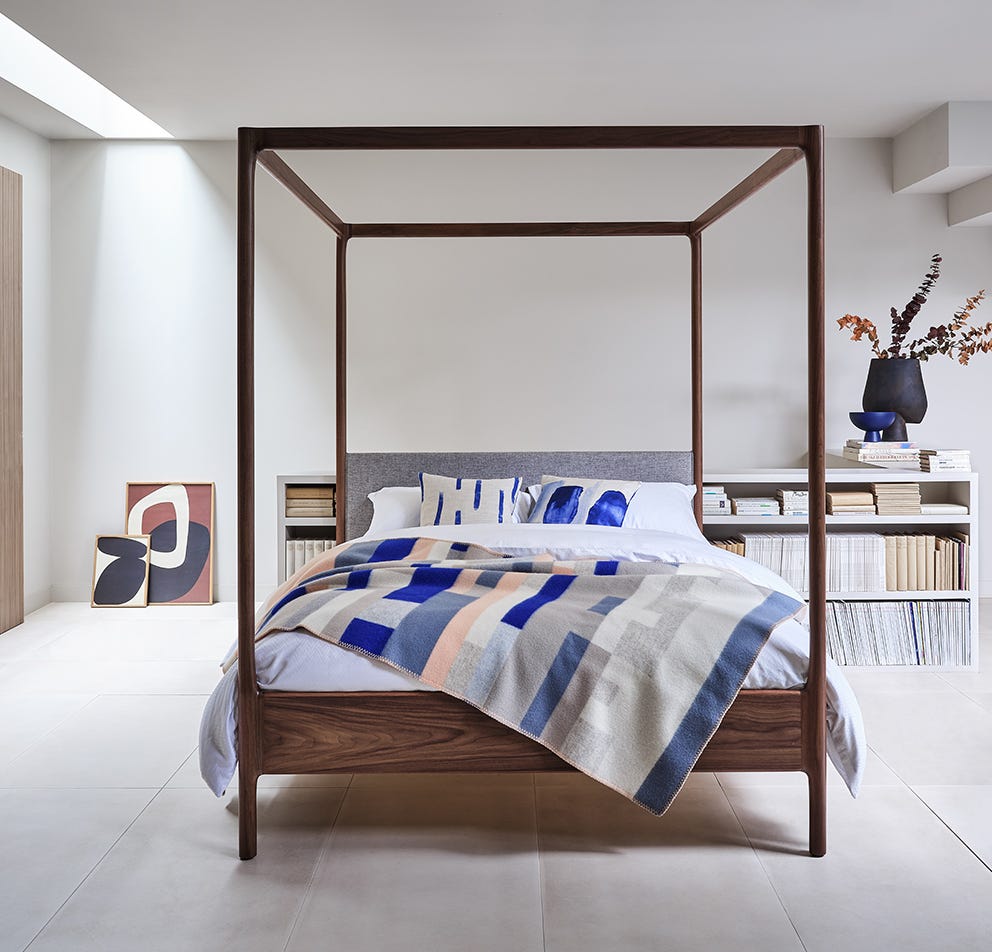 Bedsteads
On bedsteads, the mattress is supported by horizontal wooden slats consisting of two types:
Solid slat beds are affordable and firm. They are a more traditional style with no additional support. ​
Sprung slats are considered the most comfortable option. Each beam has a slight arch that gives the bed its spring.
The width between each slat will not only have an impact on the comfort of the mattress but also increase wear and tear. As a rule, ensure the slats are no wider than 9-10 cm apart also making sure to refer to the specification of the mattress (mattresses with memory foam will require a closer spacing).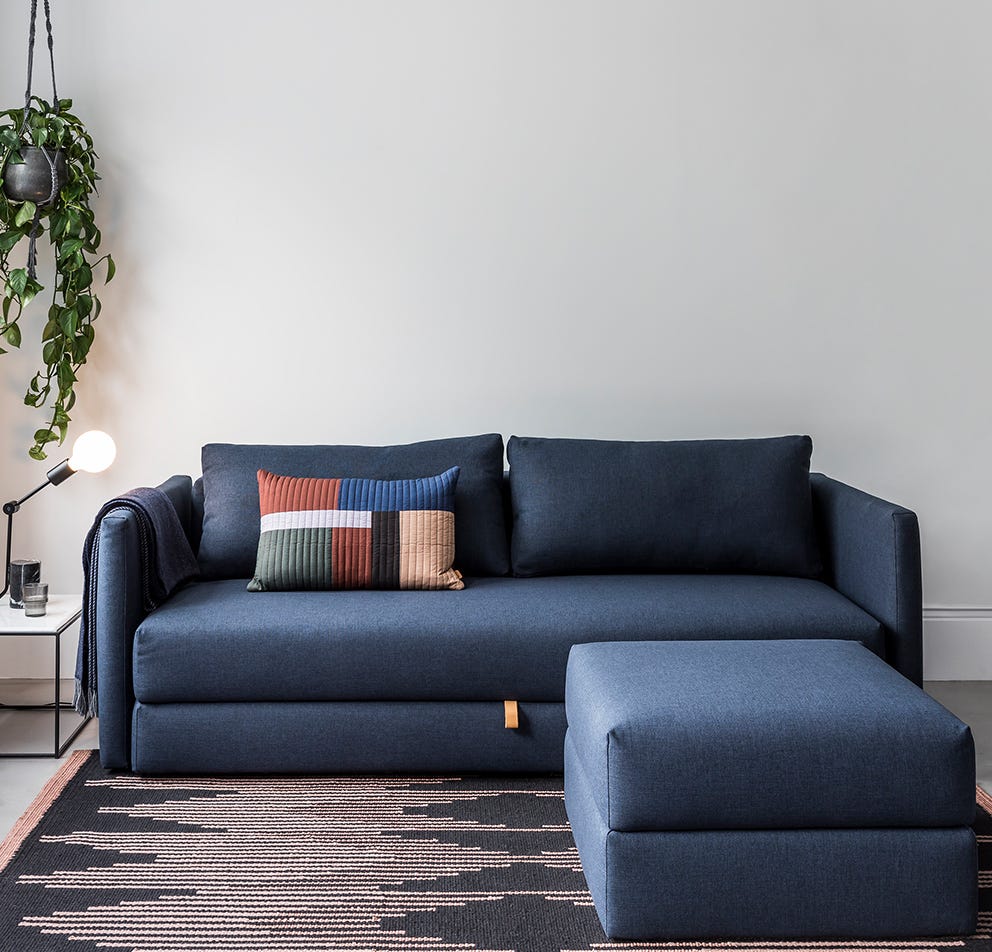 Multipurpose beds
Many modern bed designs also offer a range of space-saving and storage options that suit smaller urban spaces. ​ ​
Ottoman: if you're short on storage space, an ottoman base is designed to lift up so you can store your belongings away.
Storabed: perfect for children's rooms or guest bedrooms, this type of frame includes a concealed under bed that slides out from underneath the main bed.
Sofa Bed: an adaptable piece of furniture that transforms the living space into a guest room, sofa beds operate via either a folding back or a concealed collapsible bedframe within the base.
Headboards
Unlike bedsteads, which are almost always designed to include a headboard, most divans are sold without one. This provides a number of options when it comes to shape, size and style.
A few points to consider when deciding on a headboard:
Check how much space you have above your bed as the headboard may impose on other decorative items on the wall such as a picture or light fitting. Consider how the headboard will be used – is it purely decorative or will it be leant on whilst reading.
Things to Consider
---
Do I need a new bed?
A well-made divan, bed frame or bedstead can offer you years of loyal service. However, a bed that has not been properly looked after or is in bad shape will affect the comfort and lifespan of your mattress.
Signs that it's time to look for a new bed frame include an uneven or sagging base, awkward creaking sounds when you move, warped or broken slats or visible holes in the solid wire base.
TOP TIP
Make sure to get the best mattress for your bed as some mattresses are optimised for divans and others for bedsteads. Be sure to pick the right one for a restful sleep.
Size matters
As a general rule, a bigger bed equals a better night's sleep, so choose the largest frame your space can afford. While many of the designer collections will vary in dimensions, all Heal's beds conform to the below sizes.
Please note, Heal's divan beds are not available in Continental size.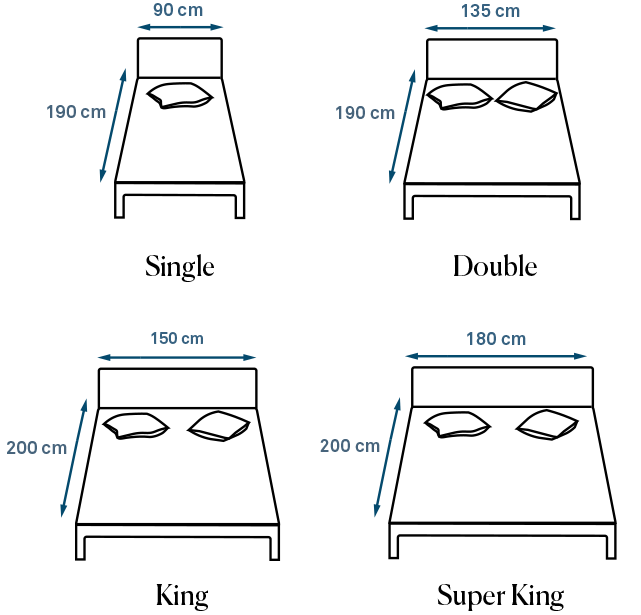 Perfect fit
Trying out a bed in a spacious showroom is all very well, but it's important to remember that the dimensions of your bedroom.
Size it up: check your mattress and bed are the same size. There are no standardised sizes, so even if they're both double, the size may vary - particularly if they're from different manufacturers. ​
High or low: consider how high you want your bed. Modern styles are often low but under-bed storage drawers may add height.
Tight squeeze: measure the space you need for your doors and drawers to open and make sure your bed will fit in the space.
Moving day: while most divans will split down the middle for easy transportation and bedframes can be assembled in your room, take into account the logistics of moving your new bed in.
TOP TIP
Make sure you have measured your room accurately before you place your order. Perform your own Access Check to make sure it will fit.
Be Inspired by our bestsellers