Whether wool or velvet, a throw can be one of the simplest ways to cosy up a space for the season, from your bed to the sofa.
Certainly, they're a quicker way to refresh a room than a piece of furniture, while being significantly more economical than cranking up the central heating.
That said, they can be notoriously hard to style when not in use, often looking messy rather than chic. Here, we show you how to style them up so they're as pretty as they are practical.
Choose the right throw
First thing's first: choosing the right throw. As with everything, there are endless options out there to ponder, but as a general rule of thumb we'd recommend starting by selecting the size. If you're after a throw for your sofa, you don't want it to drown the frame or mask the fabric, so choose something that's generous but not oversized; if you're looking for a throw for the bed, then you'll need a large one to make an impact, especially if you're folding it. Colour-wise, go tonal – beige on beige, grey on grey, or blue on blue, for example, albeit a different shade – or choose something that contrasts or clashes (in a good way) with the hue of your sofa or bedding. Plain sofa? Consider pattern. Patterned bed? Plain is best.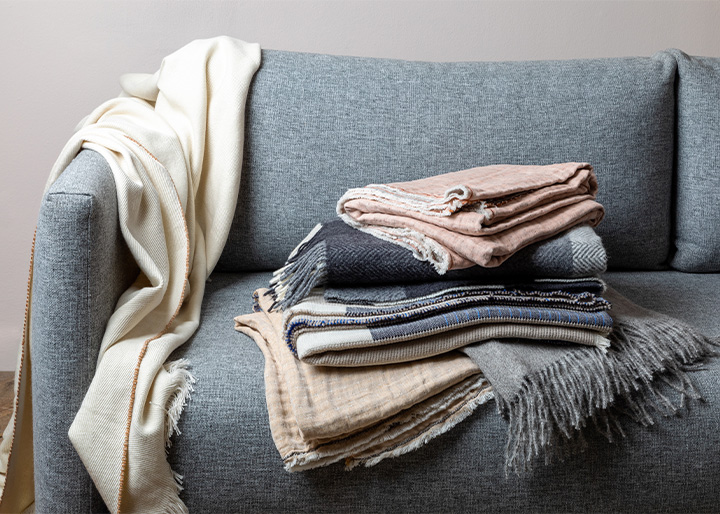 Fold it neatly
So, how to arrange a throw on a sofa or bed? Arguably, the easiest way is to fold it lengthways and drape it over the back of the former or width of the latter, creating a neat and tidy silhouette and displaying its texture, pattern or colour beautifully.
For best results, keep your sofa clear of too many scatter cushions to allow the throw to take centrestage, and drape it off-centre to avoid an overly-fussy look.
On the bed, drape it about one-third of the way from the bottom, perhaps over a bedspread for a layered aesthetic.
You can never have too many throws on a bed, so play with multiples of varying textures and colours, while alternating between neat and looser iterations.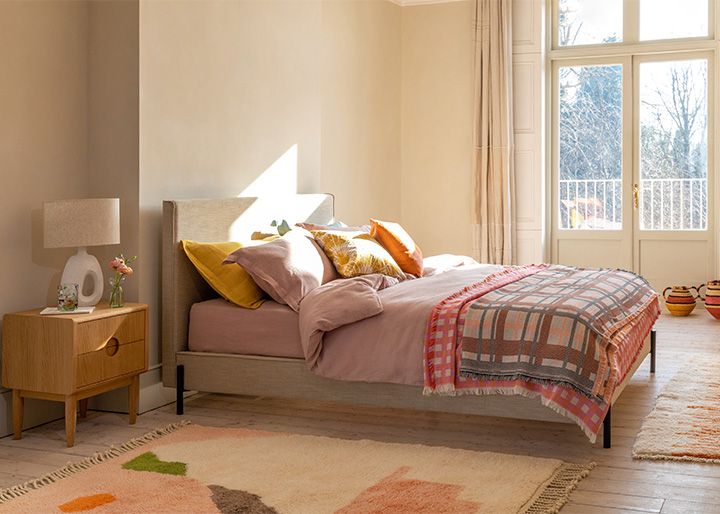 Drape it casually
If you're crazy about cushions and want to keep a generous collection on your sofa, there's an art in how to drape a throw on a sofa over one arm.
Create a neat-and-tidy fold – not dissimilar to how it can be styled over the back – by folding in lengthways into thirds and halving in the other direction.
The longer section should be hanging over the side of the arm – tassels, pom-poms or fringing look great on display – with the shorter section tucked neatly into the seat cushion on the inside of the sofa.
Alternatively, plump for a casual-and-crumpled appearance by bunching it up for a look that's a little less perfect and more 'lived-in'.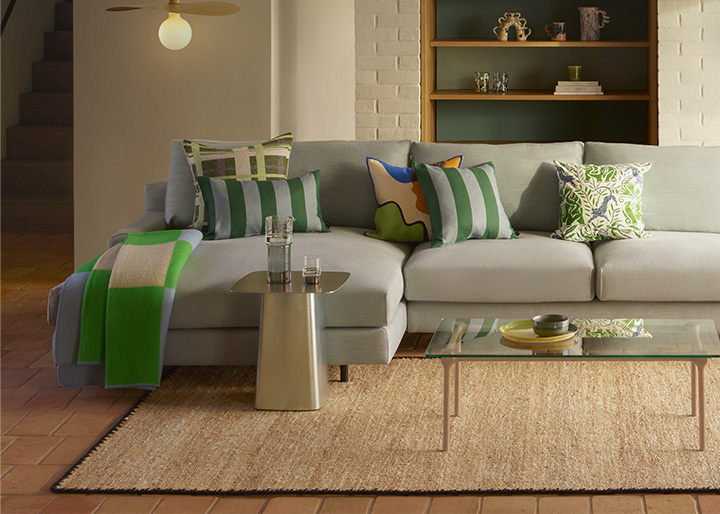 Create a corner
For those who prefer their styling a little less put-together, the cosy-corner method is the best, resulting in an organic and flowing look.
Simply fold your throw in half along its length, draping part over the back and extending down onto the seat, then open the fold where it cascades from the back to the front and fiddle a little until it looks pleasing to the eye.
For the more structured amongst you, create a tidy version simply by folding the throw into thirds lengthways and repeating the same steps, albeit keeping the fold rather than loosening it towards the front of the sofa.
To finish, add cushions on front of the throw so it takes a backseat behind them, adding to the cosiness of the corner – something you can't help but sink into after a hard day at work.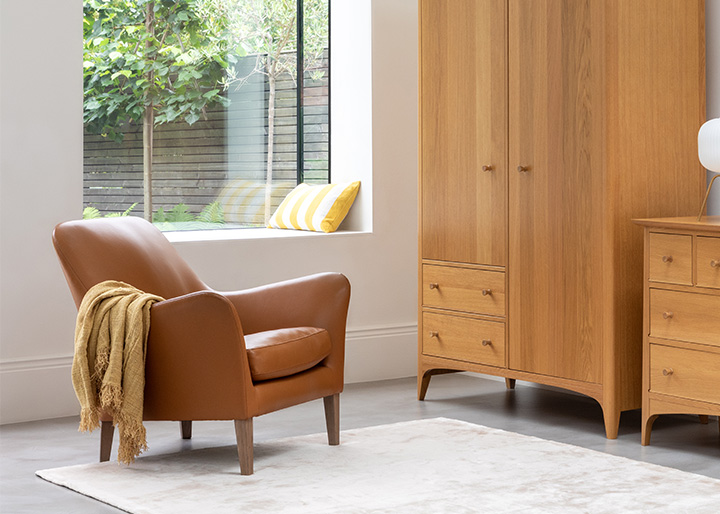 Get the edge
For a bed, why not drape your throw over the edge at the bottom of the mattress, either folded or crumpled, for a dramatic and luxurious look?
Pull it down from the bed at the corner until it hangs at just the right level on the side. For added panache, add a small tray with accessories or a couple of coffee table books onto the top of the throw to recreate the feel of a five-star hotel.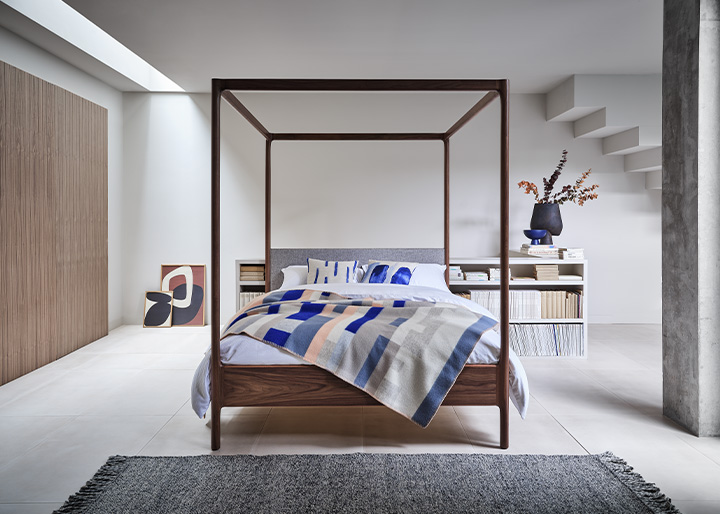 Fashion a 'waterfall'
Don't worry – this isn't as complicated as it sounds. To create a 'waterfall' effect with your throw, simply fold it lengthways into thirds so the sides are crisp and clean. Then, drape it over the back of your sofa, down the front of the back cushion, onto the seat and just beyond.
A cushion can be added in front of the cascade or not – it looks effective either way. Minimum effort, maximum impact.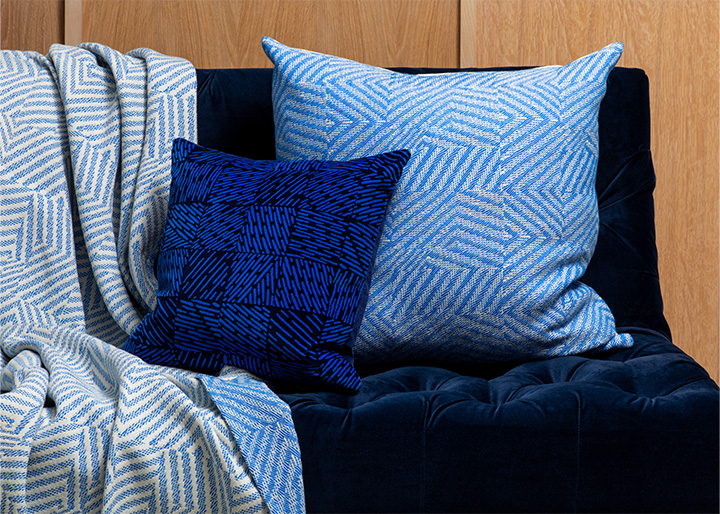 Display in a basket
For something altogether different, keep a convenient and decorative basket near the sofa or bed for storing your throw when it's not styled on your furniture or wrapped around your shoulders.
Throw it in the basket with one of the corners hanging over the edge for a stylish flourish; or roll and place together with others for a chic collection. You could also roll up your throws and lean against the wall if you don't have a basket to hand.
Ladder up
Finally, if you don't want to display your throws on a sofa or bed, but equally don't want them stored away out of sight, then invest in a small ladder or shelving unit beside either to hang beautiful throws and blankets from.
A clever storage solution that means they're within easy reach, too.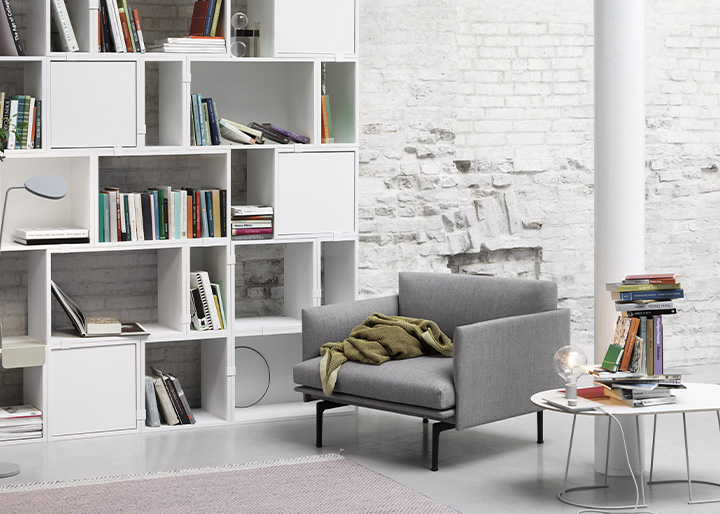 Now know how to put a throw on a sofa? Browse and buy from our collection of luxurious throws.