Instantly recognisable, incredibly functional and steeped in heritage, the Anglepoise Lamp has been in British homes for over 85 years. This truly iconic and legendary light is one of the most celebrated lighting designs in the Heal's collection. But how did the humble Anglepoise become such a stalwart addition to British homes? Read on as we delve into the history of the Anglepoise Lamp.
Behind the design
The Anglepoise Lamp we know and love was borne out of designer George Carwardine's engineering career. By chance, he happened upon a type of spring with the potential to work with more than just machines. The spring was simple and unique because it could move in every direction whilst remaining taut.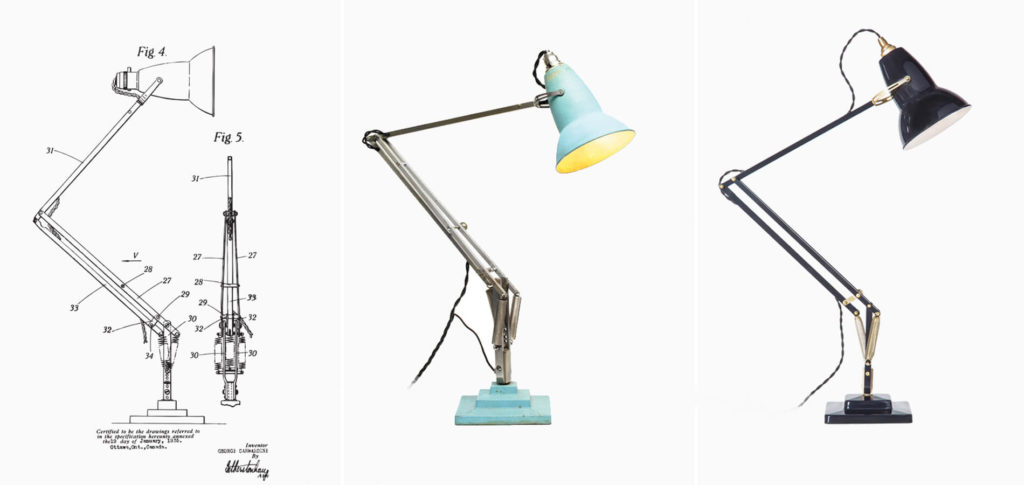 Soon after his discovery, Carwardine struck up a fruitful partnership with world-renowned spring makers Herbert Terry & Sons. Together, Terry's constant tension spring-work and Carwardine's eye for engineering was a winning combination. Within a few years, they developed an articulated task lamp with perfect balance that could move light in all directions.
Despite being such an icon today, funnily enough Anglepoise wasn't their first choice of name. The original name, the 'Equipoise', was rejected by the Patent Office for being an existing word. So, after a swift name change, the Anglepoise Desk Lamp launched in 1933.
The 4-spring lamp was an immediate hit. However, with four springs and a bulky design, it was simply too large and industrial to win over homes. So, the team spent two years honing the design to create the Original 1227. It was this 3-spring design that became the much-loved icon we know today.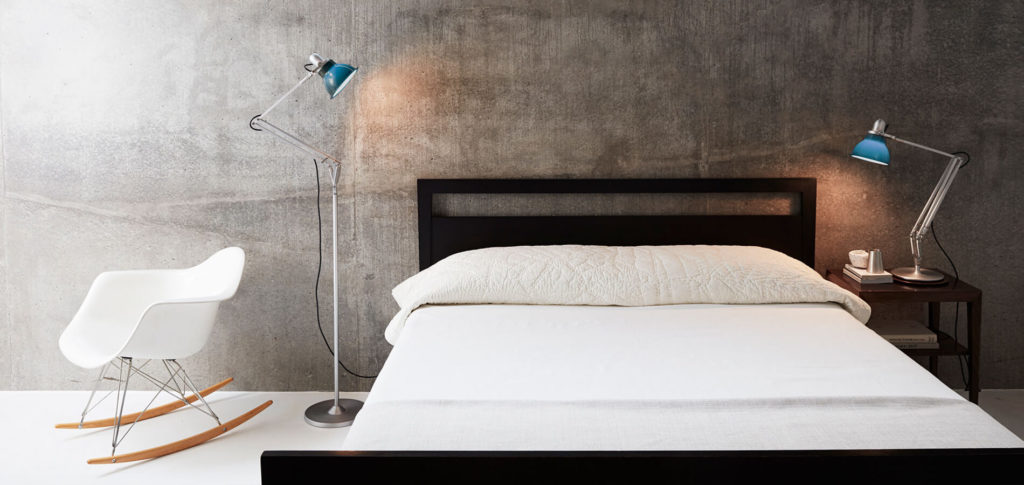 The key to the Anglepoise Lamp's success was its flexibility. The lamp is defined by three springs at its base, which keep it in place whichever way it's moved. Previously, similar lamps had to be clamped into place every time they changed position. But the unique properties of the Anglepoise's springs meant it was perfect for tasks where the light source needed to change constantly. Soon after launch, surgeons were using Anglepoise Lamps in operating theatres and navigators were using them in military planes.
However, the Anglepoise wasn't just popular in workplaces. The smaller, more functional three-spring design meant it was perfect for the modern home. The Original 1227 Anglepoise Desk Lamp quickly became a ubiquitous household item. Practical and inventive, it provided more flexibility for home lighting. The Anglepoise was soon found on bedside tables, desks and in living rooms across the country.
The Original 1227 is still a best-selling design in Anglepoise's collection. However, the Anglepoise Lamp has been redesigned and replicated countless times over the years. In fact, some of its best-selling designs were created by significant designers in collaboration with Anglepoise. For example, Sir Kenneth Grange's 2004 update resulted in the hugely popular Type 75 Desk Lamp. This iteration saw a modernisation of the shade and conical base, whilst keeping the original constant-tension springs.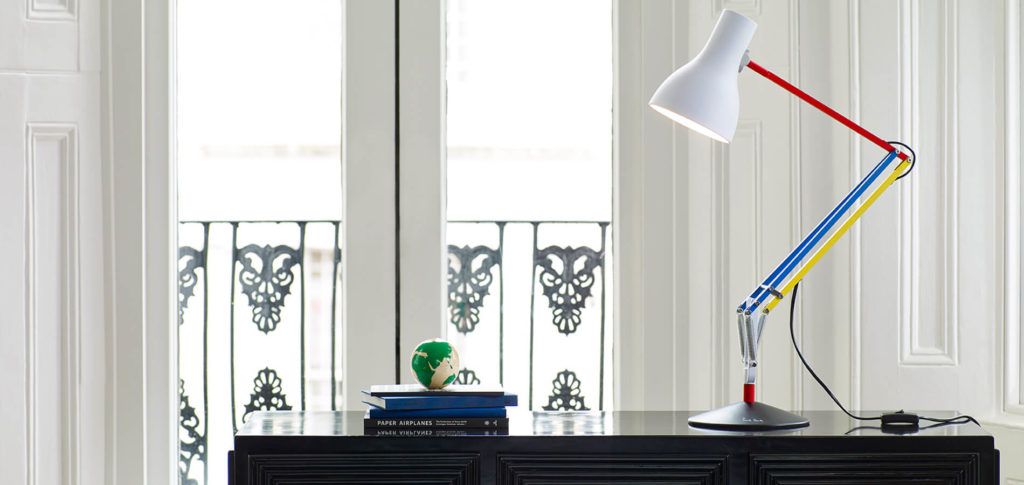 More recently, Anglepoise released a collaboration with celebrated British designer, Paul Smith. The reimagining of the Type 75 Desk Lamp used Smith's masterful eye for colour to create a striking design. It is, without a doubt, another invaluable addition to Anglepoise's rich design lineage.
The most recent Anglepoise light came in the form of the Type 80 Lamp. Clean lined, slick and fitted with the latest in lighting technology, the Type 80 is perfect for modern homes. Its concealed cables and the shade's halo light-escape pave the way for new, revolutionary Anglepoise designs.
With increasing interest in mid-century design, the Anglepoise has found a new generation of admirers. It seems to only increase in popularity, and we're excited to see where the future takes it.
Did you know?
During the Second World War, a bomber plane was downed over Loch Ness in Scotland. Years later in 1986, the wreckage was excavated, and an Anglepoise Lamp was found on board. This lamp had suffered through a crash landing and been submerged under water for over forty years. And funnily enough, it still worked.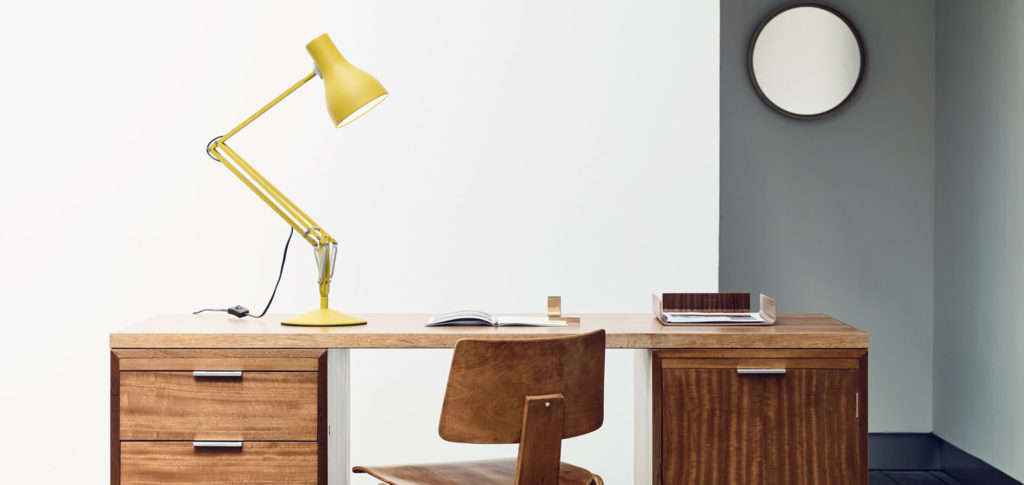 About George Carwardine
George Carwardine had already made a name for himself when he invented the Anglepoise Lamp. As an engineer, he specialised in optimising vehicle suspension for Horstmann Car Company. Having honed his skills there, Carwardine rose to the position of Chief Designer. Years later when the company went bust, he seized the opportunity to branch out on his own.
Carwardine set about creating a workshop in the garden of his Bath home. From this base, he was free to explore the springs and lever-based mechanisms that had always fascinated him. It was this freedom to experiment and focus that led to the legendary Anglepoise Lamp.
Within three years, Carwardine had unveiled a revolutionary 4-spring lamp. It had one more spring than today's icon but demand quickly outstripped supply. In 1934, Carwardine licensed the design to Herbert Terry & Sons to help cope with demand. Soon after, the design went into mass production and the Anglepoise skyrocketed into homes across the world.
Shop the Anglepoise Lamp.