The Iconic Investments Index
Interior design trends may come and go, but some timeless pieces are more than a phase.
Your home should be a treasure trove of pieces that bring in joy and make your space yours – but what if some of your furniture was considered actual treasure?
From vintage classics to up and coming designs, we've tracked the data behind the trends to find which furniture to invest in now that will pay off later. As well as affordable classics, we have also looked into the glamorous world of big-ticket antiques and the latest furniture phases that will garner a return on your purchase.
Vintage or well-made furniture is not only a fashion statement but a statement for sustainability. We have looked at the carbon footprint of 'fast' furniture and how preloved items can help the planet. Did you know that the carbon emissions from the manufacture of the average sofa are the equivalent of 11,478 smartphones being fully charged?
Whether you're looking for an item to cherish forever, an investment piece to bring you profit or just want to take in some beautifully designed furniture then read on.
The Most Iconic Furniture Pieces to Invest In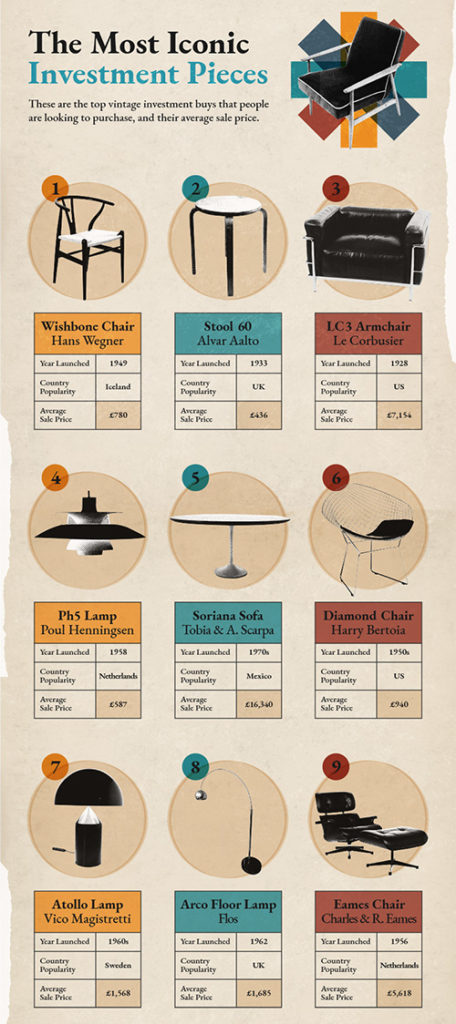 If you're looking for a stylish investment piece that will bring you joy and maybe a bit of cash when the time comes to sell, we have found the furniture for you. By analysing sales prices and popularity over the last five years, these are the pieces that will be not only a win aesthetically but might also reward you for your investment.
The Wishbone Chair from Hans Wegner tops that chart. Originally launched in 1949, this design has truly stood the test of time. With an average resale value of £780.50 and a 200% increase in popularity this beautiful chair is a stylish addition to any home, but sit on this purchase and find bigger profits when the time comes.
With ten pieces on the list, the 1960s have the most mentions. From the instantly recognisable Stacking Chair from Verner Panton to the timeless Arco Lamp by Flos, mid-century styles reign supreme. Many of the items on the list wouldn't look out of place in a modern furniture catalogue, and the appeal of enduring design can be epitomised by these pieces.
Endurability is key when it comes to selecting investment pieces. This design quality ensures that furniture catches a buyer's eye but also grows on you in time.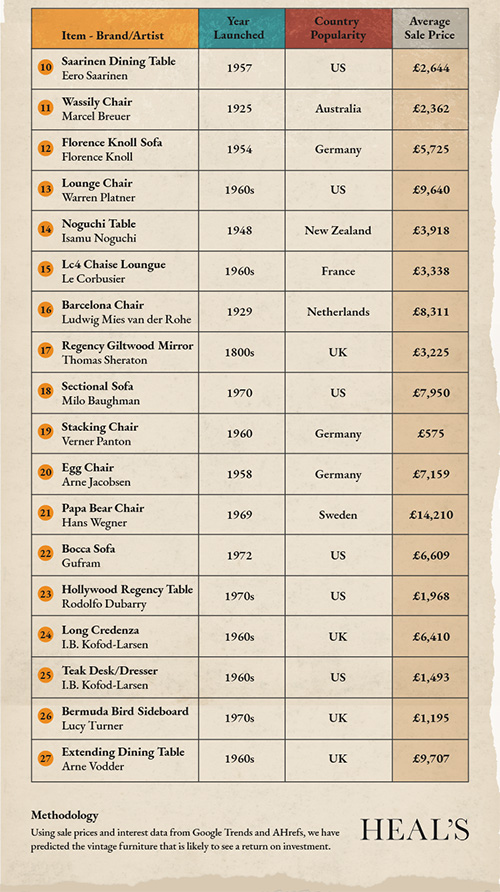 The World's Most Expensive Antiques
After taking a look at some more modest investments, we dug through the archives to find the showstopper sales which brought in the biggest amounts.
These aren't your average furniture pieces while some aren't for the faint of heart. Rich in design history, many of these items are accompanied by a story.
At first glance, Charles Ray's 'Table' may seem simple but this is a piece of modern art, representing the conundrum of illusion versus reality. The vessels are bottomless and affixed to the tabletop allowing the viewer to see through ordinarily solid items. Critics celebrated the piece when it was released in 1959. It was subsequently sold for over £3 million in 2011.
Also featured on our list is the provocative table from Allen Jones, described as an 'icon of Pop' and, by way of contrast, a more simple design of a 17th-century folding chair which sold for over £67,000. This shows how some items gain value by becoming infamous, whereas others earn their price tag from skilled craftsmanship that lasts for centuries.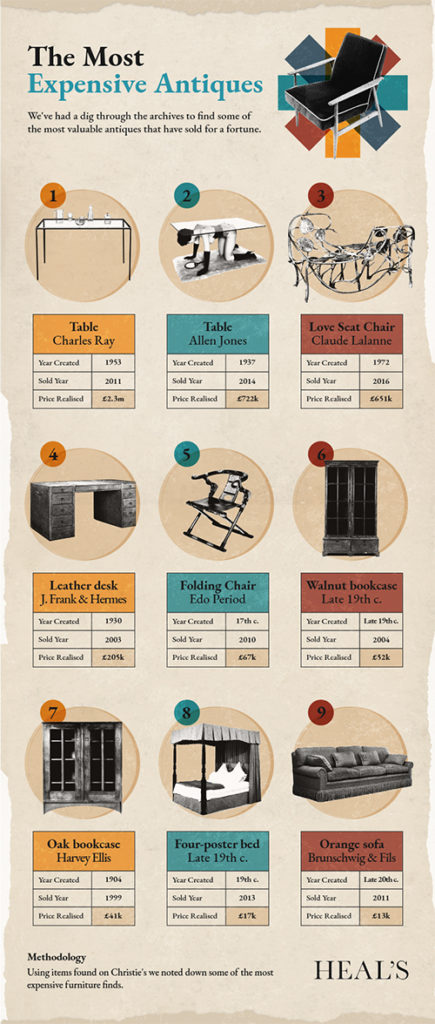 The Future Furniture Classics
Now we have seen the classics of years gone by, it's time to look to the future. By tracking global Google search trends and Instagram data, we have calculated the popularity increase and predicted the items from more recent times that are growing in interest.
Many of the pieces feature effortless chic design and come in earthy, neutral tones which complement any passing trends.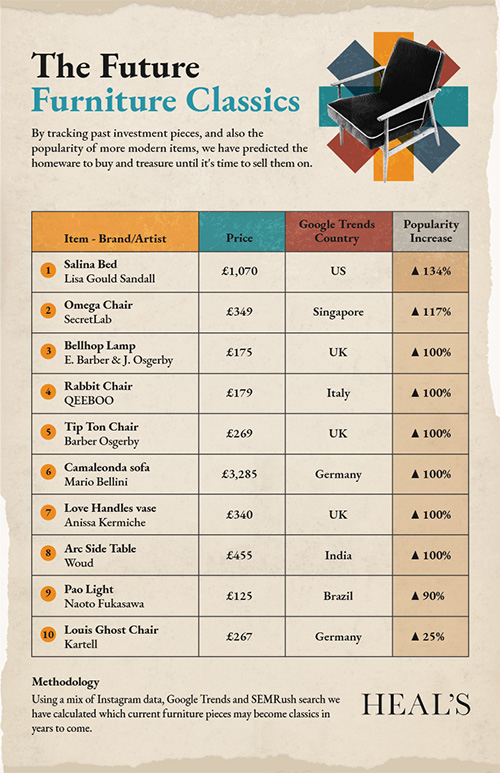 The list features some more quirky designs: The QEEBOO Rabbit Chair brings a touch of modern and classy kitsch to any room, while the Anissa Kermiche Love Handles vase offers a modern callback to nude renaissance sculptures of the past.
The Carbon Cost of 'Fast' Furniture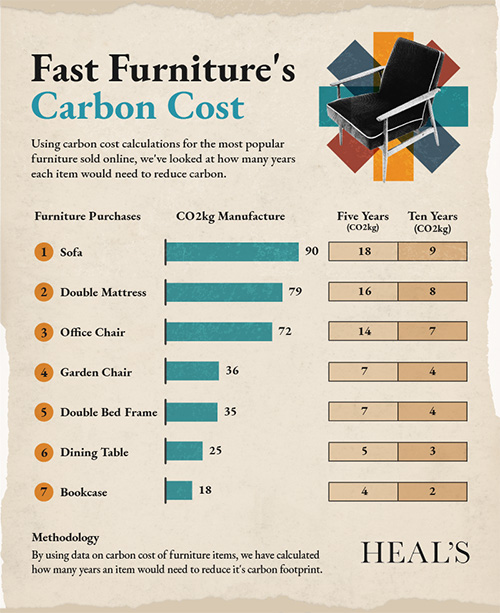 We've all heard the old adage of 'buy cheap, buy twice' but budget furniture might not only cost you financially, but it might also cost the environment.
While 'fast fashion' has come under the spotlight recently, 'fast' furniture also has a carbon cost associated with its manufacture.
As we marvel at the beautiful designs of the last hundred years carbon emissions might not be the first thing you consider. Investing in vintage pieces, well-made furniture or second-hand effects is a great way to be sustainable.
A sofa is normally a big purchase, but it can also come with a big carbon cost, largely down to the foam and stuffing inside it. The longer you use it the more you 'offset' its carbon footprint. So it pays to buy items that are better made and have a more timeless design.
Similarly, choosing wisely when selecting big-ticket items for your home is essential. By picking something well made that you will love and cherish ensures it's not heading to the landfill site within a couple of years.
Not only is investing in vintage or well-made furniture an investment in your future fortunes, but it is an investment in the future of the planet too.
Methodology:
To work out the top 27 iconic investments, we used a seed list of furniture originally sold from 1800 to 1990. To this seed list, we analysed sale prices from the last five years, along with the number of Google searches, the most popular country for sales and Google Trend data from 2015 – 2020.
Most expensive antiques came from Christie's most valuable listed sales. While modern classics were judged on:
Current RRP
Instagram popularity data
Google search volume
Google Trend data over the past 12 months
Using carbon emissions data from the FIRA Carbon Footprint of Furniture report, we assessed the CO2KG of the most popular furniture purchases. By using this research, we were able to calculate the number of owners a piece would need to reduce its carbon footprint.