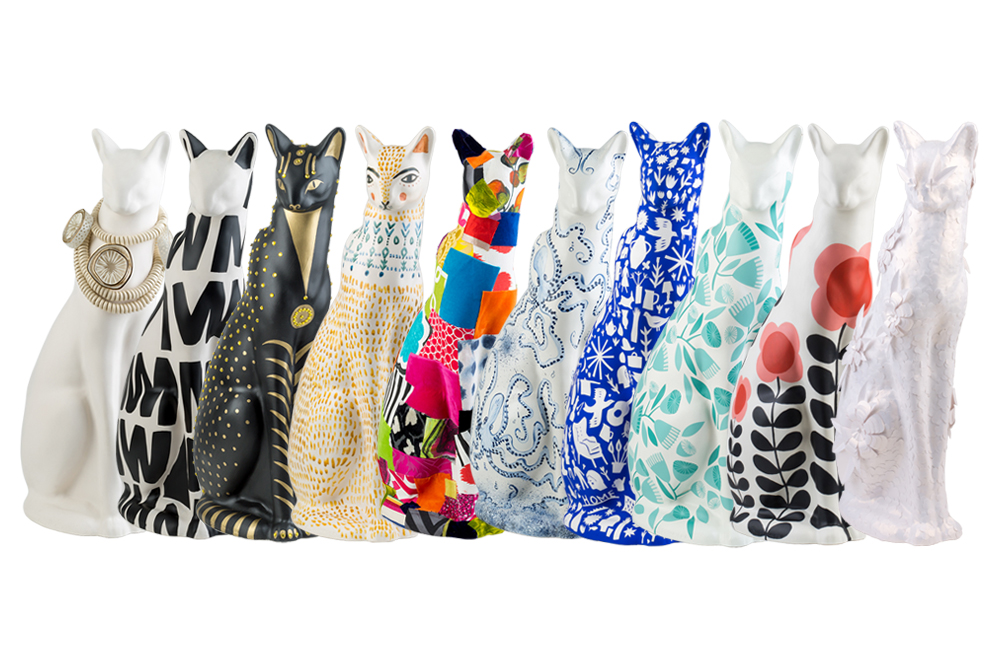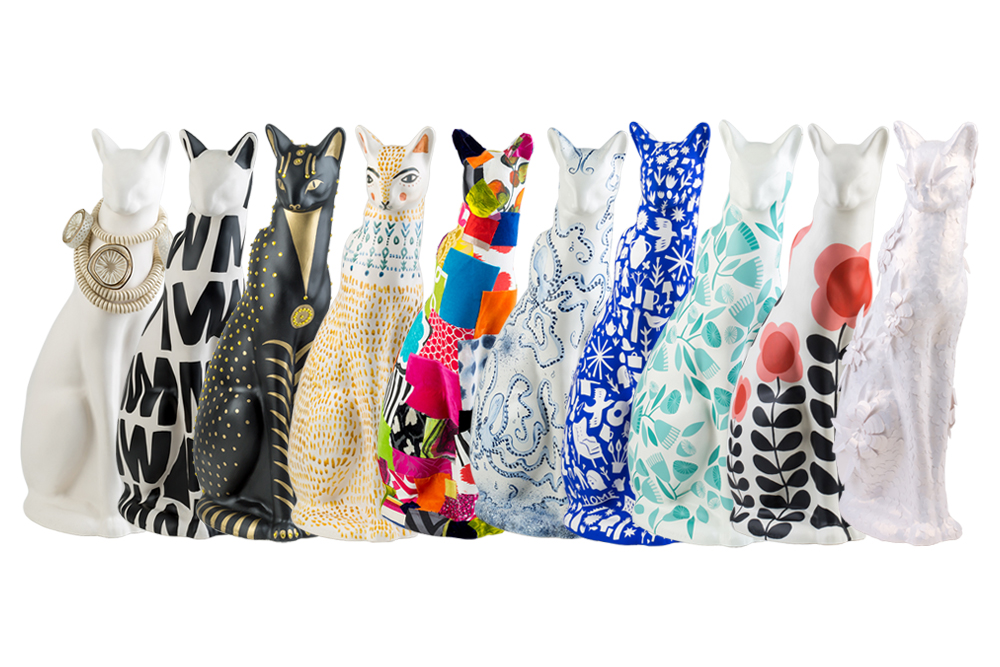 To celebrate the 100th anniversary of our iconic Cecil Brewer staircase, we've teamed up with a few of our favourite designers to create a series of special takes on the Heal's Cat for charity.
Presiding over a century of design innovation, the Heal's cat has remained a feature of the Cecil Brewer staircase ever since its completion in 1916.
In this its centenary year, ten designers have been challenged to decorate the feline figurehead with each taking pride of place in the front showroom of our flagship store on Tottenham Court Road before going to a live charity auction in aid of the Great Ormond Street Hospital's Kiss It Better appeal.
See the designs below and visit our flagship store this September and October 2016 to celebrate the renowned designers' takes on this icon piece of Heal's heritage. The auction will take place as part of Heal's Christmas Party on 8th December 2016 – to register interest email us at cats@heals.co.uk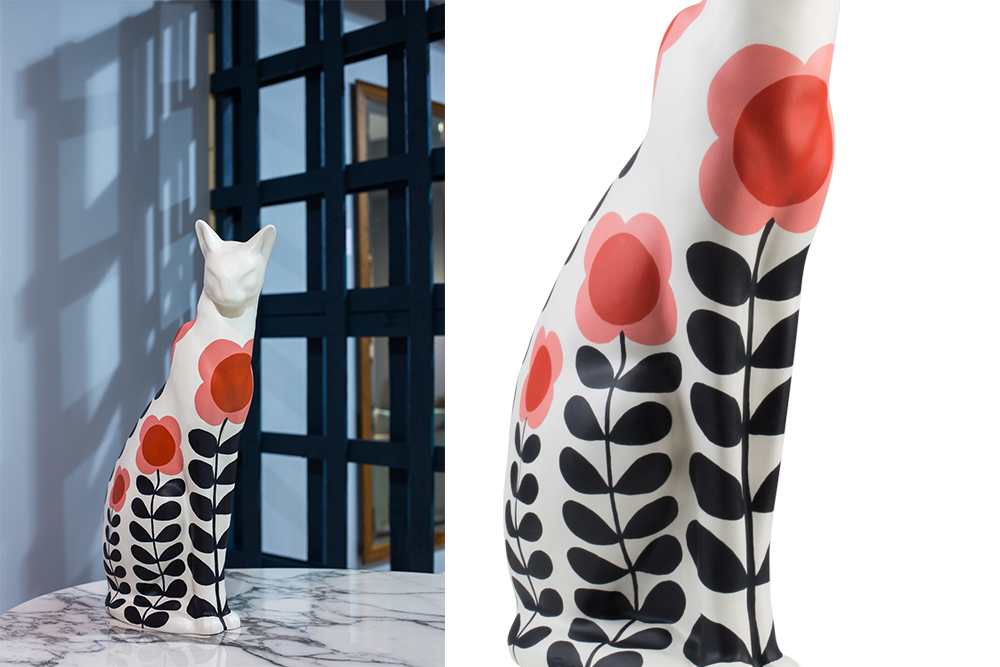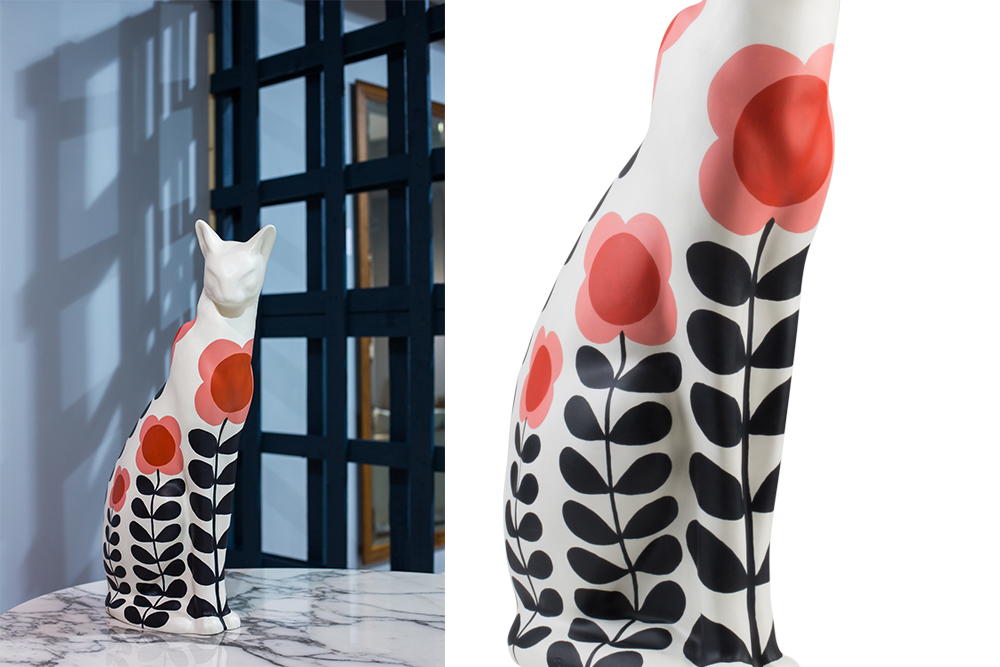 Orla Kiely
Known for her retro inspired prints, Orla has applied her signature style in a beautifully symmetrical manner to our feline mascot. The linear flower design leads the eye up and around the profile of the Heal's cat resulting in a simple yet magnificent collectable piece.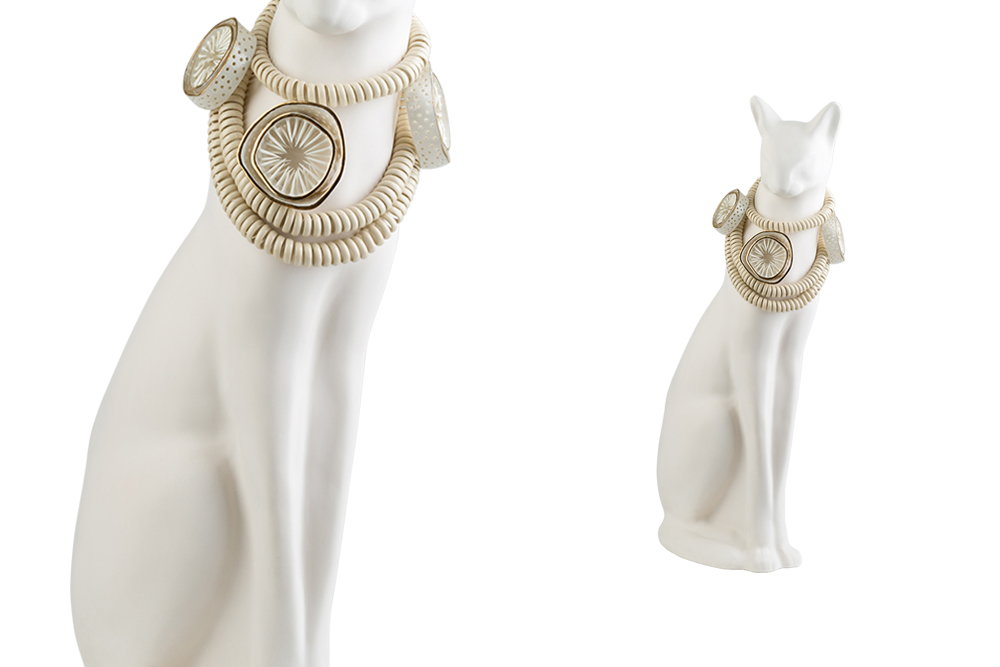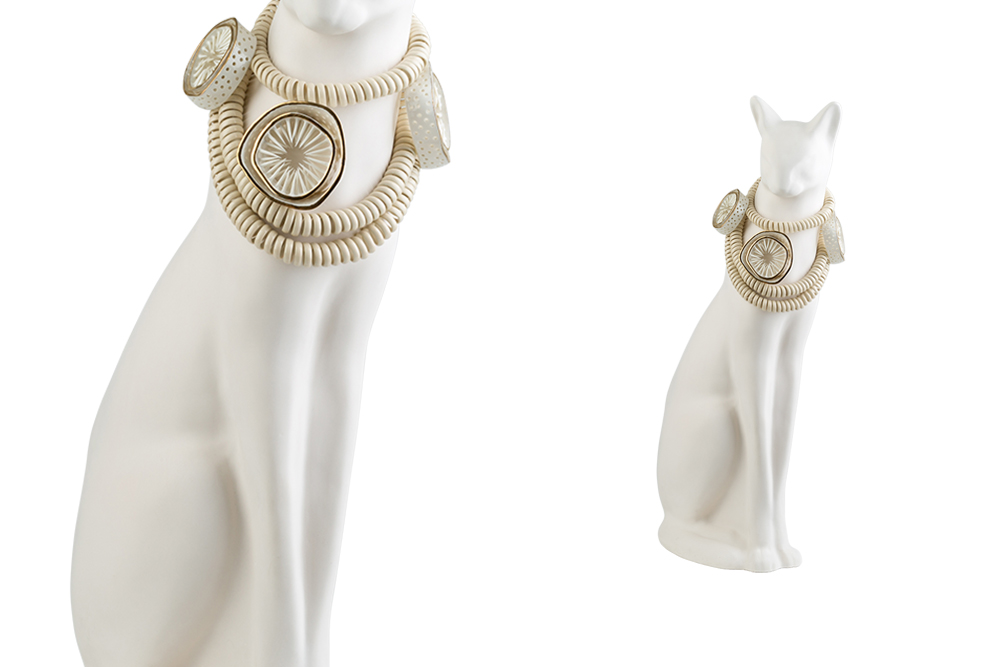 Ikuko Iwamoto
Japanese designer Ikuko Iwamoto is inspired by nature, especially microscopic patterns. Her avant-garde Heal's cat has a decorative neck piece made from old telephone wires juxtaposed against delicate gold edged ceramics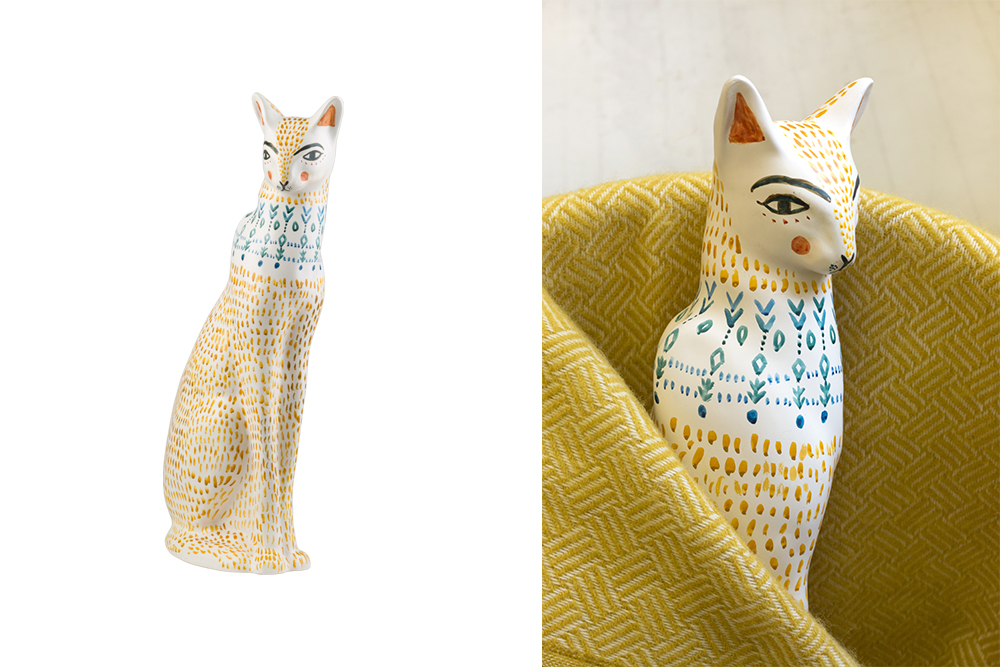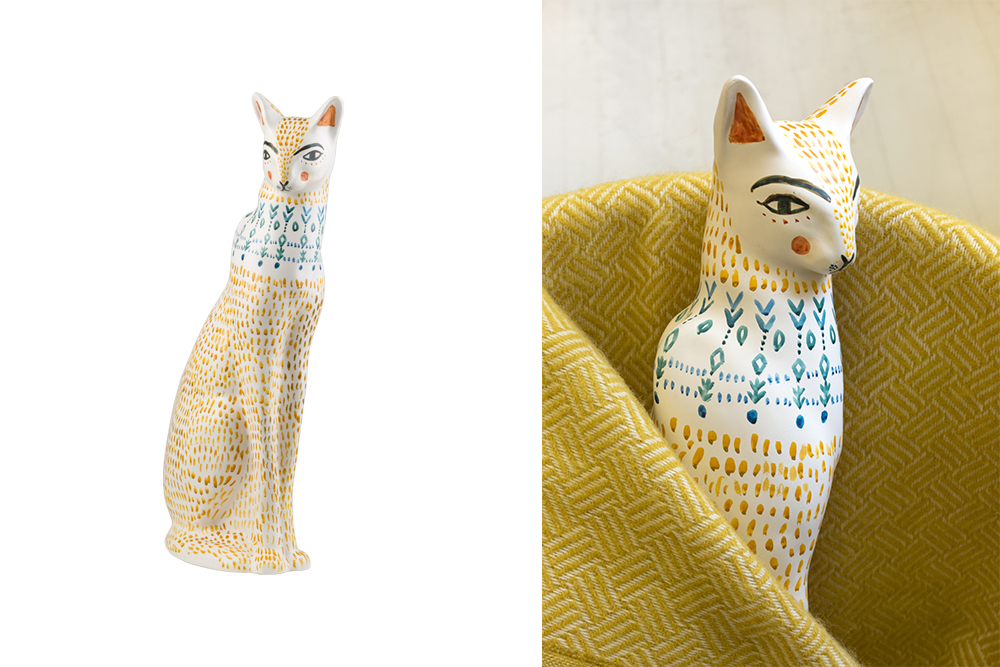 Donna Wilson
Bringing a childlike wonder to home accessories, Donna Wilson's instantly recognisable wildlife characters adorn everything from cushions to ceramics. Her interpretation of the Heal's cat captures this same sense of fun and adventure with intricately hand painted brushstrokes in folksy tones of blue and gold.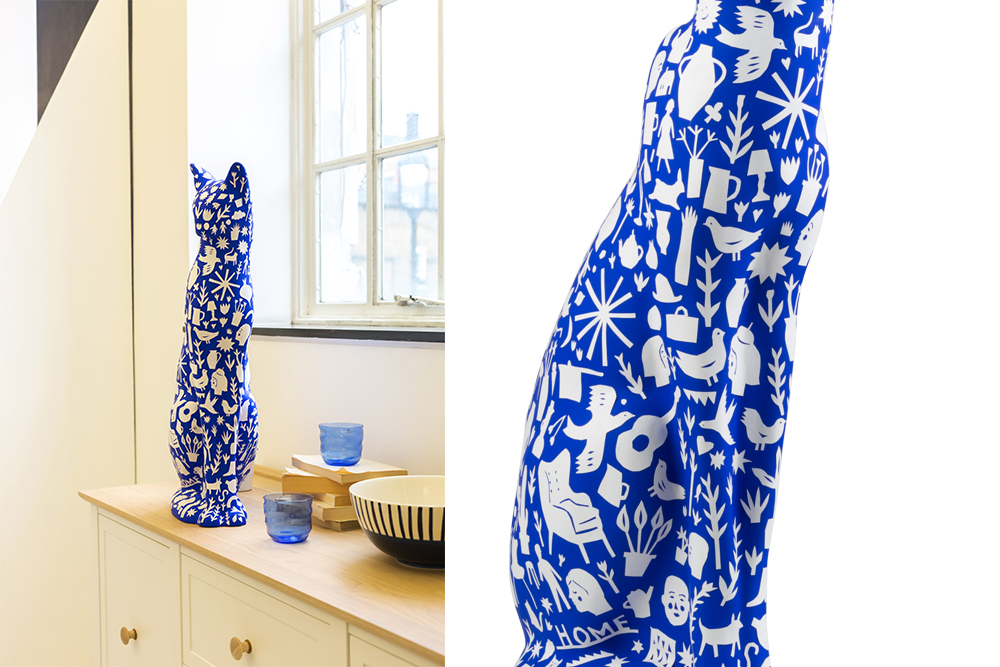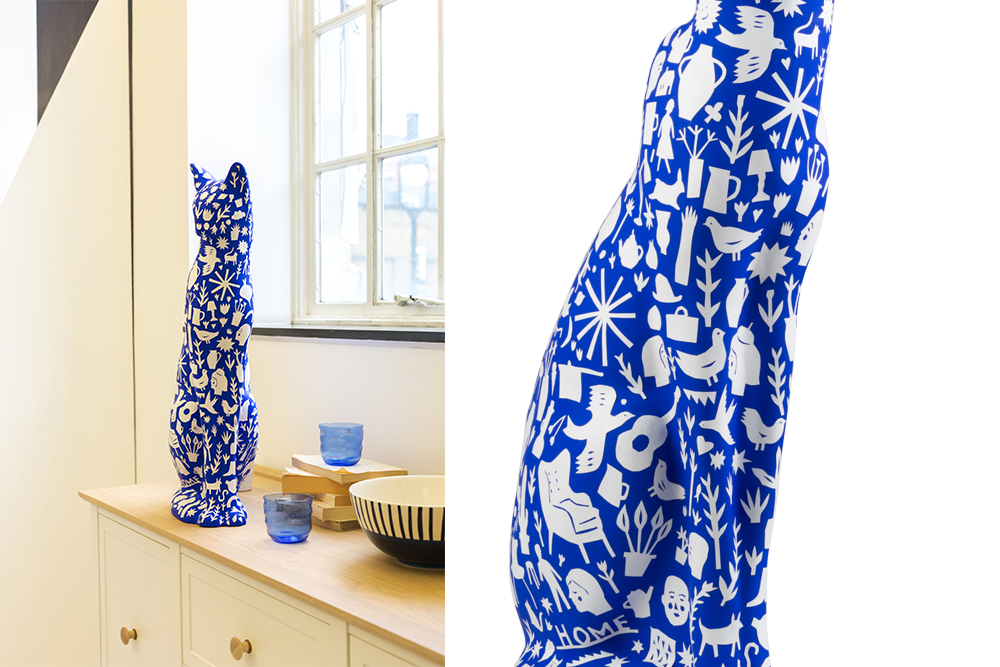 Louise Lockhart
Taking inspiration from everyday symbols such as hand painted signs, food packaging and old toys, Louise has created this striking version of the Heal's cat. Made by drawing, printing, cutting and finally sticking on her designs, the bright blue base for the design is very contemporary whilst the shapes have a folk art aesthetic that together give the piece a timeless appeal.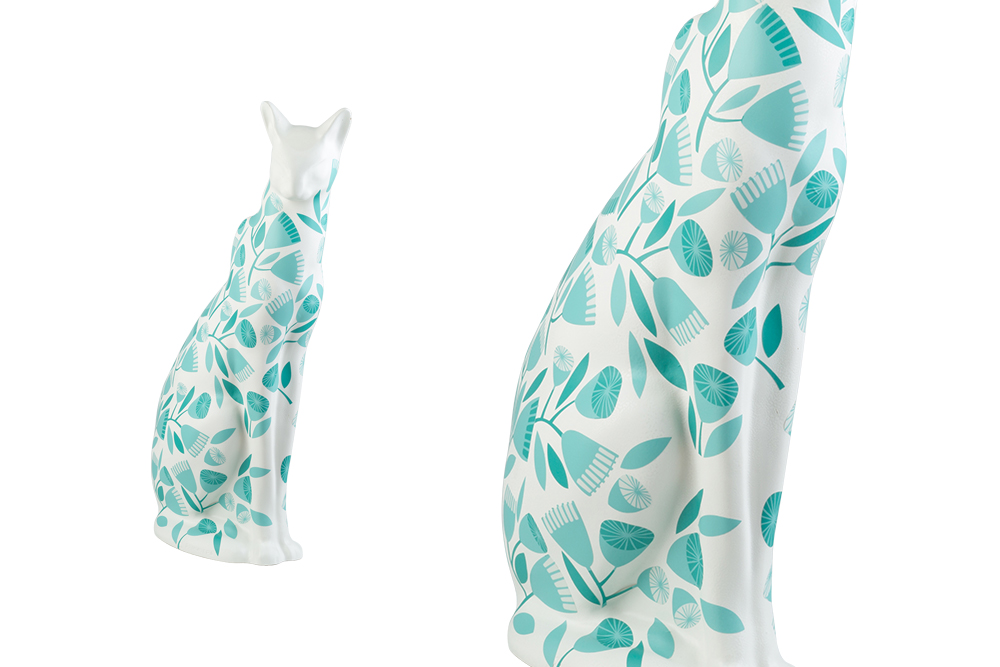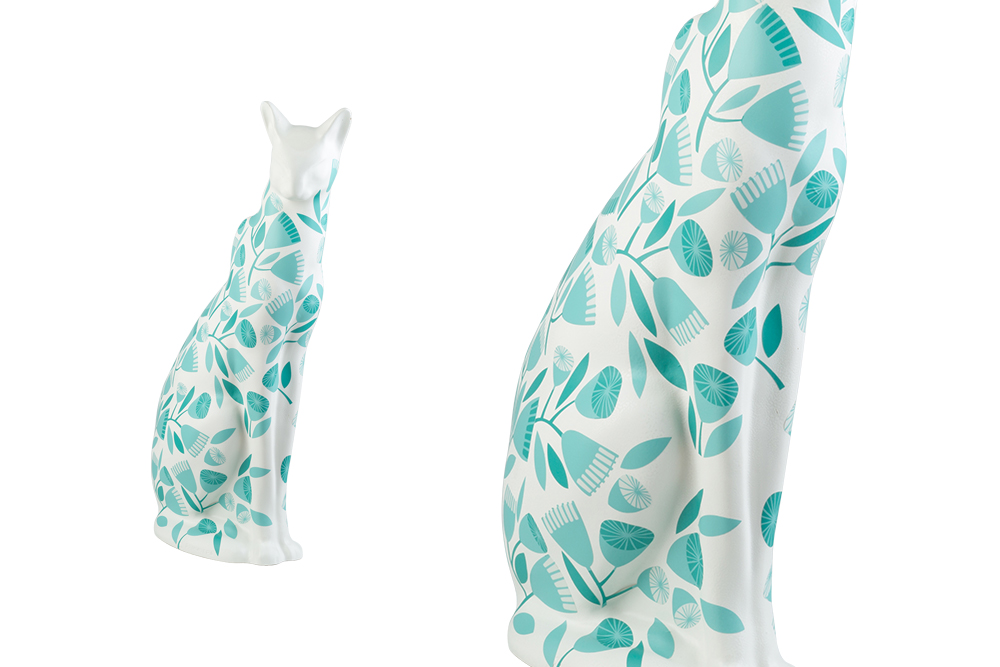 Rachel Cave
Inspired by geometric shapes and mid-century fabrics, Rachel's imitable pattern designs can be found on packaging, stationery and homewares. From her beachside home in Bournemouth, Rachel has created this decal version of the Heal's cat covering it with flower and thistle shapes in calming shades of aqua.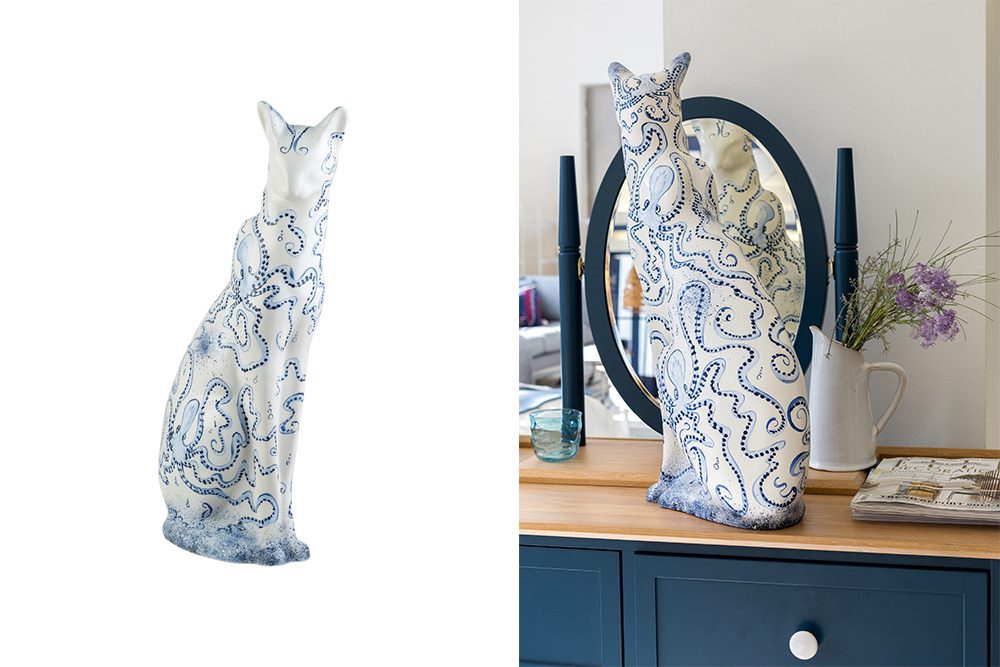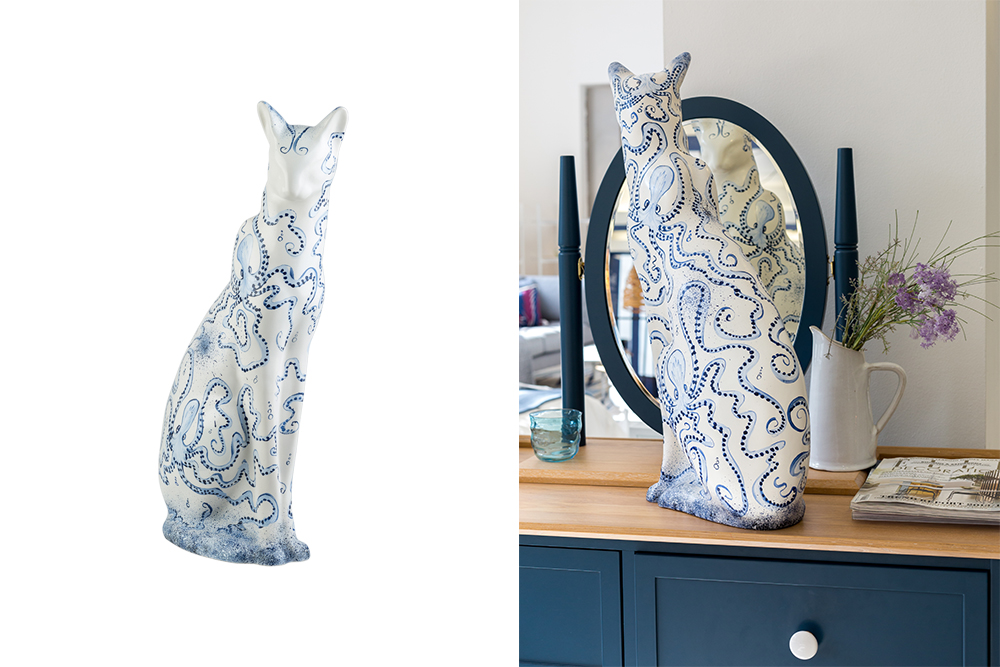 For her design, world renowned ceramicist Mia Sarosi chose to decorate the Heal's cat as a piece of live art in our flagship store. Hand painted in shades of blue, Mia used her signature Octopus design as seen on some her ceramics sold in store.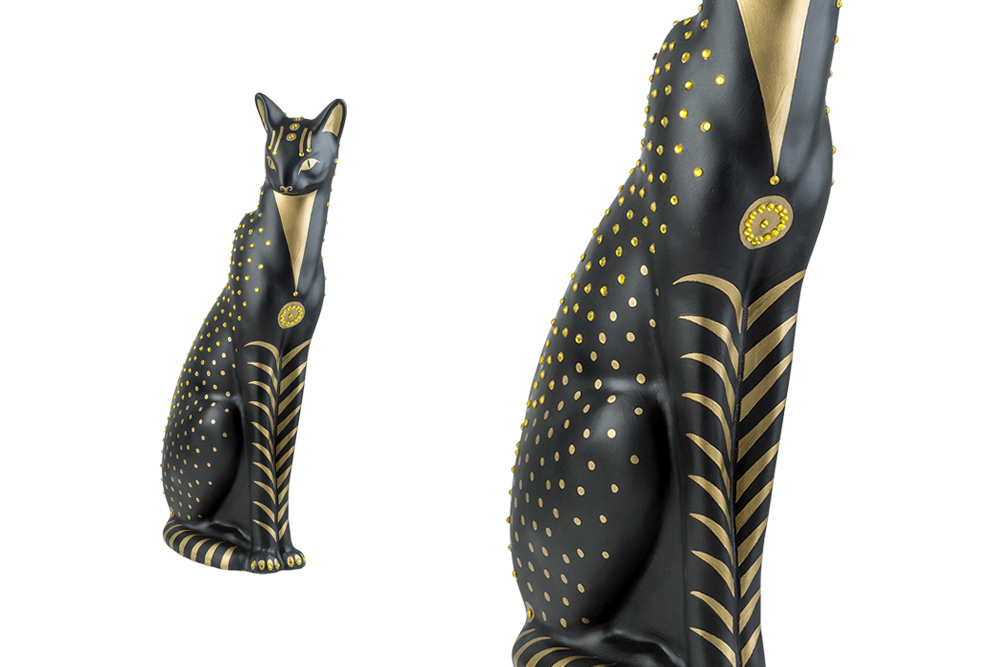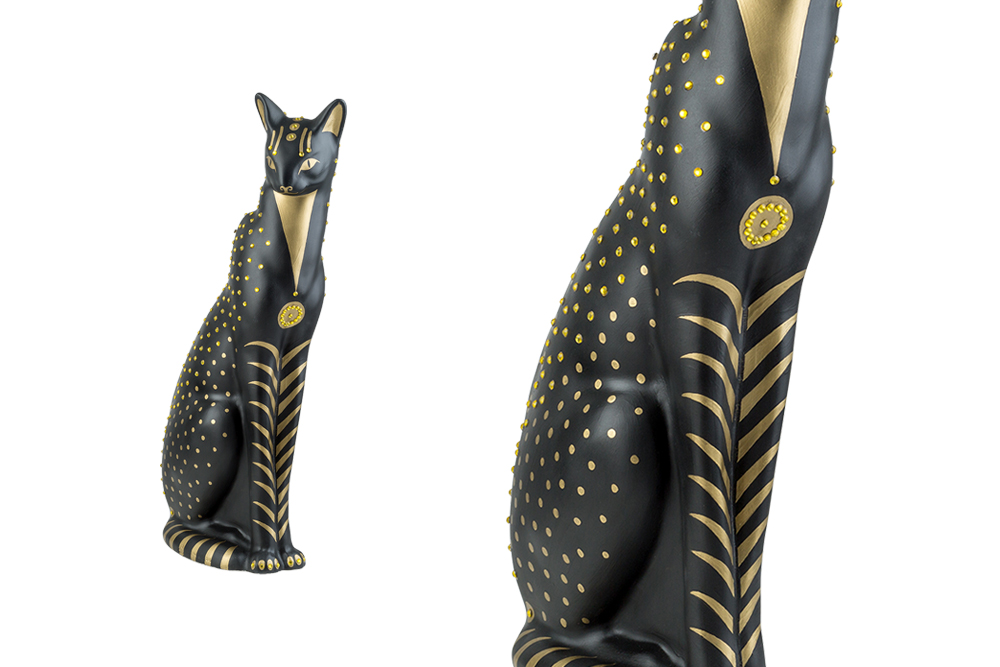 Intricately painted in black and gold, the printmaker Cressida Bell's design for the Heal's cat is almost sphinx link in appearance with mesmerising golden eyes and golden studs down its back. Signed by the designer on the paw, this collectors piece is fit for any pharaoh's palace.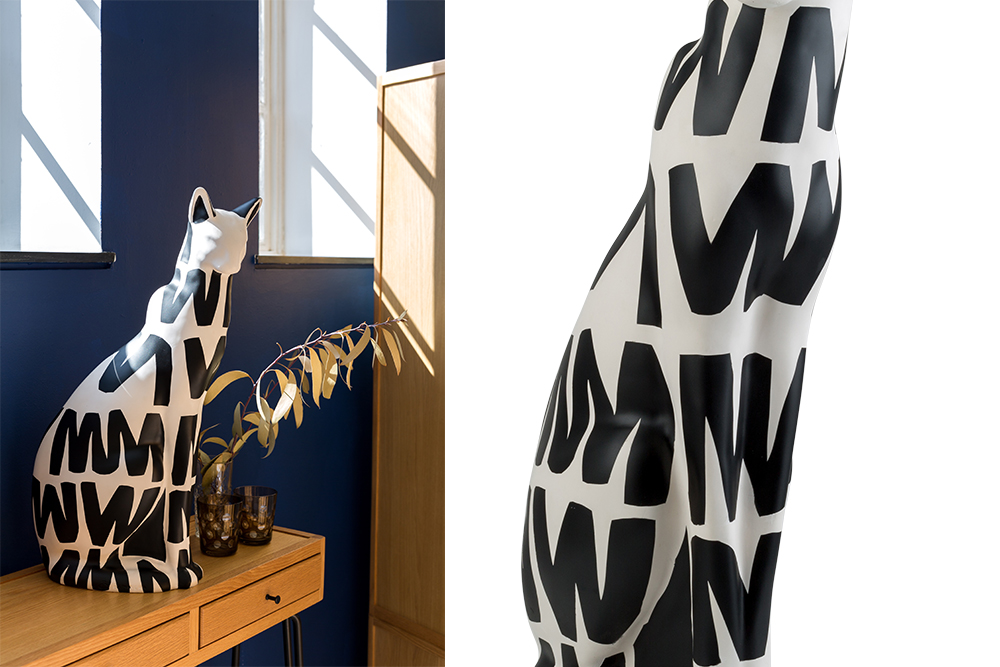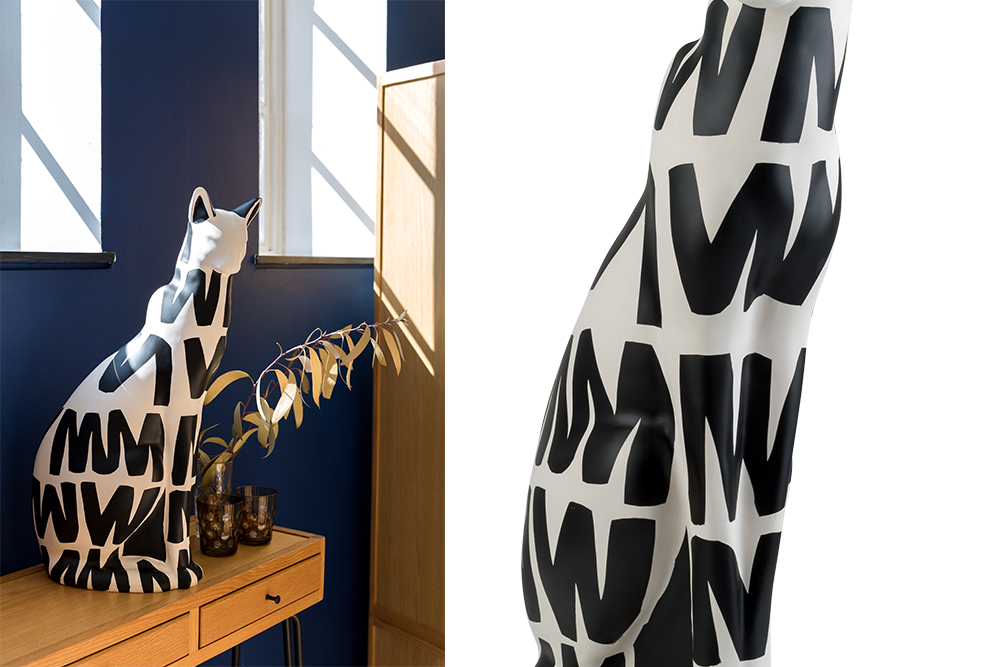 Sunny and his wife Emma established 'Sunny Todd Prints' in 2013 and have already been named by Elle Decoration as a 'Name to watch'. As with all Sunny Todd designs, every shape is cut by hand which gives their take on the Heal's cat beautiful irregularities and ensures that the shapes are refreshingly dynamic and full of movement.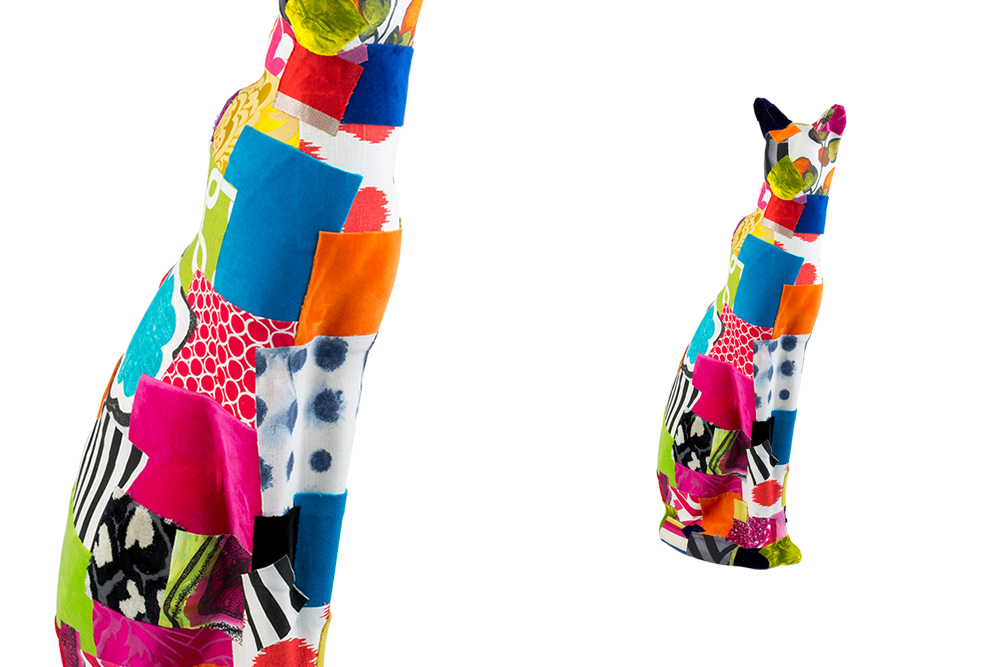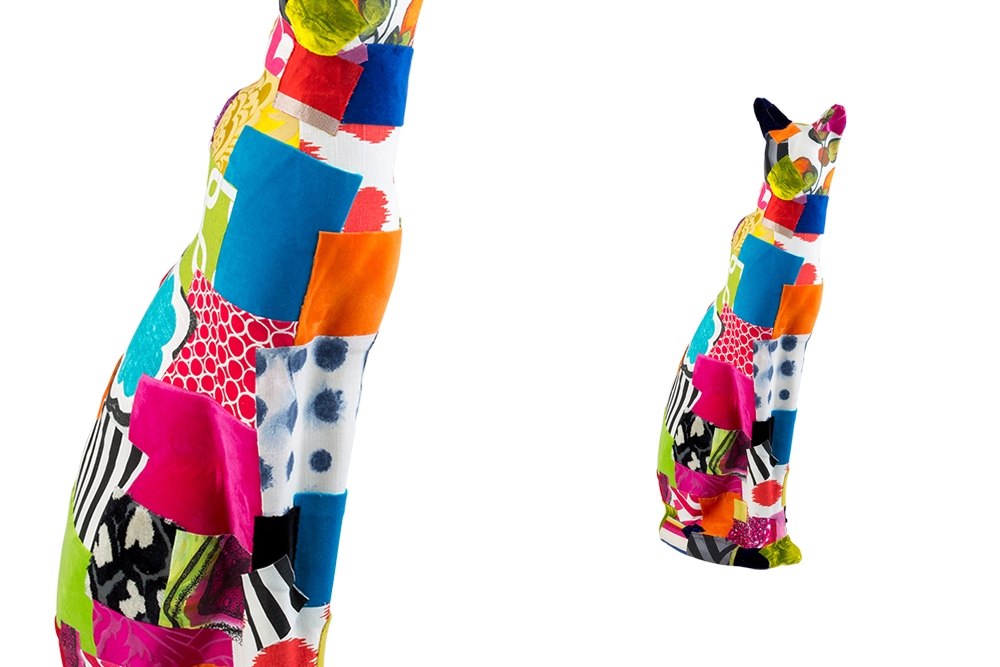 Founded by Lisa Whatmough and fuelled by her passion for textiles combined with a very British design sensibility, Squint create richly decorative homewares and exuberant furniture. Lisa imbues Squint with her own style and has created a clear visual signature which she has carried through to her interpretation of the Heal's cat.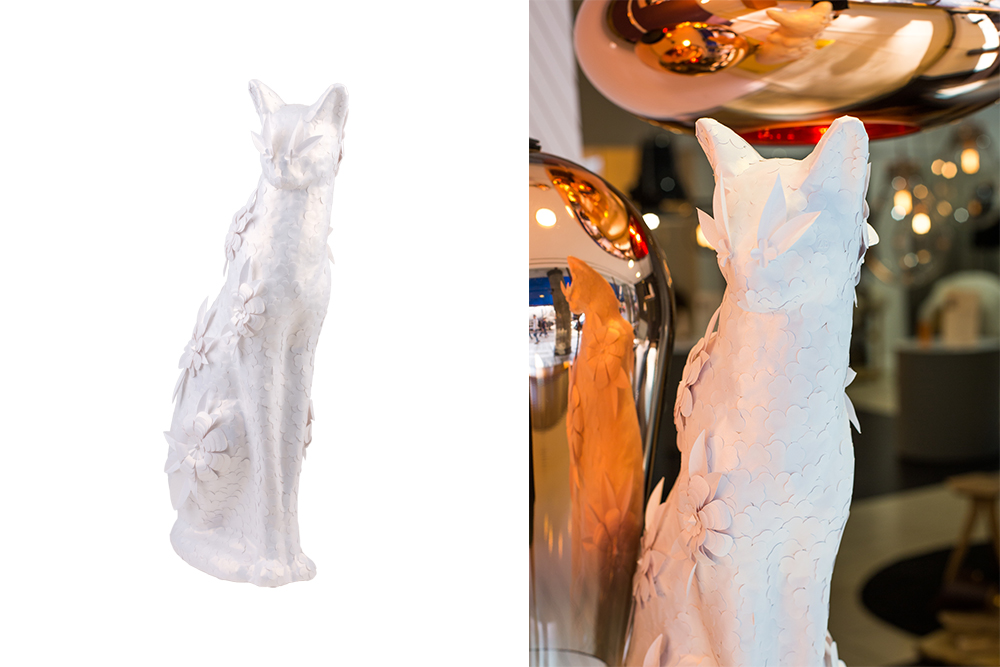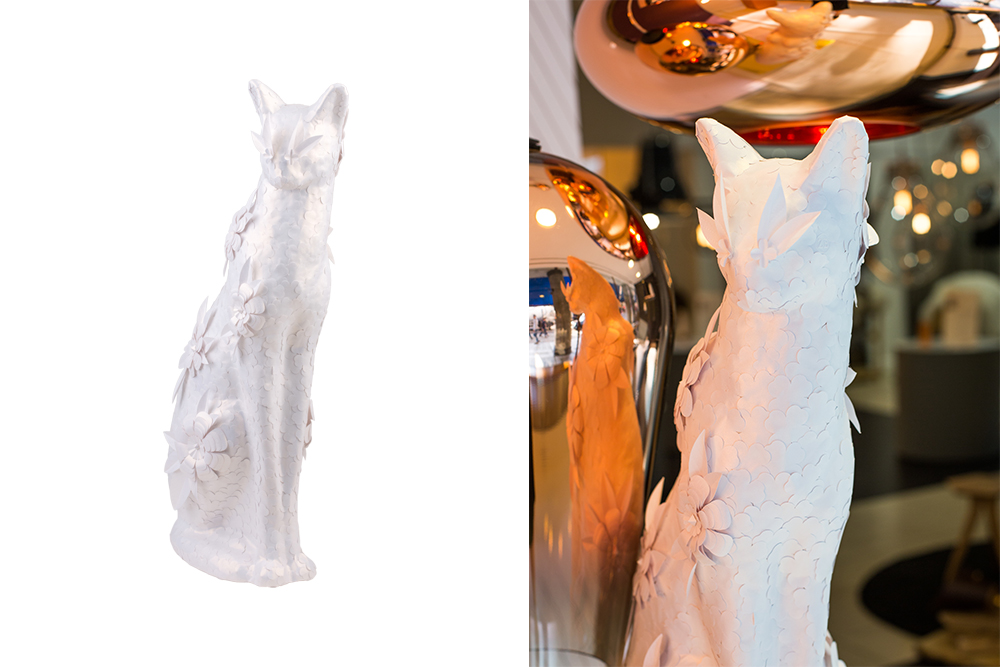 Designer Zoe Bradley draws inspiration from a diverse range of subjects, from the organic forms of nature to sharp architectural lines. This intricate yet minimal design covers the Heal's cat in hundreds of painstakingly applied petals to create a pearlescent masterpiece.