A stylish living room isn't complete without some carefully chosen and arranged cushions on the sofa. No matter the space, the right cushions really can transform a room. Sure, your dream sofa may have been delivered and the armchair you picked out looks great, but it still needs cushions.
There isn't a hard-and-fast rule on how to arrange cushions on a sofa. However, the 2-1-2 arrangement is very popular. That's a large cushion in each corner, a slightly smaller cushion next to them and topped off with one cushion in the centre of the sofa. Arranging your sofa cushions like this will automatically make it feel more thought through.
Quantity makes a big different to the overall look of your sofa. Too many cushions and your living room could look cluttered, and they may even make the sofa less comfy. As a general rule, we reckon a two- or three-seater sofa needs a maximum of three cushions. If your sofa's larger then you can get away with more. Think six or more on a large corner sofa.
If you're stuck for ideas, take some inspiration from our five styling tips. We'll show you how to choose and arrange cushions on a sofa to suit your space perfectly.
How to arrange cushions so they don't feel too formal
Sometimes, a set of perfectly arranged cushions on the sofa can seem a little formal. If that isn't your style, then there are ways to make them feel a little more casual. One way of arranging cushions on your sofa so they look relaxed is to group them to one side. Placing cushions symmetrically on a sofa using the 2-1-2 rule can lead to a more formal arrangement. Positioning two cushions to one side will automatically feel more relaxed.
Another way is to have an odd number of cushions. So, instead of four or six cushions, you have three or five. That's because even numbers can feel more formal. In fact, in many cultures, odd numbers are used to make homes feel more relaxing. Take Japan for example. In Japan, traditional items like bowls or plates are sold in sets of five. We suggest positioning two cushions on one side and the third cushion on the opposite side of the sofa.
If you want to add more formality to your living room, then an even number of cushions will do the trick.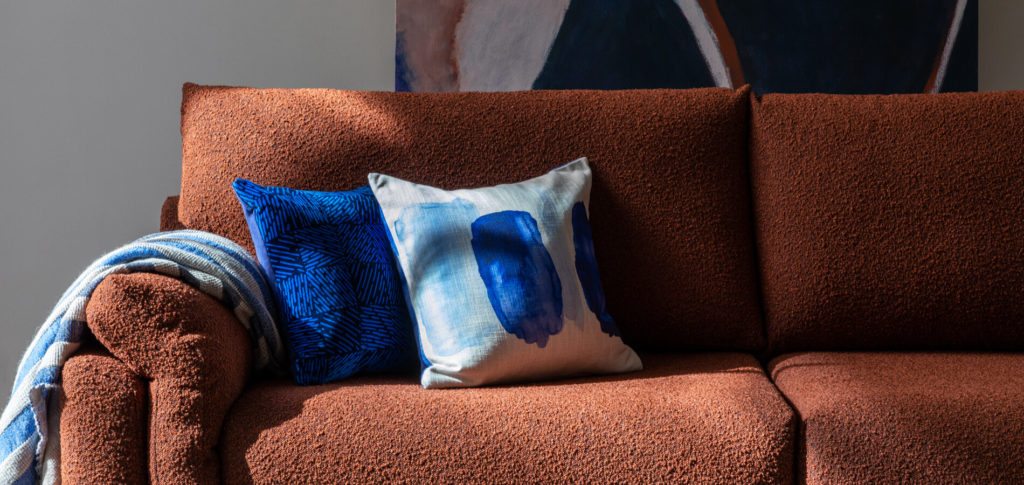 Cushions that add colour to a sofa
If your living room décor is relatively muted, then you'd be forgiven for wanting to add a splash of colour. Luckily, cushions are a great way of adding colour without breaking the bank. Using cushions, you can completely rejuvenate your sofa without reupholstering it or investing in a new one. And the best part? You can switch up your cushions throughout the year. That could mean bright yellows and blue in summer, and deep red textured cushions during winter.
When choosing colourful cushions, we recommend picking out complementary colours. In our example, you'll see we've used hues of yellow that harmonise beautifully with a splash of blue. By keeping the colours within the same spectrum, the cushion scheme looks well thought through. Another way to choose your cushions is to make sure their patterns or shapes work together, even if the colours are different. We reckon mixing and matching patterns looks more visually striking than completely matching cushions.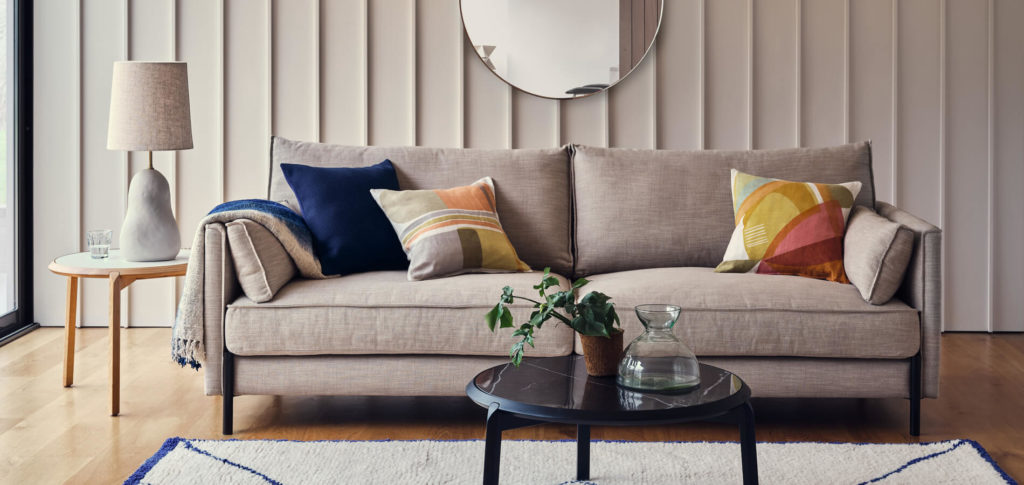 How to style cushions on a red sofa
When it comes to styling a red sofa, we'll always have a soft spot for cobalt blue cushions. You might think a red sofa is bold enough on its own, but in reality it's a great base for blue. We love how bright cobalt is paired with tonal reds in this look for a splash of extra colour.
If you have a more traditional dark red sofa, then deeper colours like navy or royal blue are a strong choice. Together, these colours will make your living room feel more classical. Of course, the fabric and shape of your cushion will also influence the final look. To enhance a sofa's more traditional design, then we suggest cushions with rich textures like velvet or jacquard fabrics.
If your aesthetic is a little more neutral, then a red sofa with cushions can also fit your home. We suggest opting for rust-hued upholstery and using cushions in the same tone. That means using different shades of reds, warm neutrals and natural materials.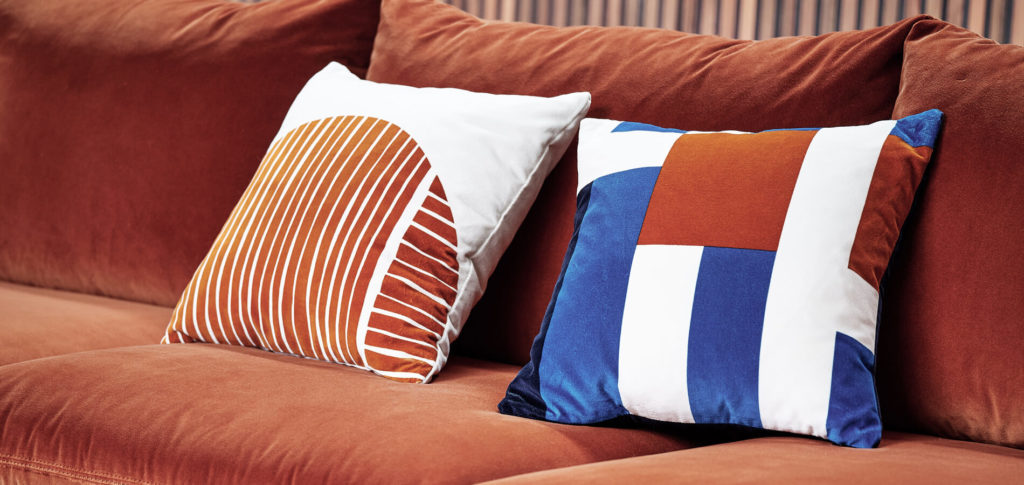 How to make your sofa look more comfortable
Whether you have a sleek Scandinavian sofa or a modernist Italian design, adding an extra touch of comfort is always a good thing. To really get the relaxed feel, it's important to forget all the rules you've been told about cushions. No, they don't need to be perfectly plumped. No, they don't have to be positioned at a perfect 45-degree angle. And no, they don't need to match your sofa.
To feel relaxed and inviting, a sofa shouldn't be pristinely arranged. We suggest arranging your cushions in a 'haphazard' order and definitely don't over plump them. Choosing colours that are different to your sofa will also bring a little more fun to the space. Pair yellow cushions with deep blue sofas or green and rust hues with your grey sofa. To really tie them into your space, you could even colour coordinate your cushions with your room. Pull a colour from your favourite accessory, print or throw to create a cohesive yet comfortable décor.
We love the minimalist way this sofa has been styled, without going over the top. Just one cushion brings life and comfort to the modern sofa. Not to mention the throw. Drape a throw casually over the sofa's arm or backrest and voila, your sofa's automatically got added comfort kudos.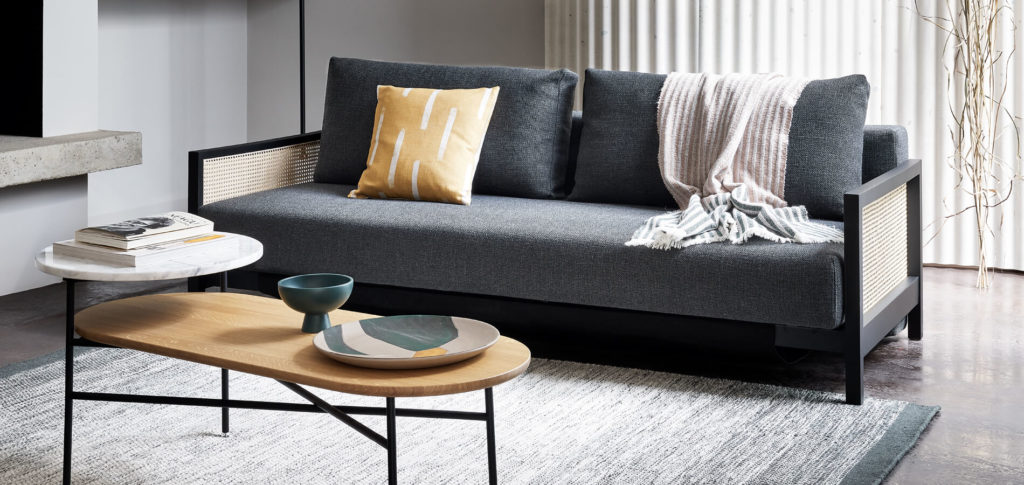 How to style cushions on a grey sofa
If you already have a grey sofa, then congratulations, you have the perfect blank canvas. Grey sofas are great because they can be restyled in countless ways just by switching up the cushions. Plus, its neutral colour means your sofa will go with almost every colour of the rainbow.
To create a serene, calming living room then we suggest choosing cushions in similar shades. Think creams, greys and white. Mix and match across the shades and choose natural fabrics like linen or fur for that spa-like feel. We love the way this sofa has been styled to feel relaxing and refined using tonal colours.
If you want to bring a little more colour into your room, then take inspiration from your space. Got a lamp you love with a fuchsia shade? Then bring in elements of pink into your cushion scheme. Have a print hanging nearby with touches of green? Then use that to inspire your cushion choices. When it comes to grey sofas, you can choose any colour cushion you like.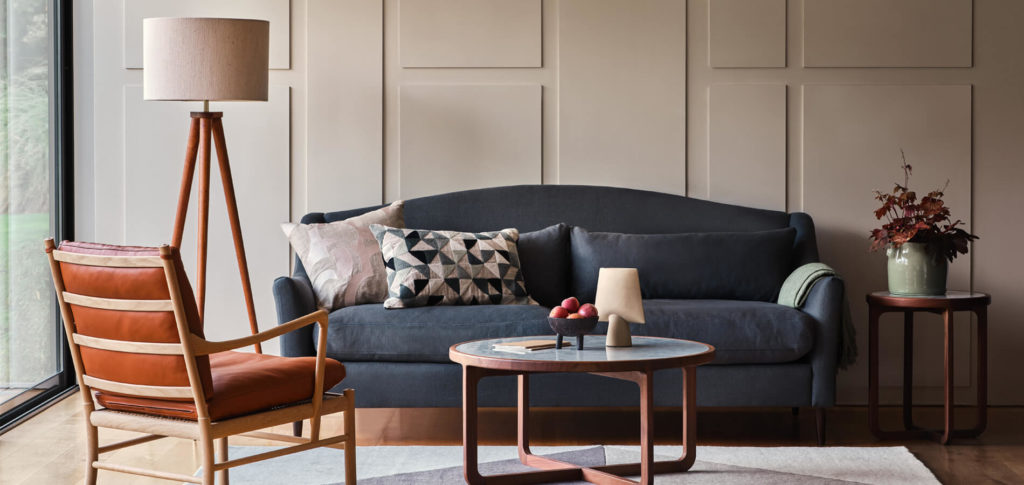 Interested? Shop cushions now.