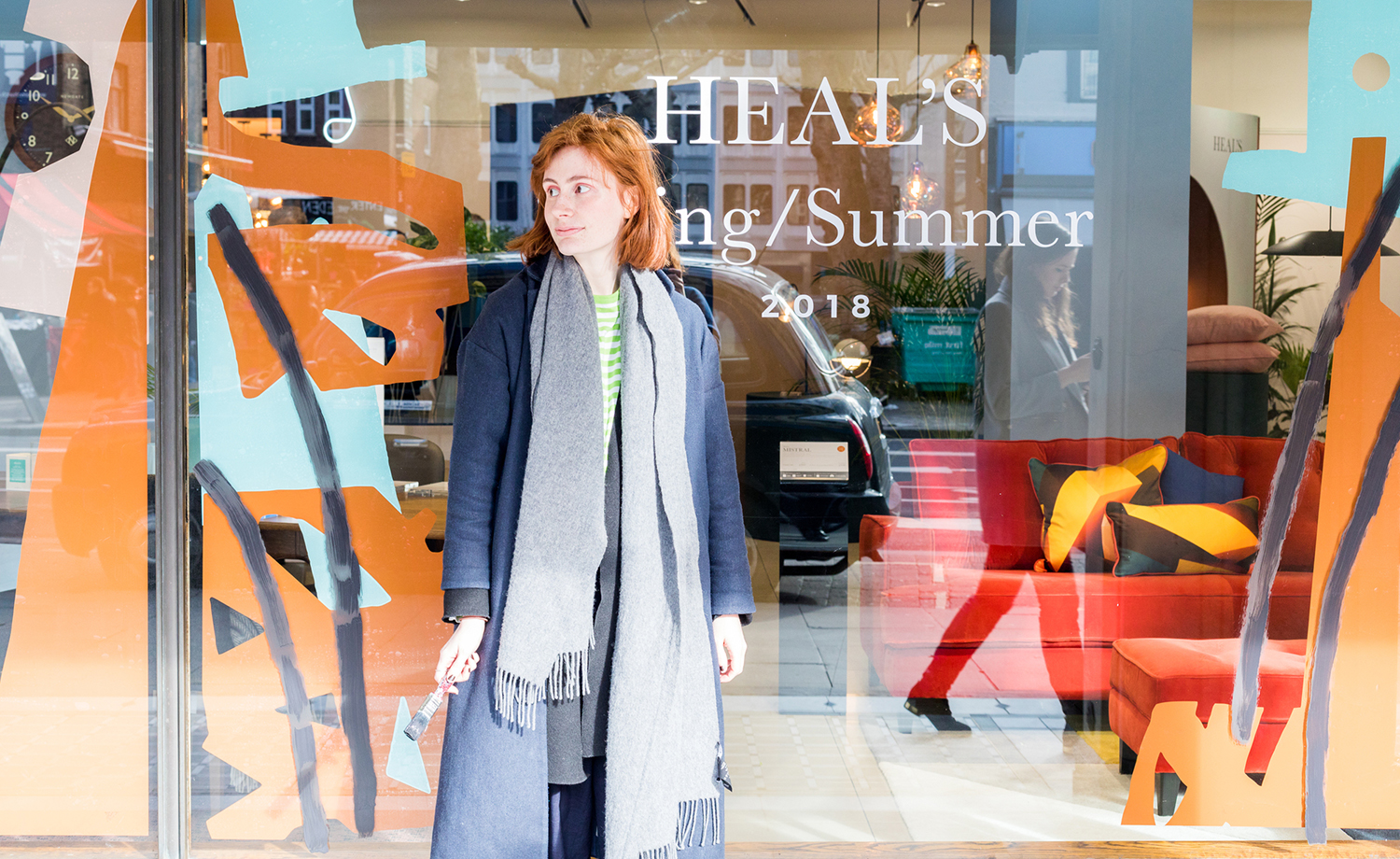 As part of our new Spring/Summer 2018 collection, we embarked on a new collaboration with artist, Katy Welsh. Katy has designed a set of three cushions – Pane, Pillar, and Plinth – that were inspired by the hidden details found at our flagship store. We thought it was fitting to invite her to Tottenham Court Road to give our windows a fresh look for the new season. Using her signature painterly style, she transformed the windows in a vibrant mix of colours inspired by her range. We caught up with Katy to find out a bit more…
–
Tell us a brief history of yourself as a designer.
I studied Printed Textiles and Surface Pattern Design at Leeds College of Art, and since graduating I've been developing my personal practice as a print designer. This has involved working on lots of different kinds of projects from stationery to interiors. I really enjoy having lots of variety in my work.
How did your collaboration with Heal's come about?
I have wanted to work with Heals forever and last year had the opportunity to meet with Hannah Thistlethwaite,  the senior textile buyer at Heal's, and show her my work. She suggested a collaboration for SS18 and I jumped at the chance. Seeing my work in store is a great feeling. I love the fact that Heal's as an institution is so supportive of up and coming designers and to be a part of that is really amazing.
What was the main inspiration behind the designs created for the collaboration?
Hannah's brief to me was to respond to the Heal's building with my prints. I spent some time in Tottenham Court Road photographing architectural details of the store and each print was then inspired by a different aspect of what I had seen; Pane is inspired by the shapes of the large part deco window on one side of the building, Pillar takes influence from the famous Brewer staircase in the centre of the store, and Plinth is pretty self-explanatory.
Talk us through your process of translating a design from paper to finished product.
This project started with sketches and research. For Pane and Pillar, I worked in collage first, which is my favourite medium to use. I then took what I had done into Photoshop and played with adding photographic elements and refining the colour and composition. Plinth started digitally and then went onto paper. Once I had worked out the repeat I redrew the design in crayon to give it more life.
I screen printed all the fabric for this project myself too (with quite a lot of help). It was a very big undertaking for my tiny studio, but I was really happy with how it turned out.
You recently spent the day transforming the windows of our Tottenham Court Road store. How was that experience? Talk us through what you did.
I must admit I was nervous about decorating the windows of such an iconic store, but when I was approached by Kevin Torre, the lead Visual Merchandiser, I thought it was too good an opportunity to pass up!
I took reference from my SS18 prints for the window designs which, because they were originally inspired by the store itself, really tied everything together nicely.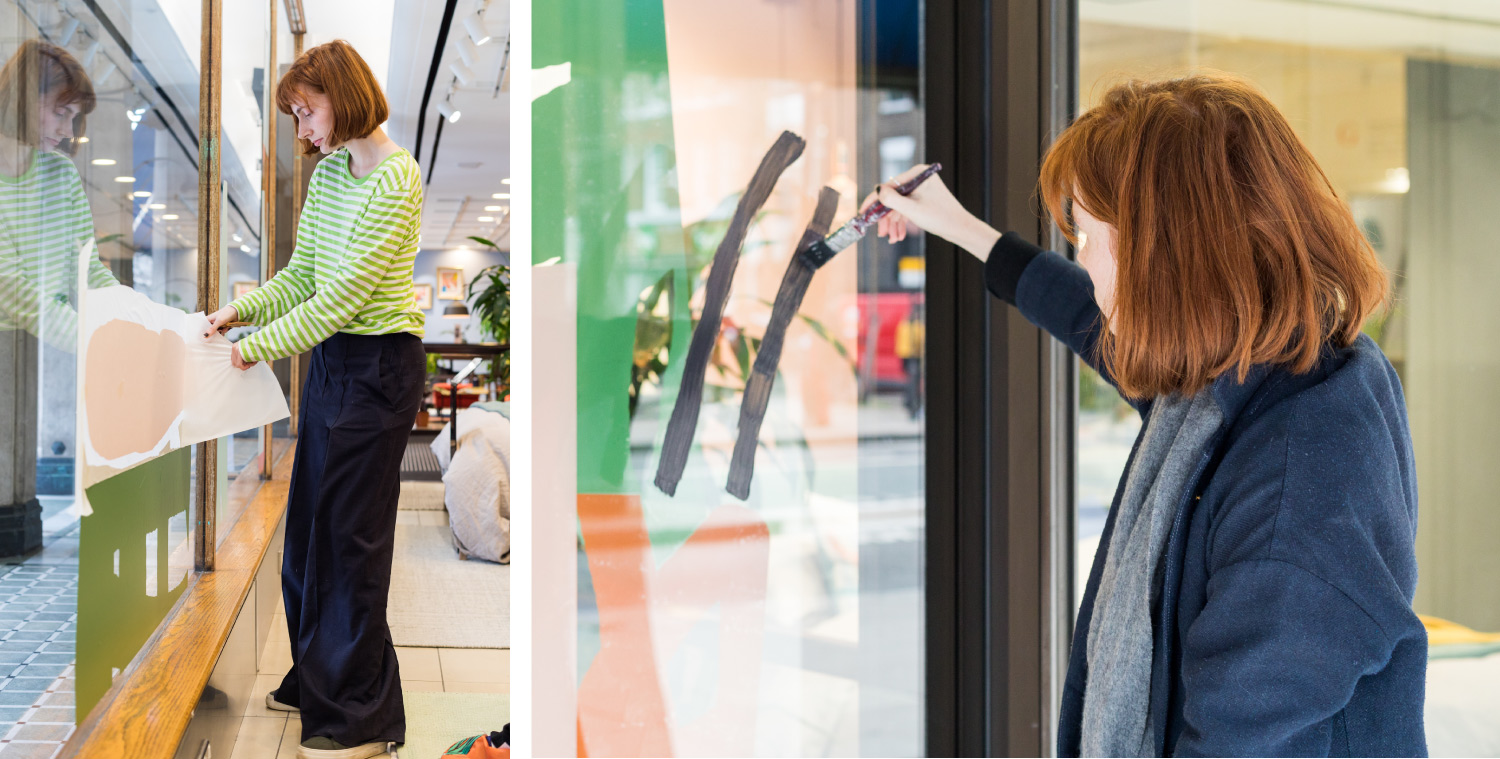 I applied vinyl decals in the same way that I would build up a screen print: overlaying colour on top of colour and mixing in layers of halftone photography as well. This means the windows look different from the inside than they do from the outside which I thought was a nice touch. I got help from Lea from the VM team who was really great! I finished off my designs with details of paint which went on the outside of the glass. This is something I've wanted to try for ages and am really glad it turned out looking so good!
Thanks again to Katy. You can see the all three exclusive cushion designs on our website.