Ease Oak Lounge Chair - Discontinued
Ease Oak Lounge Chair - Discontinued
Adopting the purity and simplicity of traditionally bodged furniture, Gareth Neal's Ease Chair brings new life to classic crafted British furniture. The winning piece from our first Great Heal's Bodging Race, in many ways Neal's spindle like design is an evolution of the Windsor chair, replacing solid wood seat with a modern leather slung panel.
read more...
Availability
Please see availability below for each item.
Buy from the range
Product Details

Ease Oak Lounge Chair - Discontinued

Technical specification

| | |
| --- | --- |
| SKU | 1008865 |
| Range | Ease |
| Brand | Heal's |
| Designer | Gareth Neal |

Product Story

Details

Breathing new life into classic British craft

Handcrafted to order in Italy, the Ease chair was conceived as part of our Great Heal's Bodging Race, in which six world class designers set about crafting their own original take on traditional English furniture with the public voting for their favourite design.

Working with Heal's in-house teams of designers, Gareth Neal was able to refine his light, turned oak design while still maintaining the traditional hammered joints that give his winning piece its characteristic and sturdy frame.

For the seat, leather hide is finished with a process known as vegetable tanning – a tradition of Tuscan tanneries that creates a unique patina – before being upholstered to the frame.

view more

Delivery Information

UK Delivery

| Delivery Service | Order Value | Cost |
| --- | --- | --- |
| 2 Man Furniture Delivery | Orders Over £1000 | FREE |
| | Orders Under £1000 | £49 |
| | | |

Important Information

How long will delivery take: If the items you are ordering are in stock we will be able to deliver your order within 2 weeks.

Orders with several items: If you are ordering more than 1 furniture item these will come in a single delivery when all items are available.

Postcode exceptions: For customers who live in more remote, highland or island regions your delivery can take up to 10 working days. For any areas outside of our postcode matrix please contact Customer Services for further information on [email protected]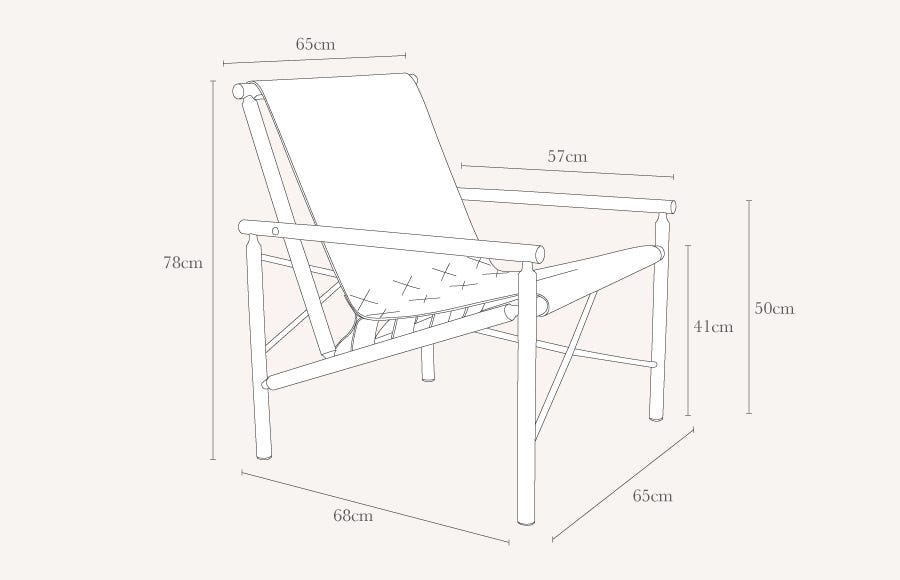 Specification
Overall Height:
78cm
Overall Width:
65cm
Overall Depth:
68cm
Material:
Solid oak with
vegetable tanned leather
Gareth Neal
Gareth Neal's work has been sold and exhibited internationally from the Victoria and Albert Museum, London to the Museum of Art & Design in New York. In 2015 he was a part of the Great Heal's Bodging Race, his winning design later being put into production and resulting in the spindle like slung leather Ease Chair.
View Designer
Customers who viewed this also viewed...