While 'quiet luxury' is certainly having a moment in interiors – think subtle details, pared-back patterns, hush-hush finishes and whispered shades – there's no denying that maximalism is making waves at the other end of the spectrum.
Unlike the ushered, understated spaces trending in TV shows like Succession, maximalist décor is all about a more-is-more aesthetic, whether in furniture, lighting, textiles or accessories. It's loud, proud and totally unapologetic.
But fear not: you don't need to completely transform your home to try the trend. Here, we show you how you can channel your inner maximalist with just a few pieces, all personally handpicked by the expert team at Heal's.
It's time to celebrate excess.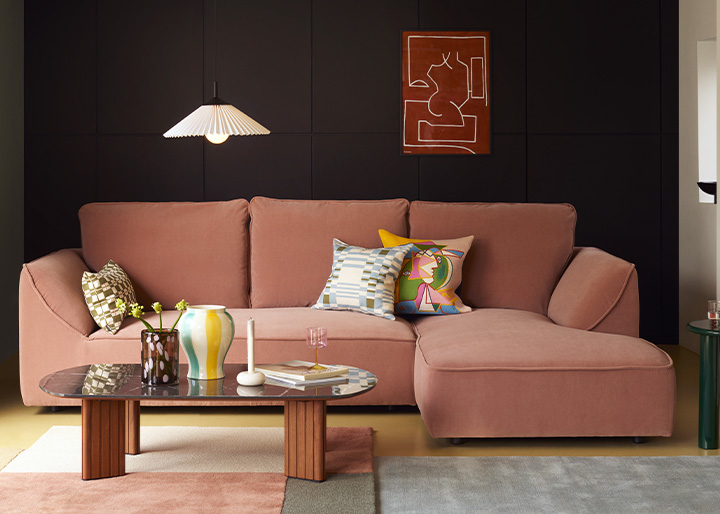 Punchy palette
No space is every truly maximalist if you're still using neutrals. Layer a brightly-coloured backdrop of busy wallpaper or charismatic paint with similarly bold furniture and brave furnishings, preferably in a selection of playful shades.
Our luxurious sofas come in a range of strong colours, from the Devon in red to the Nuvola in petrol and the Wallis in green, while a smattering of scatter cushions in yet another vibrant hue will provide depth and drama. Try our Bouclé cushion in cobalt, mustard or copper; or our Velvet cushion in teal, rust or claret. Remember, when it comes to maximalism, there really are no rules – so long as combinations of colours are considered rather than random.
Elsewhere, consider another accent piece in furniture – the Lars sideboard with its green-painted finish, perhaps, or the Lando sideboard with its high-shine and block colour – supported by a gallery of vivid artwork. Orange Landscapes 01 Print, Flores Nocturnas 01 Print and Cantilever Chair certainly aren't wallflowers and are sure to spark conversation in the space.
Remember, curation is still key to ensure cohesion and stop the palette from becoming overpowering, so start by adding your dominant colours slowly to ensure they hang together. Sticking to a handful of three or five shades will certainly help to create an edited look.
Once complete, this will act as your 'canvas' against which you can add further maximalist touches in lighting, textiles and accessories.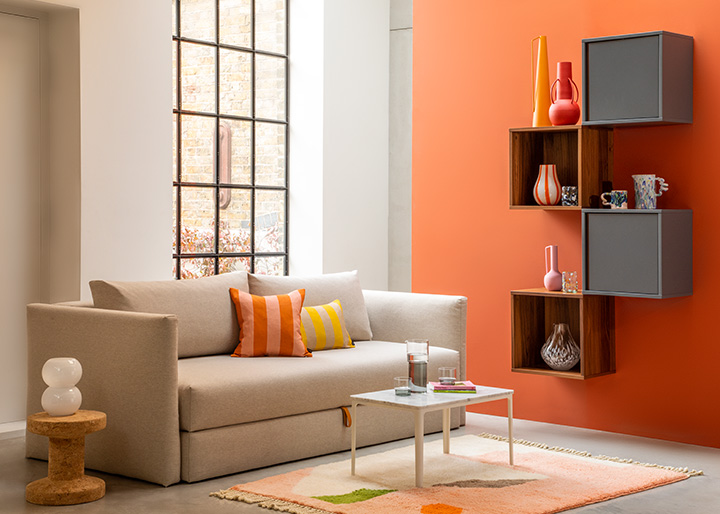 Dramatic effect
When it comes to lighting, the bigger and bolder the better, so look to contemporary spins on traditional styles, such as a modern chandelier dripping in drama.
Our Rock Crystal LED chandelier in brushed gold makes a design statement and provides sparkling illumination; the Balance multi-arm chandelier can even be hung on low ceilings; and our Squiggle LED pendant in white completely flips the format on its head with a design that looks like a work of art whether illuminated or not. Alternatively, self-taught British designer Tom Dixon is the master of maximalism, and his iconic Melt is no exception comprising seven large pendants within a signature organic shape.
Think oversized and ornate when it comes to other lighting sources, too, and layer styles for a look that's both eclectic and exciting.
Team towering floor lamps like Skipper by Tom Raffield or Kabuki from Kartell with look-at-me table lamps such as Multi-Lite by Gubi and Nevo from a-emotional and forgo complementary pairings with contrasting styles. Don't be afraid to mix-and-match materials.
When it comes to lights, shades are a secret way of adding even more impact. The 9602 floor lamp is a case in point, bringing together Finnish lighting maestro Paavo Tynell and Parisian textile house Maison Pierre Frey to create a special edition of the 1935 classic.
Key to getting maximalist lighting right is that it's as much about adding texture and colour as it is illumination and ambience.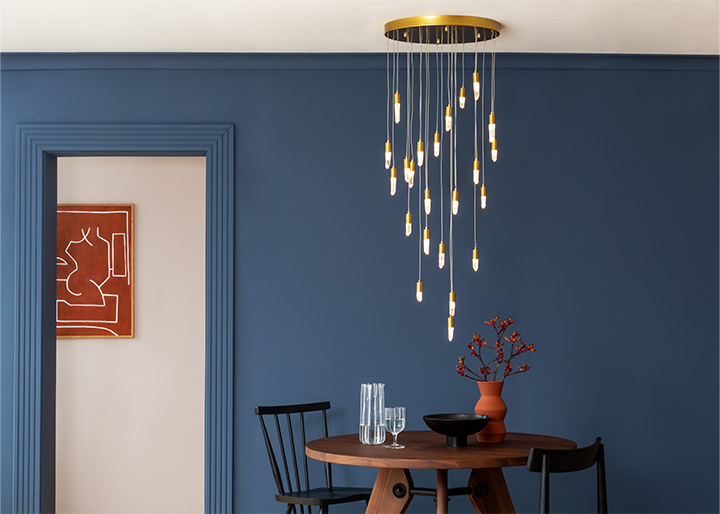 Personality clash
Textiles are your friend when it comes to expressing yourself. Rugs, cushions, throws and bedlinen can quickly and easily turn drab to fab by adding to the sensory experience of a maximalist space.
Again, it's all in the layering to achieve the aesthetic, from the New Zealand wool sheepskin in vibrant yellow to the bright colours of Christopher Farr cushions and the Amechi quilt with its bold patterns and embroidered beadwork.
Remember: you can always swap textiles in and out so they're a great way of experimenting without too much risk.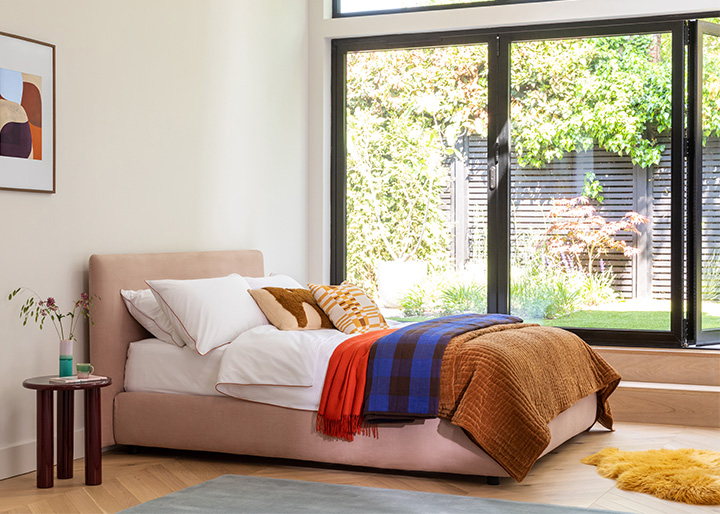 Be brave
In short, maximalism is the opposite of being restrained in your décor choices, and doesn't work in half measures. You need to commit to create impact – although, as above, you can start by simply styling a bed or a cosy corner.
Browse and buy other maximalism pieces to try the trend for yourself.