Multipurpose spaces can be hard to decorate, whether it's on the smaller side or part of a large open-plan design. That makes finding the best sofa bed to buy for your multifunctional room is a big task. To help, we've created a list of our top eight sofa beds, each one transitioning from day to night smoothly.
1. Sofa Beds with Thick Mattress
If your guest room also doubles as a living space, then a sofa bed is a versatile addition. However, finding sofa beds that are comfortable for both sitting and sleeping can be hard. Often, they're either too hard when seated or don't offer enough support when sleeping.
For guests to have a great sleep, then a sofa bed with a thick mattress is essential. Plus, an ergonomic design and premium padding make sure it's also comfy when you're sitting down. We reckon we've hit the nail on the head with the Pillow 3-Seater Sofa Bed.
The Pillow Sofa Bed is perfect for everyday use whilst still offering comfort for your guests. That's thanks to its pocket-sprung mattress. Pocket springs are the ultimate addition to a mattress as they mould to your body. This offers support and stops you rolling into your partner. It's so comfy your guests won't even realise they're sleeping on a sofa bed.
When seated, the Pillow Sofa Bed's feather-filled back cushions mean it's easy to sink into and unwind. And since the cushions double as the headboard, they improve your night-time comfort too. Plus, it couldn't be easier to take out and put away. Pillow features a 2-fold Cedaflex mechanism that means it folds out in a matter of seconds.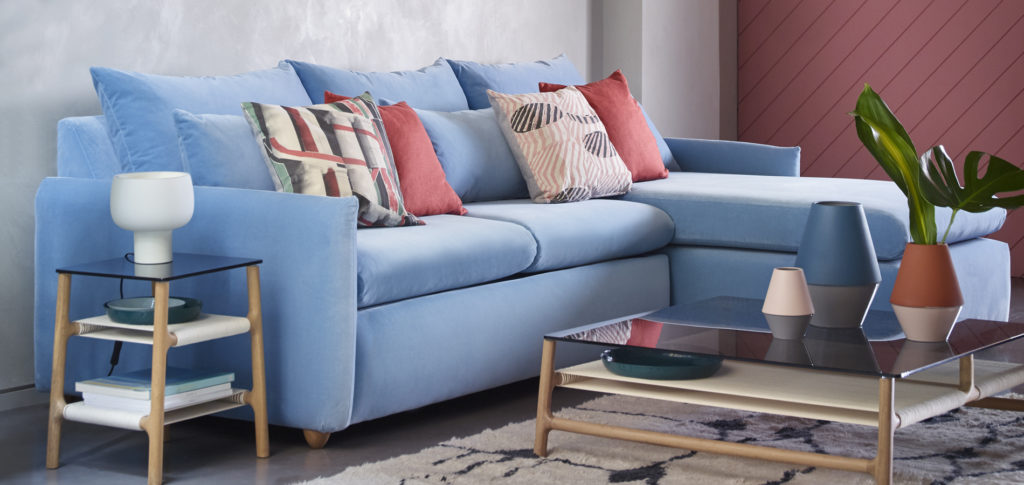 2. Our Favourite Sofa Bed with Arms
If you're hunting for an elegant sofa bed with arms and comfortable cushions, then look no further than the Cane Sofa Bed. This Art Deco-inspired design is perfect for multifunctional spaces as it's compact with plenty of design kudos. Its cane accents, metal legs and solid elmwood armrests mean it'll be at home in a design-forward space.
It's incredibly comfortable thanks to the individual pocket springs in the cushions and base. Additional feather padding in the cushions make for an even deeper night's sleep. Plus, the sofa bed's foam casing means it's breathable throughout the night, so no overheating.
It's also remarkably simple to transform the Cane Sofa into a double bed. All you need to do is slide out the seat, unfold the metal legs and lay down the backrest. Voila. Your sofa bed is now ready for a comfortable night's sleep.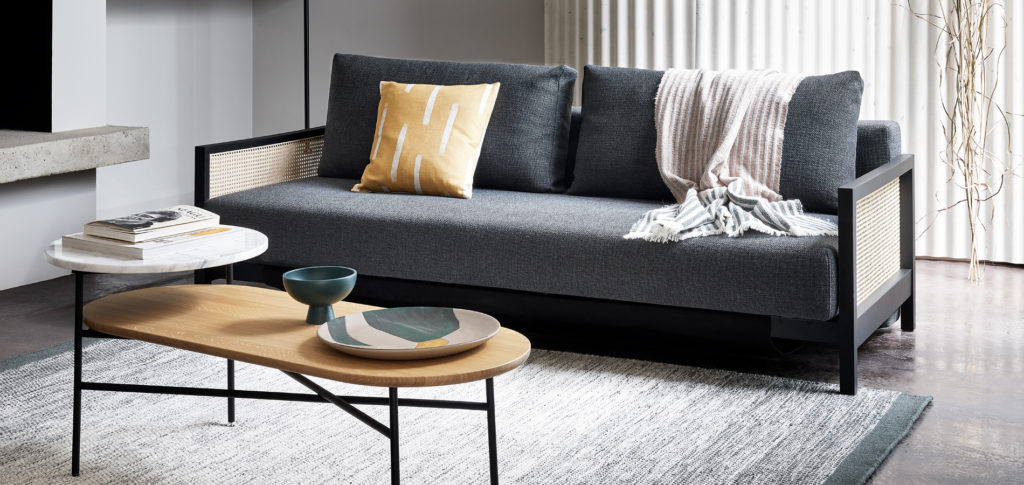 3. The Sofa bed for Small Spaces
It can be hard to find a sofa bed to fit a small room. After all, a sofa bed that's stylish, comfortable and compact is a hard-to-find combination. Luckily, we reckon the Multy Sofa Bed fits the brief perfectly.
A simple but effortlessly stylish sofa bed, Multy's folded design has multiple configurations to suit your small multipurpose space. Its adjustable steel frame and folded cushioning mean it's incredibly comfortable for sleeping on, as well as sitting.
The sofa bed's two lumbar cushions are ideal for support when seated or for resting your head on at night. The sofa's cover even unzips to become a duvet, so it's ready to use as soon as it's been unfolded.
So, if you're trying to squeeze a sofa bed into a small study or box room, then look no further than the Multy Sofa Bed from Ligne Roset.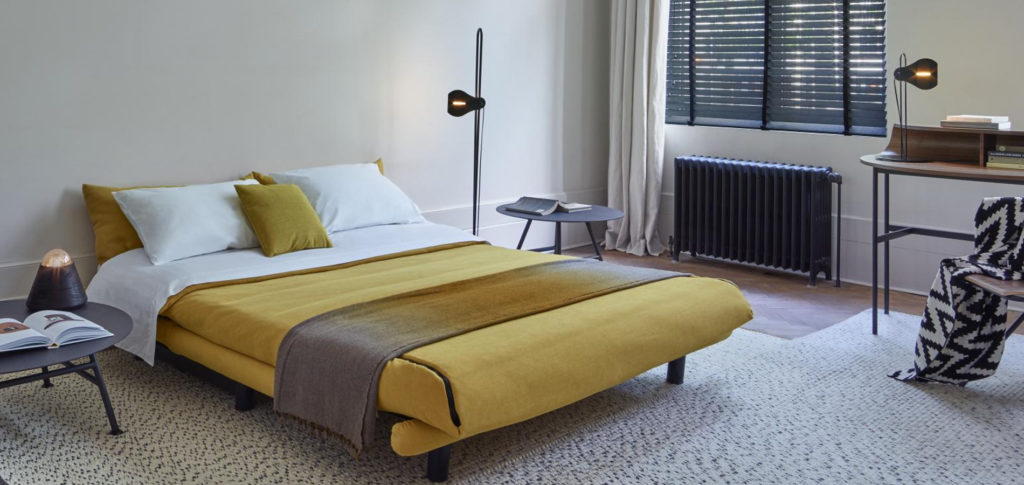 4. A Sofa Bed to Sleep on Every Night
Life in a studio apartment or a small bedroom that doubles as an office or living area can get cramped. Finding a sofa bed for your multipurpose space could be the answer to all your prayers.
Nowadays, sofa beds have improved massively and sleeping on one needn't feel like sleeping on a bag of rocks. Plus, if you're sleeping on your sofa bed nightly, then it's even more crucial that it's comfortable.
We love the Oswald Sofa Bed because it's so easy to use and incredibly comfortable. Simply pull the leather tab at the front and fold the backrest forward. Even its legs automatically fold out, so there's no fumbling around for them. There's even concealed storage in this sofa bed to store the cushions when not in use.
The best part? The Oswald Sofa Bed is incredibly comfortable. It has individual pocket springs to help offer even pressure whether you're sitting or sleeping. Layers of hyper-soft foam add extra comfort and make sure the mattress is breathable all night long. So, if you need a sofa bed to sleep on every night, the Oswald Sofa Bed may be the ultimate choice.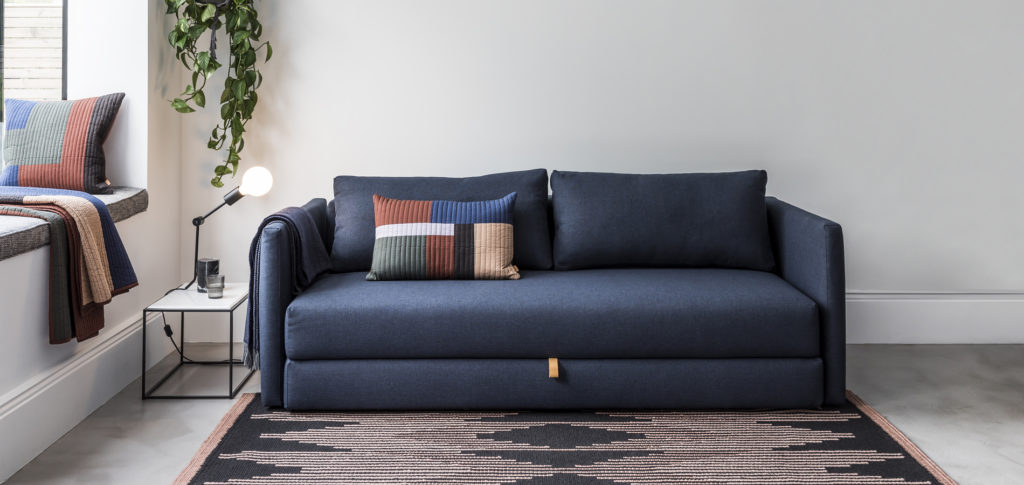 5. The Sofa Bed for Design Lovers
Looking for a little extra sleeping space but don't want to compromise on your Scandinavian aesthetic? Enter the Level Daybed from Woud.
This elegant day bed isn't your typical sofa bed. Its streamlined, crisp design make it perfect for modern, pared-back spaces. A solid oak frame with statement-making legs supports a leather-upholstered mattress that's topped with an optional co-ordinating leather cushion. You can configure the Level Day Bed to make sure it really suits your space. Whether that's a black wood base and tan leather, or an all-black look, the world's your oyster.
To transform it into a sofa bed, simply add bedding. It couldn't be easier, no mechanisms or folding needed with this design.
6. A Stylish Corner Sofa Bed
If you're always hosting friends, family or big sleepovers, then you probably need sleeping space in most rooms. That means every room from your living room to your hallway is ripe for multifunctional furniture. If your living room is large enough then we fully recommend choosing a stylish corner sofa bed.
If we had to pick, we'd go for the Pillow Corner Chaise Sofa Bed. Not only is it perfect for seating the whole family, but it offers that all-important sleeping space too. And it's not just any place to rest your head either. The Pillow Corner Sofa Bed features a pocket-sprung mattress to offer extra support for your guests.
Its feather-filled back cushions mean you'll sink into them when seated and double as a headboard when sleeping. So, you won't compromise on comfort in the day or at night.
Did we mention how easy it is to unfold? The Pillow Sofa Bed boasts 2-fold Cedaflex technology. This means it's incredibly easy to fold out and just as easy to put away the next day. Perfect for busy homes.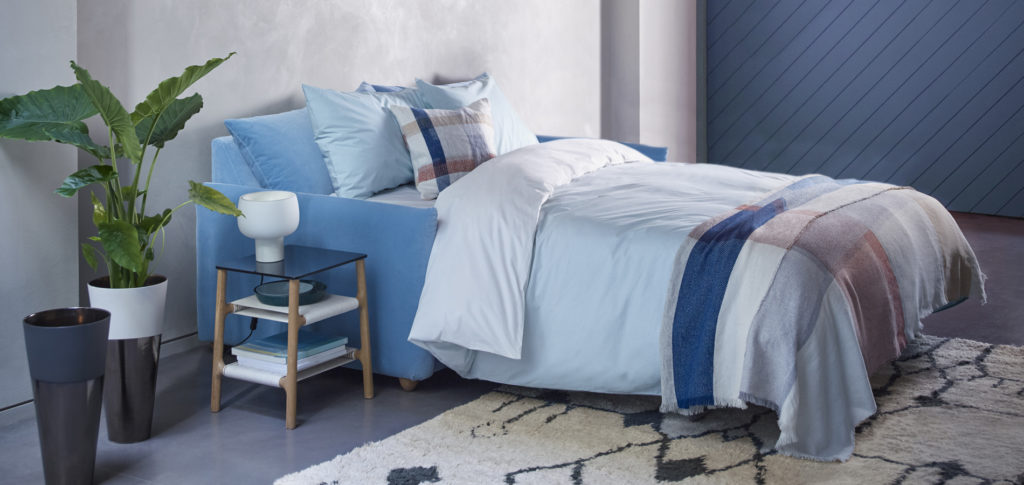 7. The Perfect Sofa Bed for a Home Office or Study
If your multifunctional space also doubles as a home office, then the Thora Sofa Bed could be the ultimate addition. Streamlined, compact and stylish, Thora would look right at home in any study.
The modern sofa bed draws inspiration from Nordic design. Its crisp lines and minimalist silhouette will bring a Scandinavian touch to the office. Its plump back cushions mean the sofa bed is comfy to sit on between meetings and easy on the eye.
Plus, it features an ingenious sliding mechanism that means it couldn't be easier to transform into a double sofa bed. The base itself offers support for any guests thanks to its integrated pocket springs and high-density foam. Good night's sleep? Check.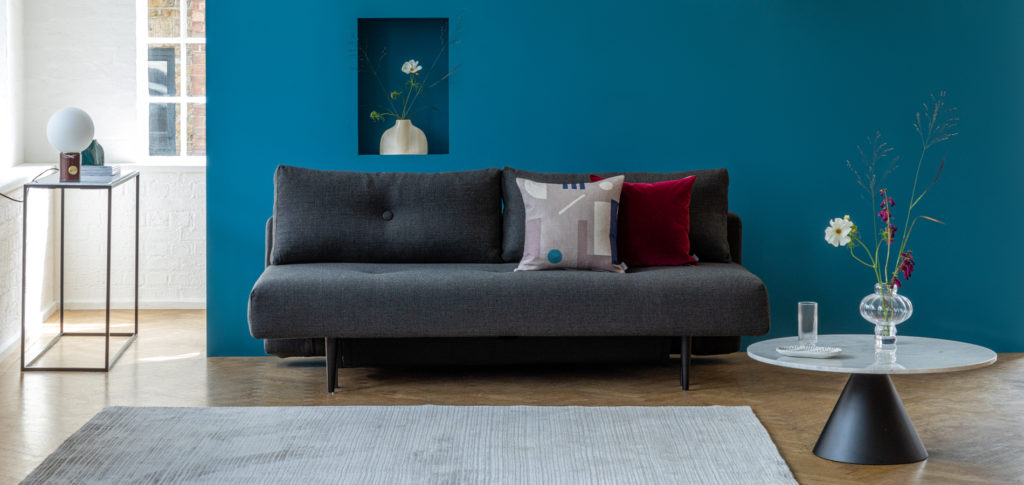 8. A Modern Leather Sofa Bed
A leather sofa bed is a timeless addition when it comes to multipurpose spaces. Not only do they look good, but their elegant design means they'll look great in most spaces. We love the 40 Winks Sofa Bed because its design borrows from the classic Chesterfield Sofa, with even more functionality.
Its classic leather upholstery, deep button detailing and creased folds are reminiscent of the classic Chesterfield Sofa. But we've bought it into the modern day. The turned wood legs keep the sofa bed's vintage feel, whilst the slick steel frame lends it a contemporary flourish.
The back has three adjustment levels, meaning you can adjust it to both recline or sleep on. In large multifunctional spaces, you could even leave it folded down as a daybed.
Like what you see? Check out our selection of sofa beds