Some design trends are fleeting, others stand the test of time. When it comes to colour, teal is a trend with staying power. Teal is surprisingly versatile and is the perfect choice if you're looking to make a statement. Forget painting walls or buying new rugs, we reckon a teal sofa is the best way to inject colour into your living room. Investing in a teal sofa for your living room will create a bold, inviting and elegant design scheme.
So, if you're looking for some teal sofa inspiration for your living room, here are our favourite ideas.
Natural living room with a teal sofa
Seating is one of the best ways to inject colour into a space. That's why a teal sofa makes the ultimate addition to a more toned-back living room. A large teal sofa will bring teal into your living area and sit happily alongside smaller furniture pieces in more muted tones.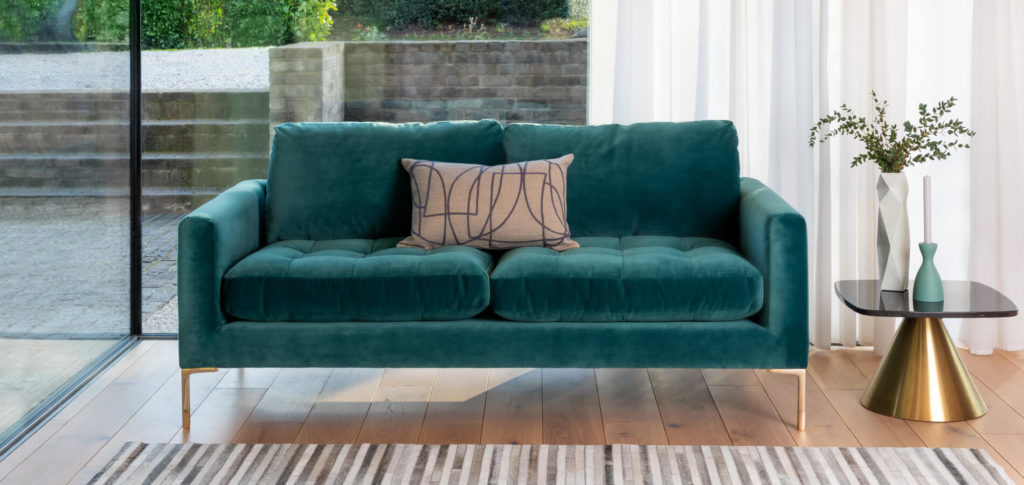 To create a living area with texture, add a pop of teal alongside accessories made from natural materials. Here, wooden floors, flowers, large glass windows and a linen cushion keep the design understated. The addition of brushed brass brings added opulence, bridging the gap between bold teal and natural wood.
Teal sofa paired with different textures
When sticking to a teal colour scheme, it's a good idea to mix and match textures to break up the look. That's especially the case if you'd like to use teal on more than just your sofa. Why not consider a blue vase with a matte finish to add a textural contrast to the teal sofa in your living room? Or perhaps you could mix up tones to keep a cohesive teal look without being too matchy matchy. For the bolder design enthusiasts, you could even paint surrounding walls in a similar shade of teal.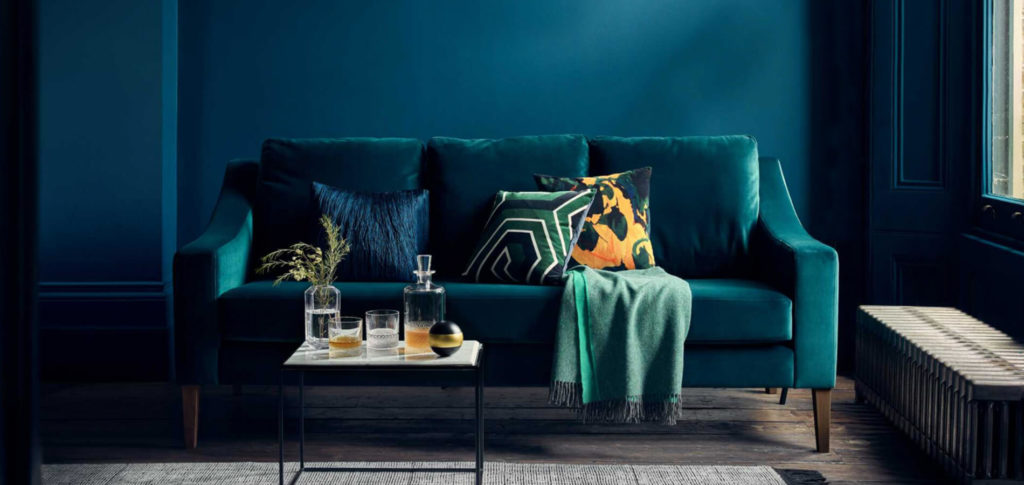 Like we've done here, combining a teal sofa with a dark wall can instantly transform your space. With its blend of forest green and soothing blue hues, this sumptuous velvet sofa brings a sense of drama to your living area. Colour can also evoke moods and deep, cool colours project calmness and serenity. Even though this teal living room idea is overwhelmingly colourful, it's a great place to relax.
Calm yet full of character
Enticing and bold, teal's magnificent blue-green hue makes the perfect statement colour for any sofa. The vivacious shade adds personality and character at any time of the day, without becoming overwhelming. It's versatile and can be partnered with an array of colours, including other shades of blue and beige.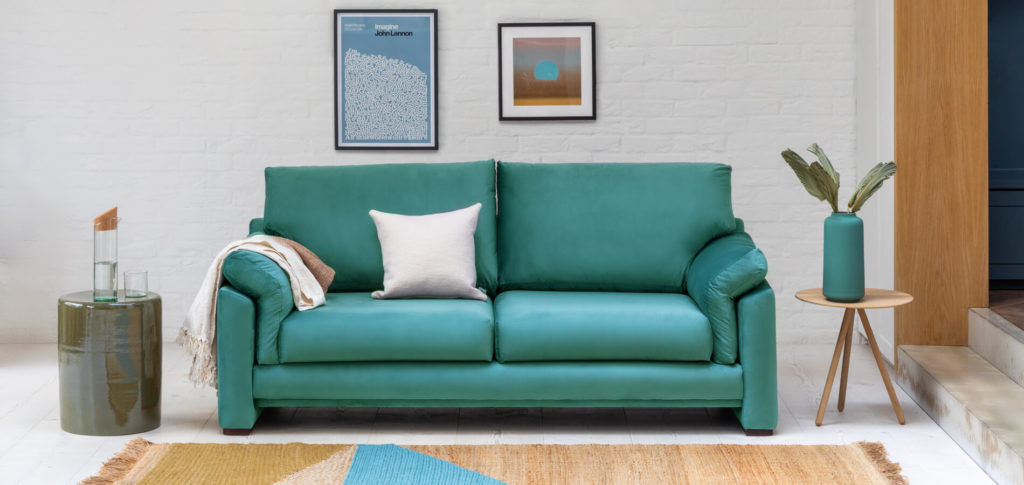 Despite that, a teal sofa can keep even in the most relaxing living room feeling calm without overpowering the space. Textures like organic sheepskin throws and linen cushions will help add even more depth.
Teal sofa in a traditional living room
Just because your home is more traditional, doesn't mean a teal sofa isn't perfect for your living room. With the right silhouette, style and upholstery, a teal sofa can inject more personality and colour into classic room.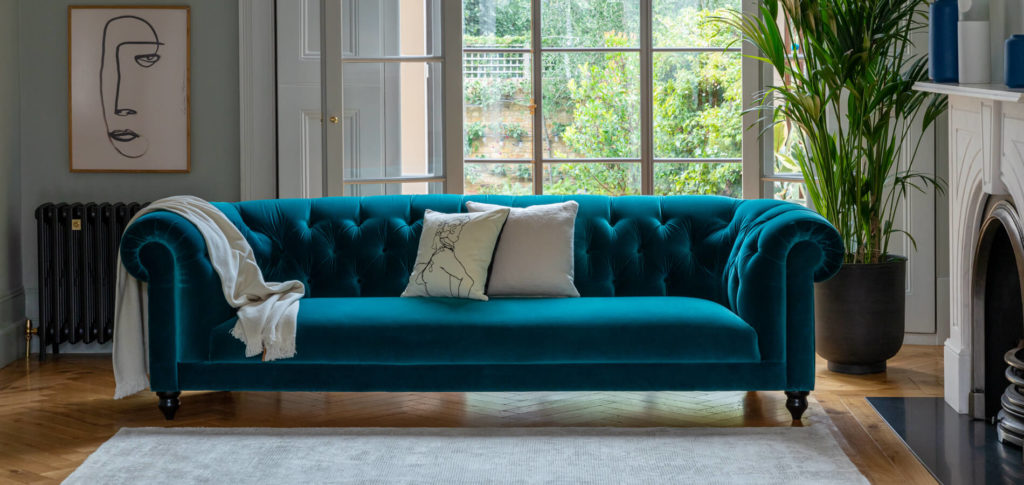 Here, this modern sofa takes traditional design and modernises it with a more contemporary silhouette. The addition of velvet upholstery in a rich teal hue brings it even further into the modern age. This clever look stays true to the more traditional features of a period home but keeps it modern at the same time.
Mix and match with teal
When considering teal living room ideas, experiment with different colours. Sure, your sofa will be the centrepiece, but you can also play with a combination of colours for an added design flourish. When tamed by natural textures, three or four vibrant colours can work well together. Here, blue accessories bring colour and richness to the space, while the linen rug makes sure the teal doesn't become overpowering.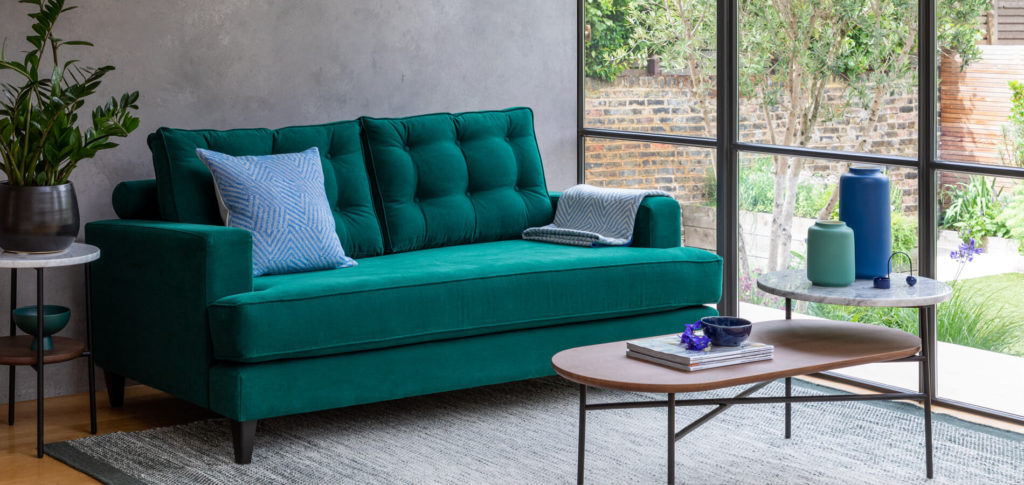 Teal sofas can also be decorated with patterned and burnt orange cushions to add a contrasting pop of colour and break up monochromatic schemes. Layering teal with similar blues, greens and purples builds a painterly palette. Other jewel tones like midnight blue, scarlet red and aubergine purple can match teal's intensity.
Teal home accessories
There are ways to enjoy this aesthetic if you'd like to create a teal living space but don't want to invest in a sofa. Home accessories are a great way to add bursts of teal into a room. Splash a teal blanket or throw over your sofa, especially in a room with a neutral palette. Choose luxurious materials like velvet and cashmere in coordinating teal hues. It's an easy way to incorporate a touch of teal into your interior while offering a cosy look and feel.
Looking to upgrade your living room with a teal sofa? Check out our sofa collection.