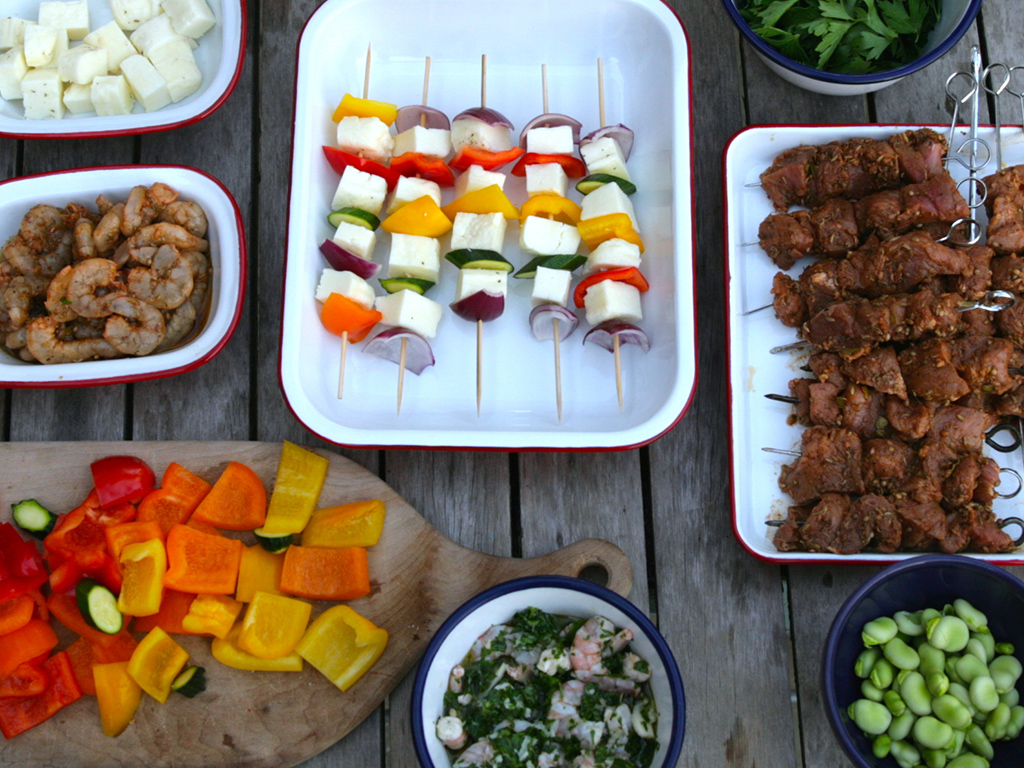 I absolutely love barbecues and as a family we are happy to barbecue any time of the year. If we are having steak, my husband will happily stand outside on a freezing November evening as there is nothing to beat a slightly charred black and blue ribeye. Now Summer is here it's less of an endurance test and more of a pleasure. There are few things more festive than standing outside on a lovely evening with friends, family and a cold drink whilst grilling food over charcoal.
Kebabs are particularly good if you're catering to a range of different dietary requirements. For this barbecue I had meat-eaters, pescetarians and vegetarians. I have yet to discover a vegetarian sausage that can survive being barbecued whereas halloumi is better for it. Kebabs look pretty and once assembled they're quick and very easy to cook properly so you don't have the worry that you're about to poison someone!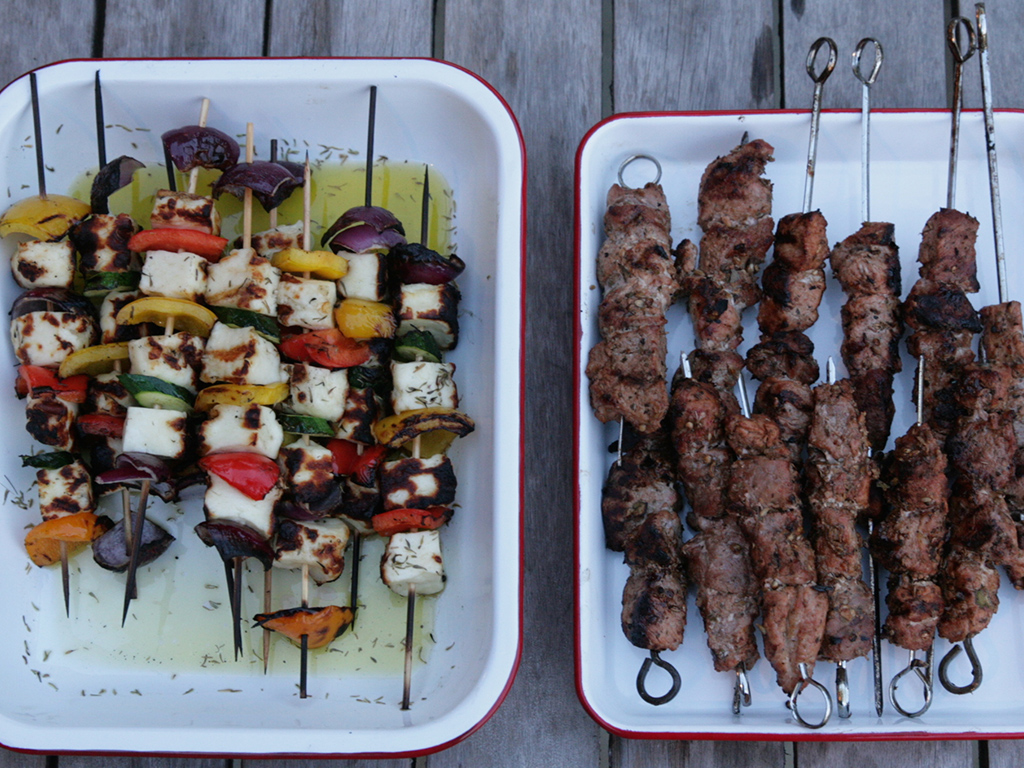 For a barbecue for 10 people you will need:
Pinchitos Morunos (makes 15 -18 kebabs)
This recipe is taken from the Moro cookbook
1kg pork loin cubed
For the marinade:
1 heaped tsp each of ground coriander seeds, ground cumin seeds and ground fennel seeds.
2 tsp sweet smoked paprika
4 garlic cloves crushed to a paste with salt
2 pinches saffron infused in 4 tbls of boiling water
1 tsp dried oregano
2 bay leaves, crumbled
1.5 tblsp red wine vinegar
4 tblsp olive oil
Marinate your cubed pork for 2-6 hours, thread onto skewers and grill over the hot coals turning frequently basting with any remaining marinade. I used metal skewers for the meat kebabs for better heat conduction.
Test to see if they're done by pulling of a cube of meat and cutting it in half.
NB This marinade also works well with King Prawns
King Prawn Kebabs (makes 15-18 kebabs)
750g raw King prawns
For the marinade;
Small bunch of flat leaf parsley coarsely chopped
Juice of a lemon
3 crushed cloves of garlic
6 tblsp olive oil
Combine the ingredients and marinate the prawns for an hour. Thread onto pre-soaked wooden skewers going through the tail and main body and grill for about 6 minutes turning frequently and basting with any remaining marinade.
Vegetarian Kebabs (makes about 10 kebabs)
2 packets of Halloumi cut into generous chunks
1 red, yellow and orange pepper cut into squares
2 small red onions quartered
2 smallish courgettes sliced as thick as a pound coin
Olive oil
Dried Thyme
Thread the halloumi onto pre-soaked wooden skewers, alternating with pieces of pepper, red onion and courgette drizzle with olive oil and sprinkle with thyme.
Grill for 7-9 minutes turning frequently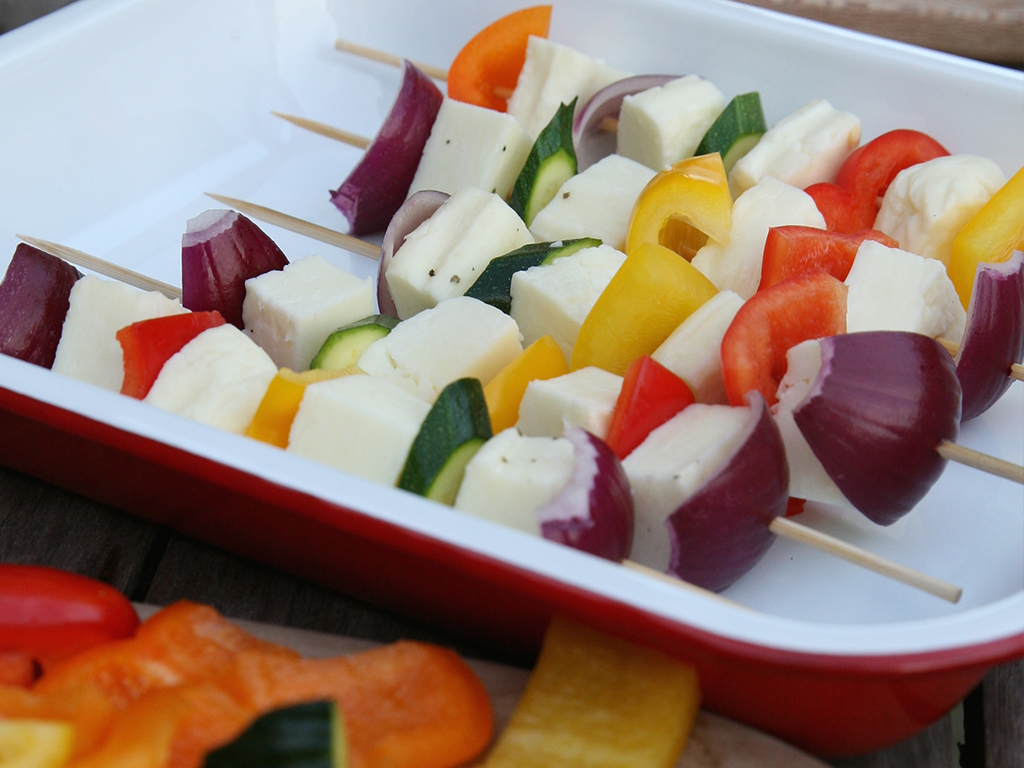 All products featured in these photographs are available in store and online in our dining department.