Discover how to whip up a delicious Sri Lankan Lamb Curry thanks to Miele and Brookmans by Smallbone. With many of us spending a lot more time at home, we got in touch with Miele to help us whip up some tasty treats. As a world-renowned manufacturer of home appliances, it's no wonder Brookmans by Smallbone is one of Miele's long-standing partners.
This easy, authentic Sri Lankan lamb curry recipe will bring the aromatic and distinct flavours from your local takeaway into your home. Adjust the amount of chilli to suit your level of spice and, if you can't find roasted curry powder, simply toast some curry powder in a dry frying pan for a few minutes to release the aromas from the spices. This curry is best when made the day before to let the flavours develop, and it freezes very well so you can cook up a batch. Serve with rice and homemade tomato and onion salsa for a flavoursome family meal.
Ingredients
Serves 6-8
2kg diced lamb shoulder
For the marinade
400ml coconut milk
2tbsp roasted curry powder
1tsp chilli powder
6 cardamom pods, crushed
3 garlic cloves, grated
1 cinnamon stick
For the curry
2tbsp vegetable oil
2 onions, roughly chopped
3tbsp roasted curry powder
2tbsp black mustard seeds
1tbsp chili powder
4 tomatoes, roughly chopped
400ml coconut milk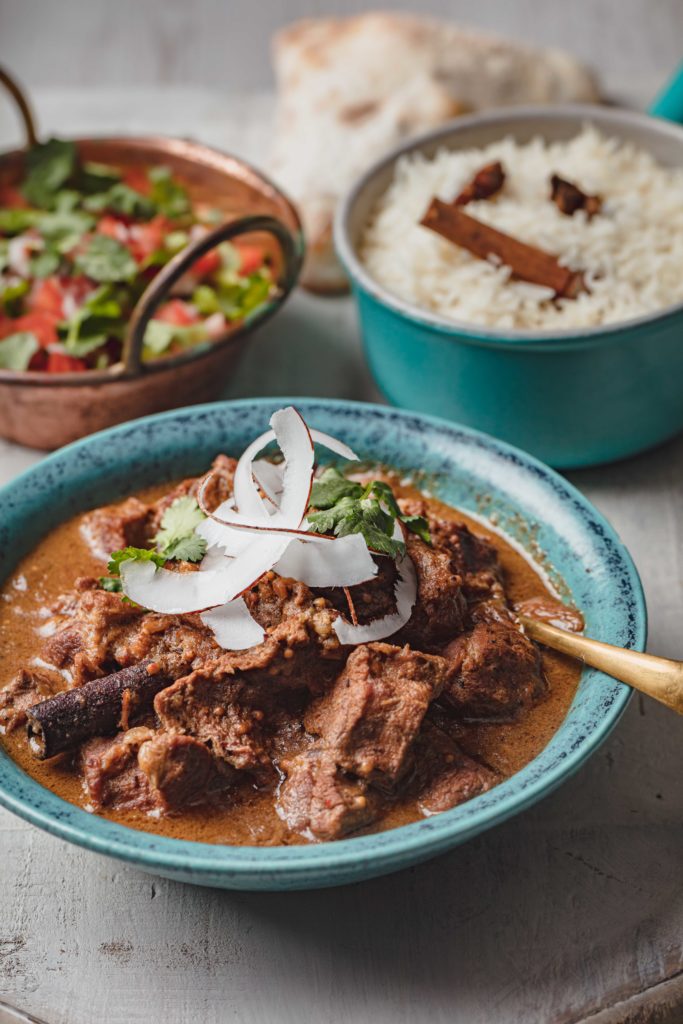 Method
1. Place all the marinade ingredients into a large bowl with the lamb, mix well and leave overnight in the fridge.
2. To make the curry, heat the oil in a large casserole dish over a medium high heat and fry the onions until they start to colour, add the spices, cook for a minute, then add the tomatoes and cook for a further minute.
3. Add the lamb with the marinade and some seasoning to the casserole dish and stir well.
4. Preheat a Miele Oven on Conventional Heat 150˚C, place the casserole dish onto the wire rack and cook uncovered for 3 hours.
5. Check the seasoning and serve.