Scandinavian design is loved for its minimalism, refinement and fresh perspective on form and function. So, it's no wonder we're all clamouring to make our homes a little more Scandi. Luckily, with so many emerging designers and quality manufacturers around, it has never been easier. To help, we've compiled 12 of our top Scandi bedroom ideas to help bring a little hygge to your home.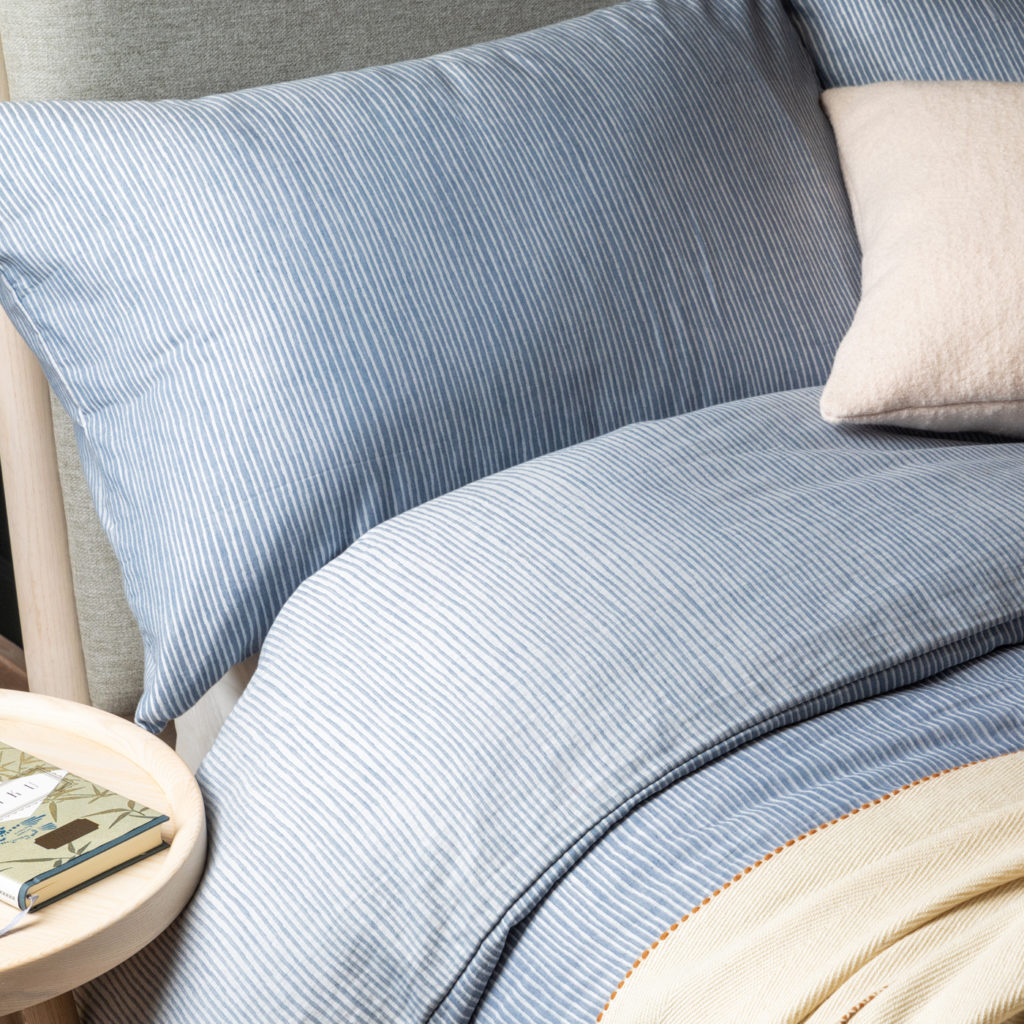 Scandinavian stripes
Sticking to a light colour palette doesn't mean you have to stick to whites and creams. Bringing in some soft hues through your bedding is a great way to add more personality to your bedroom. Plus, calming colours will hopefully help you unwind and relax. Invest in bedding made using natural materials like cotton or linen to keep with the Scandinavian aesthetic. They are also very breathable, ideal for getting a good night's sleep.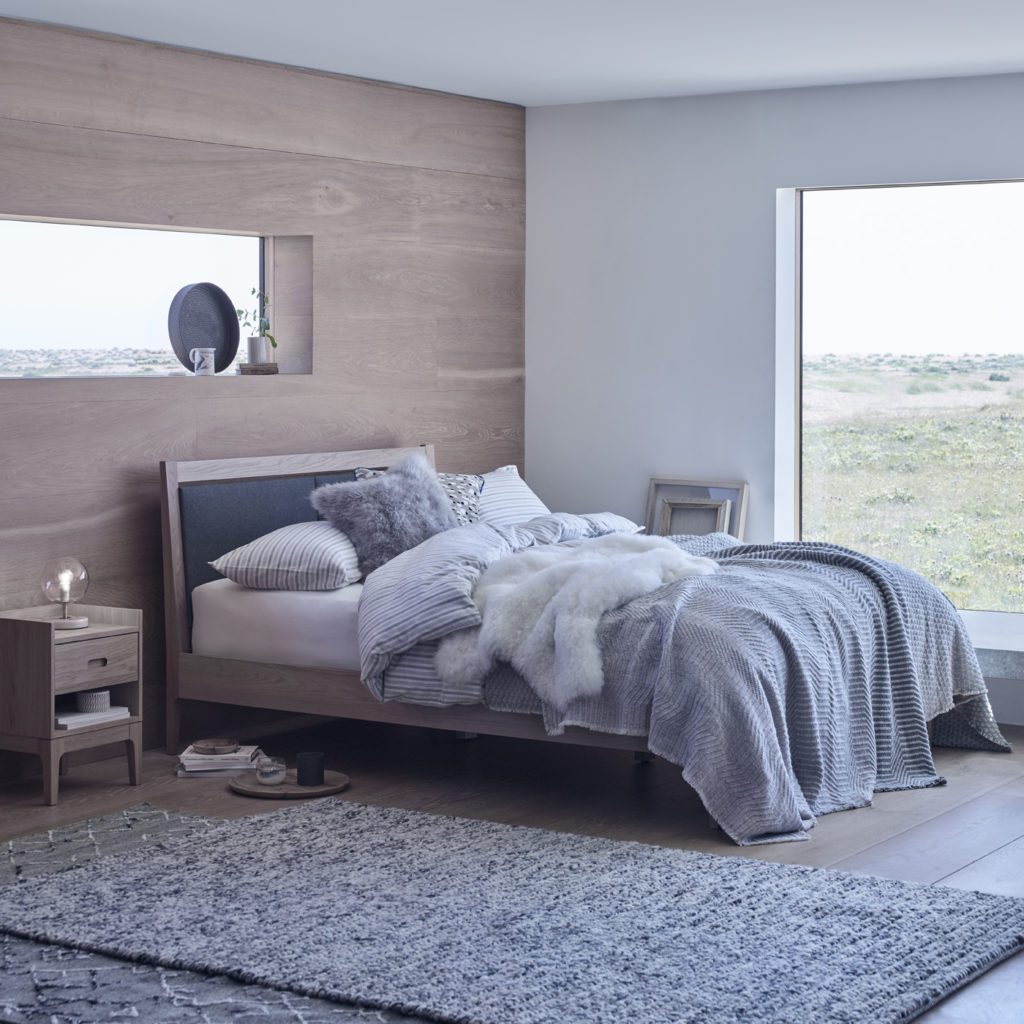 Keeping it natural
A trend you'll notice in this compilation of Scandi bedroom ideas is that raw materials take centre stage. This includes neutral wall colours as well as materials like clay, natural wood and stone as well as linen and fur. Not only do natural materials tend to be more sustainable, but they're also ideal when designing a relaxing bedroom. By connecting your interiors to the outside, you'll create a calm, serene place to rest your head at night.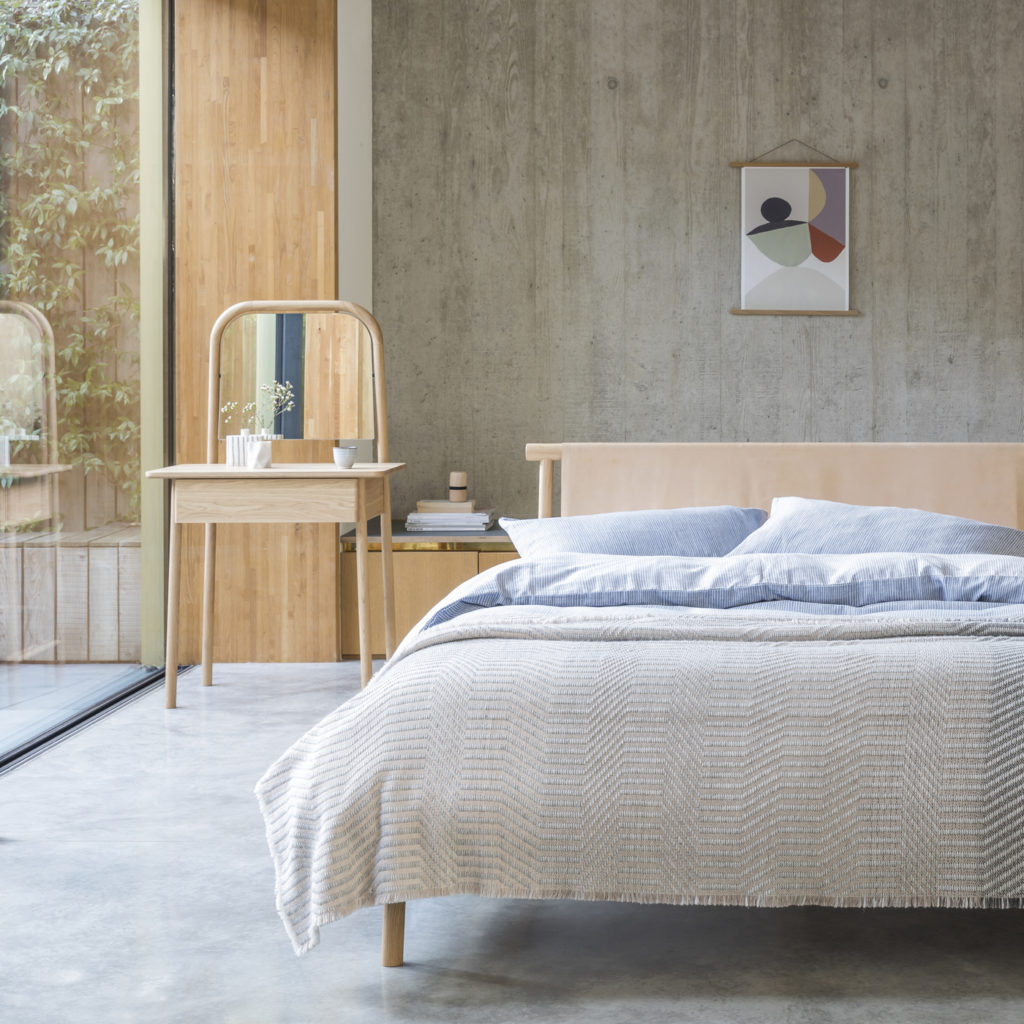 Scandi dressing tables
If you're lucky enough to have a dressing area in your bedroom, there's no reason it shouldn't fit with the room's décor. We love the curves and blonde wood of this dressing table. It adds lightness and functionality to the room without being overbearing. Paired with exposed concrete, glass and natural leather, this Scandi bedroom idea presents a modern interpretation of classic design. Complete the look with a matching footstool.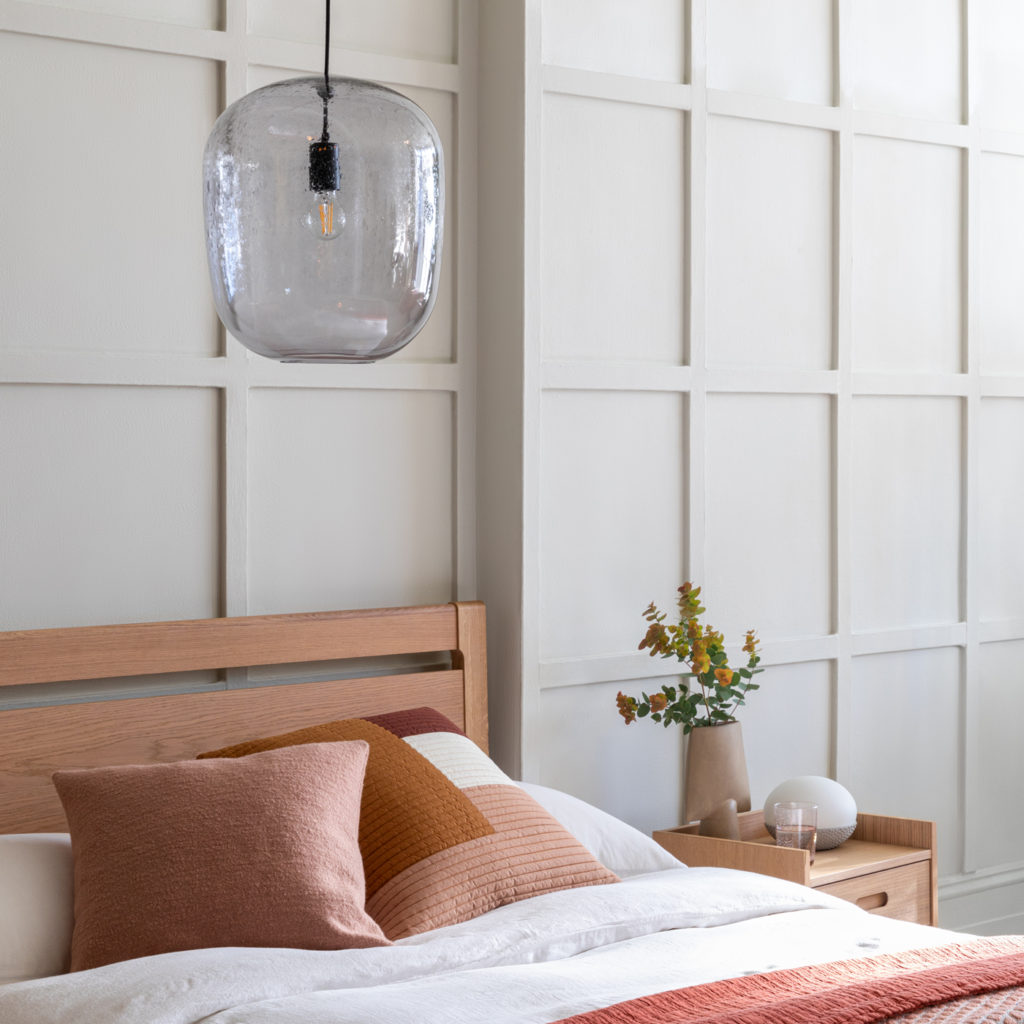 Panelled Scandi bedroom ideas
This modern twist on traditional panelled walls feels incredibly modern and fresh. By continuing them up to the ceiling you really get the effect of a rustic, Scandinavian retreat. The crisp, clean lines of the panelling and the off-white colour give it a fresh finish. Accenting it with Scandi bedroom furniture made using natural wood and on-trend pink bedding keeps it looking modern. Plus, floral accents link it to the outdoors.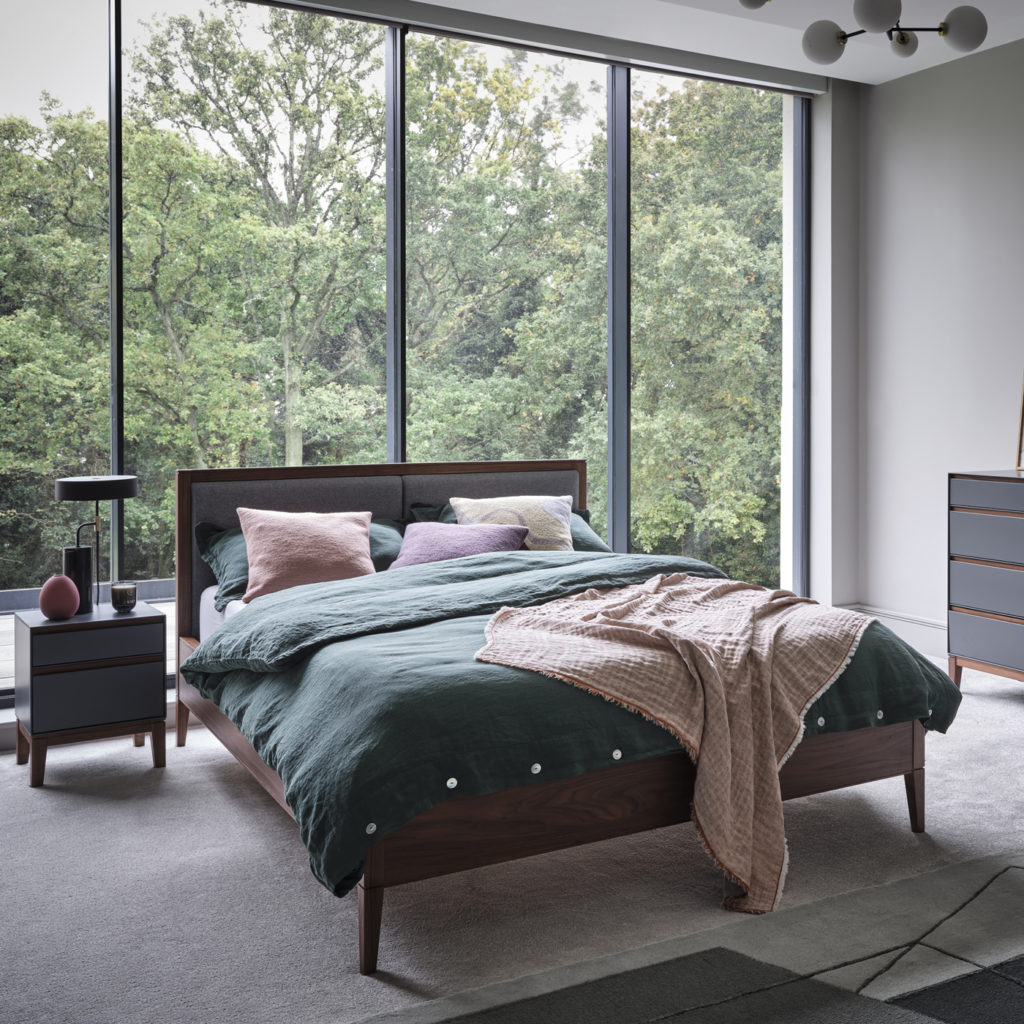 Scandi furniture with a twist
Whilst many Scandi bedroom ideas are packed full of blonde woods and light colours, dark wood isn't out of place. In fact, it can be perfect if you're looking to add a slight mid-century twist to your room. In this Scandi bedroom idea we love how the dark wood and forest green bedding mimic the colours of the forest outside. Plus, keeping accessories and the carpet light mean it doesn't make the room feel dark or gloomy.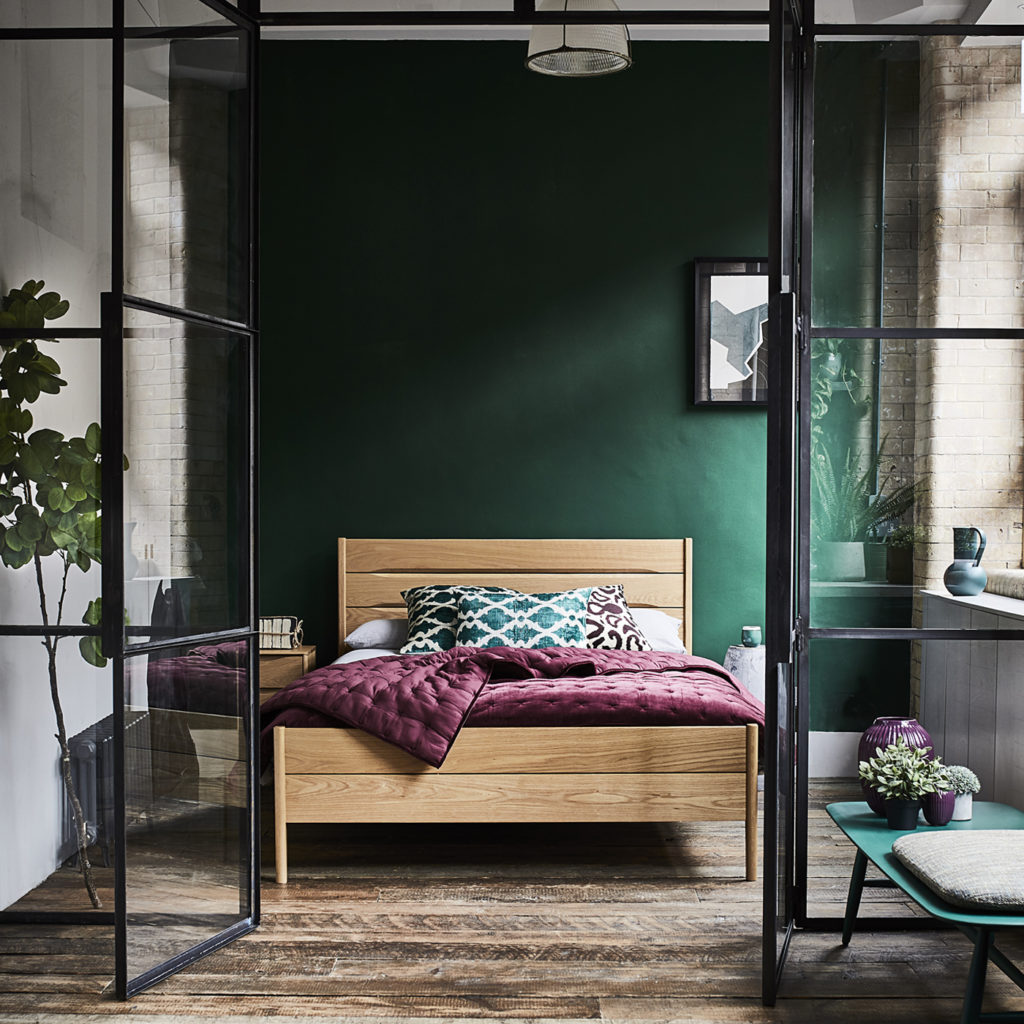 Scandinavian Crittall doors
This Scandi bedroom idea has a modern edge thanks to the Crittall doors. Crittall doors are ideal for breaking up a space whilst keeping it light and open inside. By using them in a bedroom, you also insulate your sleeping area two-fold from external sounds. We love how they transform this bedroom into a private refuge to retreat to. Without storage or a dressing space, the room's purpose is solely to ensure you get a good night's rest.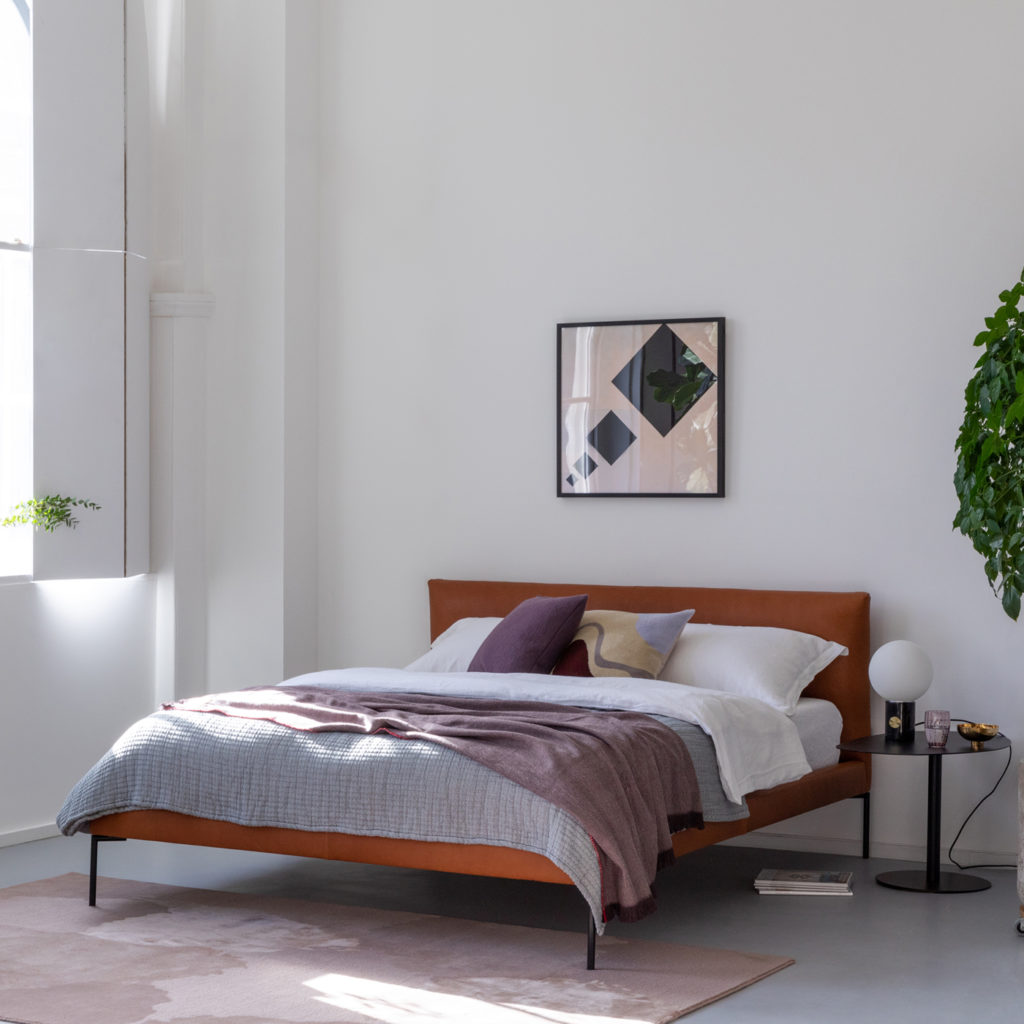 Mid-century Scandinavian bedroom
Scandinavian bedroom furniture and mid-century design go hand in hand thanks their joint focus on minimalism. Scandi bedroom ideas that fuse the two styles are perfect if you want a more modern edge. To achieve this, opt for furniture with metal accents and more angular shapes but stick with the pared-back colour palette. We love how the addition of modern textiles and layered quilts makes this Scandi bedroom idea feel more contemporary.
Scandi bedroom with textures
Textures add depth and comfort to any room, let alone a bedroom. Try layering differently textured materials on top of one another to add depth to your bed. This could be through quilts, duvet covers, throws or cushions. But it needn't end at your bed, introduce different textures throughout your room. For example, opt for bouclé upholstery on an accent chair or a comfortable rug. Stepping out of bed onto a sumptuous rug really makes a difference.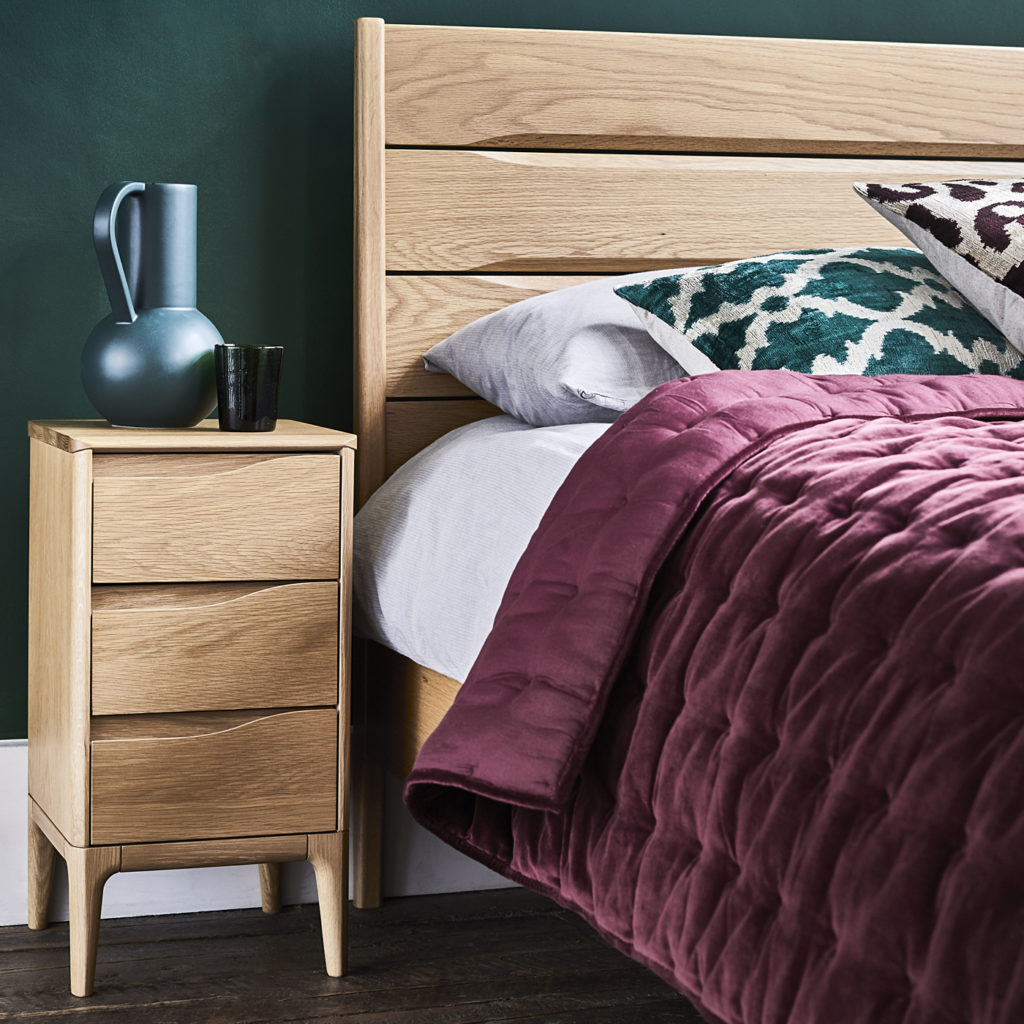 Scandi bedside table
A Scandi bedside table provides the perfect place to leave your book, water and mobile phone in style. We love how ercol's Rimini bedroom furniture holds onto its Scandinavian style when paired with these jewel tones. When looking for a bedside table, opt for light woods, tapered legs and expert craftsmanship to get that Scandi look. Similarly, you could go for metal legs for a modern twist on a classic design.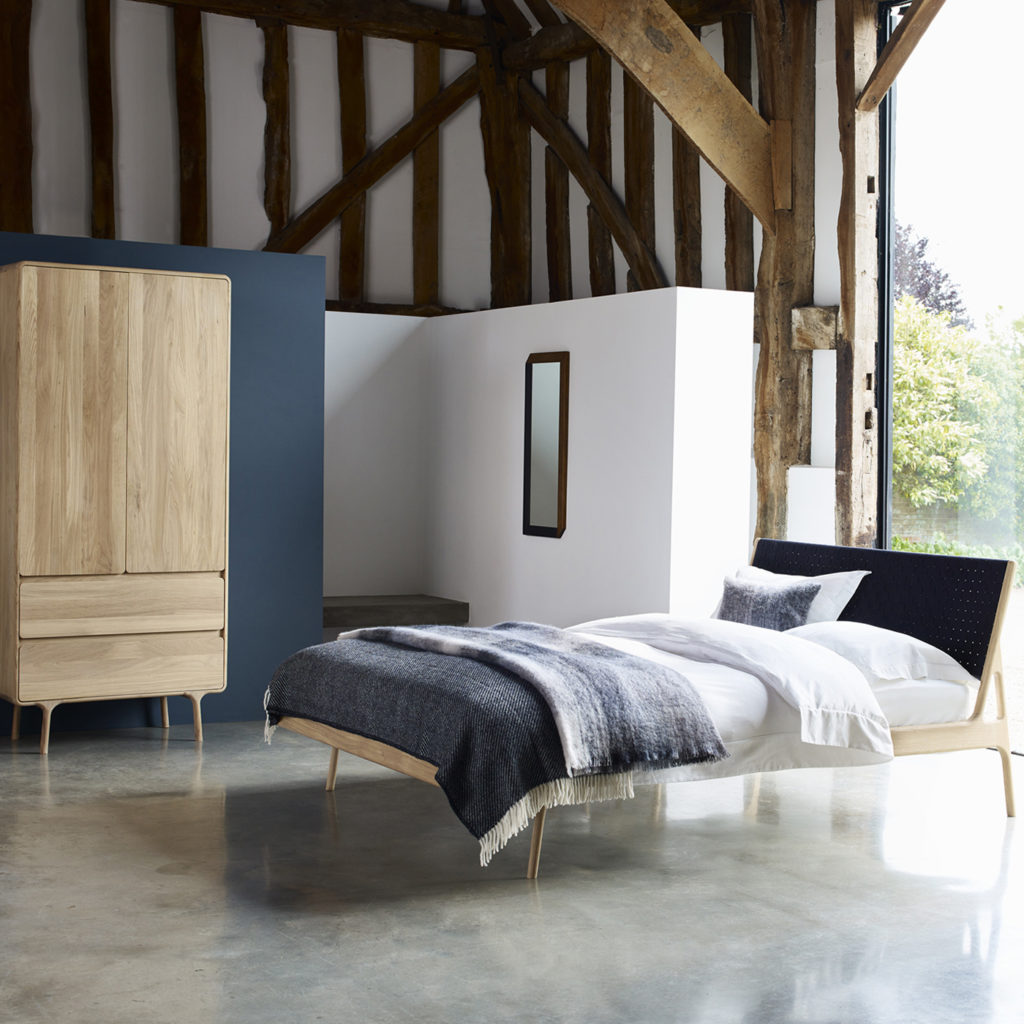 Superstar architectural features
Scandi bedroom ideas like this also allow you to bring a modern edge to a period home. That's because crisp, clean Scandi bedroom furniture really encourages your building's architectural features to shine. Keep it light with fresh white walls and that will bring even more attention to your home's features. Whilst we love this Scandi bedroom with beams, the same principle also applies to fireplaces, floors and modern interior accents.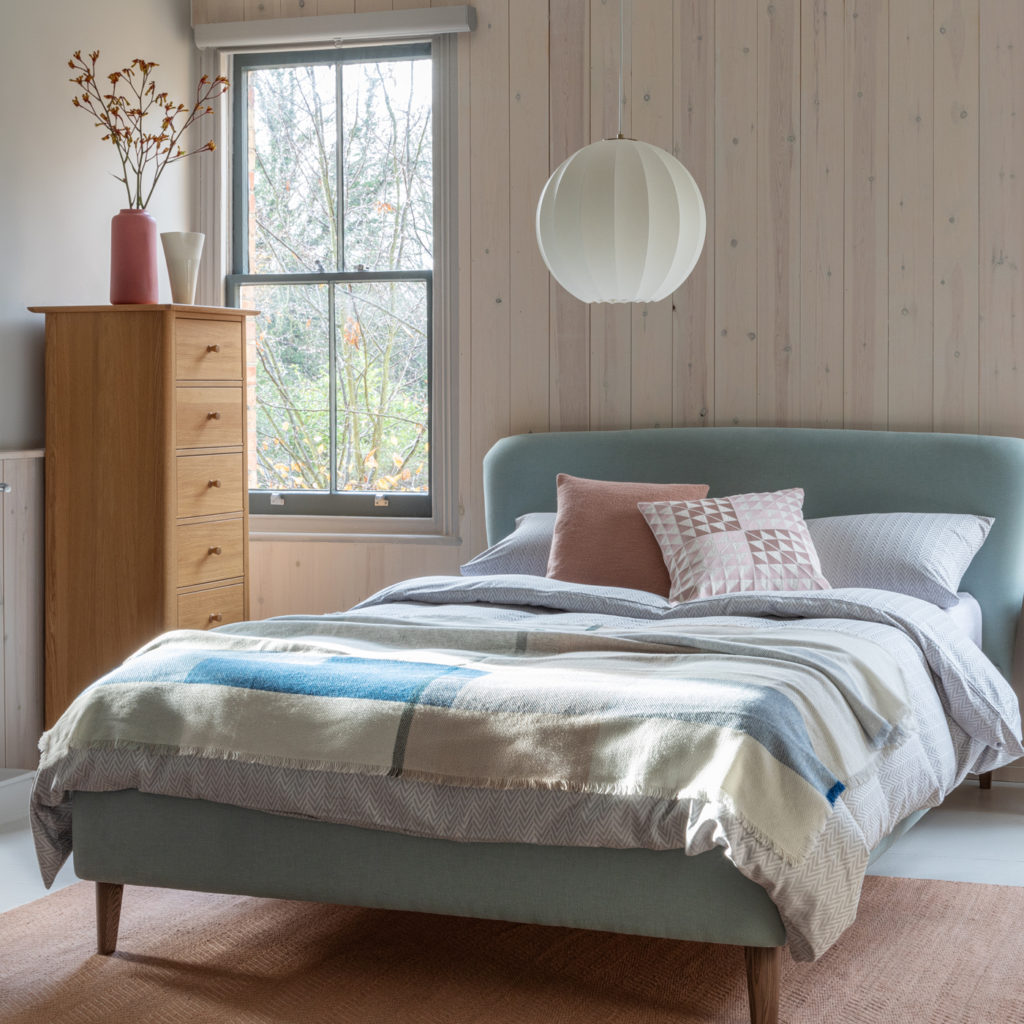 Scandi colour palette
Scandi bedroom design is all about keeping interiors light and fresh to counteract the subregion's long, dark winters. We recommend sticking to a cool colour palette of whites, beige, light blue and pale grey. That isn't to say you can't inject some colour into a Scandinavian colour palette. If you would like to diversify the palette, perhaps consider using darker hues sparingly on furniture rather than the walls.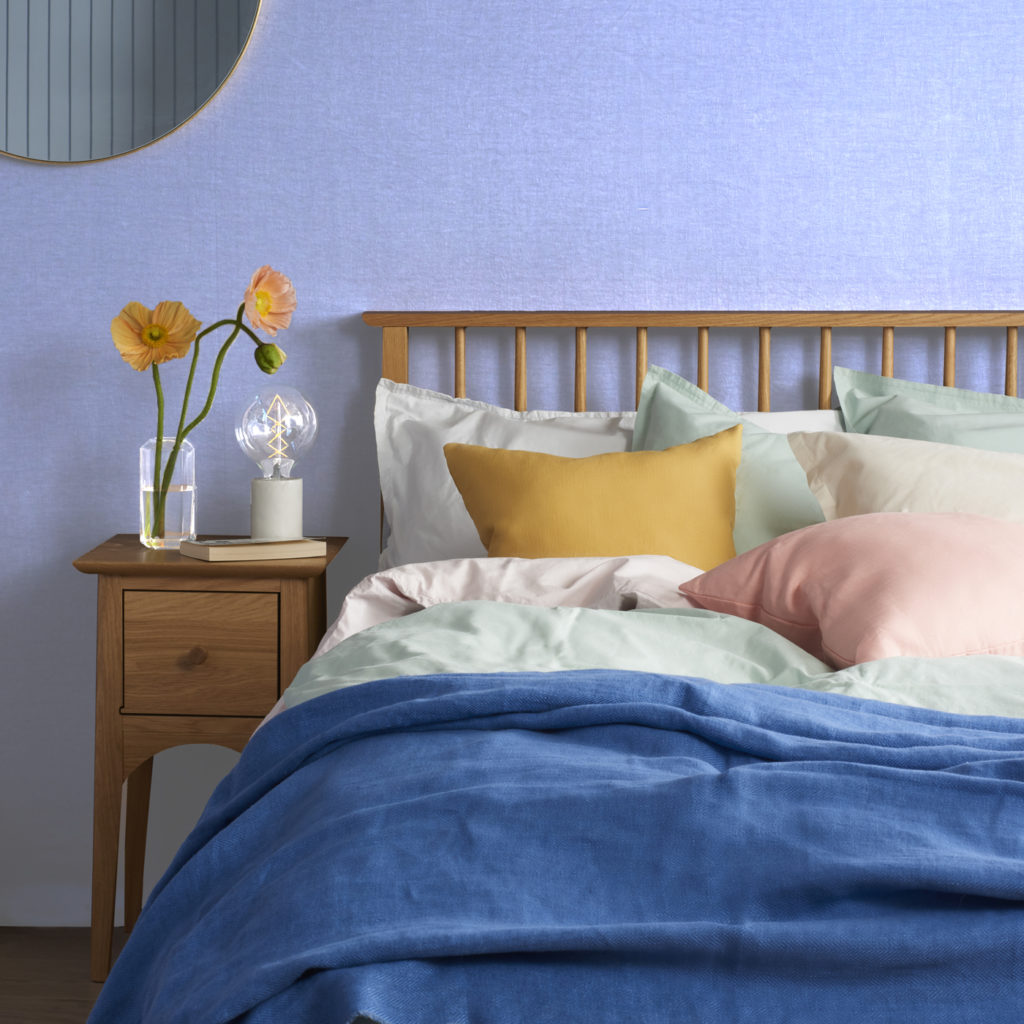 Colourful Scandi bedroom ideas
A relaxed Scandi bedroom idea can be easily refreshed with the addition of some colourful accessories. This could be as simple as adding some vibrant flowers to your Scandi bedside table. Or, you could introduce colour via your textiles. During summer months we love the addition of bold yellows and deep blues that also transition beautifully to colder seasons. If you're looking for softer colour splashed, think pale pinks and blues.
Shop Scandi bedroom furniture here.