When you're in the thick of the dust and destruction of a home renovation, sometimes it can be tricky to see the light at the end of the tunnel and visualise how the finished project will come together. Interiors and Lifestyle influencer Jess Parr (@jessroseparr) set up @jessrosehome to document her renovations of her Victorian terrace that she shares with her husband Freddie and lovely pup, Winnie. Together with the help of Roger and Helen from our Interior Planning Service, they picked the perfect pieces to create the ultimate minimalist yet cosy open-living space.
We caught up with Helen and Jess to find out all about the design process, the key pieces and how to get the look of this relaxed and oh so inviting set up.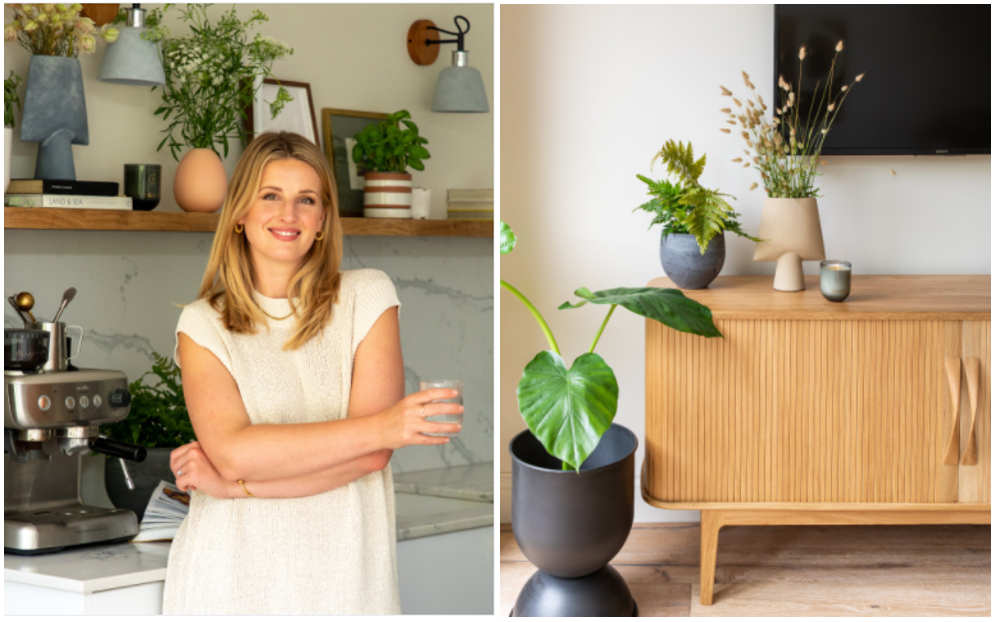 Jess, tell us about your renovation story. When did it start and how have you found the process so far?
J: After living in the house for 2 years we started our renovation early 2021. It took five months to complete the three-story job where we extended our group floor and opened up our galley kitchen, re-jigged the layout of our first floor and built a loft extension with en-suite on the top floor. It was a learning curve taking on a project like this with minimal experience, but we learned so much. Living on site really helped communication with our builders and lots of last minute design changes and style decisions were made possible by being here every day to watch the process of the build.
How would you describe your style? Do you and your partner have the same taste? If not, how have you found the balance between your styles?
J: My style is neutral minimalist with a bit of mid-century thrown in. Layer on a few organic shapes and textures and that's me. A bit of everything basically! I try to avoid trends too much as I don't want to constantly update our space. Mid-century never dates so I always like pieces in the room, and you can't go wrong with neutral decor and styling. My partner doesn't know what he likes and when he sees the finished result of the rooms that I create he says it's exactly how he'd have wanted it so currently we get along great in the style department!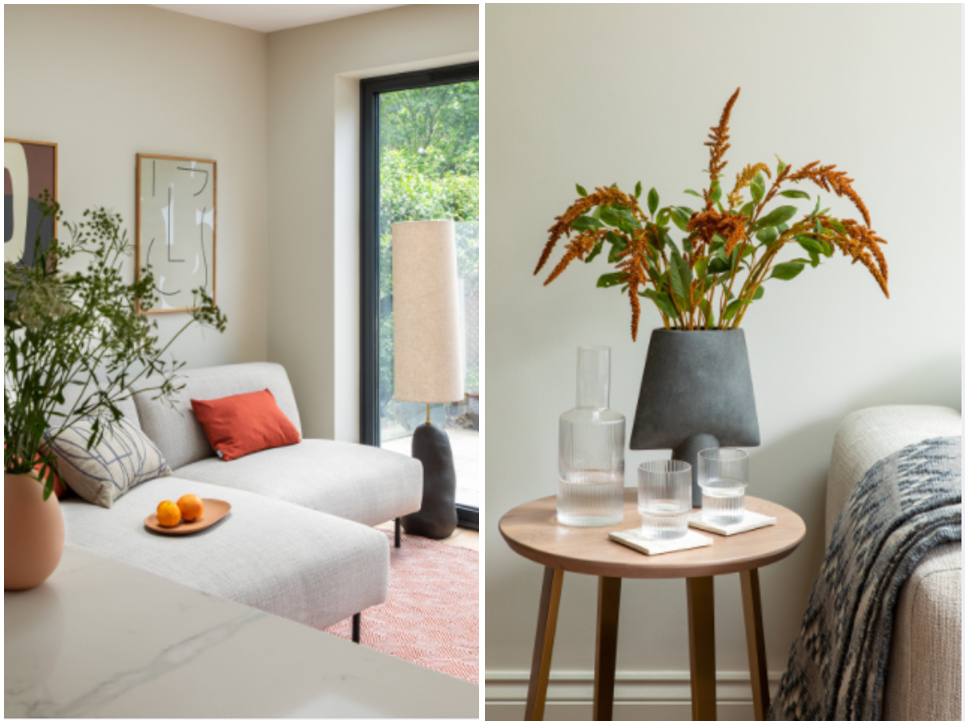 Helen, what are the first steps when it comes to designing a space? We'd love to get some insight into how you approach a full room design.
H: Firstly, establish what functions the space will be used for and by which members of the household. Often rooms need to perform more than one function, such as working from home during the day and family dining in the evening. Larger spaces can be 'zoned' with the use of rugs and lighting to further define these functions. Space planning is a critical step in designing any interior in order to create a well-balanced, easily navigable and beautiful space. Selecting the right size sofa and table within a living-dining space is critical to the overall success of the final design, and mapping this out during the planning stages can prevent costly mistakes. Finally, define your style, design and colour preferences, which will help when shortlisting and selecting furnishings to create a unique and cohesive interior scheme.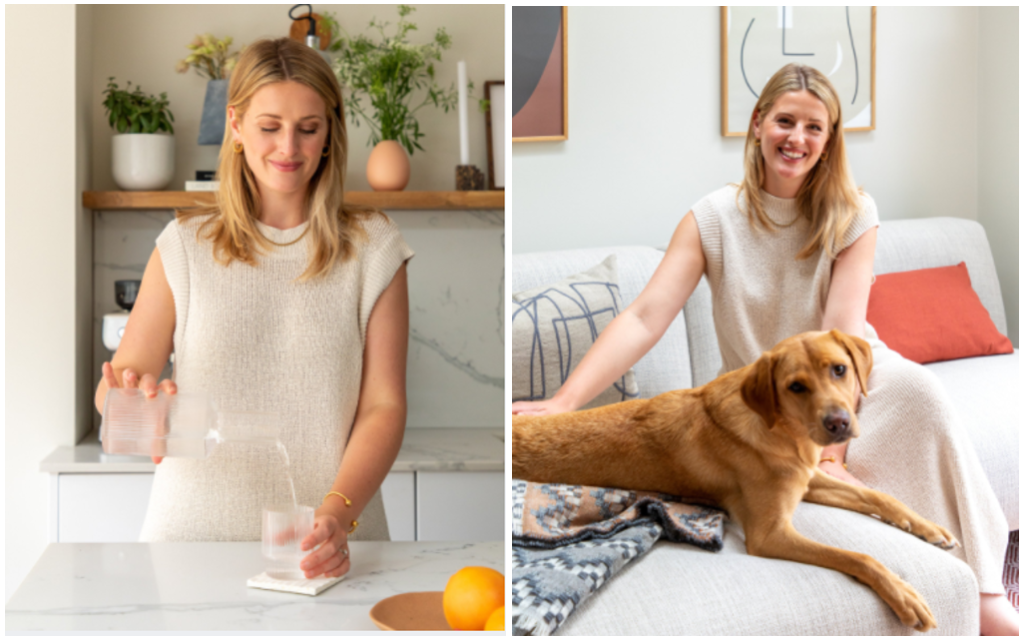 Jess, how did you find working with our IPS team? Is there anything in particular that you found helpful when designing your space?
J: I absolutely loved working with the IPS team. Whilst I knew exactly what I liked I was having trouble working with the space. Our kitchen / living / dining area is three zones in one room so I didn't want it to feel cramped or cluttered. In terms of style, I wanted each space to flow seamlessly into the next which is where the IPS team helped me pick simple pieces and we brought the space to life with lots of plants to help bring the outdoors in.
So, Helen, what ideas and elements did you use to help to bring the outside in?
H: By selecting natural textures, materials, and fluid shapes in a muted colour palette of greens and earthy tones create flow and effortlessly connect the interior scheme with the outdoor space.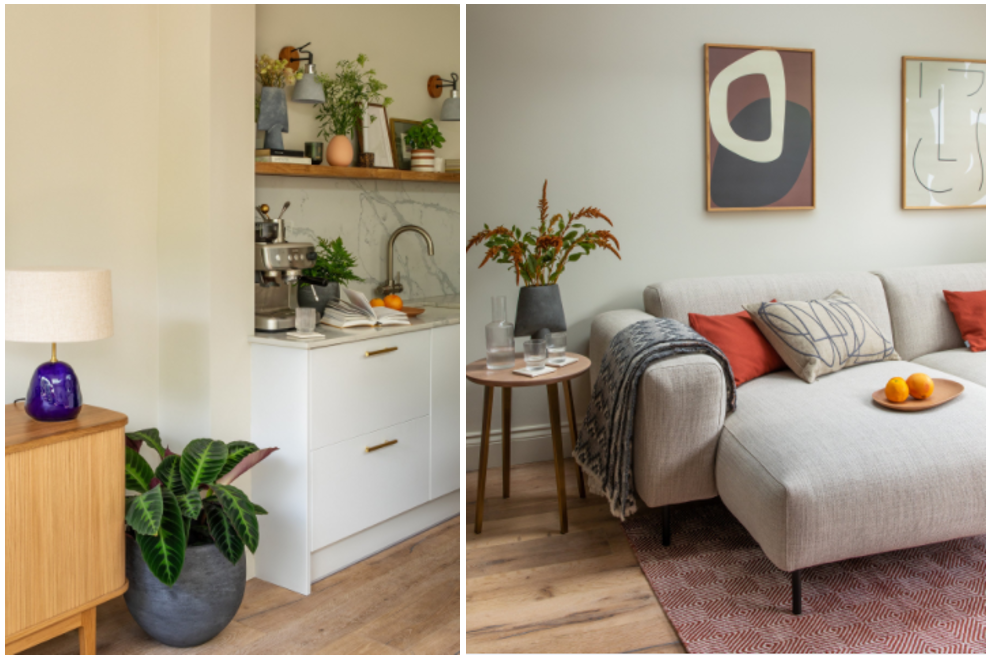 Were there any key pieces that stood out to you that you knew would be perfect for the space?
H: The graceful organic curves of the Luna sofa was a natural fit for Jess' room, as it looks great from every angle, so it was perfect for this open-plan living space.
And how would you describe the finished space?
H: Relaxed, natural, organic.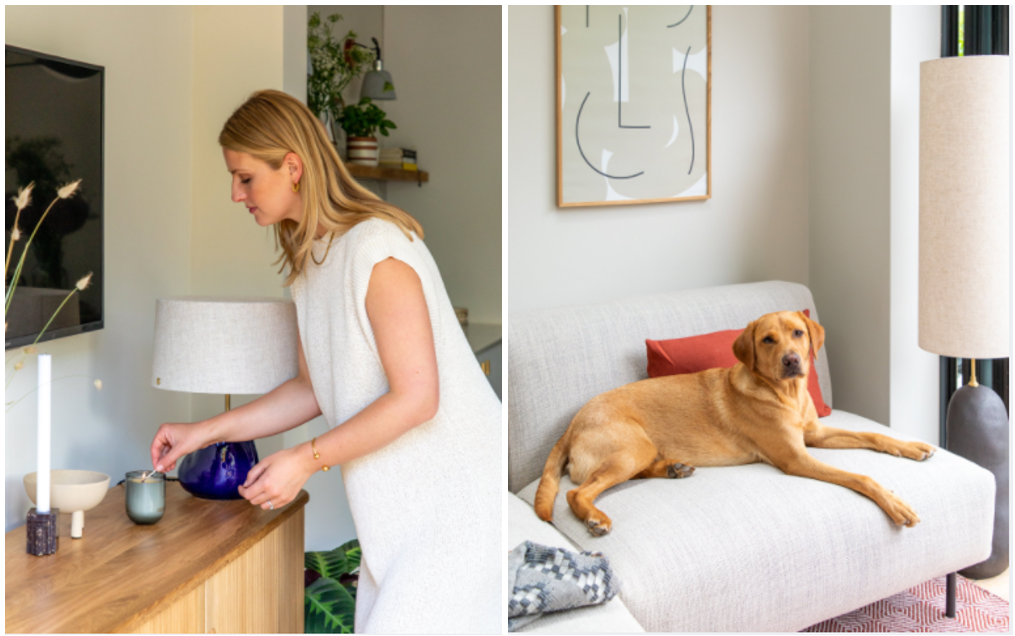 How would you describe the finished space, Jess?
J: It feels minimalist yet cosy. It's the back of our house and we wanted to create this feeling of indoor to outdoor living. The doors open fully on the back wall and its feels wonderful sitting on the sofa and practically being outside. We opted for an armless end of the sofa by the doors so you can feel more connected to the outdoors when the doors are open. It's a sociable area where we can have guests over who can relax whilst we host. It's the perfect summer and winter space – in the evenings we can have the doors open enjoying the balmy evenings or cosy up in the winter after dinner with a glass of wine and a movie.
Now, we know no one likes playing favourites, but if you were to choose what's your favourite piece?
J: The Luna sofa! It's the perfect balance of a comfy nappable Sunday sofa which also looks ultra-chic at the same time. The thin legs make it feel lighter all round even though it's a big piece of furniture. I love the Tundra Texture Stone linen colour which is the perfect neutral tone for the space.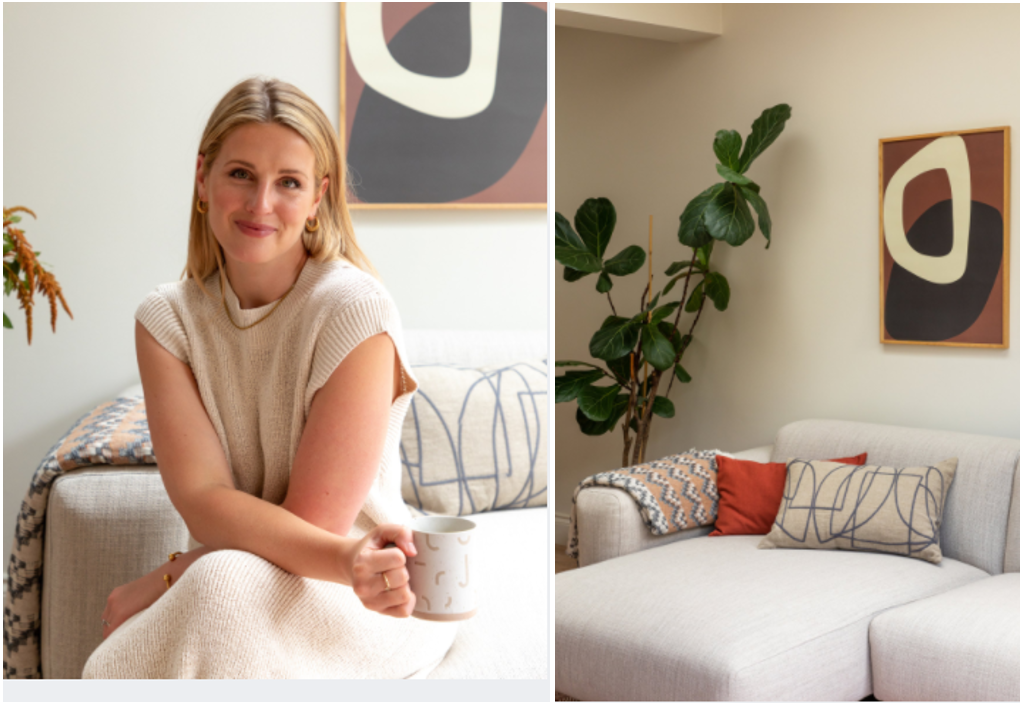 Finally, Helen, what advice would you have for someone who is looking to get the look of Jess' inside outside living space?
H: Take inspiration from the great outdoors! Keep your design simple and stick with a muted and natural colour palette. Select furniture and furnishings with organic shapes in fabrics and textures that echo nature. The use of eco-friendly materials, such as our Romilly rug, which is made from recycled plastic bottles, creates an authentic feel while supporting the drive for sustainable living.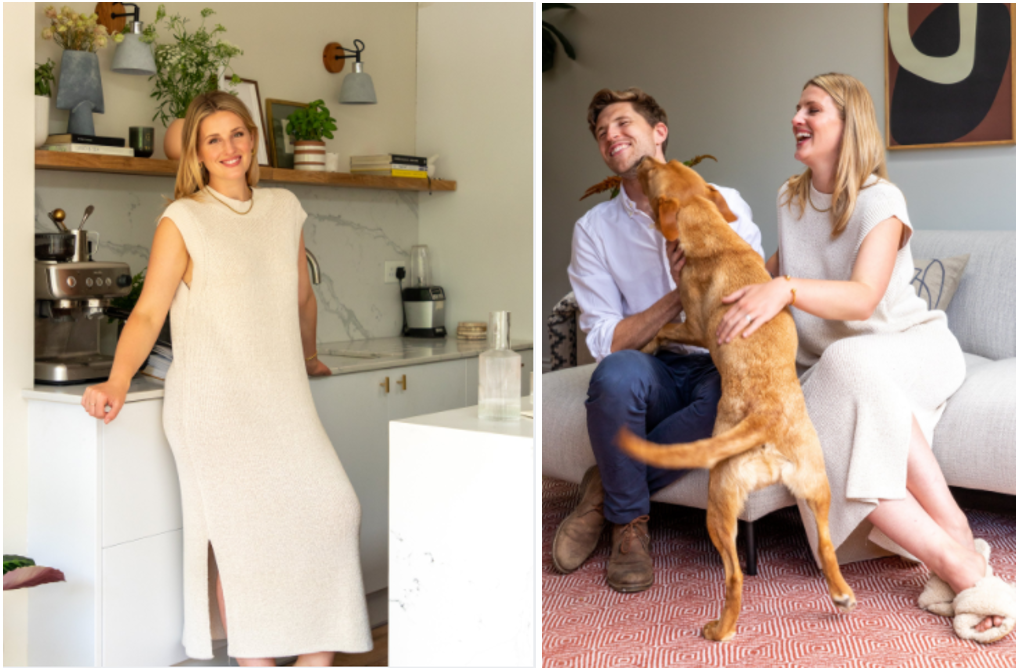 Need a helping hand with designing your space? Our IPS team are here to help!