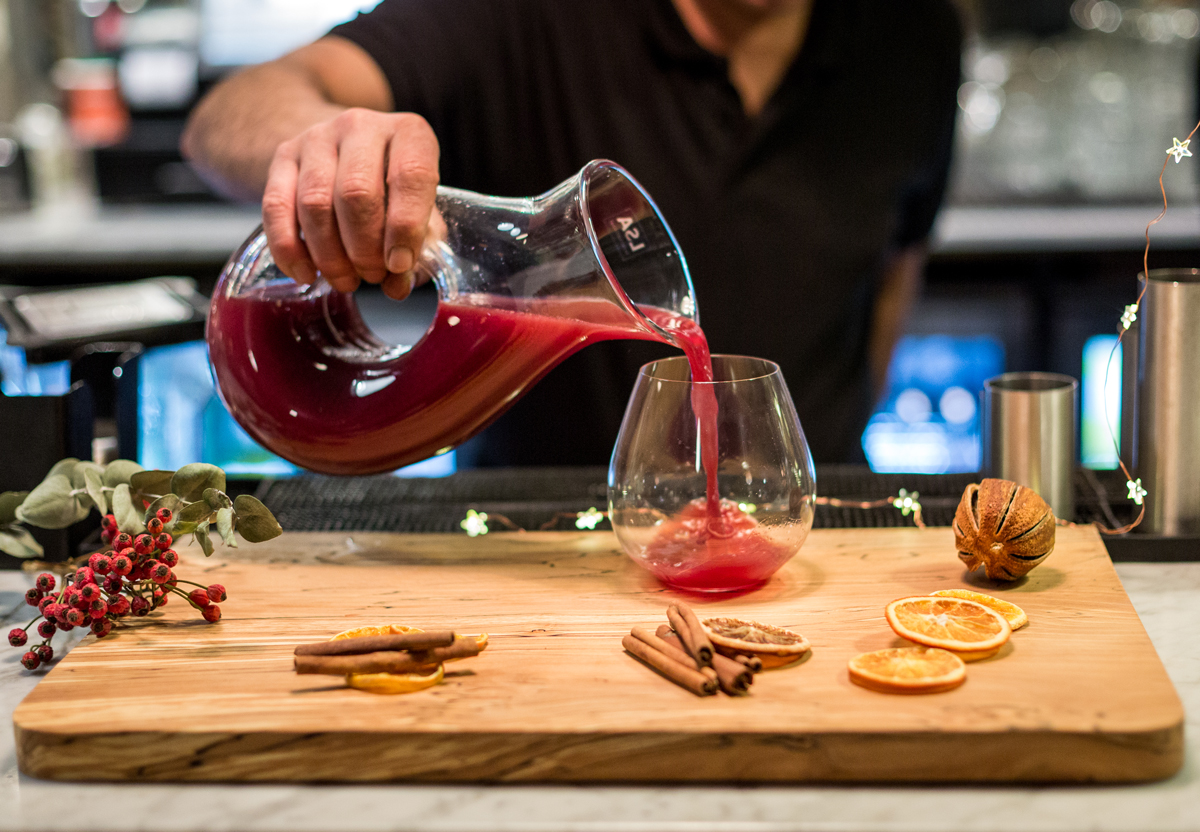 The quintessential festive tipple, no Christmas party is complete without a warming glass of mulled wine. So to help you get the perfect blend of sugar, citrus and spice, we've concocted our own yuletide guide to this classic Christmas cocktail.
—
Ingredients:
2 oranges
The peel of one lemon
150 g caster sugar
5 whole cloves
1 cinnamon stick (and extra to serve)
1 bay leaf
1 star anise
2 bottles of red wine (Syrah or Malbec)
Brandy (optional)
The method:
To make the syrup, in a large saucepan place the sugar, spices, lemon peel and the peel and juice of one of the oranges. Add a dash of wine, just enough to cover the sugar, place on a mild heat and bring to the boil making sure to stir occasionally. Once the syrup is nice and thick, turn down the heat and add the rest of the wine plus a glug of brandy. Wait until the mulled wine is heated through, taste and add more brandy if preferred.
To serve, cut the second orange into rounds and add to each glass as garnish alongside a cinnamon stick (optional). Your choice of vessel really depends on the occasion. While some prefer to keep things sophisticated with a traditional stemmed glass, there's something so right about serving your mulled wine in a designer mug. We've opted for a stemless wine tumbler and carafe to give an informal yet elegant look to Christmas drinks.

Tips & tricks:
• Put loose spices and ingredients into a muslin cloth and tie to ensure all the flavour is released without the residue.
• With so many flavours going on, we recommend using a fruity, full-bodied wine such as Syrah or Malbec to punch through the sugary sweetness.
• Alternatively, if you've got a bottle of red lying about that you regret buying, now's the perfect time to get rid of it – mulling will help cover up the taste of cheap plonk and a drop of brandy will ensure your guests are none the wiser.
• Try switching brandy with ginger wine for a fiery finish or sloe gin to really bring out those berry flavours.
• Don't forget the longer you heat your mulled wine the more alcohol you'll burn off. It's all a matter of how merry you wish to get, so we'll leave it up to your better judgment.