Yellow is the shade of sunshine, the hue of happiness and the tone of optimism that will instantly brighten your home. From lemon to mustard, amber to gold, the variety of finishes on offer means that even the most minimal of spaces has no excuse not to incorporate some citrus shades into its scheme. So when it comes to livening up your interior or even outdoor space, don't be a yellow belly and instead show your true colours with our guide to this most vibrant palette.

We could not agree more with Verner Panton when he said that 'you sit more comfortably on colours you like.' For one thing, the man was a design genius but when you really stop to think about it the shade of your seat will no doubt have an effect on your comfort levels in the same way that a well-cut suit gives you added confidence when strutting into the office.
His eponymously named Panton chair is as beautifully shaped as any Saville Row number with each piece innovatively moulded from polypropylene to create its continuous line that joins the base to the arched seat and backrest. This also makes the Panton perfect for outdoor use, a fact that has not gone unnoticed by the chairs official manufacturer Vitra who have released this new limited edition version in Sunlight yellow – just the thing for those rare days spent lazing in the garden.

One of the common reasons why there is a weariness toward using yellow in the home is the fear that it will drown out a space (true, a lemon yellow dining table could be seen as something of an eyesore). In which case, why not experiment with using accents of yellow to provide a sculptural feature to the room ala the Anglepoise Giant 1227 pendant.
Finished in a 'citrus' tone, this lampshade takes the iconic silhouette of the Original 1227 desk lamp and blows it up to a playfully oversized proportion. The bright, glossy finish becomes a real focal point when hung within a contemporary space consisting of natural and dark wood furniture but without taking away any of the peaceful feel of the surroundings.

Another design icon, the Series 7 chair by Arne Jacobsen has been produced in all manner of colours and finishes since its introduction all the way back in 1955. We, however, have a hot spot for this 'Egyptian yellow' version whose mid-century shaped seat is pressure moulded from ash and rests atop chromed steel legs.
While some prefer to celebrate the iconic form of the Series 7 by keeping it as an occasional chair in the corner of the living room, we feel this piece should be used as the designer intended around a dining table. Try mixing within a rainbow of colours or as the odd colourful note in a row of black or white chairs.

Let's face it when it comes to your living room the sofa is always going to sit at its centre and while we are all for the adaptability of dark or neutral upholstery, sometimes it's worth taking a walk (or should we say seat) on the wild side by opting for something a bit more eye-catching. Case in point, our Balmoral sofa pictured here in a vibrant varese velvet 'alchemilla' yellow fabric.
What we love about this piece is its postmodern pairing of traditional proportions, deep button cushion detail and velvet upholstery with a more modern palette. Set against a backdrop of navy and natural wood, the elegant yellow Balmoral sofa is sure to provide more than just a talking point to the room – pair with matching ottoman for added effect.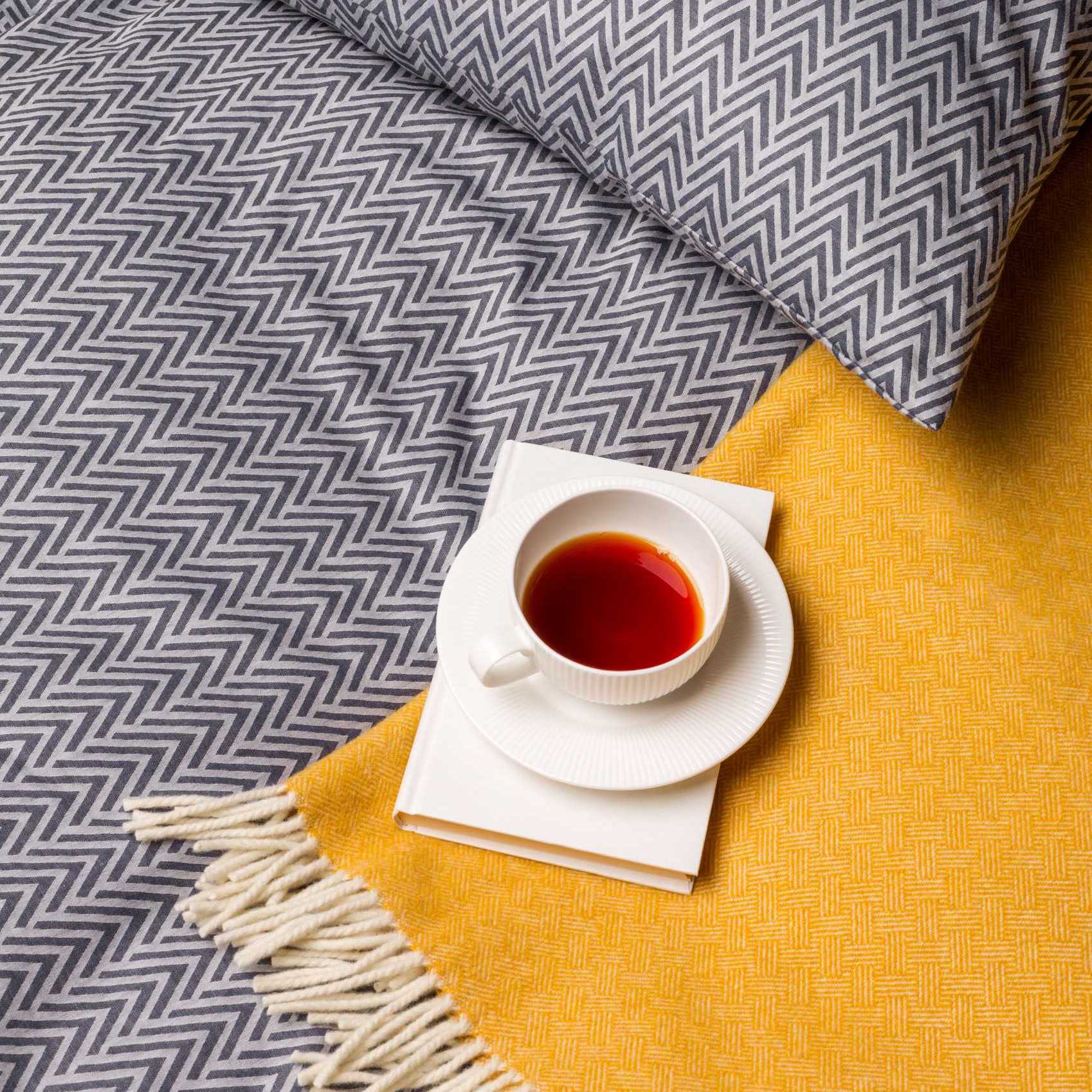 The bedroom may be the place we seek solace at the end of a long day, but that's no reason not to inject a bit sunshine. A great way to do so without overpowering the space is through soft accessories – we're talking yellow cushions and throws that can be laid out in the day and easily stowed away when you need some rest. After all, why nap on the sofa when you could snuggle up on top of the duvet and handmade mattress with our Petal throw in 'sun' yellow?