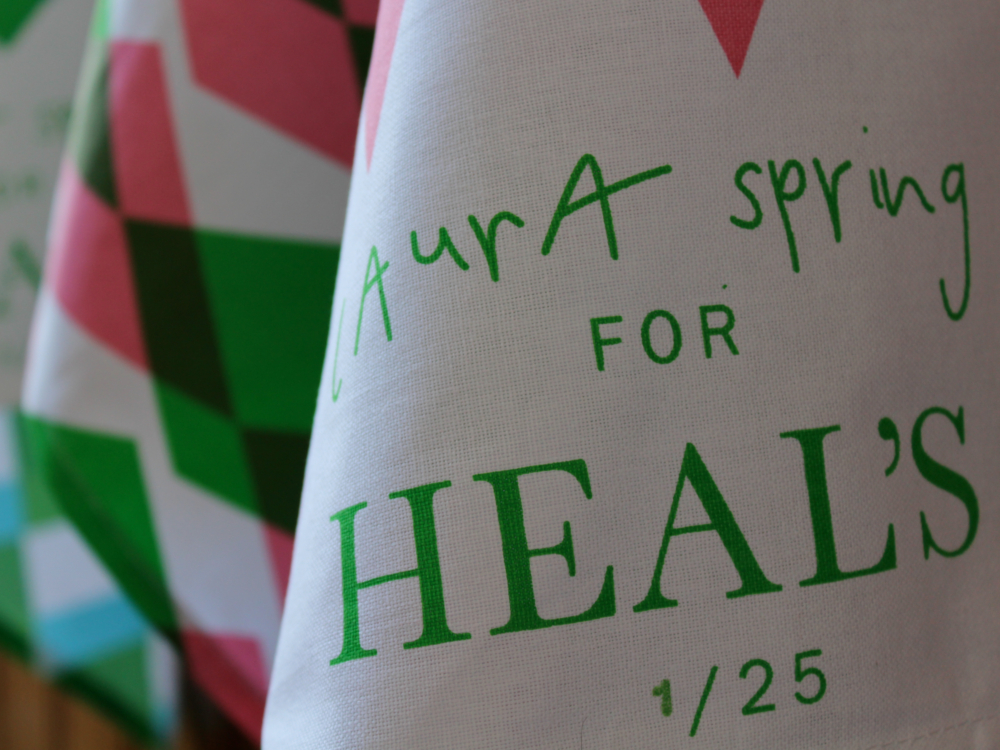 To celebrate the launch of her new limited edition tea towels, we read into the small print with designer and screen printing specialist Laura Spring at her Glasgow studio.
New for AW16, Laura's collection of exclusive tea towels bring her trademark blend of geometric pattern, eclectic palette and screen printed aesthetic to Heal's. Each of these contemporary tea towels is hand screen printed by the designer and is limited to a edition of just 25 for each style.
To learn more about the inspiration and process behind Laura's design, we headed up to (not so) sunny Glasgow to watch her put the finishing touches to our new collection.
—
Where does your passion for design stem from?
Every since I was young I've loved making. I'm a very practical person who really enjoys working with a process, creating physical things and seeing them come to life. I suppose it's something that's always been there from a very young age.
I remember my favourite thing when I was about six or seven was creating small worlds out of shoeboxes and my Mum's clothing catalogues. As I've got older my curiosity about design has just grown and grown. I'm always interested in finding out about new techniques, different designers, materials – I love to ask questions and explore.
Where did you study?
I studied Visual Communication at The Glasgow School Art, specialising in Graphic Design. I was much happier when making things with my hands rather than sitting behind a computer and got very excited when I discovered the print room and silkscreen printing.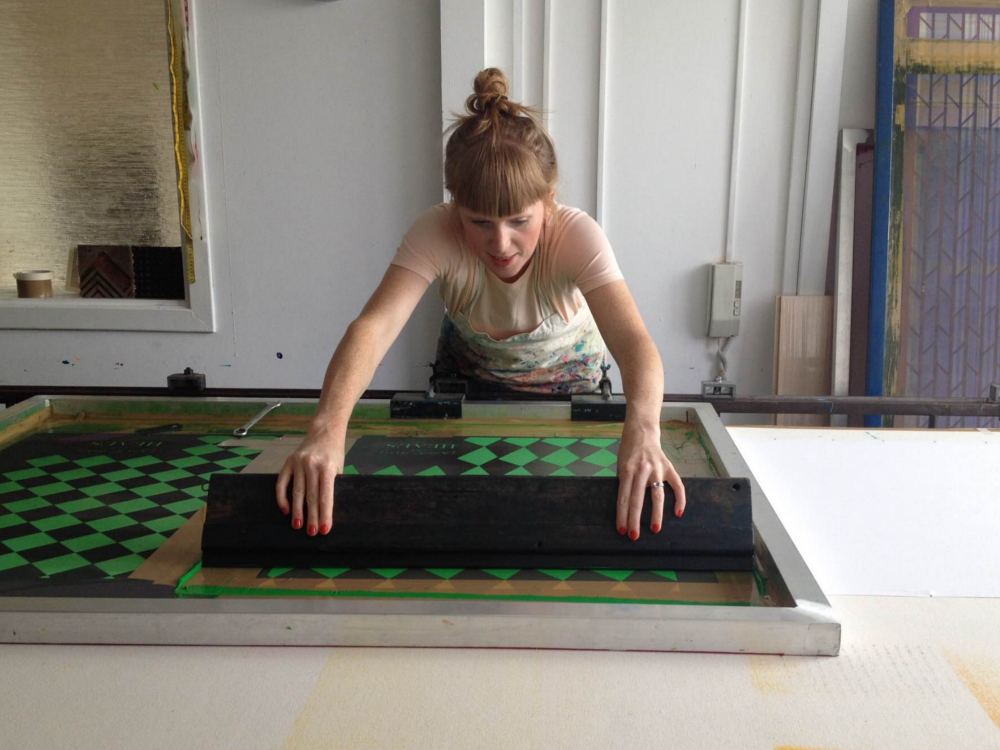 Tell us about the first piece you ever designed?
The first piece I designed as my company 'Laura Spring' was a Wet Weather Suitcase. I was lucky to be awarded the Scottish Craft residency at Cove Park in the summer of 2011 and was given a studio in the beautiful Scottish countryside for six weeks to explore the idea of prints that relate to the function of a product. I created three designs – Wet, Windy and Warm – and applied them all to a range of travel accessories with the suitcase the first and most challenging product to make.
What is the inspiration behind your work?
Inspiration varies from collection to collection but as I mentioned previously I have been inspired by motifs relating to the function of the object it adorns. More recently I have been inspired by the use of camouflage in nature, specifically how butterflies and zebras use mimicking or colouration techniques to hide from predators.
I think nature and all it's wonder has been having a bigger influence on my work since I did a residency in rural Finland last summer where nature is considered hugely important and people seem much more connected to it.
"I enjoy working with a process,
creating physical things and
seeing them come to life."
Do you have a design hero that influences your work?
I have a huge amount of love and respect for the company Marimekko. I have always admired their bold use of colour and pattern but I also love that they have built up such an incredible business with the bulk of their print production still being done in a purpose built factory in Helsinki.
Where is your studio?
My studio is in Glasgow. It is housed within an old sawmill on the north side of the city not far from The Glasgow School of Art. It's home to about 14 artists and has a really nice communal feel to it. Having people from various disciplines around me is very handy as it means we can share skills and solve problems.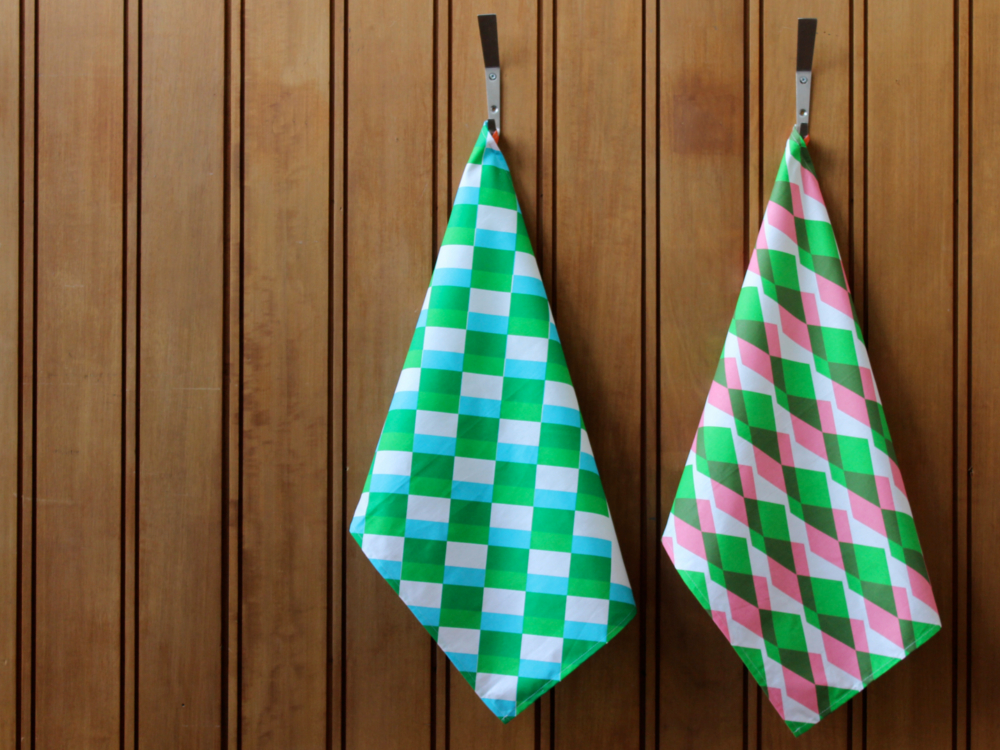 Tell us about your design process, how do you get started?
I always start with research. I'm a bit of a hoarder, so often gather photos, odd objects, bits of paper and then go back to them at a later date. Something will catch my eye and spark an idea once I'm back in the studio.
I really enjoy exploring an idea as thoroughly as possible as this can often take you in unusual directions. For example, the work I've been doing lately for my new collection has all come from a residency I did in Finland last summer. I took lots of photos, spent time absorbing the culture and bought weird things from flea markets, one of which turned out to be an amazing pair of old weaving catalogues that will form the basis of a new project taking my work in a very different direction.
"I find computer colours so strange
having spent time mixing colours
by hand using pigments."
Once I've got some ideas, I'll start working them out on paper and then play around on the print table to create my colour palette. Then I'll take the idea to the computer, my least favourite bit. I find computer colours so strange after having spent time mixing colours by hand using pigments.
Do you have a preferred material or process?
Screen printing will always be my number one process but recently I was incredibly lucky to be involved in a project called India Street that took a group of Scottish designers over to India to learn how to block print. It was an amazing experience and fascinating to learn a different technique and the effect it can have on your designs.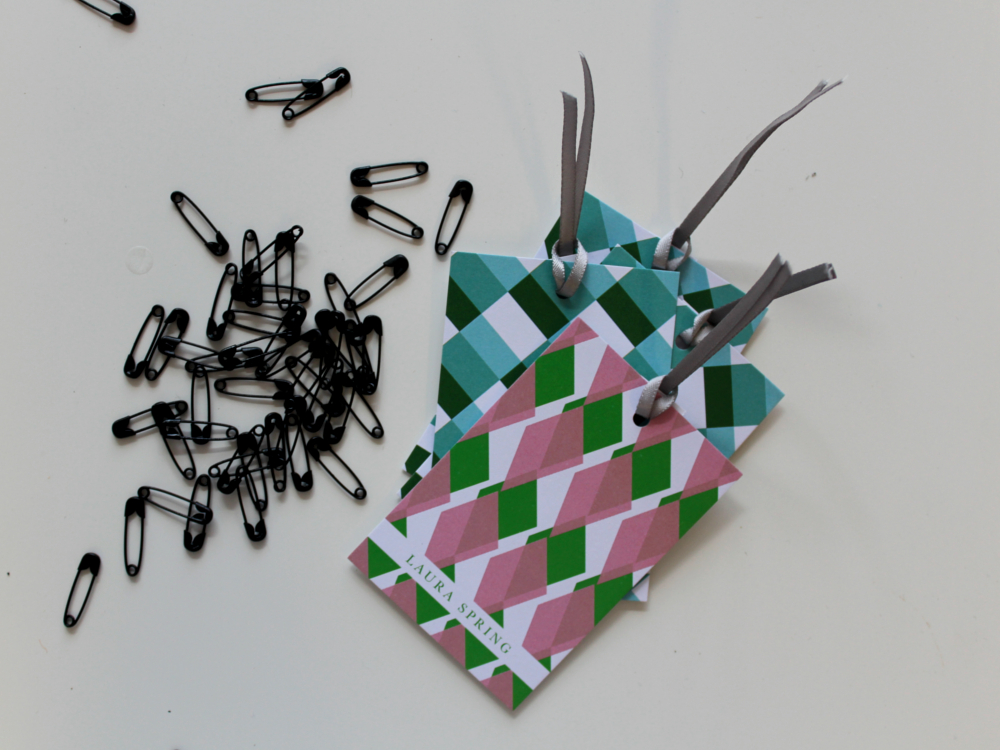 How did you get involved with Heal's?
I got involved with Heal's through my friend Gabriella Marcella Di Tano who runs Risotto, a riso print studio here in Glasgow. She was taking part in Pick Me Up (annual graphic arts festival in London) and got chatting to one of the team from Heal's whom she very kindly suggested my name as someone to potentially work with.
How would you describe the collection?
The collection is a playful design of colour and shape inspired by a trip to Estonia last summer. The capital city Tallinn has the most incredible doors everywhere that have all these beautiful geometric patterns on and I couldn't help but take many, many photos! I sat with them on my wall in the studio for a while and then when Louise got in touch I thought they would be a great source material to work with to create a summery, playful tea towel design.
—
Make sure to grab your limited edition Laura Spring tea towel before they are all snapped up by shopping our collection of kitchen linens online.