When renovating a home, it can be difficult at times to see how everything will piece together in amongst the dust and destruction. But when you start to see your vision come to life, well, there's no better feeling. Interiors influencer Liv Likosso (@renovating_cheznous) and her partner Rob collaborated with designer Nicola Meighan from the Heal's Interior Planning Service, to bring their scandi rustic dining room to life.
We caught up with Nicola and Liv to find out all about the design process, the key pieces and how to get the look of this calm yet captivating set up.
Nicola, let's start at the very beginning. We'd love to get some design expert insight. How do you approach a full room design? What's your process?
N: There are many different processes depending on each project. For this one, it was important that the look and feel of it complimented the living room and kitchen as they are run off each other being open plan. Secondly, how Liv and Rob wanted to use this space. For them, it was a relaxed dining room where they could enjoy a space with family and friends. There was lots of natural light in the room, so I wanted to make sure it didn't lose that. From here, I was able to create mood boards to show the look and feel of the room, followed by floor plans and a selection of fabrics, and finishes that work with each piece based on our intended style moving forward.
Liv, Tell us about your renovation story. When did it start and how have you found the process so far?
L: We purchased our London flat over a year ago, it took us a while to initially start renovating as we had to sort out planning permission etc. Renovating our flat has been an experience I'm sure we will never forget. It's an ex-council flat which had not been touched since the 80s. There have been times where it's been incredibly overwhelming but also very rewarding when we look back to see how far we've come. I'm still in denial sometimes, I find it hard to believe it's still the same flat as we had to completely gut the place to get it to the stage it's in now. We've also been doing the majority of things on our own, we've saved a lot of money this way and we've also learnt so much on the job, now we are already talking about another renovation project (I know we must be crazy!)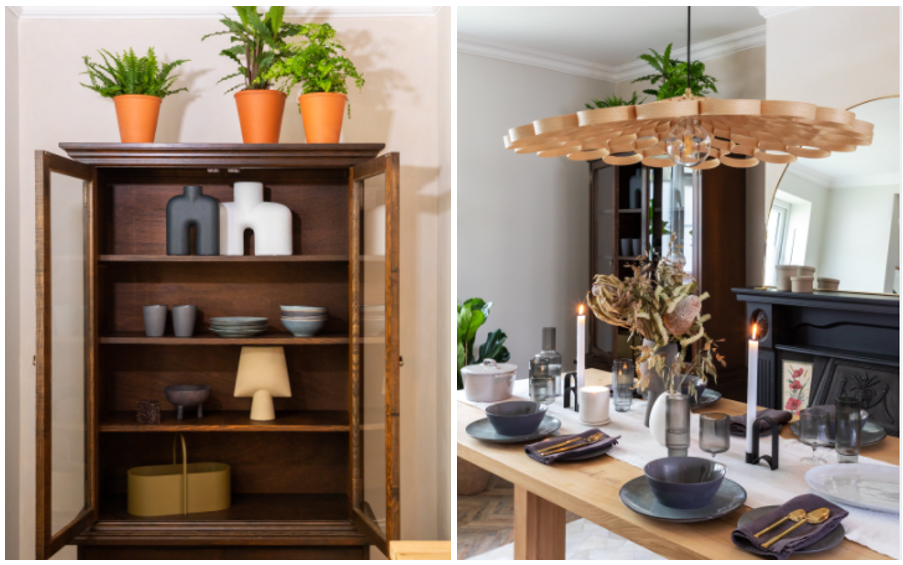 How would you describe your style? And how have you found the balance between your style and your partners?
L: I always struggle to describe my style, I tend to just go with the flow. If I was to try and describe it I would probably say my style is a mix of contemporary, boho and Scandi rustic, I say rustic because I do like to add antique pieces here and there while taking a minimalistic approach. Rob style is more quirky, he really likes dark colours, original features and I think our styles work perfectly together, I think we have definitely found the perfect balance in both our styles which is very evident in our dining room, we were able to add a mixture of dark colours and textures without the room looking overwhelming (while keeping a modern, airy feel)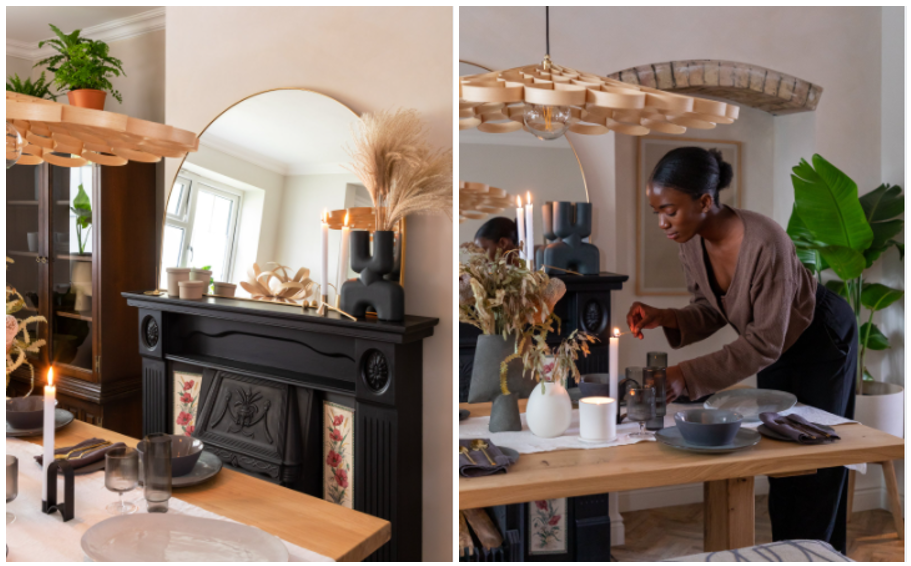 Nicola, how did you find the balance between the two different styles?
N: It was very simple actually. I took the pieces that Liv and Rob loved and used them as a base point to add complimentary pieces. I made a conscious decision to mix different textures, shapes and finishes that would balance it out and add softness to the room.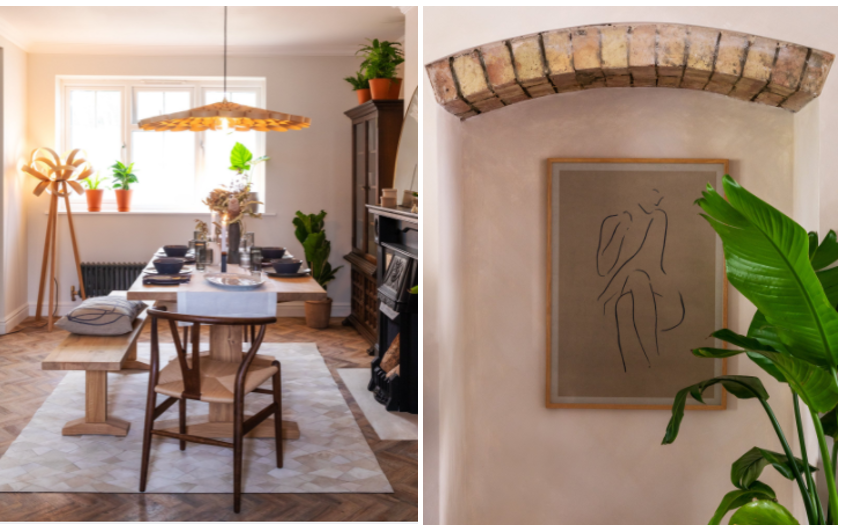 And Liv, how did you find it when working with our IPS team? Is there anything in particular that you found helpful when designing your space?
L: The experience was amazing; Nicola really took her time to hear us out. The exchange of mood boards I found was really helpful when designing our space. She sent us three mood boards and we were able to nail it down to one which was so useful. Nicola turned our vision into reality and was able to marry both Rob and my vision and style which we initially found hard to do, and I just loved how she always had time for us.
Nicola, were there any key pieces that stood out to you that you knew would be perfect for the space?
N: The wishbone chairs. Visually, they were exactly what was needed around a solid wooden dining table that had a chunky base. The table needed something light to flow otherwise this space would have been very top heavy. The elegance and soft curves were perfect for the Scandinavian feel we wanted to achieve.
How would you describe the finished space?
N: Contemporary craft with a Scandinavian influence.
And Liv, how would you describe the finished space?
L: Exceeded our expectations for sure, it's everything we wanted and more. Seeing all the products in situ was just the icing on the cake – I couldn't believe it was our dining room, for ages we've been so used to our home being a building site and now it feels and looks really homely.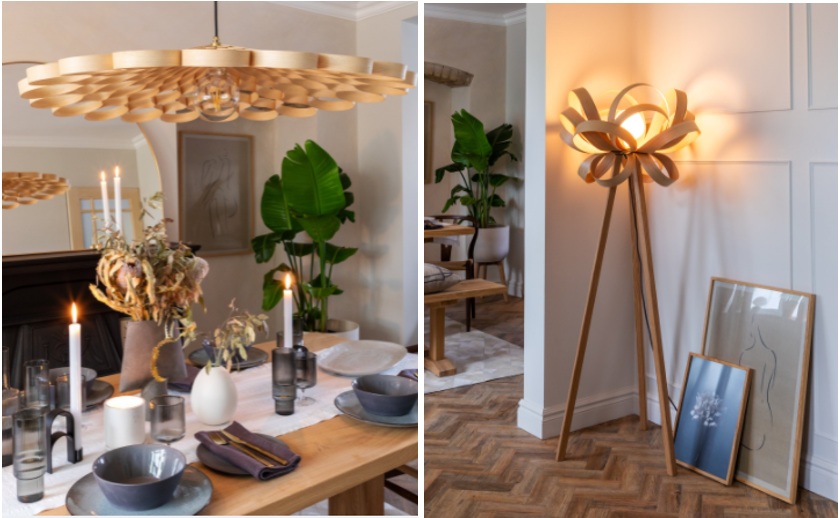 Now, we know no one likes playing favourites, but if you were to choose what's your favourite piece?
L: This is a very hard question, please forgive me for picking out two items but it's definitely the Lisbon dining table we got the blonde oiled oak not filled, we have a thing for textures and I feel like it complements the room so well. Another favourite is the handcrafted wooden steam-bent pendant light, we are both really big fans of Tom Raffield, so it's such a privilege to have it in our home.
Finally, Nicola, what advice would you have for someone who is looking to get the look of Liv's dining room?
N: Don't overthink the scheme. This look and feel lends itself to a balance of materials and shapes. Stick with a core selection of colours and finishes and use them in the different pieces you need for the room. Working with a neutral palette allows for you to add more shapes and styles without making it look or feel too busy, regardless of the size.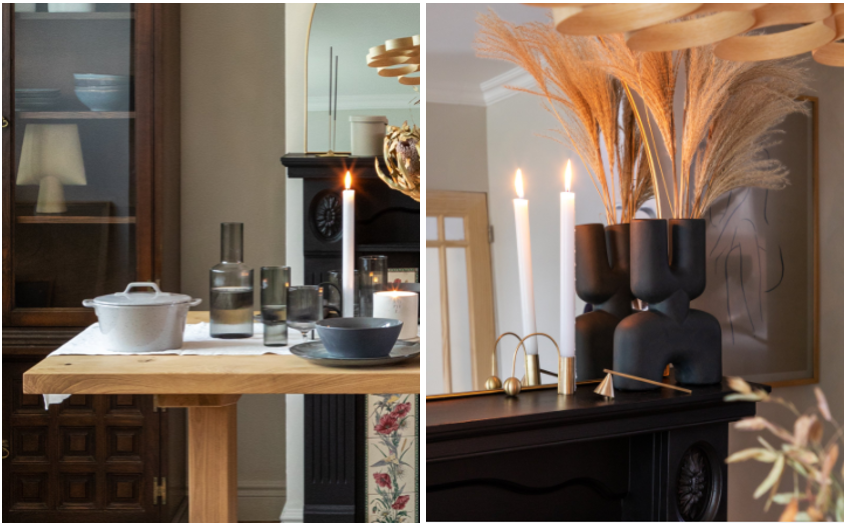 Need a helping hand with designing your space? Our IPS team is here to help!
Click here to follow along with Liv's renovation journey.