Moving from London to the Cotswolds is no mean feat, but with the help of Helen from our Interior Planning Service, influencer Beth (@bethsandland) and her family were able to create a modern country bedroom befitting of their new life in Oxfordshire. At once contemporary but timeless, it's a stylish room for rest and relaxation, providing a much-needed sanctuary for the mother-of-one after another busy day juggling toddler Ziggy and her mentoring business – not to mention her interiors account, book club and online magazine.
We caught up with Beth and TC to find out all about her collaboration with our Interior Planning Service, her favourite pieces and how the room works for them.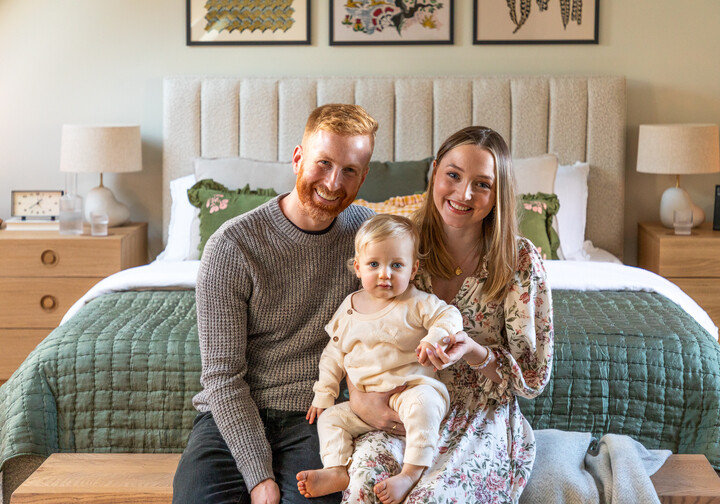 Hello, Beth. Can you tell us about your home and family?
Beth: We moved from a two-bed London flat to a large family home on the edge of the Oxfordshire Cotswolds in the spring of 2022. I was immediately drawn to the floorplan; the previous owners had lived here for 30 years so it needed a lot of modernisation but the potential was huge. I love the space – especially the size of the master bedroom – and the outlook, too; we've got lots of fields and meadows on our doorstep and my son can see cows out of his window! I live with my husband, TC, our toddler, Ziggy, and our toy cockapoo puppy, Martha – plus, we have another baby on the way!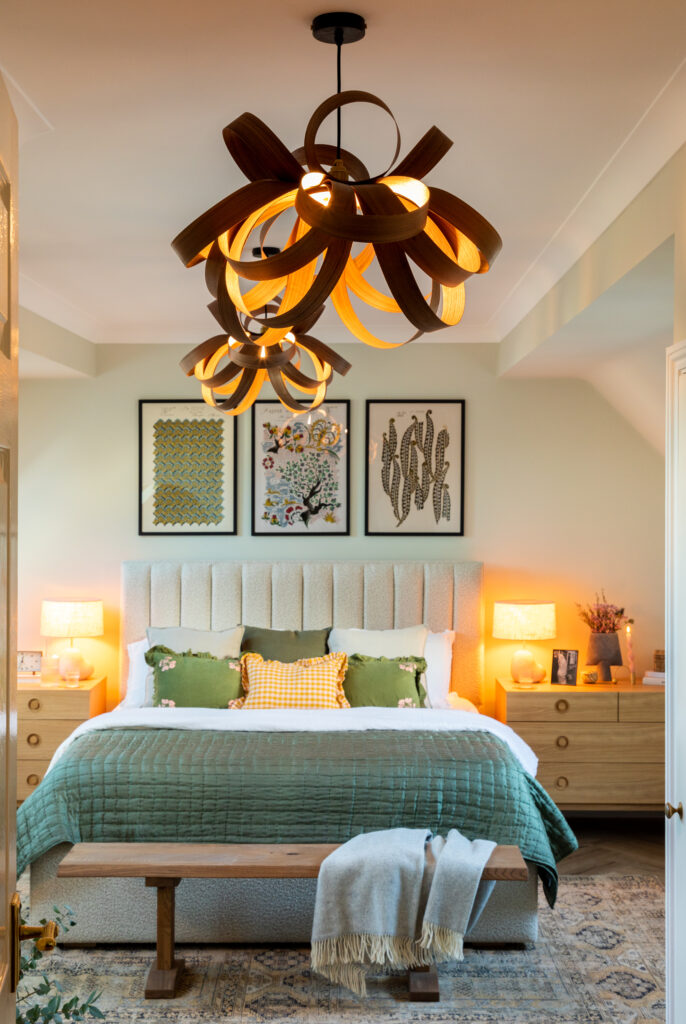 What was your ambition for the décor?
B: I really wanted to lean into a modern countryside aesthetic that felt fresh but timeless. I love neutrals and muted tones that are easy to style with the changing seasons. My goal for our bedroom was to make it feel like a boutique hotel! I took Pinterest boards and other ideas to the designer at Heal's and loved walking around the store to get a real feel for the pieces and textures that might work best in the space.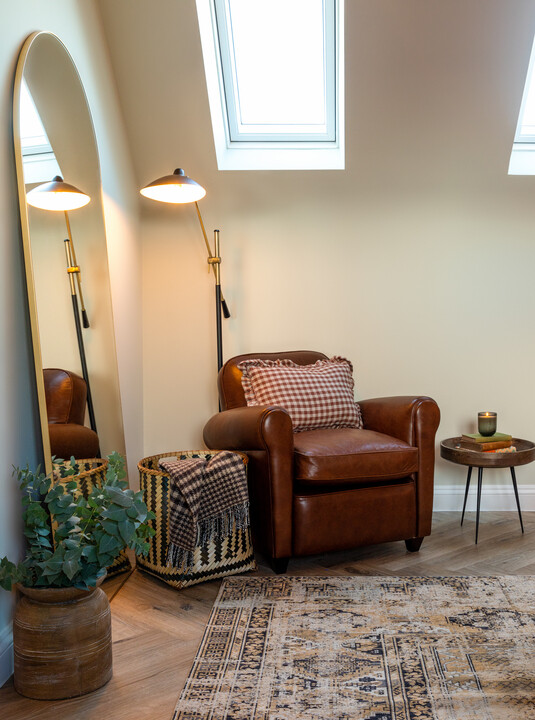 How did you find working with our IPS team?
B: The floorplan and moodboard were so helpful, particularly in visually communicating the ideas to my husband while they were still in my head, while Helen suggested pieces I wouldn't have even thought of. The Barrington armchair and Tom Raffield lights are great examples – I love the masculine tones they bring to the space and the mix of materials like leather and wood. It really helped to create to that boutique hotel vibe I was after, whilst still being a really useable, family space.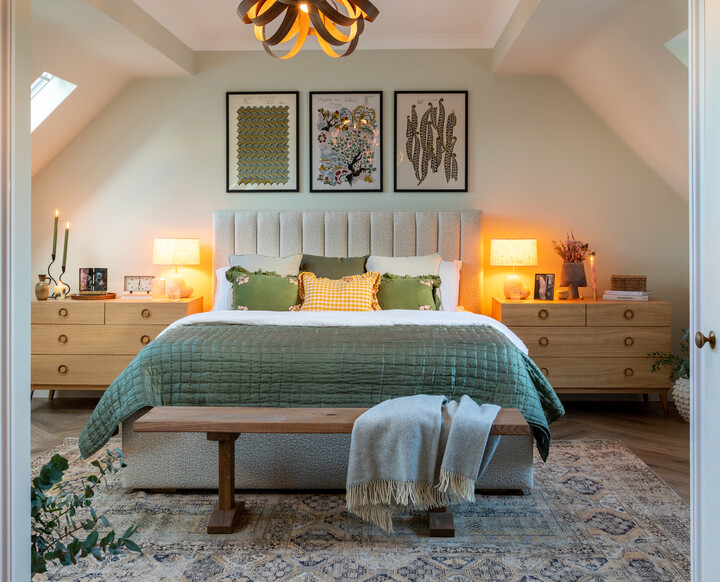 How do you feel about the finished space?
B: Our bedroom makes me happy every day. I can't wait to snuggle up in bed each night – and that's not just because I'm pregnant or chasing a toddler around all day! I'm so proud of the space and it functions beautifully for us as a family.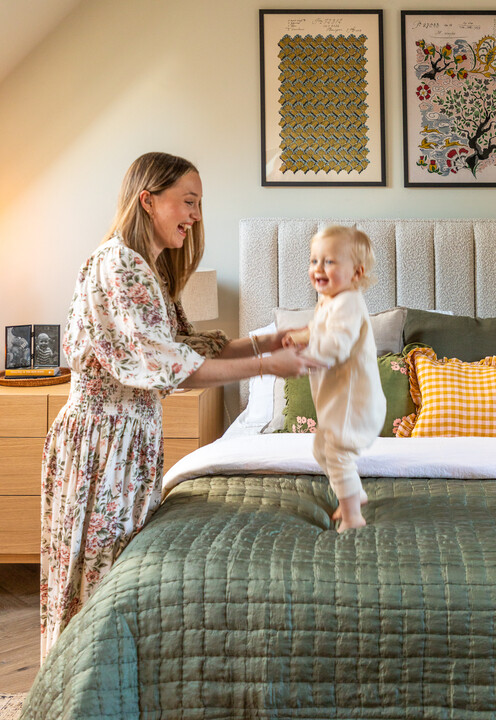 Finally, what would you say is your favourite piece and why?
B: It's almost impossible to choose! I love the Retta headboard, because it's such a focal piece, but it's really comfortable to use, too.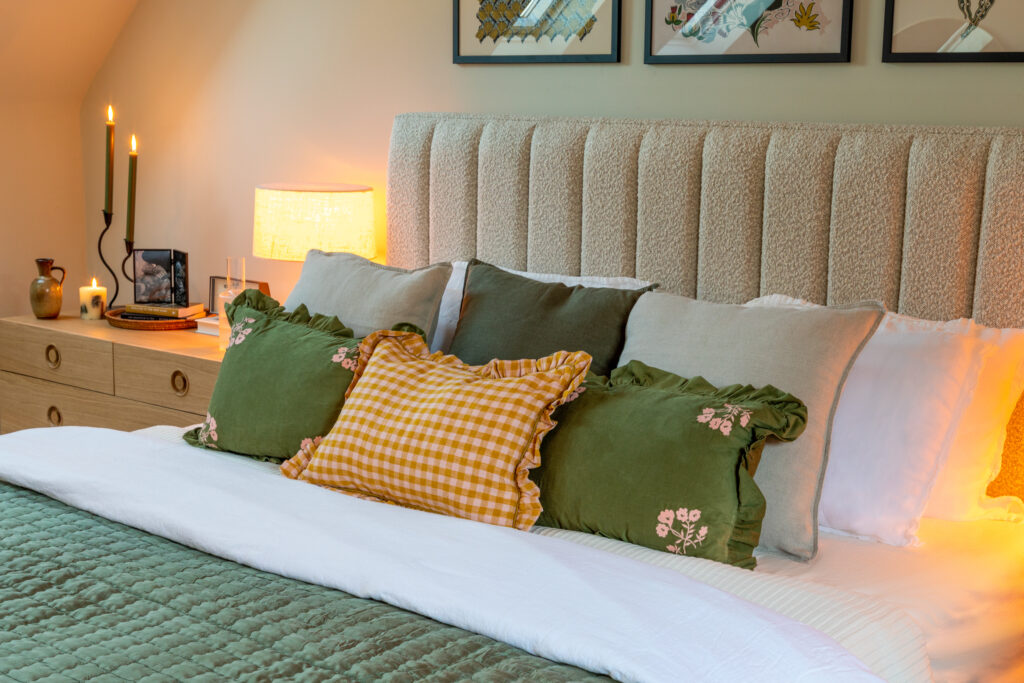 Hello, Helen. Can you tell us about the brief?
Helen: The project was designing the master bedroom of a beautiful family home nestled in the Cotswolds. The brief was to take inspiration from the signature aesthetic of Studio McGee, an internationally-renowned interior design firm in the US, which is currently enjoying a third season of its hit interiors show 'Dream Home Makeover' on Netflix. The look combines natural textures, tones and materials with a beautifully-muted colour palette inspired by nature. Maximising storage potential was also a key requirement, while keeping the proportions of the room balanced, so it didn't feel cluttered with too much furniture.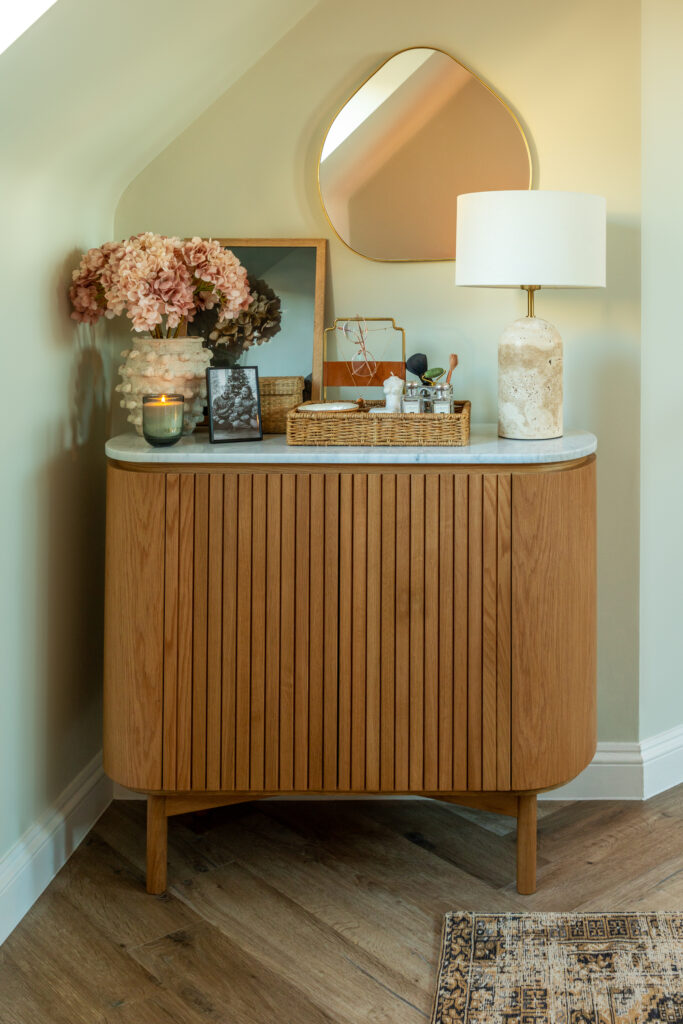 How did you begin?
H: Initially, I met Beth at our flagship store on Tottenham Court Road to discuss ideas and get a better understanding of her overall goals. She wanted the room to feel light, bright and spacious, but with a warm, peaceful and welcoming vibe. At that time, Beth and her husband were considering installing Velux windows, which is a wonderful way to really maximise the amount of natural light. Beth had prepared a Pinterest board and her images provided a very clear design brief with the key elements of a neutral colour palette with soft beiges, sage greens, wood tones and warm terracottas. Texture also played an important role in the design scheme, so we were keen to explore fabric options for the upholstery, while using an eclectic mix of light and dark woods to allow the scheme to feel considered yet natural.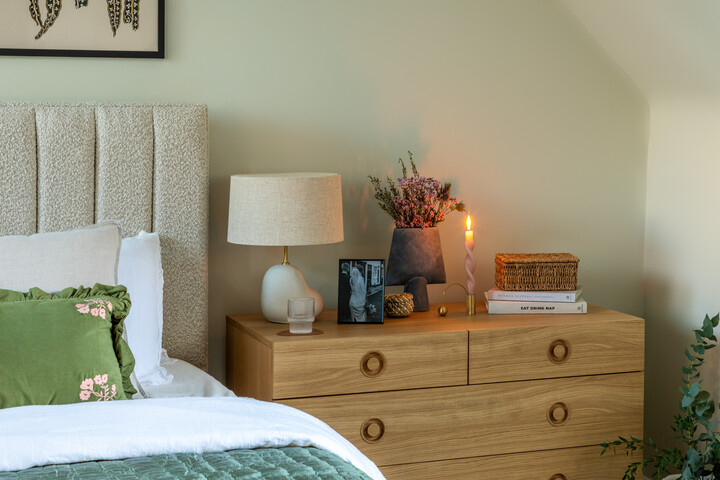 Talk us through the steps, from initial brainstorm to product selection and install day?
H: After the initial consultation with Beth, we prepared a floorplan to ensure we were both on the same page with the layout and location of the key items. I was then able to start shortlisting pieces that matched her design brief. Selecting the right bed was a key decision, and given the generous room proportions and high ceilings, the couple opted for the luxurious Lift Storage Divan Bed in a super-king size paired with the Retta Headboard. The tall profile of the headboard worked really well with the height of the room while the fluted detailing was softened with bouclé fabric. The width of the space also allowed us to select matching chests of drawers either side of the bed, rather than traditional bedsides, which provided symmetry and balance together with lots of useful storage. While we browsed the showroom together, we spotted additional items that could work, such as the Lisbon Bench from our 'Designed by You' range in the dining department. I then created a moodboard to illustrate how all of our shortlisted pieces worked as a cohesive scheme and mapped these onto a scaled floorplan using our CAD software. It was at this stage we added further items to inject some additional contrast. Install day was exciting and went very smoothly. All items were consolidated in our warehouse and a delivery date was agreed. It was wonderful to see our carefully-made plans literally come to life! Dressing the room with all the final touches, like books, candles and foliage, brought everything together.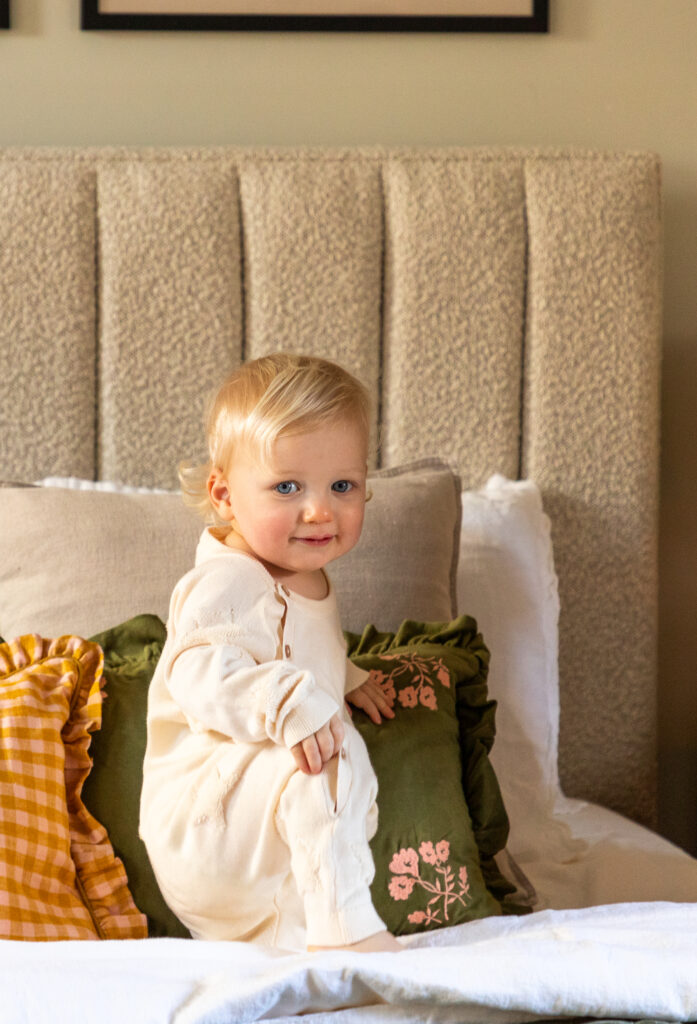 Was it a collaborative process?
H: Working with the IPS design team at Heal's is always a collaborative process! We partner closely with our customers to fully understand their individual priorities for their homes, allowing us to shortlist solutions tailored to fit their personal style and budget, resulting in beautifully-balanced design schemes.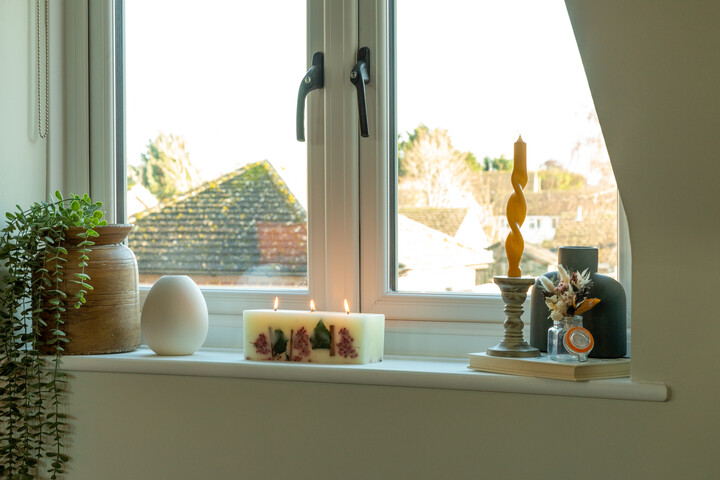 Are there any key pieces you knew would work well in the space?
H: Since many of the colours and finishes Beth had selected were lighter tones – such as pale oak, natural bouclé and white linen – I was keen to introduce pieces to inject some contrast into the scheme. The Barrington armchair was the perfect choice for the corner as it added depth while smaller accessories such as the Wideboy Clock and Square Vase created balance.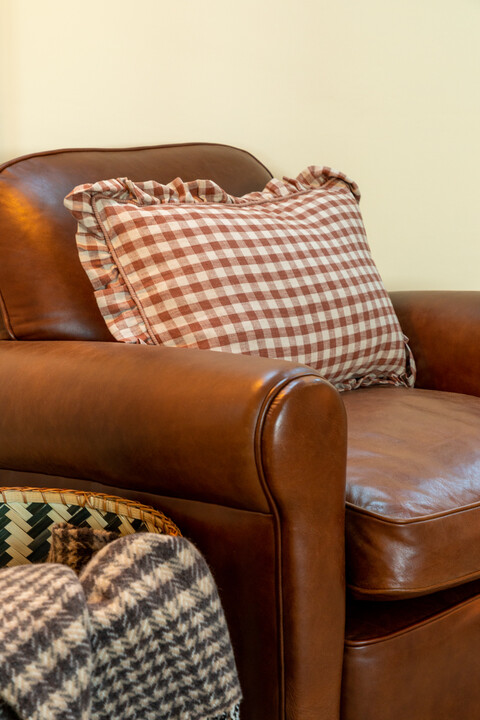 Finally, what would you say to someone thinking about working with a designer at IPS?
H: Go for it! If you you're feeling overwhelmed with the huge choice available from Heal's, our IPS is perfect, as the design team is here to guide you through every decision to ensure that your final scheme is cohesive and considered.