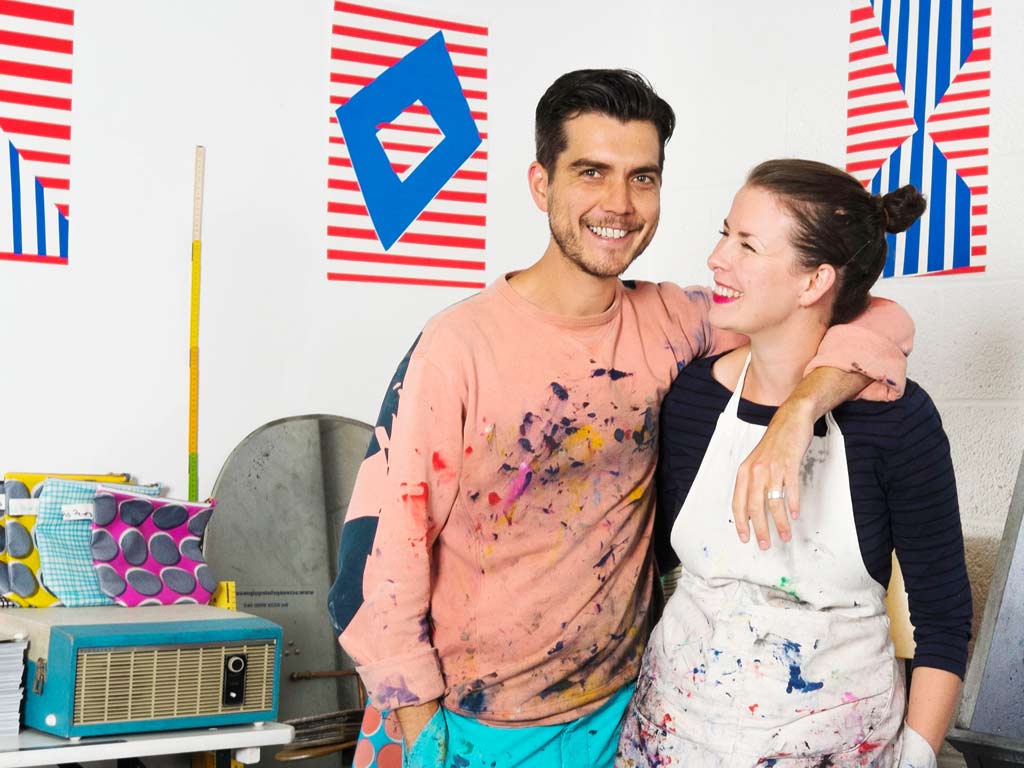 A graduate of the prestigious Royal College of Art, Sunny Todd produces a bright, graphic range of patterned textiles all of which are hand printed within his studio in Herefordshire. Working side-by-side with his wife Emma, the duo are set to launch their first exclusive collection at Heal's. We caught up with the man himself to learn more about the studio and their unique range of prints.
Where is your studio based?
Our studio is in Ledbury, Herefordshire.
Where did you study?
I studied Textile Design at Birmingham University before doing my Masters in Printed Textiles at The Royal College of Art.
Tell us about the first piece you ever designed?
The first piece I ever sold was a hand painted fabric swatch to Diane Von Furstenberg when I was in my first year at the Royal College.
What is the inspiration behind your work?
I have always loved Matisse's cut outs and the amazing use of colour by artists such as Patrick Heron, Howard Hodgkin, David Hockney and Patrick Caulfield. Scandinavian design is also a constant source of influence and I am inspired on a daily basis by the confidence, freedom and simplicity of our childrens' drawings.
How do you approach the design process?
The process is incredibly important to us; we draw and cut each shape and then arrange them into a pattern or repeat. We don't use computers at this stage, which we find gives the finished print beautiful irregularities.
The quality and sustainability of our fabric and products is paramount. We always strive to use the highest quality materials sourced as locally as possible, printing with environmentally friendly water based inks.
Some of our designs have evolved over a number of years whilst others come about through happy accidents whilst we are drawing or even experimenting with stencils on the print table. The selection of colours is just as important and something of a labour of love.
Do you have a preferred material or method?
Silkscreen printing is our favourite. We use this technique almost every day and never tire of it. I love the ritual of cutting out the stencil artwork, carefully mixing the pigment inks, pulling the squeegee across and then lifting the screen to reveal the print. The process is so simple yet so satisfying.
We hand print our paper prints, bags, wash bags and cushions in our studio while the longer lengths of fabrics that are available by the meter are printed in the UK. Everyone has a personal reaction to colour, are there any you instinctively avoid?
Do you have any studio superstitions / design quirks?
No superstitions but we do have two small children so a lot of printing is done when they are in bed. The first thing we do is make a fresh batch of coffee and put on some loud music to keep us going late into the night!
How did you get involved with Heal's?
When we set up our business we wrote a dream list of companies that we would love to work with and Heal's were at the very top! We sent a cushion and note to the home buyers' team and we were delighted when they contacted us the next day to invite us in to meet them. We then worked with the mood board they gave us to recolour our patterns for their Autumn/Winter 2015 collection.
How would you describe your collection for Heal's?
Our patterns are characterised by bold, clean, graphic shapes that are fun and dynamic. Our signature 'offset' provides extra energy that gives the shapes a three-dimensional appearance.
Our first fabric collection is made up of 10 of our favourite patterns, each in four different colour combinations that will be available at Heal's from September 19th. The limited edition cushion collection consists of two of these designs, Zigzag and Feather, which have been hand screen-printed by myself and Emma in an exclusive range of colours.
Sunny Todd's exclusive collection of prints are available as part of Heal's Autumn/Winter 2015 collections, all of which will be available through our website or in store.