Weaving her magic in her Dalston studio, Rachael South has gained a reputation for her contemporary approach to restoring neglected pieces of furniture. She was, therefore, a natural fit for the Heal's Modern Craft Market: Made in London, where she will be demonstrating the art of woven chair making as well as holding a series of workshops teaching the art of chair caning.
Having had an extensive career designing textiles and creating bespoke Passementerie (that's designing and making tassels and braids to you and I), Rachael returned to her primary passion for restoring and upcyling vintage pieces of furniture by taking on her father Terry South's established upholstery business. To learn more about her passion for craft, the capital and all things chairs, we visited her studio to see some of the techniques that will be on display in store at Made in London.
–
Where did you learn your craft?
It was my father that taught me chair caning when I was a teenager. I was in my dad's upholstery workshop from a young age and there were a lot of opportunities for making things using leftover fabrics that were lying around. I loved the sewing machine and even used to make my own clothes.
Later I studied Textile Design at Guildhall University and when I left school my first job was with Warner Fabrics as a showroom assistant, so I have had several other teachers since. Recently the roles were reversed and I taught a class of very experienced seat weavers. Needless to say, I learnt a few new things myself!
What is it about the craft of weaving that fascinates you?
Traditional seat weaving offers the use of natural plant based materials which are not only very beautiful but also extremely functional. I really like the inconsistencies which occur in the natural material, which also provides the unique aesthetic quality to each piece. I love the work of Patricia Urquiola and also some of the Scandinavian mid-century designers who used seat weaving in their practise such as Jorgen Hovelskov.


What's the first piece you designed that you were truly proud of?
I really like my leather woven bentwood rocking chair, the chair frame is a classic, well-known shape and I think the addition of the woven seat and back in the non-traditional woven leather and star pattern really complements the frame. This type of weaving hasn't really been used on this particular style of furniture before. Since they were first exhibited in 2013, these chairs have continued to prove extremely popular with constant commissions to weave more.
"I really like the inconsistencies that occur
in the natural material, which also provides
the unique aesthetic quality to each piece."
Talk us through the process for creating one of your pieces?
My chairs are usually a collision of ideas, materials and frames that I've collected and stored. I might try a new weave pattern and then think "ah this could work with that materiel and that chair frame." I am always on the look out for new materials that might inspire this process. I also really like any collaborative work as it's a challenge and can often push my skills somewhere I would never have thought of by myself.


Describe to us an average day in your studio.
My studio is in Dalston and usually full the brim with furniture! The radio is always on, I have a cutting table, and a couple of trestles and tables set up depending on who's coming in for the day. My materials are usually out and tools hung on the wall or in open tool boxes. It's a real hive of activity once we get going.
The reason I love my job is because of the variety of work I get to do, some days I'm working only on commissions and restoration work and other days I may be doing design development work for collaborations or preparing materials for teaching. I usually have tea or coffee discuss the days work with Yvonne, Electra or Gabby who work with me, and then we just get on.
What is it about living and working in the capital that inspires you?
I have travelled a lot and lived abroad and in the countryside. Living and working in London, however, offers such a vast array of work opportunities and also the chance to meet so many other people involved in making. I love the close proximity of museums and think the Geffrye Museum round the corner is a fascinating place. You can literally step back in time as you go from one room interior to the next. I have done a work shop there and have another coming up soon as part of the Second Sitters Exhibition.


Tell us a bit about the workshop you will be running as part of the Heal's Modern Craft Market: Made in London.
I am going to be running a days introduction to chair caning. If you have an interest in the craft it'll be a fun day weaving a small frame using the traditional cane in the six way pattern. It is a great place to start if you've ever thought you'd like to learn the craft or have a chair at home you'd like to cane a seat for.
"Living and working in London offers such a vast
array of opportunities and also the chance to
meet so many other people involved in making."
What does the future hold for you and your practise?
I'm going to be start teaching a four day professional course in chair caning at London Metropolitan University this July, which I'm really excited about as, despite the fact there are a few places already offering leisure classes, I hope to be able to set a standard with this course. I've spoken to the tutors who used to teach the city and guilds qualification and have designed the course around this. I'm also planning a trip to Japan later this year and would really like to immerse myself in the craft scene over there particularly the Bamboo weaving which has similarities to caning.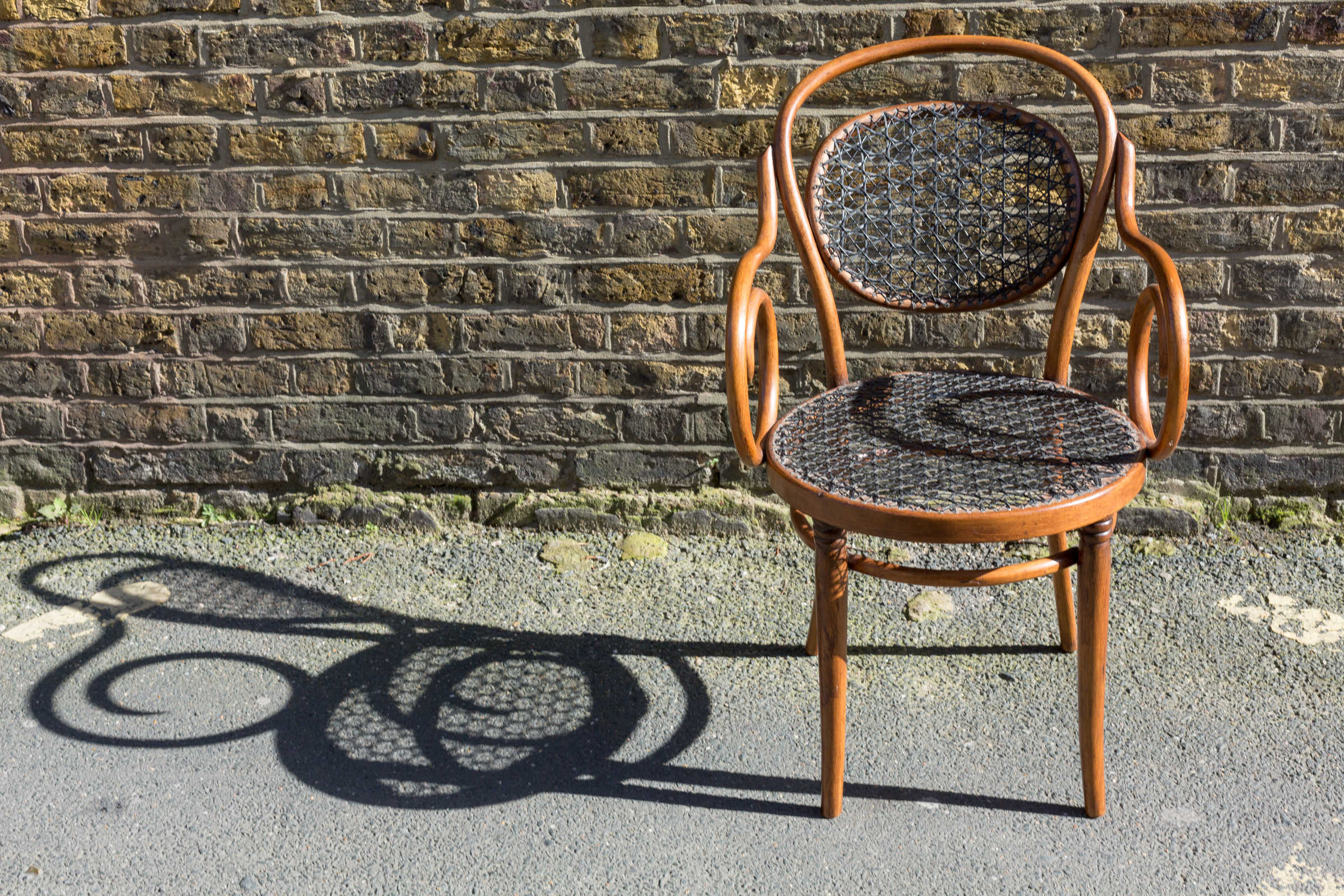 ---